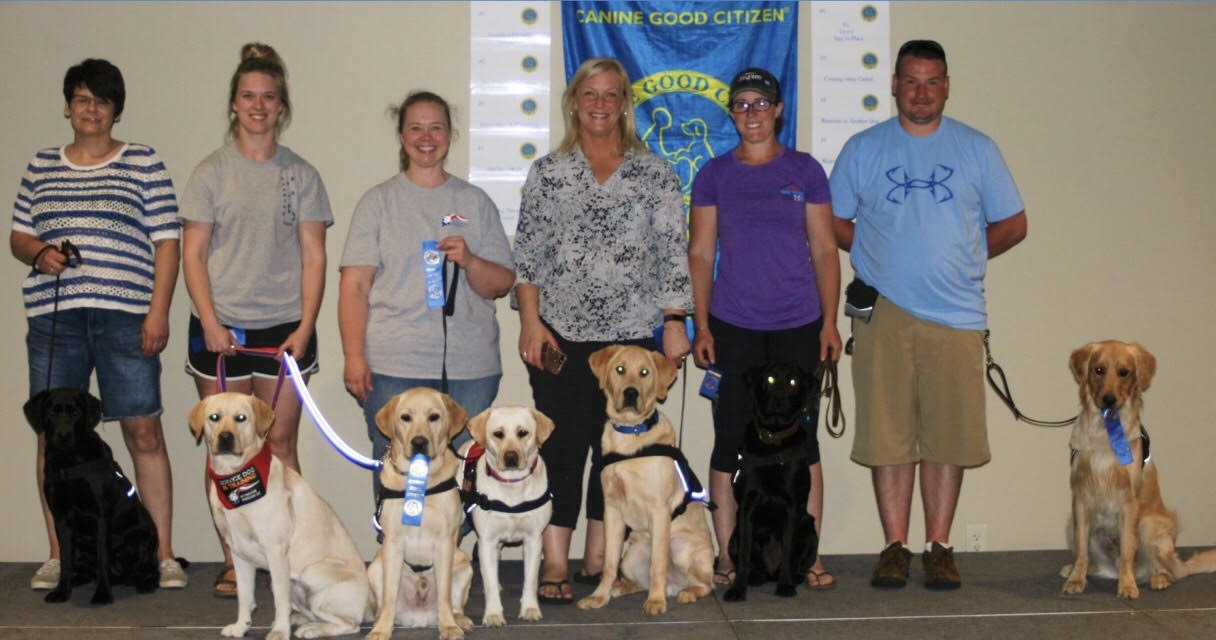 The Canine Good Citizen (CGC) test is done through the American Kennel Club (AKC) and "is designed to reward dogs who have good manners at home and in the community. The Canine Good Citizen Program is a two-part program that stresses responsible pet ownership for owners and basic good manners for dogs" (The American Kennel Club).
Here at RFI, we find it important for the fosters of these service dogs in training to participate in the CGC testing. Not only to know where the dog stands in its training, but also to get an idea for the handlers to understand what they're excelling at and where they could make improvements. Going through the CGC testing can only benefit a handler and their dog, whether they pass the test or not.
On May 17, a number of RFI service dogs in training and their handlers participated in the testing at the Waverly Area Veterans Post. Seven passed the test, earning the handlers and their respective dogs a certificate from AKC. (L-R) Congratulations to - Lynne and "Charley", Sara with "Lacie" and "Levi", Bobbi and "Journey", Cyndi and "Henley", Jenna and "Callie," and Andrew and "Wilson".
We are so appreciative of Brad and Beth Harman making the trip to Waverly to put on the test and for giving wonderful advice to each handler every step of the way. Beth says, "Congratulations to RFI's AKC Canine Good Citizen Graduates! You and your canine partner worked hard and did an outstanding job demonstrating responsible care and teamwork in the basic obedience required of a canine good citizen. Keep up the good work and training. Thank you for your dedication, time and talent to the amazing service Retrieving Freedom Inc is bringing to those in need of a service dog."