Placement | June 2019
Veteran David Banaka and Stella passed their public access test and were officially named a Service Dog Team in June of 2019.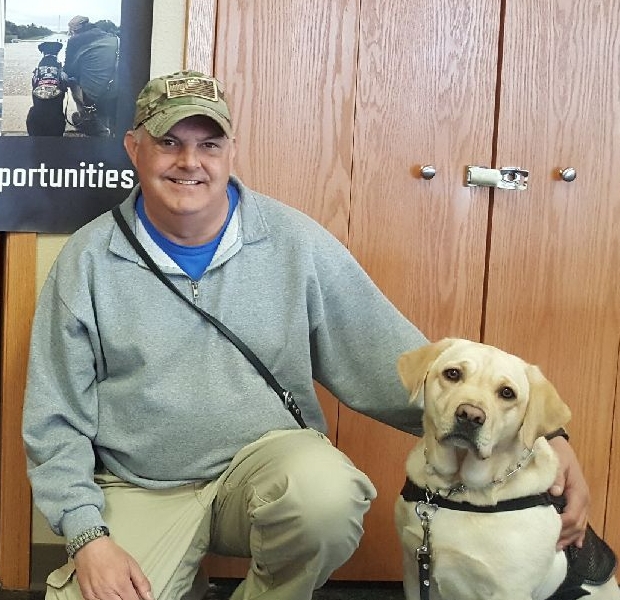 Dave's Story
I joined the Army after I turned eighteen in 1986 and served through 1992. I was initially sent off to Ft. Benning Georgia for Infantry school then went on to serve with the 101st Airborne Division, 3-187th Infantry until 1989. I reenlisted and was then stationed in West Germany from 1989-1992 where I served with the 1-4 and 2-4 Infantry Regiment. After a long break in service I decided to go back in the military. In 2004 I decided to join the Oregon Army National Guard and served until 2014 when I was medically retired early after serving with 2-162 Infantry Regiment.
When I returned from my Iraq deployment in 2010, I started to realize that things were not the same. Old feelings were coming back up from years past when I was on active duty. PTSD was not really recognized back then with the military. It was treated as something that would eventually just go away after time. In 2011 I was diagnosed with severe PTSD and soon learned that my service from 1986-1992 was a huge contributor.
I was in a dark place after I got home from my deployment. I lost interest in everything that I would normally do. I medicated with alcohol to kill the emotional and physical pain daily. My drinking got so bad that I was hospitalized three times. In 2017 I went into treatment at the VA for five months to learn how to deal with PTSD and my drinking. While in treatment, I decided to research the possibility of a service dog to assist me. A friend I deployed with had received a service dog through Retrieving Freedom. I looked at closer options geographically to Oregon but could not find an organization that specifically served the needs of a veteran with combat PTSD. I was so impressed by my friend's service dog from Retrieving Freedom and how it was helping him, I decided to apply for a service dog and the journey began.
When I went to Retrieving Freedom for the first time I immediately felt at home with the dogs, staff, and facility. Over approximately a year period I made several trips from Oregon to train with Stella who has now been placed with me as my service dog. Having her full time has changed my life. I get out and do things that I stopped doing years ago. I feel better all around. She has given me one more thing to help me in my daily life and recovery.