About Us
Who We Are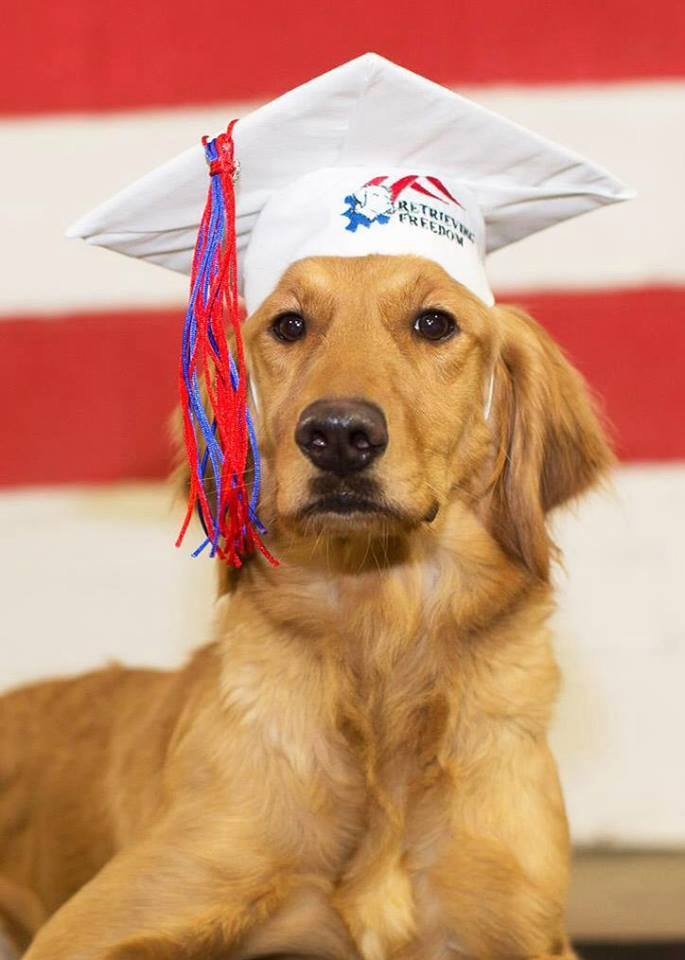 Retrieving Freedom, Inc. is a 501(c)3 non-profit organization dedicated to training service dogs to help people. Our three primary focuses are training dogs to serve the needs of veterans, children with autism and individuals living with diabetes. We breed and train chosen dogs that exhibit specific traits necessary to perform tasks to help these individuals, and we believe in matching the dog to the recipient.
Our training program isn't designed to train each dog to follow a certain program. Instead, dogs are trained to meet the needs of their specific recipient. The dogs go through more than two years of training to meet our strict standards for a successful placement.
RFI operates out of two locations, Waverly, Iowa, and Senatobia, Mississippi, as candidate members of Assistance Dogs International.
The service dogs we train help improve the lives of the people they are placed with. Not only do they help with specific chores and perform tasks associated with their training, but they also offer companionship and unconditional love.
Retrieving Freedom Board of Directors
The RFI Board is comprised of individuals who work together to make sure we are serving the needs of our recipients, along with looking for ways to raise more money so we can help match more people with the service dogs they need. The current board is comprised of:
Clay Dahlquist,
Board Chair
Belinda Dwyer
Jimmie Neil
Dave Rorem
Conway Marvin
Greg Johnson
Jamey McClenny
Scott Dewey
Co-President and
Co-Founder
Charles Dwyer
Co-President and
Co-Founder
Retrieving Freedom's Leadership Team

Scott Dewey

Co-President

Scott's background is in field trial training, and as the owner of Rock River Retrievers, he trained dozens of champion dogs. Scott decided to turn his training talents toward helping to train dogs to work with disabled veterans and children with autism. Scott oversees operations at RFI's facility in Waverly, Iowa.


Charles Dwyer

Co-President

Charles' dog training background is in hunting and obedience training. He is the previous owner of the Rice Break Retrievers. He has trained titled dogs in the highest levels in the AKC and UKC hunt test programs. Charles has found his calling of training dogs to make a difference in people's lives. Charles manages operations at RFI's Senatobia, Mississippi location.

Keegan Birkicht

Keegan began her work with Retrieving Freedom as a college student involved with the Retrieving Freedom class on the campus of Wartburg College. After several years of interning with Retrieving Freedom at a volunteer level, Keegan was hired full-time in 2015 as the Program Director at the Iowa location.

Kristy Armstrong

Kristy began her work with Retrieving Freedom as a volunteer in 2011. After several years of volunteering with Retrieving Freedom, Kristy was hired part-time in 2016 as a kennel assistant. In 2017 Kristy began working full-time as Program Coordinator and Facility Assistant at the Mississippi location.