About Us
Who We Are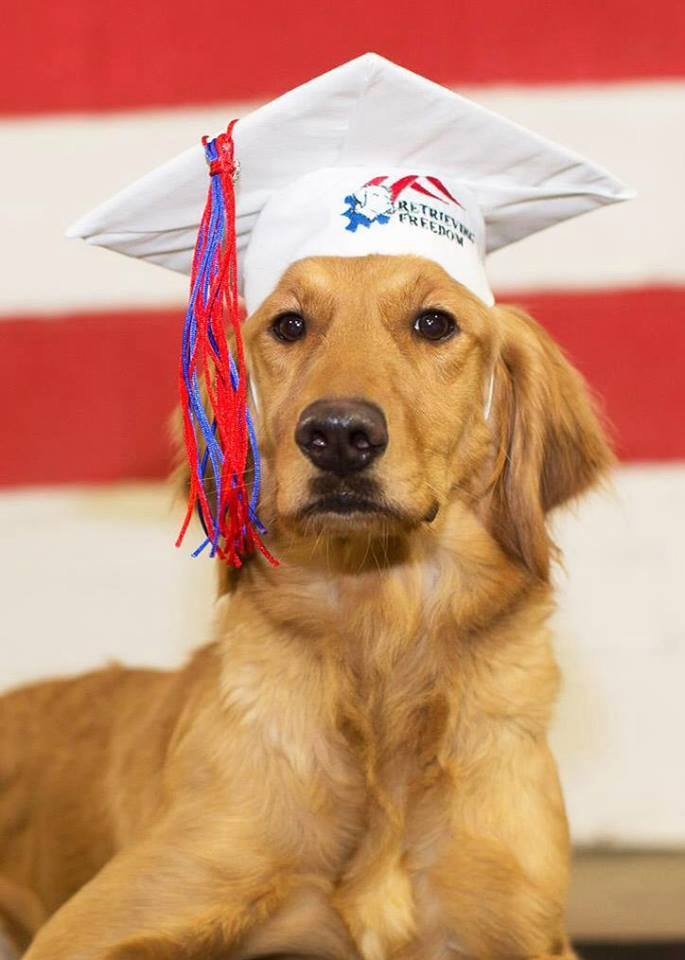 Retrieving Freedom, Inc. is a 501(c)3 non-profit organization dedicated to training service dogs to help people. Our primary focuses are training dogs to serve the needs of veterans and children with autism. We breed and train chosen dogs that exhibit specific traits necessary to perform tasks to help these individuals, and we believe in matching the dog to the recipient.
Our training program isn't designed to train each dog to follow a certain program. Instead, dogs are trained to meet the needs of their specific recipient. The dogs go through more than two years of training to meet our strict standards for a successful placement.
RFI operates out of two locations, Waverly, Iowa, and Sedalia, Missouri as an accredited member of Assistance Dogs International.
The service dogs we train help improve the lives of the people they are placed with. Not only do they help with specific chores and perform tasks associated with their training, but they also offer companionship and unconditional love.
The mission of Retrieving Freedom, Inc. is to change lives through the training and placement of service dogs for disabled veterans and children with autism.
Organizational History
In 2011, Co-Founder Scott Dewey, a seasoned field trial dog trainer, reevaluated his life plan and prayerfully decided to leave the field trial circuit for more time at home with his young sons. In addition to family needs, the idea of using his skills to support individuals with disabilities was taking shape in his mind.
Scott and Charles Dwyer began the process of forming Retrieving Freedom, Inc. (RFI), a tax-exempt 501 c 3 non-profit organization. Today, the organization is thriving and is recognized nationally for its unique training methods and exceptional quality of placements.
Guided by a national Board of Directors, RFI has committed to expanding the organization beyond its Waverly, Iowa facility by building a new headquarters and state-of-the-art training operation in Sedalia, Missouri. This expansion will allow the organization to increase its placement of service dogs and impact more members of its respective communities. Leveraging the community at large in support of its cause, RFI taps into the talent of hundreds of trained volunteers annually, impacting more than 10,000 individuals all the while training, socializing, and engaging each dog both in public and at home.
Scott transitioned out of his role as CDO in May 2020. In his letter to the public, Scott states,
"I have always said that this organization is greater than any one of us, and my goal was for it to outlive all of us. After nine years, I believe that the organization is positioned to make that a reality. My heart is so full, yet it is yearning for the challenge of new opportunities. In order to be transparent in the search of my next venture, I have decided to transition out of a staff position with Retrieving Freedom. I have faith that God's hand is in this decision and, while anxious, believe that the next opportunity will arise. Ironically, it was a similar decision in 2011 that led me to the founding of Retrieving Freedom."
Retrieving Freedom Board of Directors
The RFI Board is comprised of individuals who work together to make sure we are serving the needs of our recipients, along with looking for ways to raise more money so we can help match more people with the service dogs they need. The current board is comprised of:
Clay Dahlquist,
Board Chair
Roxie Norris,
Treasurer
Dave Rorem
Conway Marvin
Rene Massey
Bob Baird
Bobby Hayden
Al Hogen
Retrieving Freedom's Leadership Team
Billy Rader

Chief Executive Officer

Billy started his professional career as a corporate technology director before moving into nonprofit leadership. Over the past 15 years he has worked with organizations serving youth as well as at risk teens. His last position was as the CEO of a large nonprofit serving homeless veterans and their families. Billy has been married to his wife Angie for 25 years and has two daughters.

Heather Dawson

Chief Financial Officer

Heather has been in the finance and accounting field for over 13 years. She comes to RFI with extensive experience in corporate accounting management as well as financial analytics. Her most recent position was as the Financial Controller for a manufacturing facility in the Mid South. After years in the corporate world, Heather is thrilled to be changing the focus of her career and to have the opportunity to work with an organization as impacting as RFI is. Heather lives in Lake Ozark, MO with her husband David and their four children, Deacon, Olivia, Jack, and Caroline.

Kyle Cory-Yaeggi

Director of operations

Kyle's passion for the service dog industry was fueled after he graduated from Iowa State University and moved out west. There, he worked for years training dogs for mobility assistance, children with mental and physical disabilities, as well as facility dogs. Kyle was hired by Retrieving Freedom in 2017 working nationally, overseeing training and placement of dogs and applicants. He now works at the Director of Operations, managing both facilities.

John Drach

Training Director

John has been active in the Assistance Dog industry for 30 years. He started training Hearing Dogs and went on to train Service Dogs, Seizure Dogs and Autism Dogs. John has been active with Assistance Dogs International serving on the Compliance Committee as well as the Trainer Certification Committee. He has also developed Apprentice Assistance Dog Trainer programs to train new trainers in the field. John enjoys matching highly trained dogs with individuals who are looking for a dog who can change their lives. John and his wife Molly live in Iowa and have two sons.

Alyssa Curtis

Missouri unit Director

Alyssa comes to Retrieving Freedom with extensive administrative and customer service experience. Alyssa has decided to use her passion and love for dogs towards helping place service dogs with veterans and children with autism. She has been hired as the Unit Director at the Missouri location.

Keegan Birkicht

Marketing Manager

Keegan began her work with Retrieving Freedom as a college student involved with the Retrieving Freedom class on the campus of Wartburg College. After several years of interning with Retrieving Freedom at a volunteer level, Keegan joined the Retrieving Freedom staff in 2015 and works as the Marketing Manager.

Sally Zinevich

Resource Development Director

Sally comes to RFI as a top producing sales professional with 25 years of expertise in marketing and advertising. She has spent the bulk of her professional career in broadcast media, managing sales teams, building brands, businesses, and organizations through the creation of long term advertising strategies, campaigns, and promotions. She is extremely involved in community projects, championing causes and developing resources to build those causes. She and her husband Matt are blessed with two daughters and a son.

Bailey Inman

Stage 3 Dog Trainer

After fostering two service dogs in training and working at a service dog training kennel during her undergraduate studies, Bailey decided to change paths to pursue a career with working dogs. Upon graduation from the University of Missouri, she moved to Philadelphia where she worked with scent detection and search and rescue canines. She then completed a year of graduate work in New York City with a focus on canine spatial awareness. In July of 2019, Bailey joined RFI as the Stage Three Dog Trainer for the Missouri facility.

Cassidy Cooley

Stage 2 Dog Trainer

Cassidy joined the Marine Corps after high school where she worked as a Combat Engineer with 7th Engineer Support Battalion. While in the Marine Corps, she attended Animal Behavior College and graduated as a certified dog trainer. Upon leaving the Marine Corps Cassidy earned her bachelor's degree from The Evergreen State College and worked as a behavioral therapist for children with autism. Cassidy joined Retrieving Freedom in June of 2019.

Sara Shadid

Program Coordinator

Sara has been involved with Retrieving Freedom in a variety of ways since 2014. She first became involved by participating in a Wartburg College course which was partnered with Retrieving Freedom. She continued to volunteer throughout college and upon graduation. In 2016 she became the organization's intern, taking on a number of roles. She was hired in early 2019 and works as the Program Coordinator.