About Us
Who We Are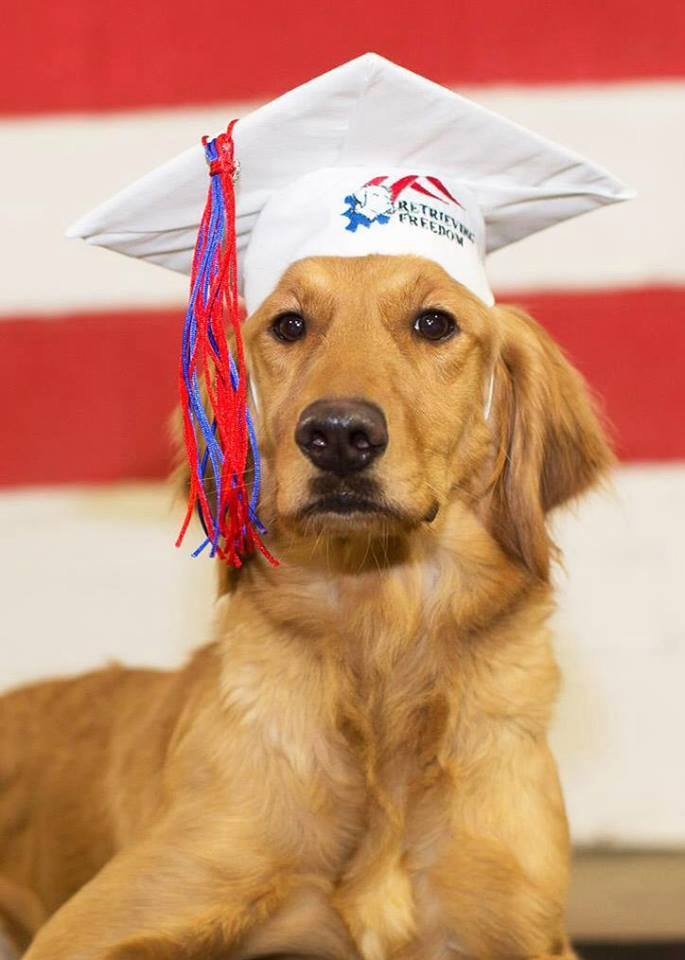 Retrieving Freedom, Inc. is a 501(c)3 non-profit organization dedicated to training service dogs to help people. Our primary focuses are training dogs to serve the needs of Veterans and children with Autism. We breed and train chosen dogs that exhibit specific traits necessary to perform tasks to help these individuals, and we believe in matching the dog to the recipient.
Our training program isn't designed to train each dog to follow a certain program. Instead, dogs are trained to meet the needs of their specific recipient. The dogs go through more than two years of training to meet our strict standards for a successful placement.
RFI operates out of two locations, Waverly, Iowa, and Sedalia, Missouri as an accredited member of Assistance Dogs International.
The service dogs we train help improve the lives of the people they are placed with. Not only do they help with specific chores and perform tasks associated with their training, but they also offer companionship and unconditional love.
The mission of Retrieving Freedom, Inc. is to change lives through the training and placement of Service Dogs for Veterans with disabilities and children with Autism.
Retrieving Freedom Board of Directors
The RFI Board is comprised of individuals who work together to make sure we are serving the needs of our recipients, along with looking for ways to raise more money so we can help match more people with the service dogs they need. The current board is comprised of:
Al Hogen,
Board Chair
Rene Massey
Bobby Hayden
Lynn Lowder
Retrieving Freedom's Leadership Team
Heather Dawson

Chief Financial Officer

Heather has been in the finance and accounting field for over 15 years. She comes to RFI with extensive experience in corporate accounting management as well as financial analytics. Her most recent position was as the Financial Controller for a manufacturing facility in the Mid South. After years in the corporate world, Heather is thrilled to be changing the focus of her career and to have the opportunity to work with an organization as impactful as RFI. Heather lives in Lake Ozark, MO with her husband David and their four children, Deacon, Olivia, Jack, and Caroline.

Kyle Cory-Yaeggi

Director of Operations

Kyle's passion for the service dog industry was fueled after he graduated from Iowa State University and moved out west. There, he worked for years training dogs for mobility assistance, children with mental and physical disabilities, as well as facility dogs. Kyle was hired by Retrieving Freedom in 2017 working nationally, overseeing training and placement of dogs and applicants. He now works as the Director of Operations, managing both facilities.

John Drach

Training Director

John has been active in the Assistance Dog industry for over 30 years. He started training Hearing Dogs and went on to train Service Dogs, Seizure Dogs and Autism Dogs. John has been active with Assistance Dogs International serving on the Compliance Committee as well as the Trainer Certification Committee. He has also developed Apprentice Assistance Dog Trainer programs to train new trainers in the field. John enjoys matching highly trained dogs with individuals who are looking for a dog who can change their lives. John and his wife Molly live in Iowa and have two sons.

Trent Dirks

Resource Development Director

Trent is an Army veteran with more than 9 years of service and a deployment to Afghanistan. Trent began as a recipient of a Retrieving Freedom Service Dog, Tracer, then began volunteering with the organization. After attending a treatment program for PTSD, he continued to volunteer at RFI in hopes of helping other Veterans get the help and service dogs they needed. Trent says he is "blessed beyond measure to be able to make a career out of helping other Veterans and children with Autism get service dogs to assist them in improving their quality of life. It's a dream come true. I was born, raised, and live in Iowa with my son Bently and service dog Tracer. We all enjoy spending time outside hunting, fishing, and hiking."

Sara Shadid

Program Manager

Sara has been involved with Retrieving Freedom in a variety of ways since 2014. She first became involved by participating in a Wartburg College course which was partnered with Retrieving Freedom. She continued to volunteer throughout college and upon graduation. In 2016 she became the organization's intern, taking on a number of roles. She was hired in early 2019 and works as the Program Coordinator at the Iowa location.

Bailey Inman

Assistance Dog Trainer

After fostering two service dogs in training and working at a service dog training kennel during her undergraduate studies, Bailey decided to change paths to pursue a career with working dogs. Upon graduation from the University of Missouri, she moved to Philadelphia where she worked with scent detection and search and rescue canines. She then completed a year of graduate work in New York City with a focus on canine spatial awareness. In July of 2019, Bailey joined RFI as a Dog Trainer at the Missouri Facility.

Emma Leach

Obedience Dog Trainer

Upon graduation from the University of Missouri, Emma continued her education with the Animal Behavior Institute and started her professional career by training pet and therapy dogs. Emma joined Retrieving Freedom in 2020 as the Program Coordinator at the Missouri Location. She has since moved into the Obedience Dog Trainer position and is excited to provide quality services for those in need.

Ashlyn Snyder

Program Coordinator

Ashlyn became involved with Retrieving Freedom in 2018 as a stage 1 foster through Iowa State University. While fostering, she found a passion for the service dog industry that outweighed her interest in animal medicine. After graduation from ISU, Ashlyn pursued a Master's Degree in Animal Science at the University of Maryland, all the while sating her love for service dogs as a puppy sitter for an organization in Maryland. Not long after graduating from UMD and moving home to the Midwest, Ashlyn joined RFI as a Program Coordinator in September 2021.

Bethany Swanson

Iowa Facility Coordinator

At age 8 Bethany started praying for a golden retriever or Labrador and memorizing every dog breed and fact she could. This interest in dogs led her to pursue a bachelor's degree in Animal Science at Iowa State. There she got connected with Retrieving Freedom and took part in the Service Dog Training Independent Study, fostering Maui. The life changing experience of fostering, educating the public and learning about autism and PTSD grew in her a passion for the field. Her last semester at Iowa State she spent interning with Snitker Goldens whelping and raising puppies as service, therapy, and loving companions. Now, her greatest joy is to bless others by leaving an imprint on a dog that will impact the life of another forever! Bethany joined Retrieving Freedom in the fall of 2021.

Hannah Keller

Kennel Technician

Hannah has always loved working with animals, but has a special place in her heart for dogs. She plans to go to college to become a Veterinary Technician. Hannah enjoys working at Retrieving Freedom and helping to fulfill the mission. She loves that her work with the various dogs in training will eventually help them in their career as a service dog.

Izabelle Bunn

Kennel Technician

Izabelle's passion for working with animals began while she was working at a cat sanctuary. Izabelle graduated in 2019 and is hoping to pursue a career as a Veterinary Technician. One of her favorite things about working at Retrieving Freedom is learning the dogs' different personalities.

Kirby Martin

Kennel Technician

Kirby's love of animals can be traced all the way back to her very first pet, an imaginary cat named Mary who accompanied her everywhere as a toddler. She has since graduated to real pets of all types, but found she has a particular affinity for both dogs and horses. Kirby graduated from the University Missouri in 2018 with a degree in psychology, and went on to apply her skills handling show horses and managing enrichment for their canine companions. Kirby and her boyfriend Lane, along with their dogs Hank and Ella, and horse, Gavin, recently moved to Warrensburg Missouri, where Kirby is relishing the opportunity to work with Retrieving Freedom.

Danielle Wildschuetz

Kennel Technician

Danielle has always fostered a deep love for animals. Growing up she showed cattle, goats, and rabbits. She was heavily involved in both her local 4-H club and an active member in her high school FFA chapter. After graduating high school, she continued her education at State Fair Community College to earn her degree in Agriculture. She hopes to continue working in the "dog world" after graduating.