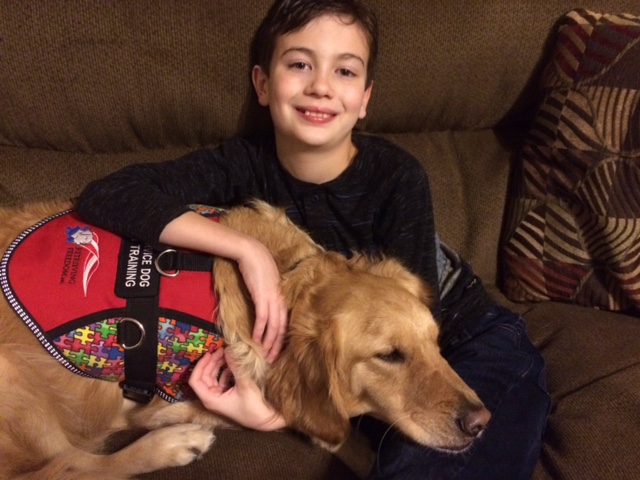 Autism service dog Rex was placed with his recipient, Jaxon, in November 2017. Below is a note from Jaxon's parents, John and Marcy:
"There are so many extraordinary things that happened when Rex became part of our family. Many moments of happiness and clarity of what our new world was going to become. In the beginning, everything sounded like this might be great for me but I thought, 'Jaxon doesn't connect very easily' and really had no expectations. That moment when Rex and Jaxon were introduced wasn't only mind-blowing to me but the world of so many possibilities just unfolded in front of my eyes. It's a moment I will always remember.
Not only is Rex an amazing tool to help me manage Jaxon in public, but most importantly, he is the vessel to help me with Jaxon at home. As I've said, Jaxon hasn't connected well. With Rex, he has a companion, a best friend, and a bridge to help establish other relationships outside of his world. One I've been thrilled to see happen is with his sisters - he actually plays with them now. Rex established a common interest and is now becoming more than that. I have witnessed him have a conversation. Small, but with purpose. Introducing Rex with such pride which shows me a side I don't get to experience often. Jaxon is a happy boy but these characteristics have been more in tune since Rex has been a part of Jaxon's life. He shows a consistent responsibility when feeding him, to compassion when taking care of him. These are the moments that will assist in shaping his future - a future of hope and as much independence as possible.
Thank you Retrieving Freedom for giving this gift of hope and possibilities, not only to Jaxon but our entire family. We will be forever grateful.
Always,
The Growden Family"