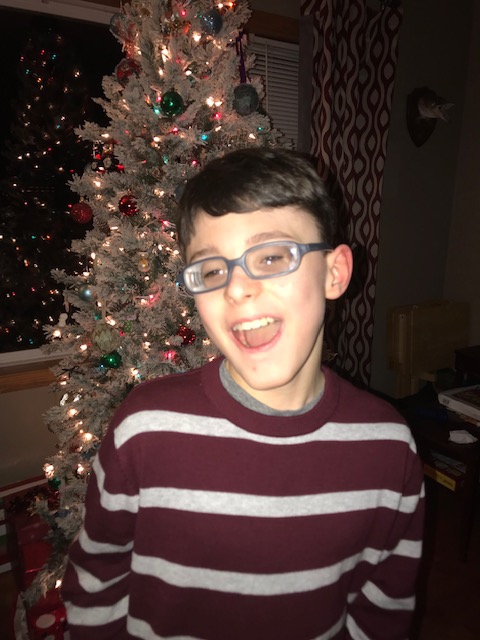 From the beginning we knew life with Eddie was going to be different. He was born at just 24 weeks gestation weighing in at 1lb 3oz but from the moment he was born he proved to the world how much of a fighter he is by overcoming every obstacle thrown in his way. Due to his prematurity, we were not able to hold our precious baby boy, he was quickly whisked away to the NICU where his fragile body was being pumped full of medications and oxygen just to keep him alive. We spent our days and nights in fear of the unknown but hoping for the best. Eddie spent the first four and a half months of his life in the NICU surrounded by nurses, doctors, machines and love, lots and lots of love.
During his first couple years of life, Eddie failed to meet milestones. This was somewhat expected due to how early he was born and the brain bleeds he had as a result of his traumatic birth, but even with the corrected age, he was falling behind. He remained on oxygen until he was almost two years old and had to be fed through a feeding tube. At the age of two, he could barely sit up by himself but was able to roll in order to get where he wanted to go. Eddie spent countless hours at doctor appointments, therapy sessions and event therapeutic horseback riding lessons to help him gain strength, move around, eat, hold things and even speak.
Eddie was diagnosed with Hypotonic Cerebral Palsy and has always had a hard time with mobility and fine motor tasks. These delays, along with his inability to talk, caused some frustrations in Eddie. He would have outbursts at school and "throw fits" when he didn't get things he wanted. Through many frustrating situations and more appointments and tests, Eddie was diagnosed with Autism when he was 6 ½ years old. Once he got that diagnosis, we were able to get services to help him blossom.
Eddie attended a program every day that worked with children diagnosed with autism. This program helped Eddie "learn to learn" through ABA therapy which decreased the outbursts at school. There were many frustrating days but over the years Eddie grew by leaps and bounds and eventually graduated from the program. Even though he (and the family) have gained a wealth of skills from this program, he still struggles every day with tasks most people take for granted. Having age appropriate conversations is challenging for him and he gets stuck on specific subjects. He could probably tell you about the washers and dryers of every person he has ever met (because he is fascinated by them) but he doesn't understand the dangers that come with a parking lot or that a lady in the grocery store may not be his best friend.
Eddie is now a happy, goofy, loving, 11 year old boy. He has a hug that makes all your troubles melt away and a laugh that is contagious. As the parents of a special needs child, we see the importance of animals and the roles they can play to help individuals lead more successful lives. Having a service dog will enable Eddie to gain social skills and encourage him to use his words more so his language will continue to develop and his social skills will improve. We hope a dog from Retrieving Freedoms will help Eddie sleep through the night and be there for him so he isn't waking up and getting anxious because he is by himself. When Eddie is having a bad day or just needing a little bit of sensory input, we hope the pressure his service dog can give him will help his day go smoother. Having the service dog to help with tasks such as opening doors, retrieving dropped items or being the support when he needs to get up after a fall will enable Eddie to be more independent. Everyone deserves to be their best and we hope that the partnership a service dog can offer Eddie will help him to be a better version of him.
Please consider making a donation to help Eddie and others like Eddie get the sidekick they deserve.