Jessie's Journey
Stage 1 Introduction
Hello there, my name is Jessie! I am proud to have been selected to enter into the Retrieving Freedom training program. I came from Green Hills Goldens in Chillicothe, Missouri. During this stage of training I will be spending approximately 8 to 10 months with my new volunteer foster, Courtlin.
Throughout Stage 1, I will learn the basics obedience, public behavior, and a lot of socialization. I understand that it takes a very special dog to complete the program as there is a high standard to become a Service Dog. I am aware that I may be one of the dogs whose purpose is outside of service work so I will be updating my profile on a monthly basis for all that would like to follow my journey through the program.
December 2020 - 2 months old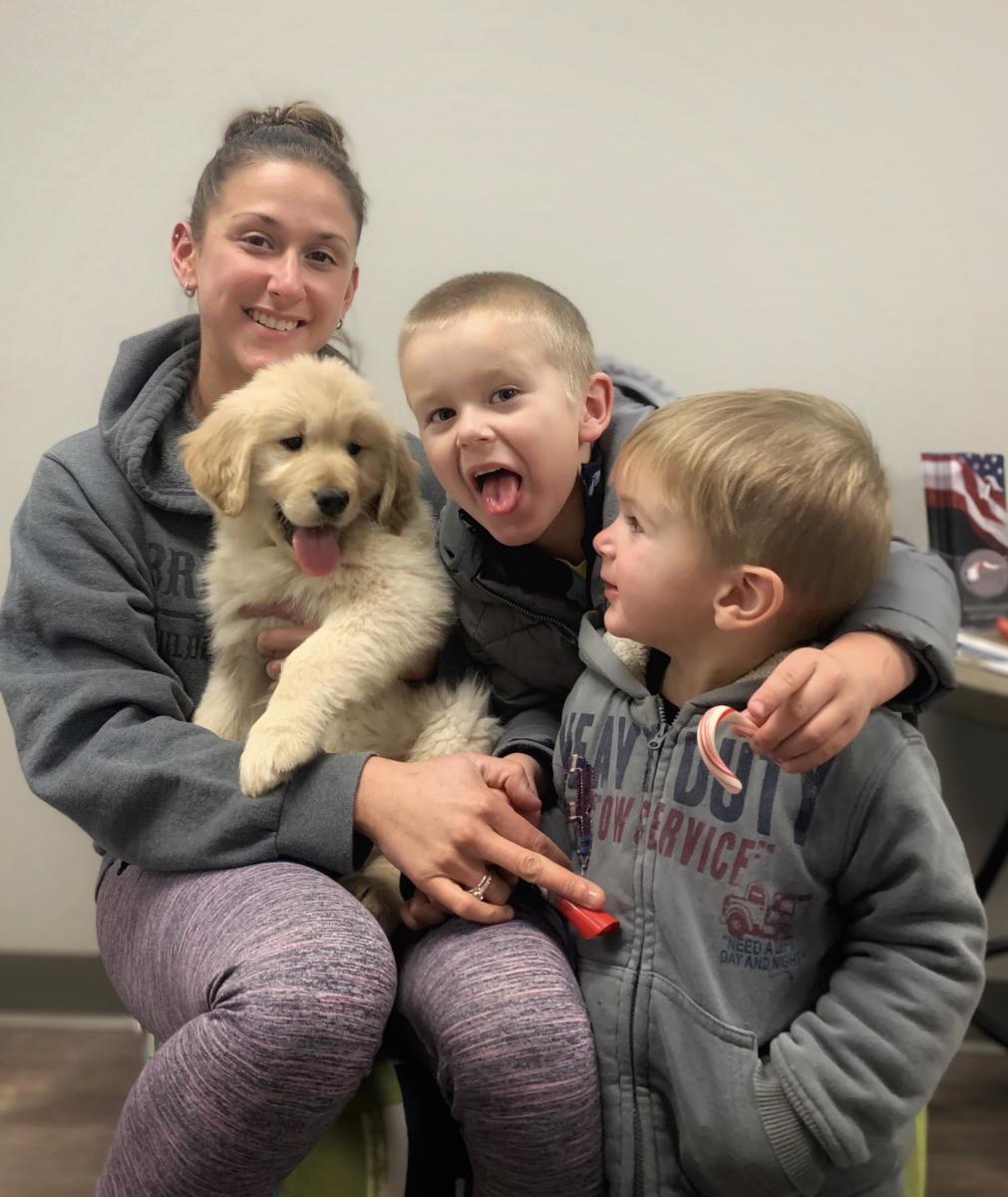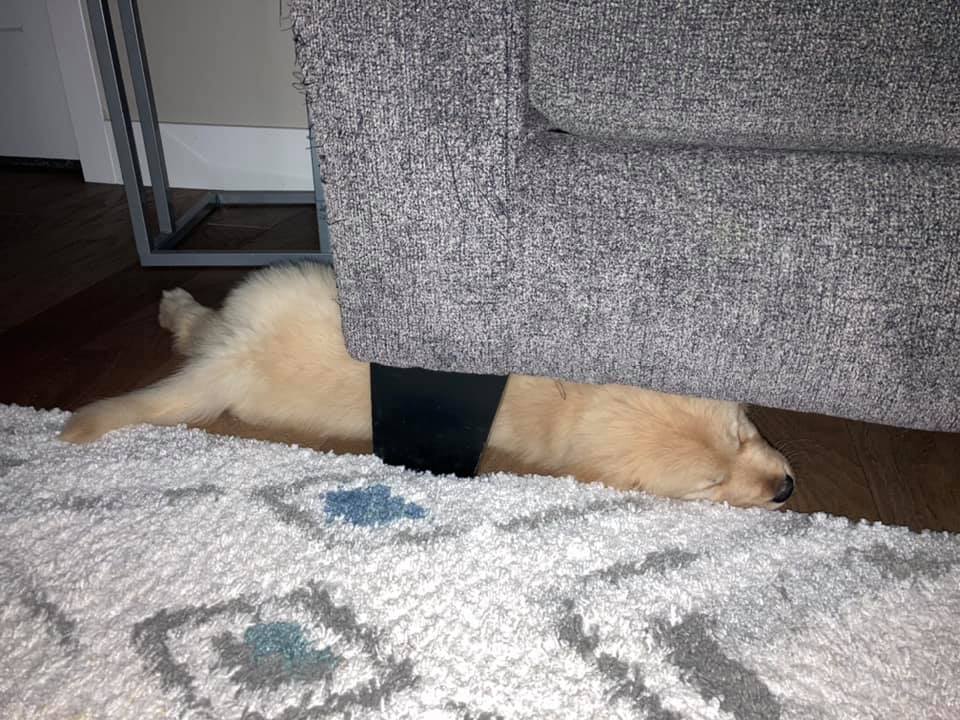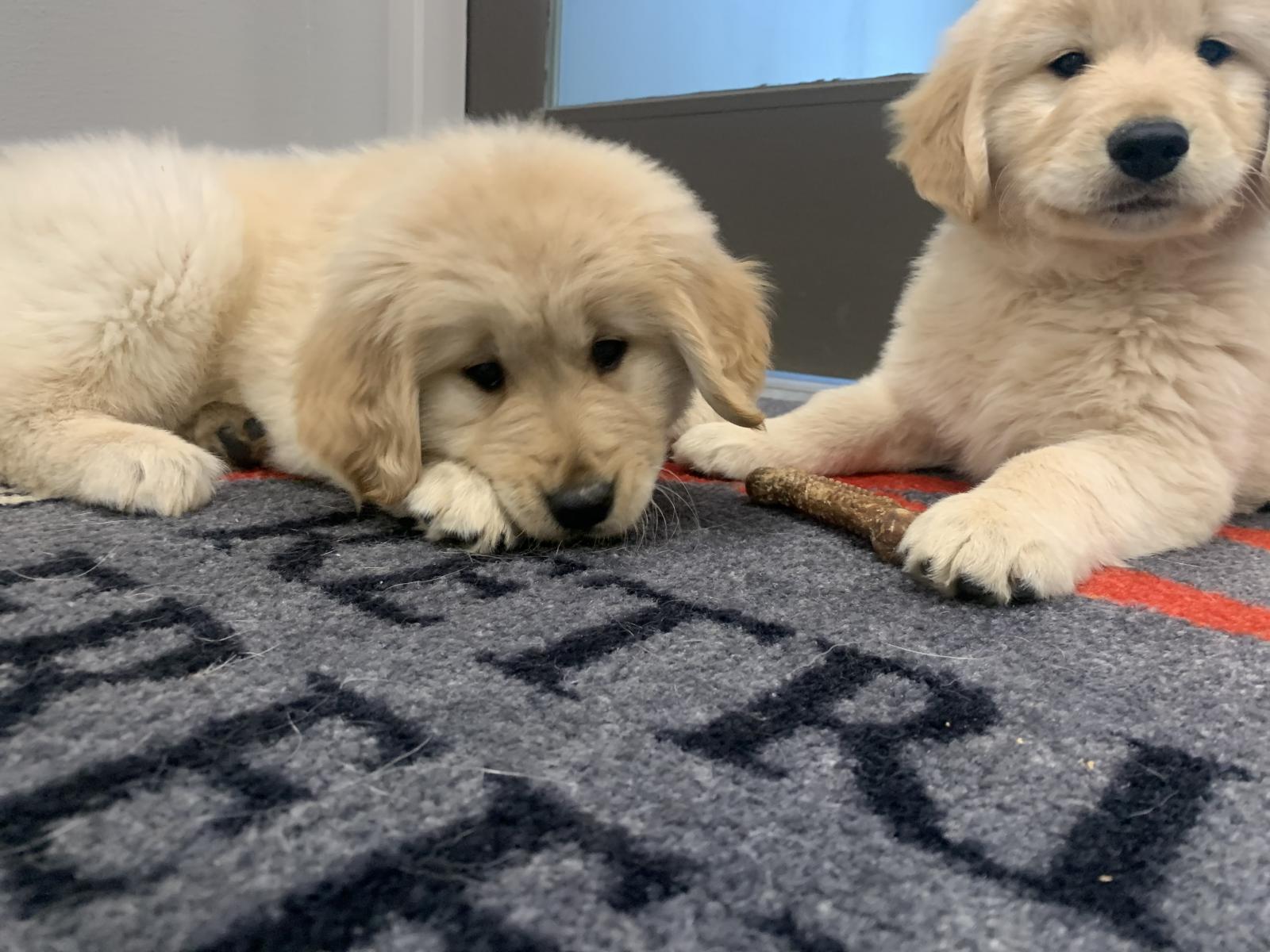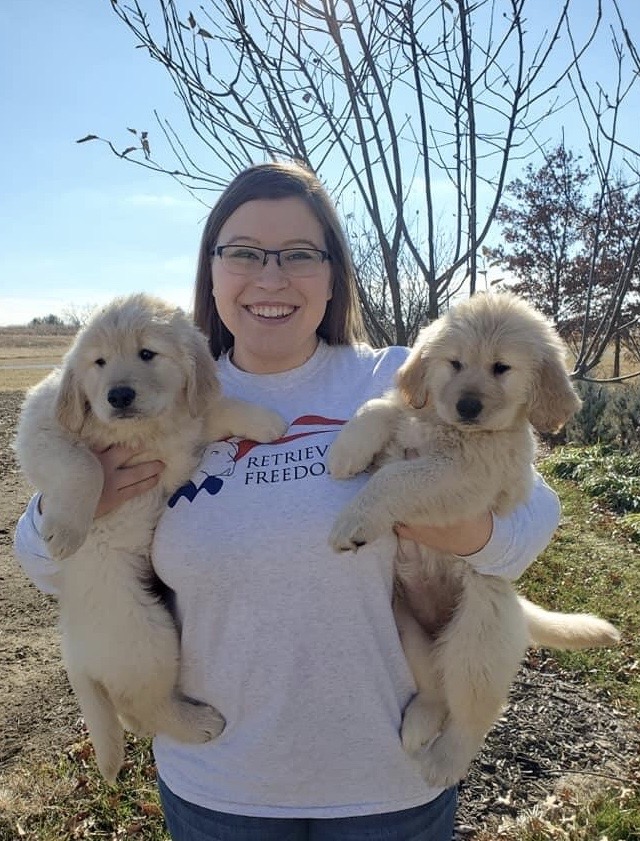 I've been spending time with Melanie, my temporary foster! The first tasks we're working on is potty training, name recognition, and crate training. I'm also learning to properly walk on a leash. I only train for about 10 minutes at a time until I'm ready for a nap! Lately I've been napping in my favorite spot, which is under the couch. Melanie says she doesn't think I'll fit there for long, but we will see about that!
January 2021 - 3 months old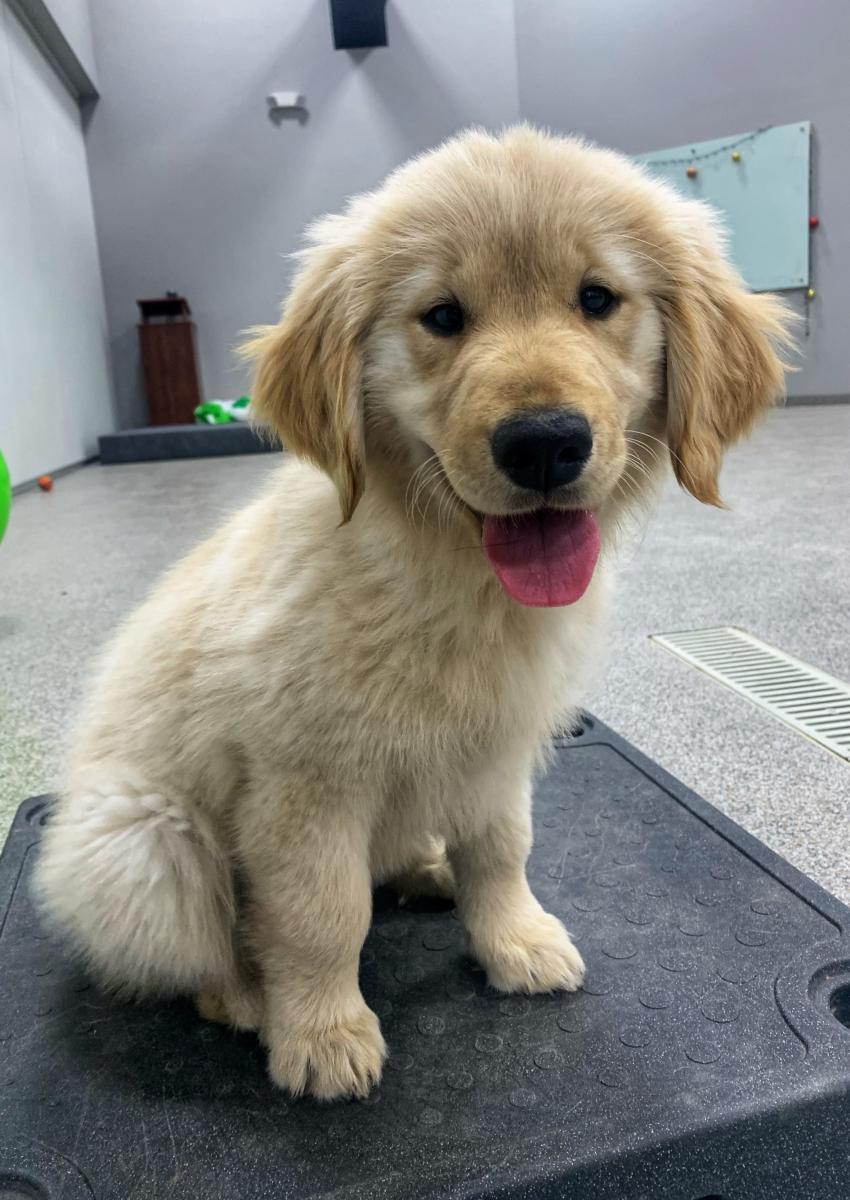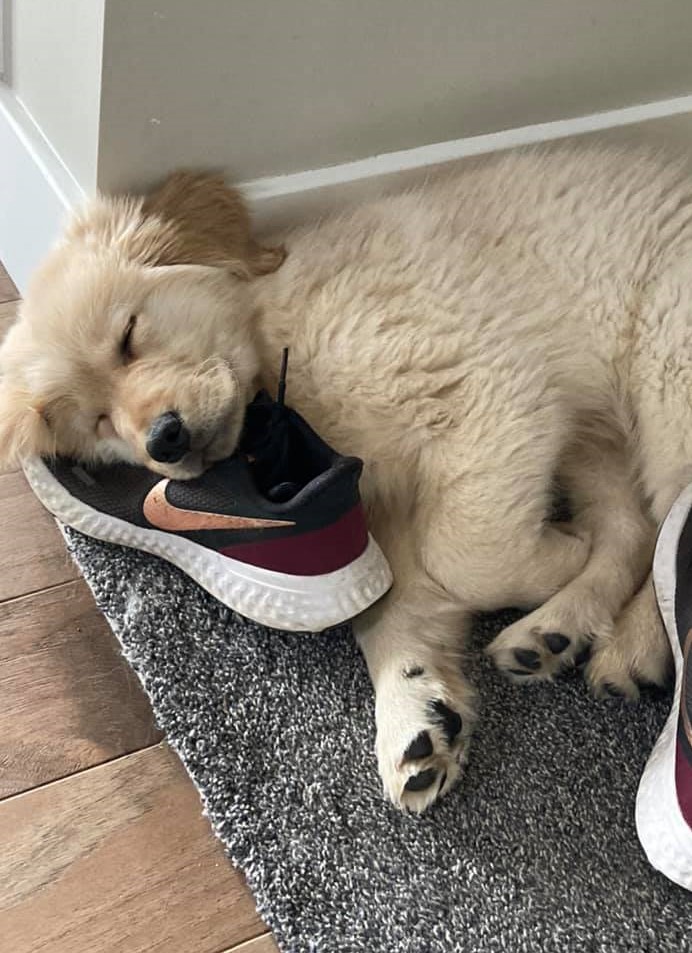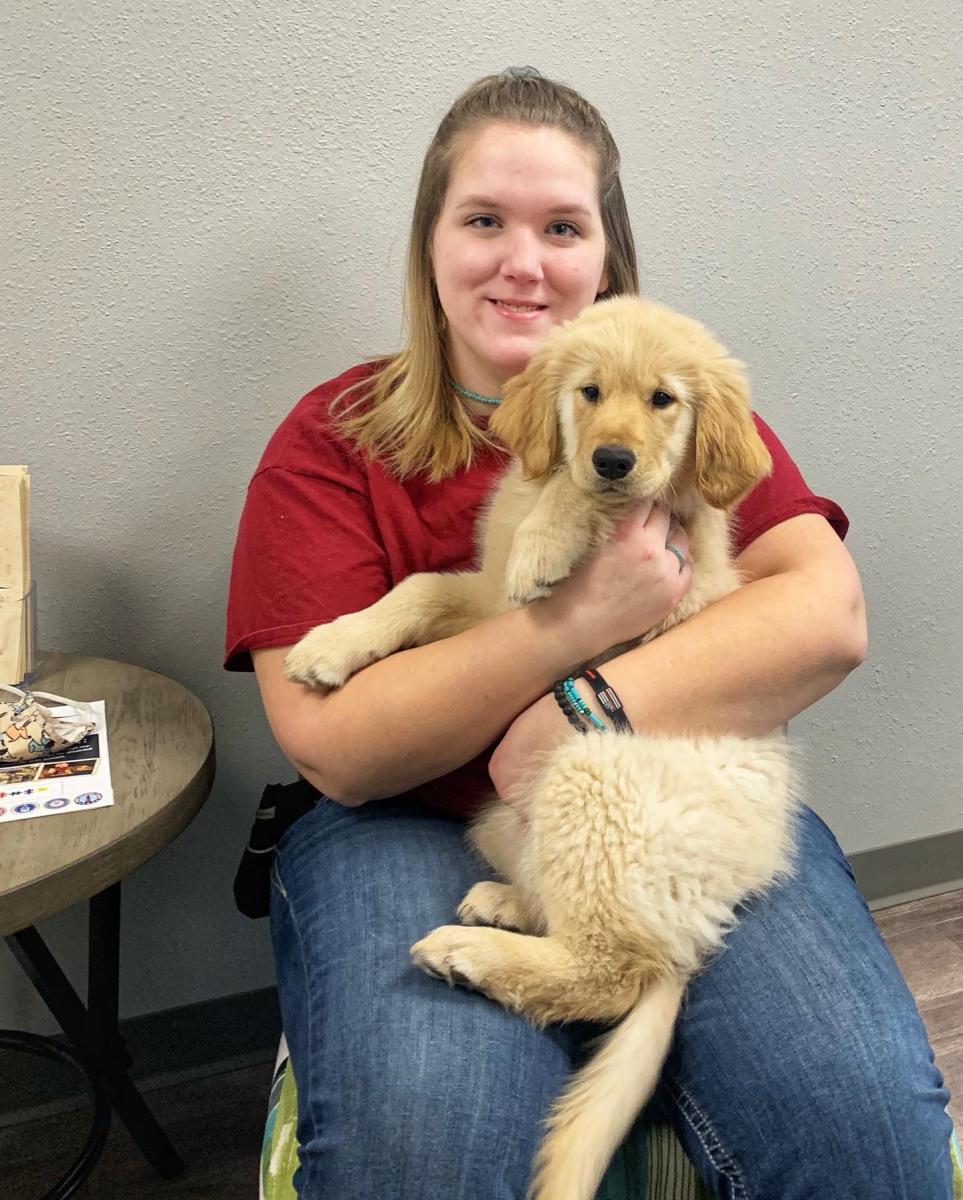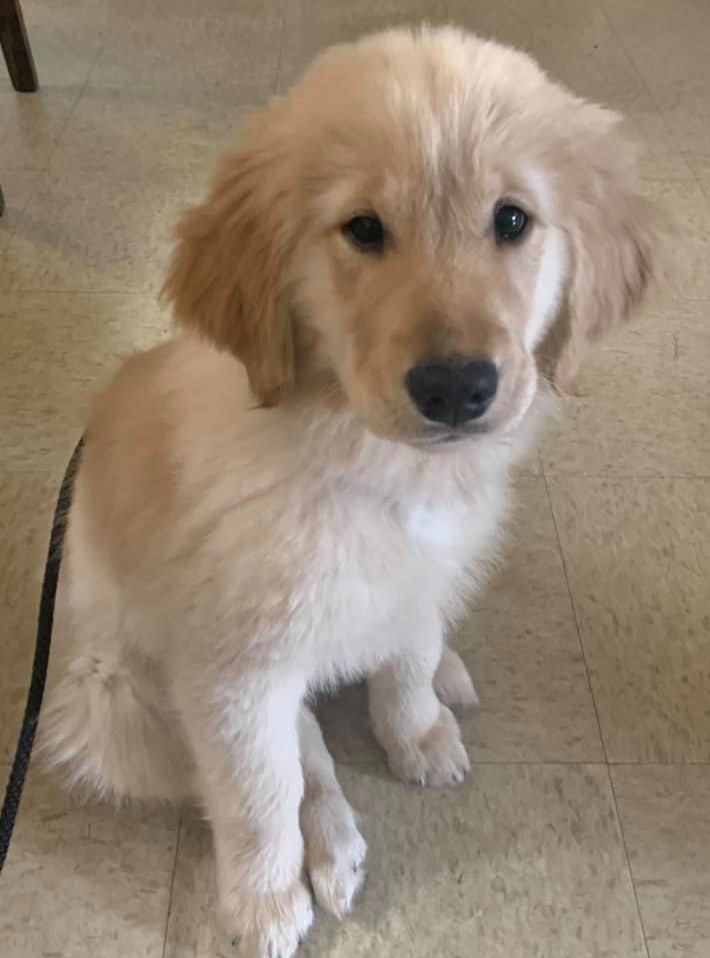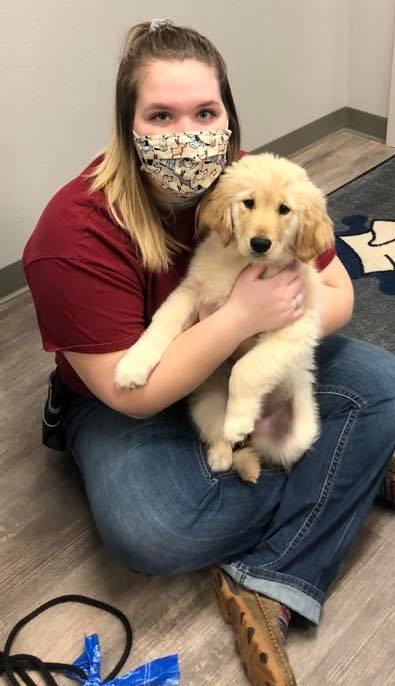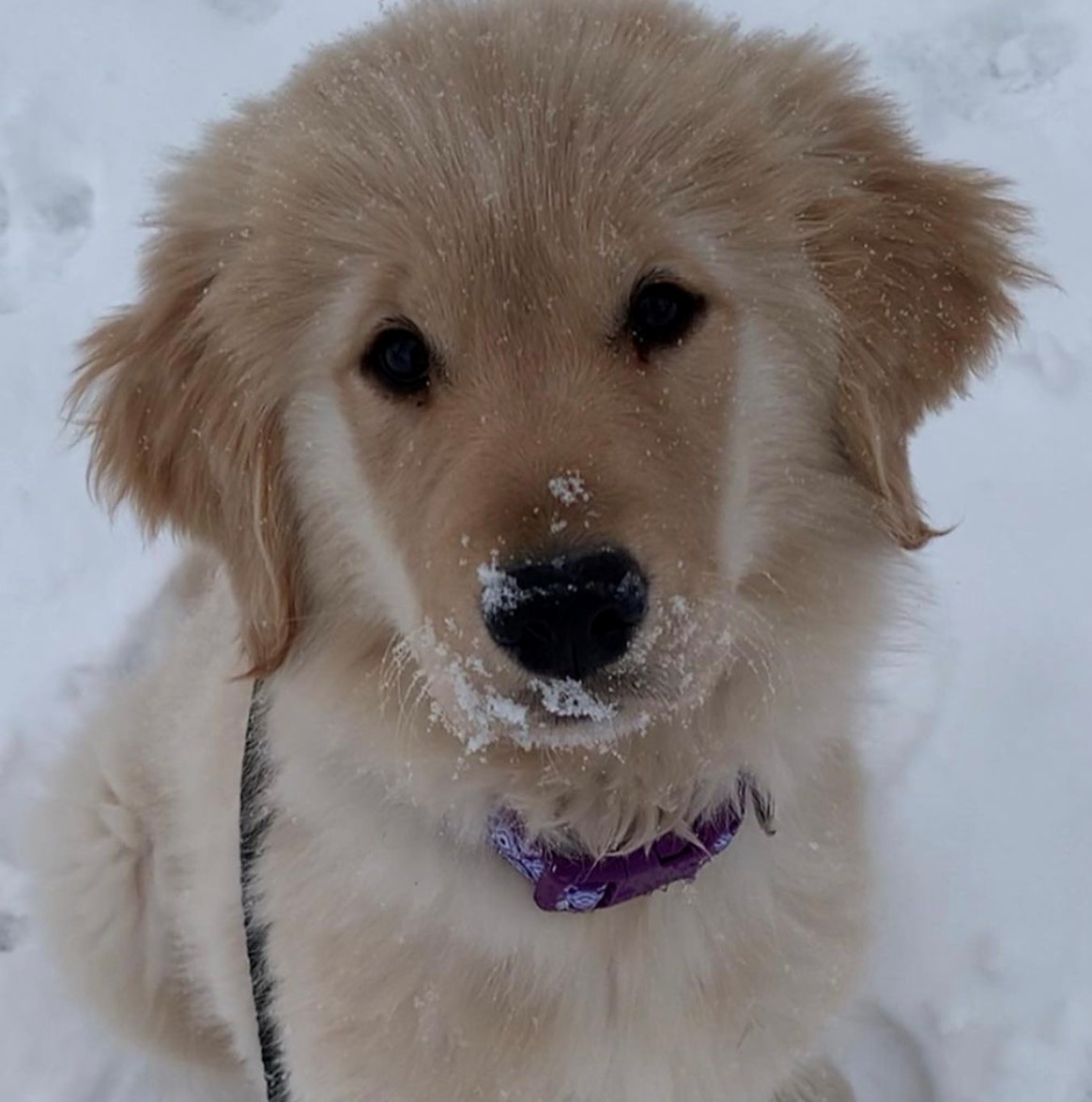 I stop by the Retrieving Freedom facility every few weeks to show the trainers my progress. I always make sure to leave them with a smile, by flashing this sweet look! My training is coming along nicely. At the end of this month, I said a tough "see ya later" to Melanie and her family. I can't thank them all enough for getting me started on this path toward becoming a service dog! I am now settled at home with my new, full-time foster, Courtlin! We are excited to see what we can accomplish together.
February 2021 - 4 months old
I have a mat in the living room at Courtlin's house that I like to relax on. I've learned the commands "sit" and "down." I took my first public outing for training at the end of this month! I switched from a slip lead to a gentle leader which has helped my heeling tremendously. I've been introduced to the command "under" and "touch." I have a bit of a barking issue when I'm in my kennel - we are working on this!
March 2021 - 5 months old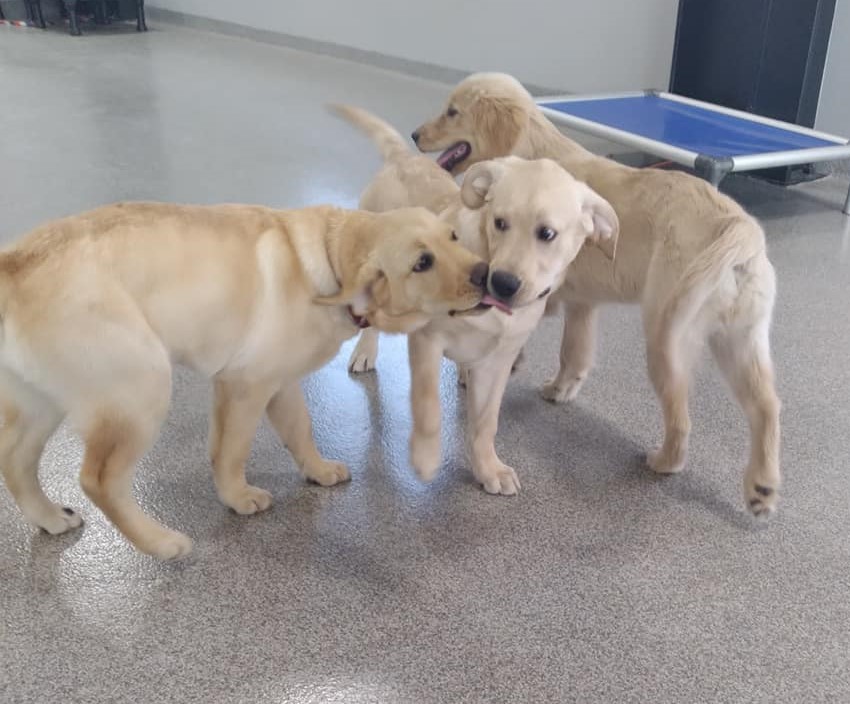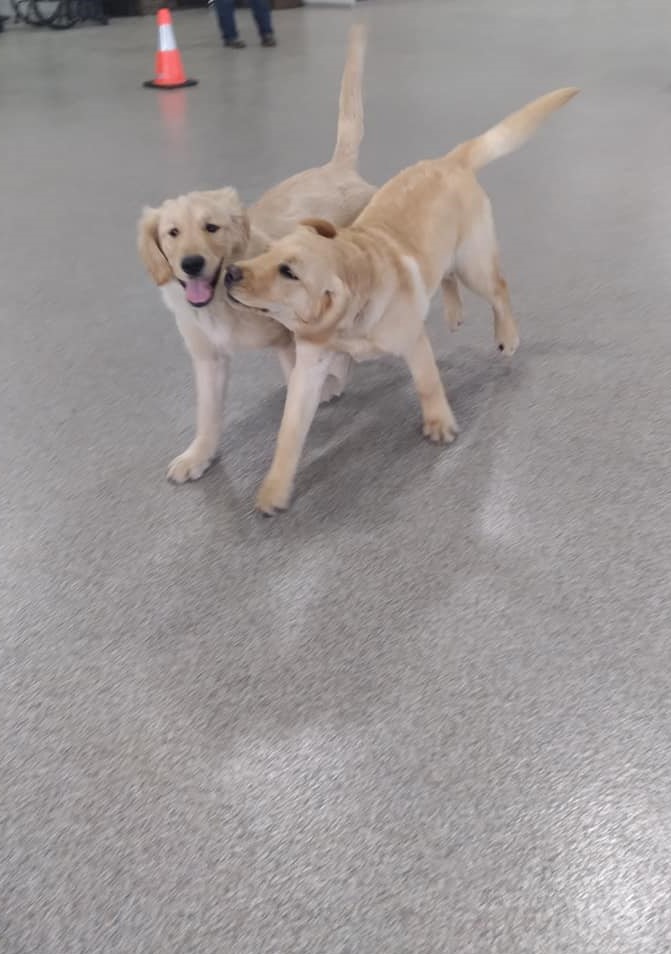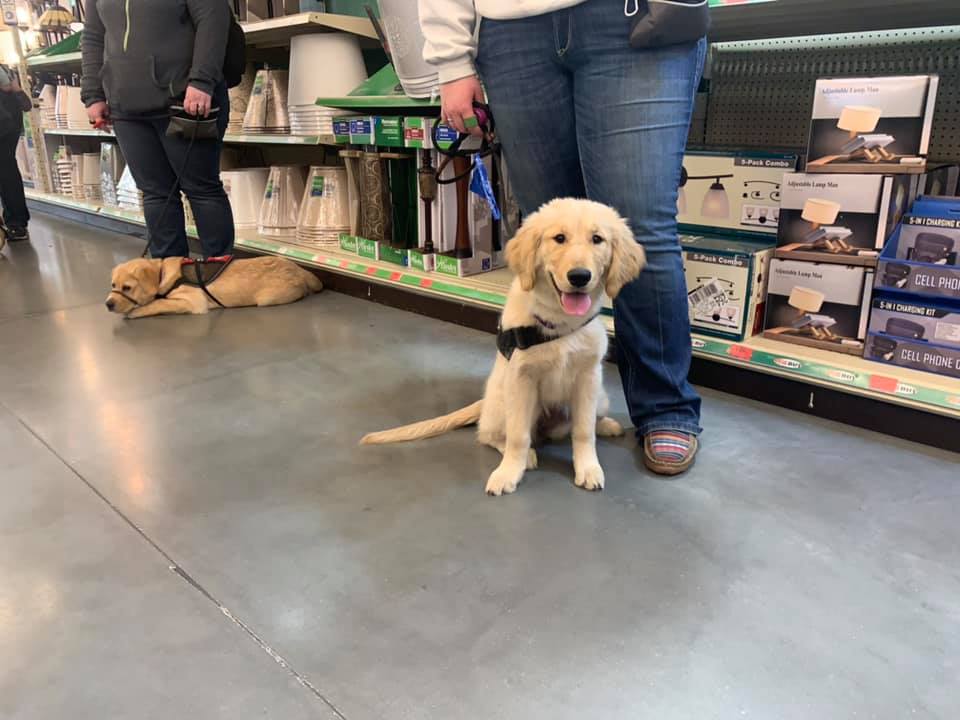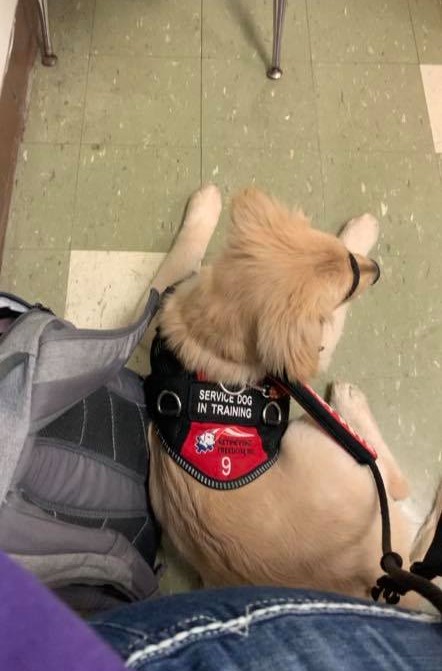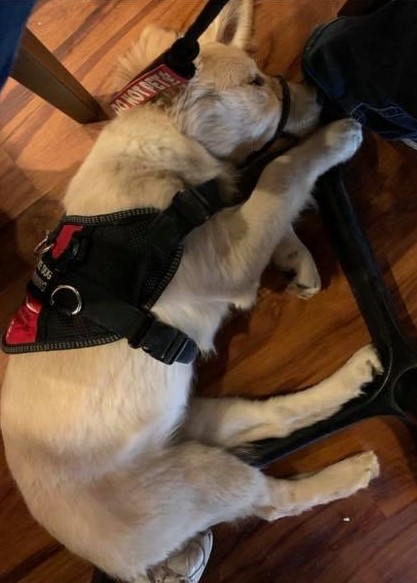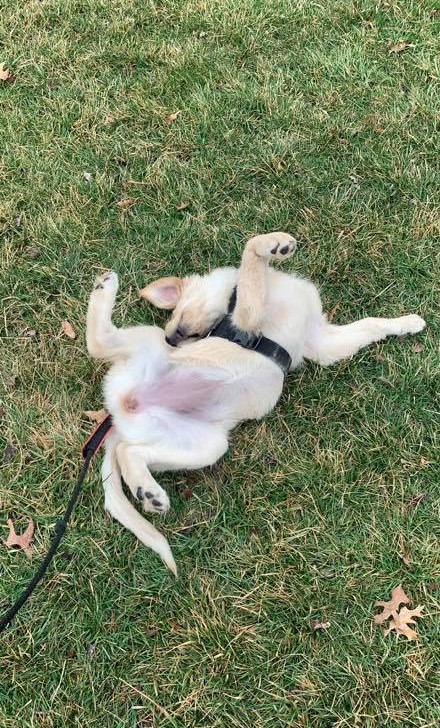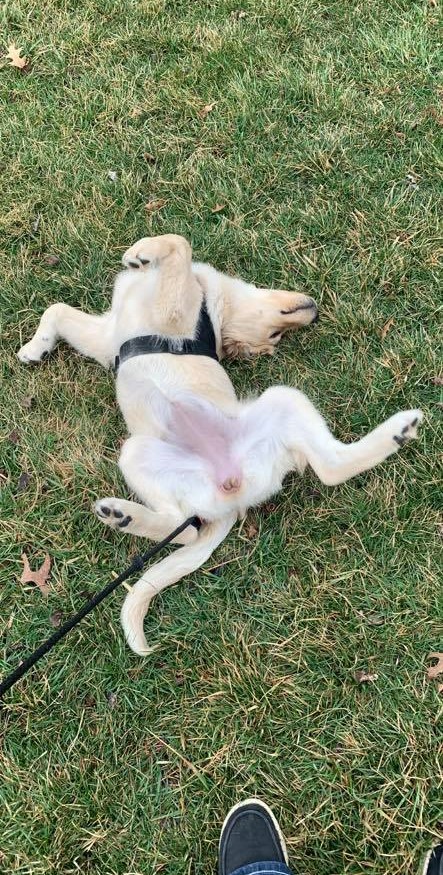 Courtlin and I have been participating in various training sessions, in both individual and group settings. We went to Menards and worked on "place" and appropriate public work. We also had play time after a training session at the facility, where I was able to play with other dogs my size! I had so much fun. I am working on staying focused around other dogs. When they enter the room while I'm training, I tend to forget what I'm working on and just want to play. This month was my first time going to college classes with Courtlin! At first I was curious, but it didn't take me long to lay down next to or under Courtlin's desk and relax. I wasn't bothered by numerous people walking around me and I'm mostly calm throughout entire classes!
April 2021 - 6 months old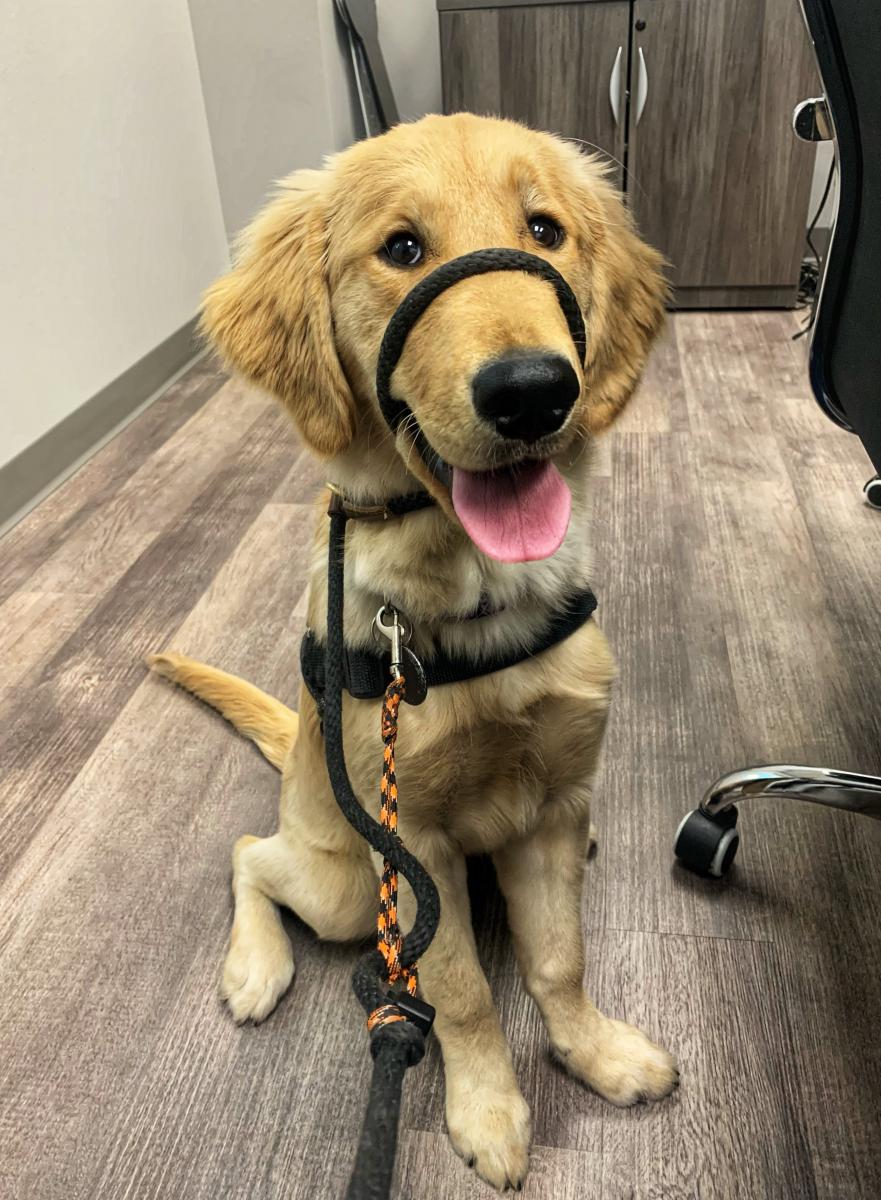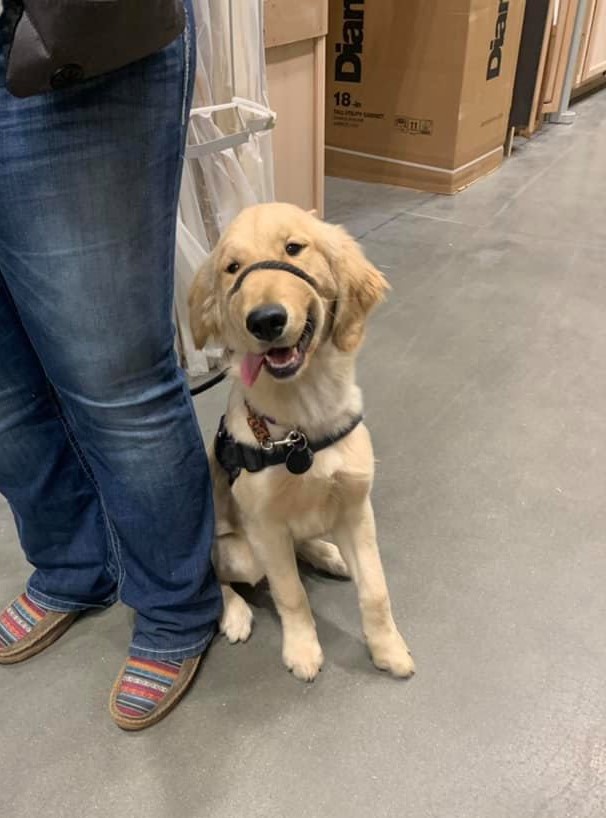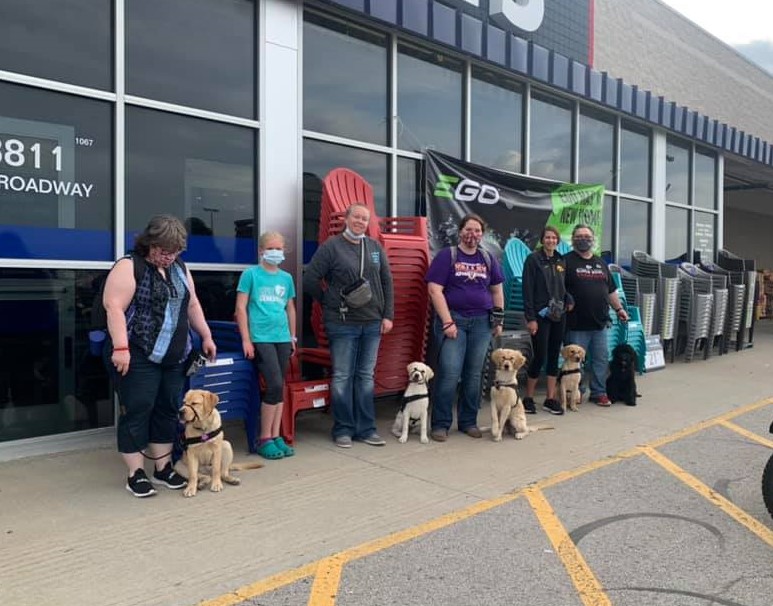 I am growing so much! I continue to go to college with Courtlin, training both in public and at home. I like to relax and play at the end of each day. We took part in another group training session at Menards and I went to my first farm store. I love looking at the baby chicks and ducks! At a craft show, people tried to talk to me but I ignored them and stay focused on Courtlin. I'm learning so much!