Placement | March 2019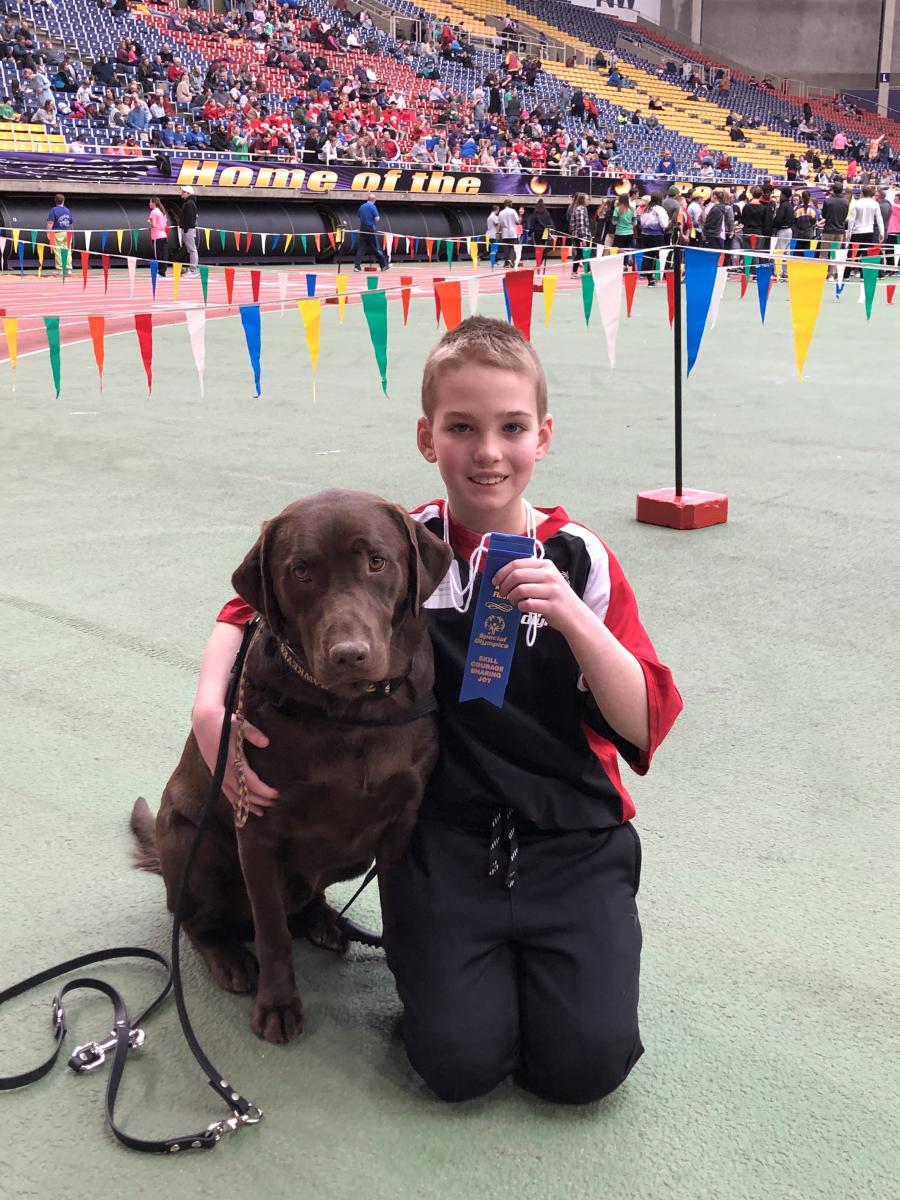 Paxton and Crush, along with their family, completed their certification and were officially named a placed Service Dog Team with Retrieving Freedom in March of 2019.
Paxton's Story
Please help us in our goal of getting our son Paxton a service dog. Our son Paxton is eight years old and in 2nd grade. he was diagnosed as being on the Autism Spectrum just short of his third birthday after we noticed developmental delays. While he struggles in certain areas, he has made tremendous progress and makes us very proud every day. Raising a child with different needs is certainly a challenge but it teaches you to celebrate the small things every single day.
One of the things Paxton struggles greatly with is anxiety. Medications have helped but it just takes the edge off and there are days when they don't help at all. We describe having a child with Autism like riding a rollercoaster. You aren't quite sure what you are going to get or what's around the corner the next second. The smallest thing may trigger a meltdown. These moments are truly heartbreaking as we know he is not trying to be defiant, his body is just at war with itself. When these moments occur, we have to hang on, grip the bar tight, and pray the end is near. It is not uncommon for Pax and us to be in tears at the end of these "rides."
Lately Paxton's anxiety has caused us to cancel his speech therapy and he couldn't even attend his music concert. He has even started darting away from us in public when he gets too anxious and on numerous occasions jumped out of a moving car because he didn't want to go somewhere.
We have recently brought Pax for a few visits to Retrieving Freedom and he lights up when he has interactions with the dogs. He loves to cuddle and tells us it makes him feel better. From the first visit he has talked about the dogs every single day telling us that all he wants is a service dog. On the second visit Paxton found the same dog and immediately asked him to cuddle with him. We all knew this is what he needed in his life.
Our hope is that a service dog would ease his anxiety, allow him to function in public with more peace, carry on a more functional life, and bring some happiness to him. Thank you for reading his bio and we appreciate you helping us reach our goal.
Crush's Journey
Joy Tumilson McMeekan originally from Rockford, IA had a brother, Jon (JT) Tumilson who was a Navy SEAL. Jon was killed in action on August 6, 2011 while on a mission in Afghanistan. He and 29 other service members were in a helicopter shot down by enemies. Jon was a serious runner, and each year his family celebrates his memory by hosting the Jon Tumilson Go Crush It 5k Challenge.
Jon had a chocolate lab named Hawkeye, who he loved and was loved by dearly. Since Jon's death, Hawkeye found a new home in at Anderson Kennels in Huntsville, Texas. At the Retrieving Freedom graduation ceremony in May of 2017, we were blessed to have Hawkeye join us after a 16 hour drive to once again be reunited with Jon's family. Along with Hawkeye came two chocolate labrador puppies, which happen to be Hawkeye's puppies. Joy and her family named the male "Crush" in Jon's memory.
Stage 1 Introduction
Hi there! My name is Crush. I am proud to have been selected to enter the training program at Retrieving Freedom. My parents are from Anderson Kennels in Huntsville, Texas. I am so excited to spend the next 8 months or so with my new volunteer foster home, Moriah!
Throughout Stage 1, I will learn how to behave well in public, basic obedience, and lots of socialization. I understand it takes a very special dog in order to complete the program, as RFI has a high standard to pass a dog as an official Service Dog. I am aware that I may be one of the dogs whose purpose is outside of service work, so I'll be posting updates monthly to allow you to follow my journey through the program!
May 2017 - 2 months old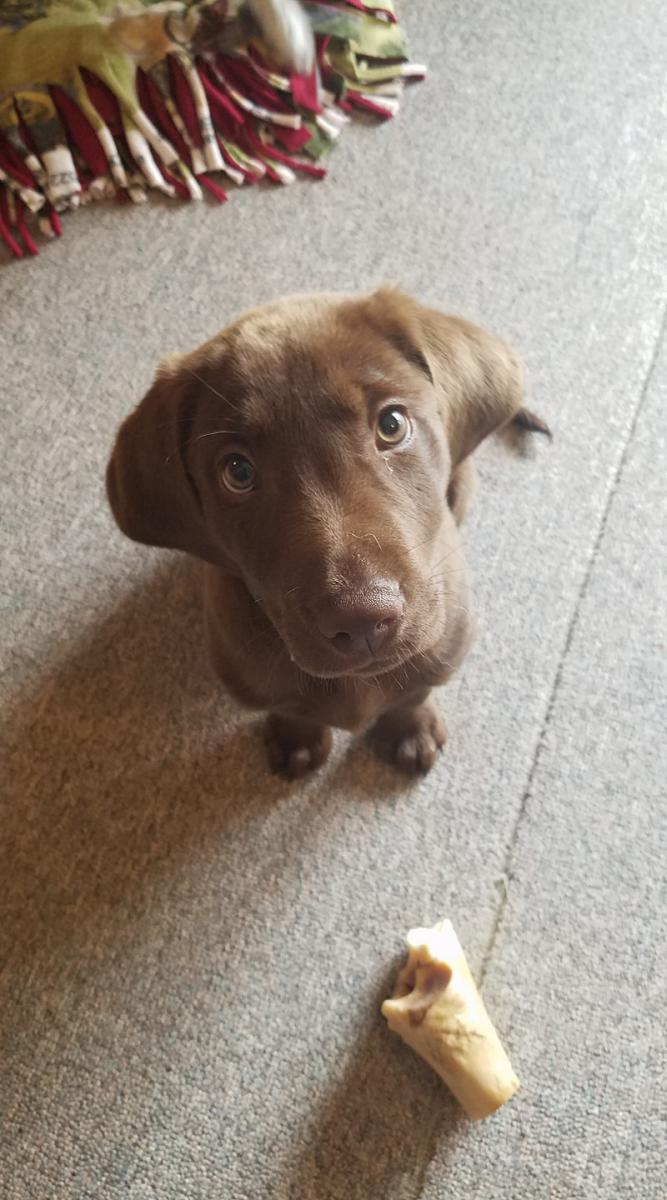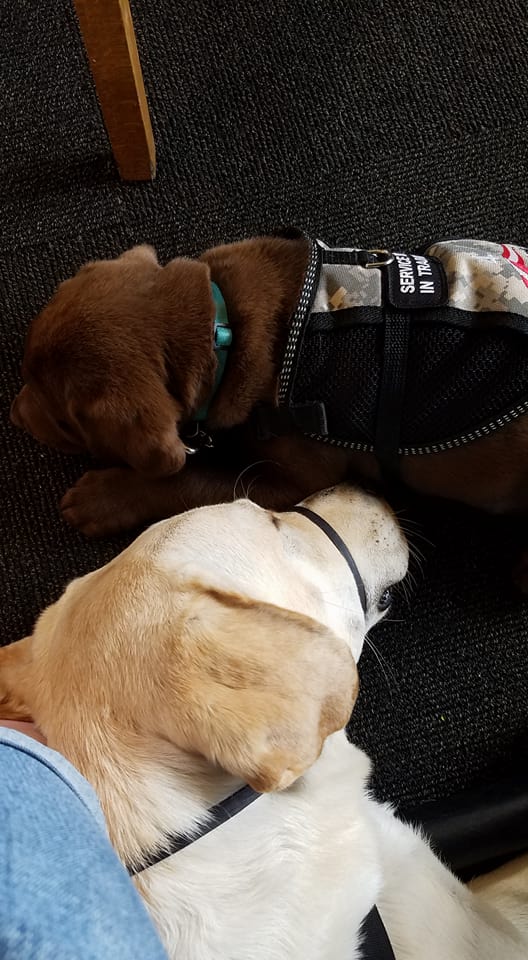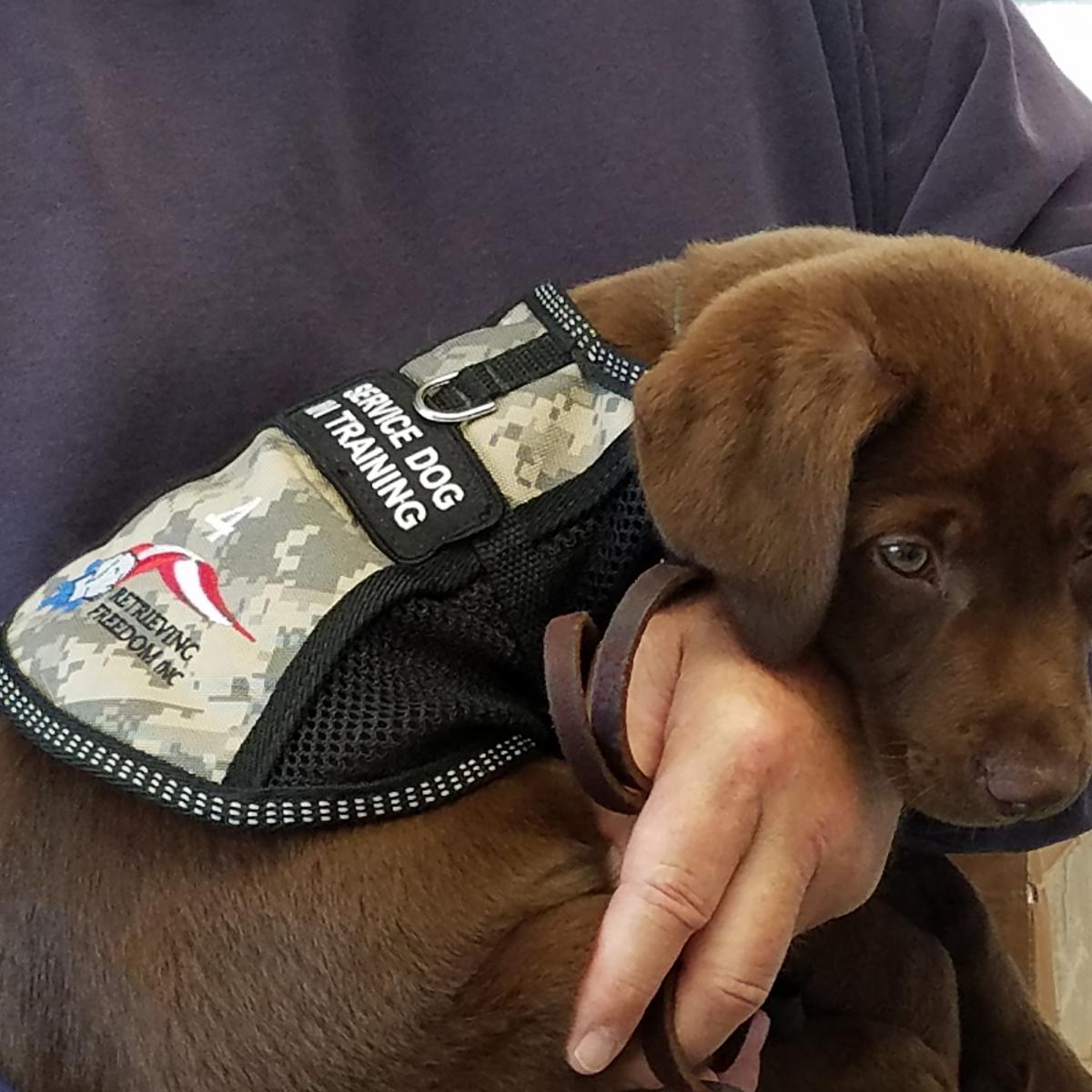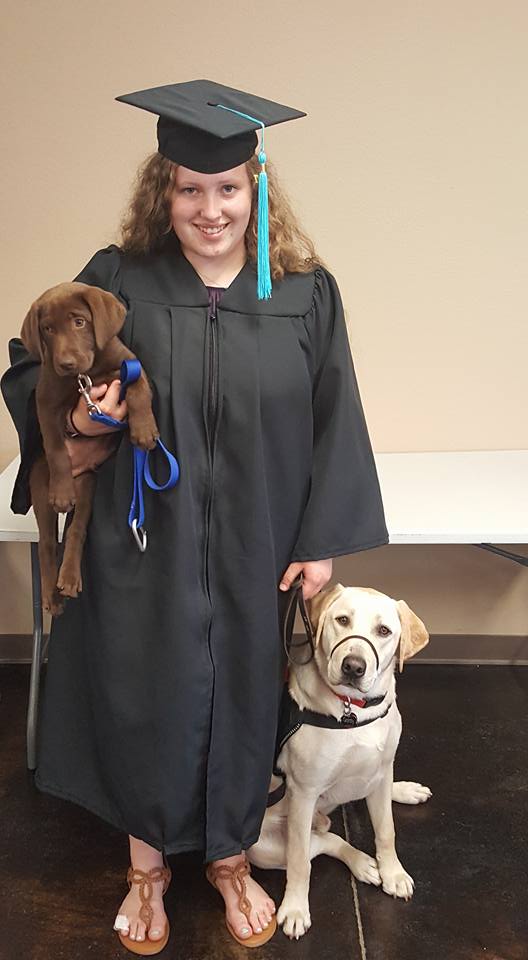 I have entered my foster home! Moriah and I will begin working on learning my (awesome!) name, potty training, walking on a leash, and crate training. Moriah is just finishing up fostering another service dog in training, Gordy, who has been showing me the ropes!
July 2017 - 4 months old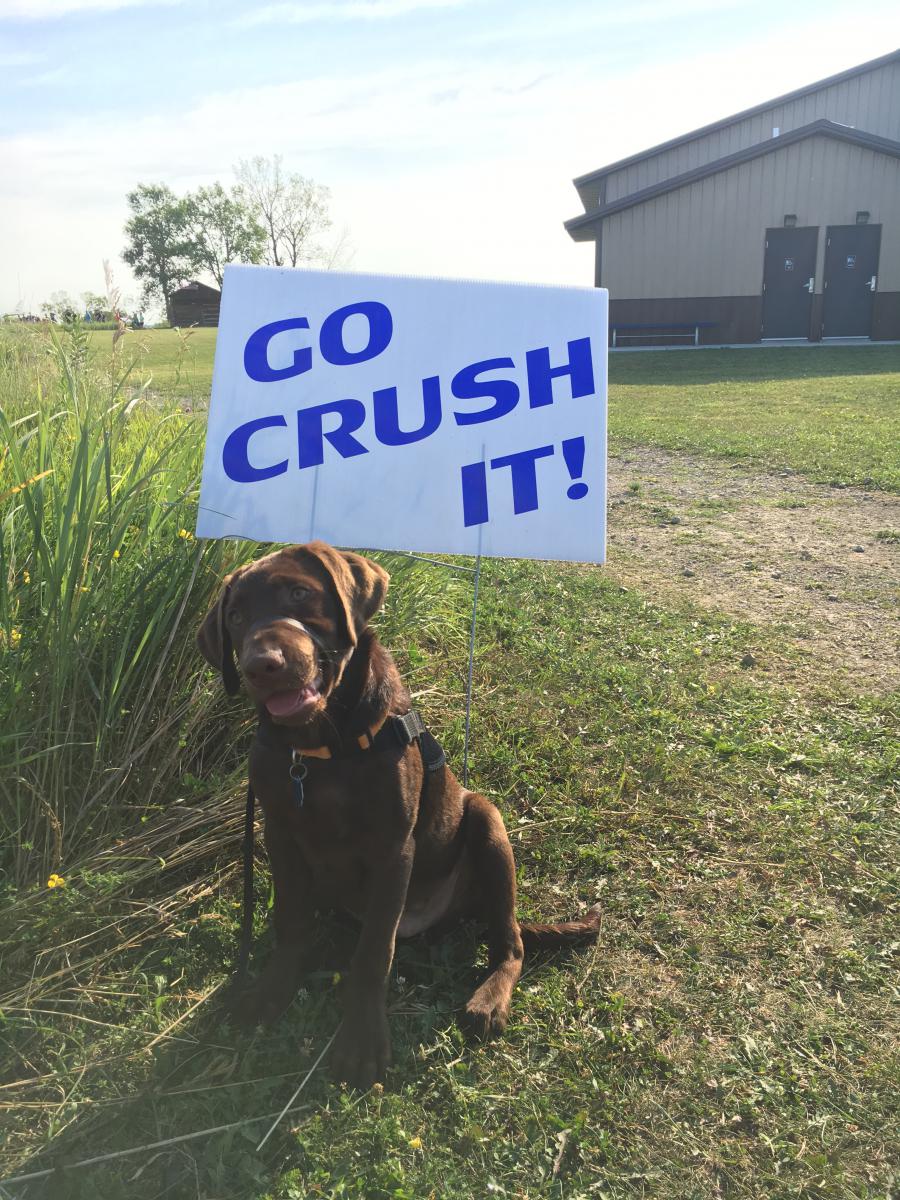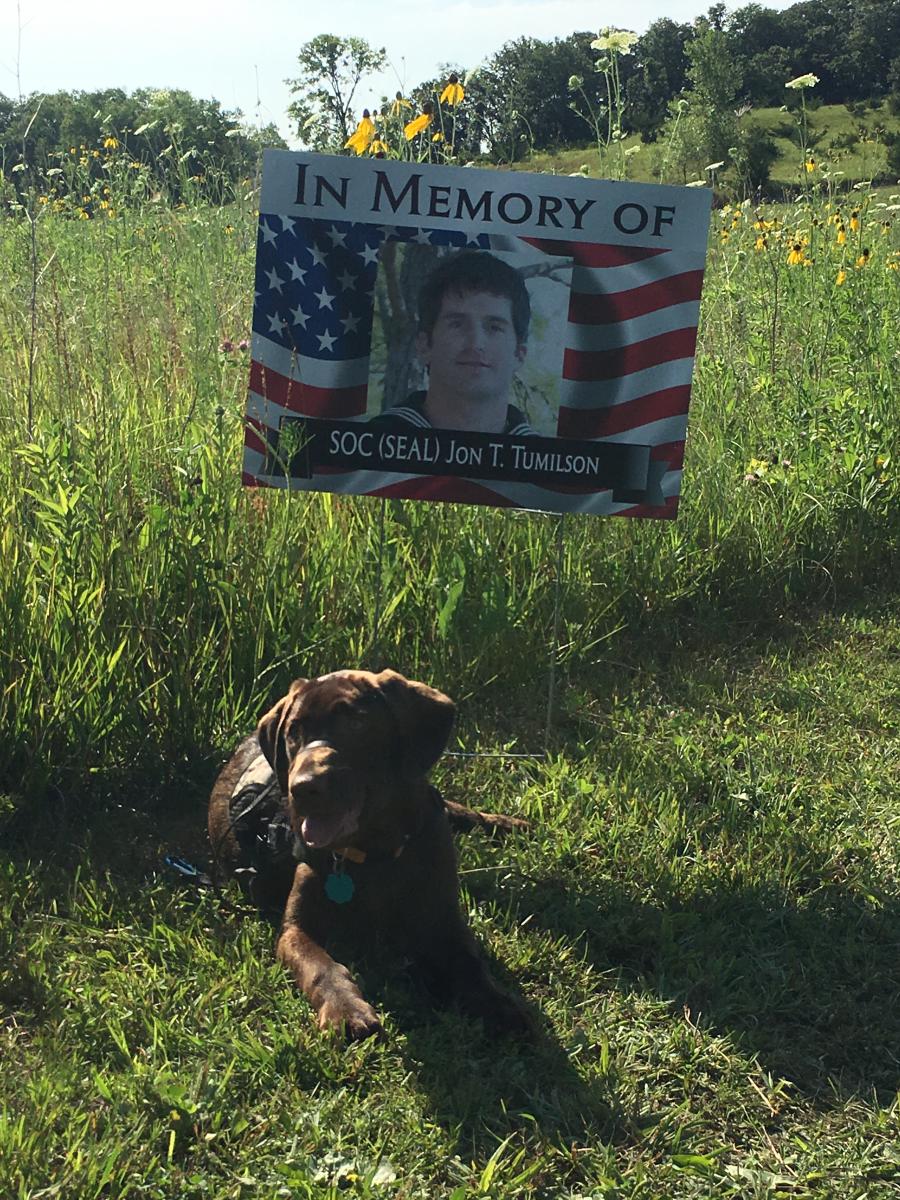 This month Moriah and I attended an annual 5K in memory of Jon, the man I was named after.
October 2017 - 7 months old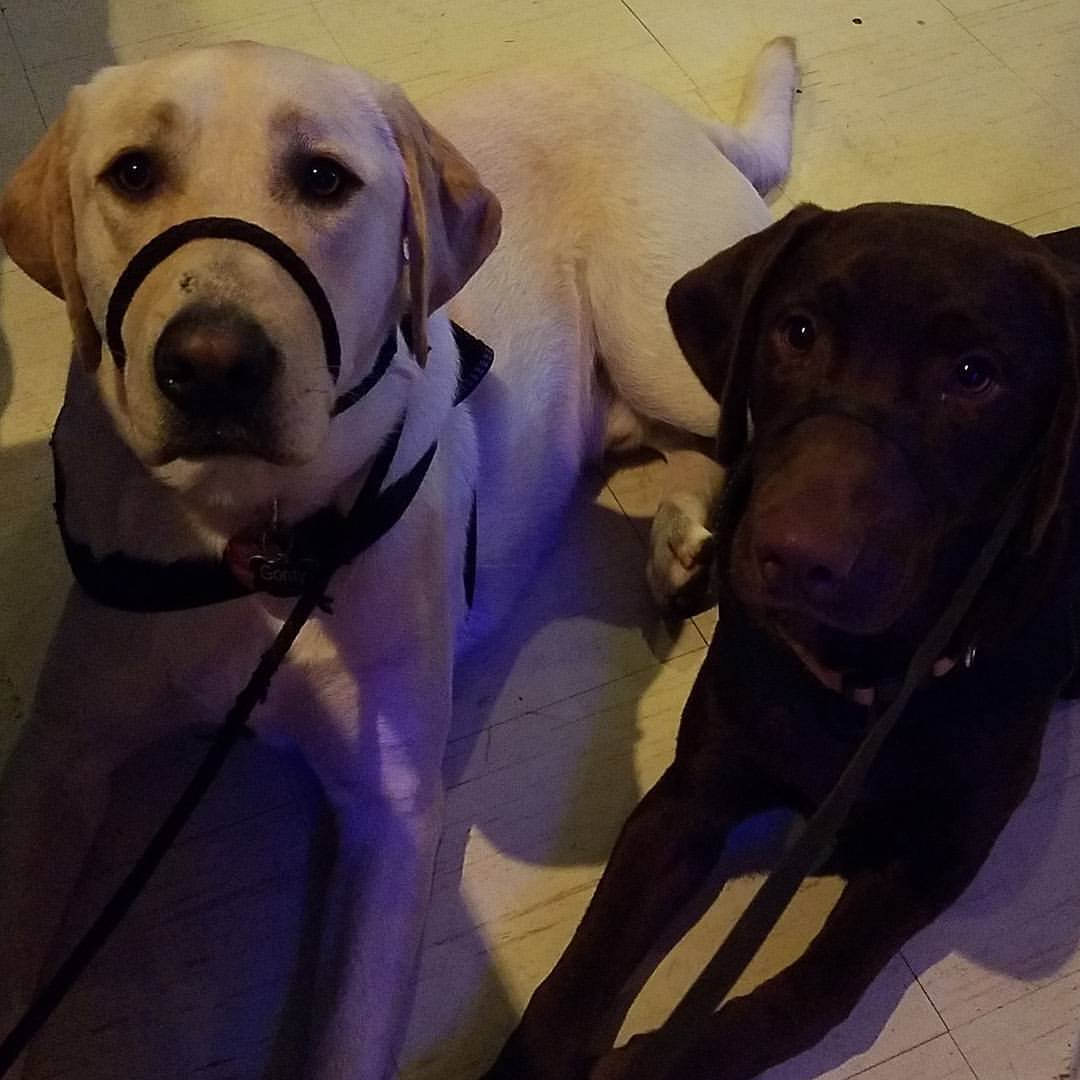 Moriah is also fostering this big beautiful guy, Gordy. He is just over one year old and will begin working with clients in the next few months or so. I've learned a lot from watching him!
March 2018 - 1 year old!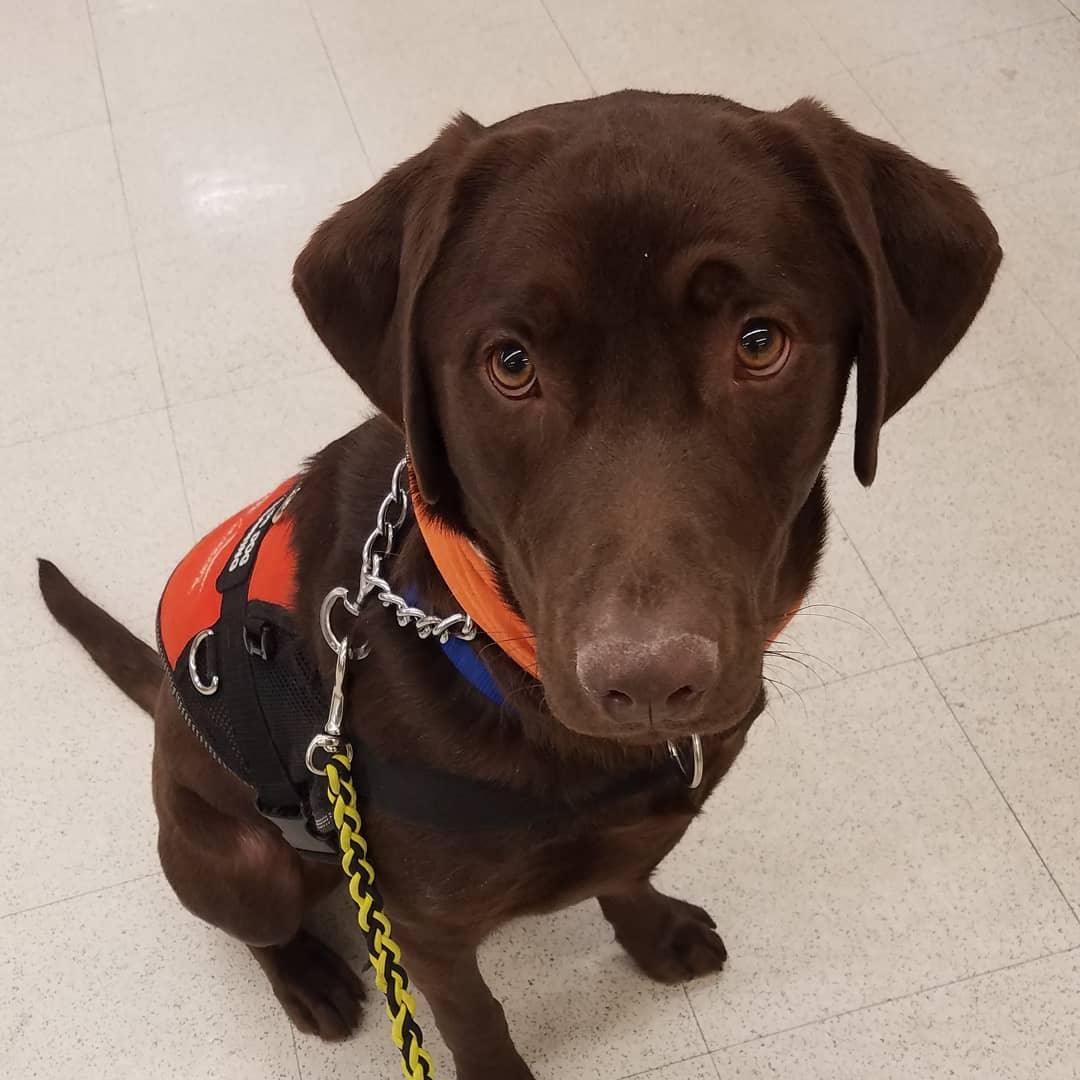 Can you believe I'm already one year old?! I will be entering the second stage of training now, to further task train with the trainers at Retrieving Freedom. I can't thank Moriah and her family enough for all they've taught me over the last year!
Stage 2 Introduction
Wahoo! I have officially entered Stage 2 of my training, and I am so excited! During this stage, I will begin working more with my RFI staff trainer and in the Impact Programs. The past 10 months with my foster Moriah have been a great learning experience, and we are both excited to see what's to come! The next 8 months will be spent working with college students, at-risk teens, and middle school students. I will also begin working on intermediate tasks associated with my future placement!
May 2018 - 14 months old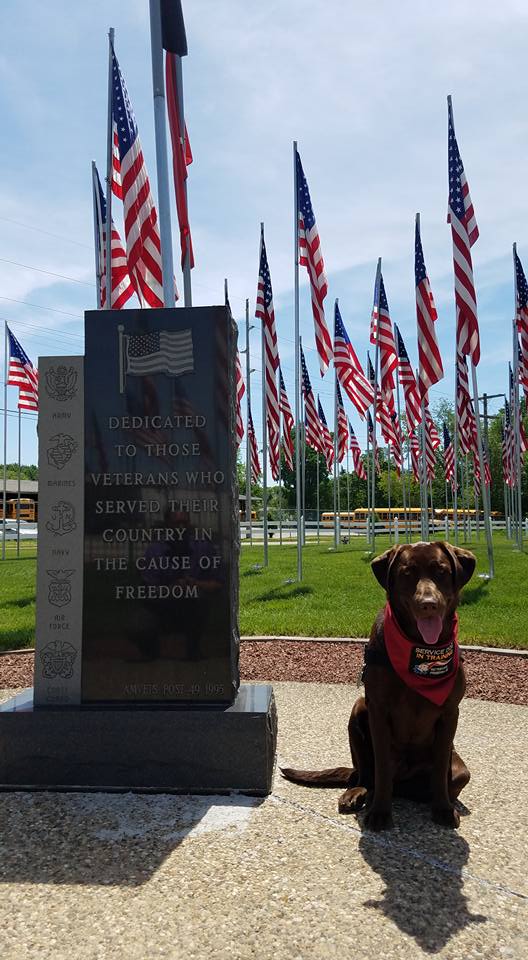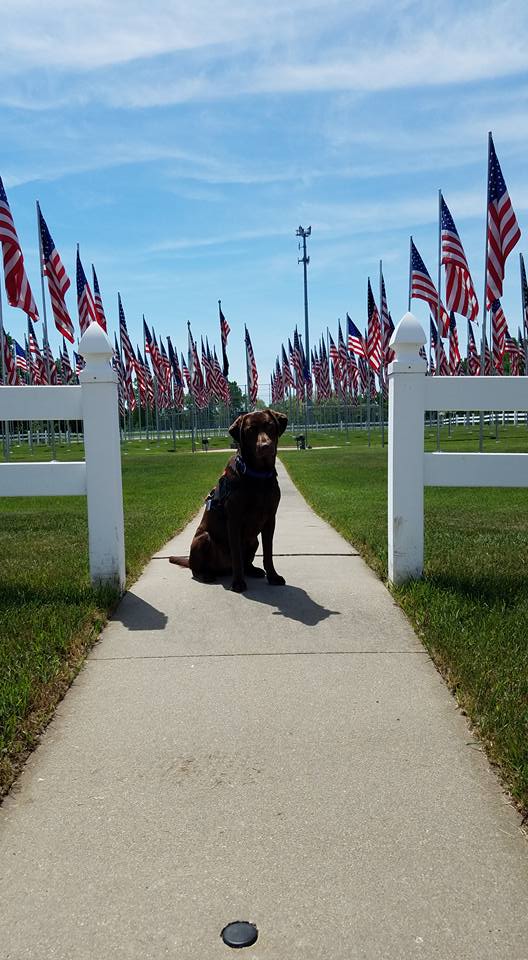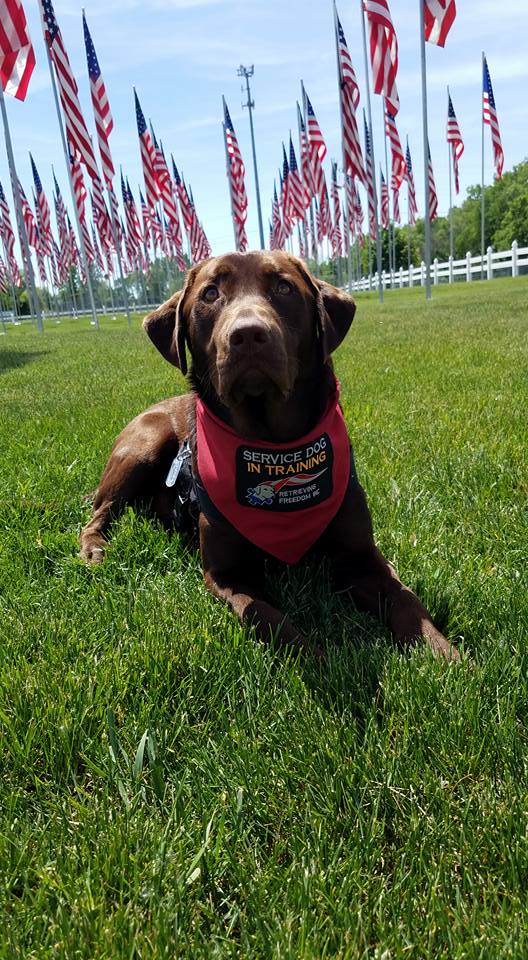 Moriah took me to a big memorial on Memorial Day in Cedar Falls, Iowa. We took a moment of silence to remember all who this country has lost in the military, especially the man I'm named after.
July 2018 - 16 months old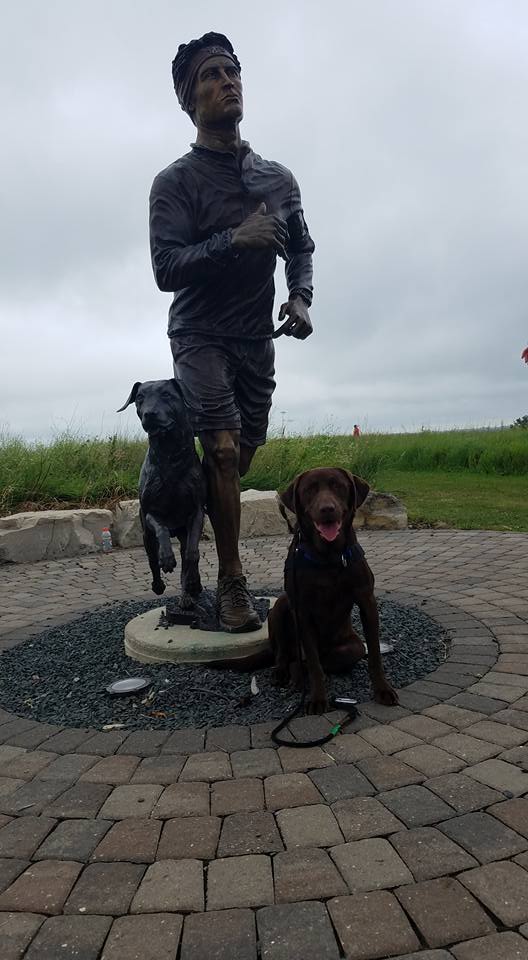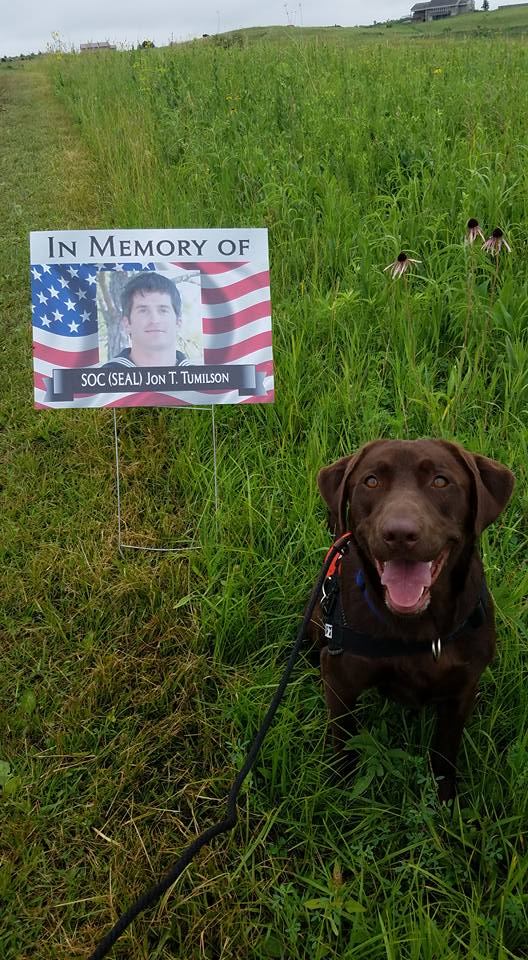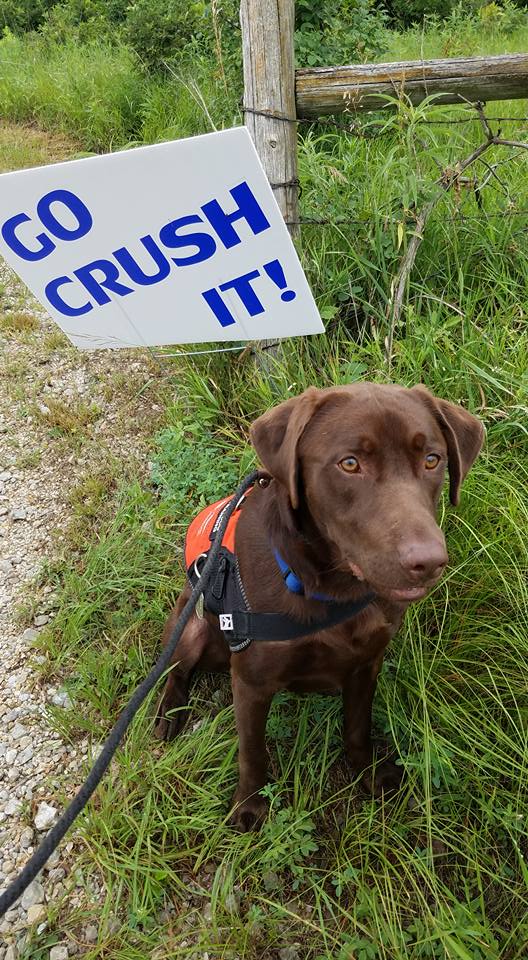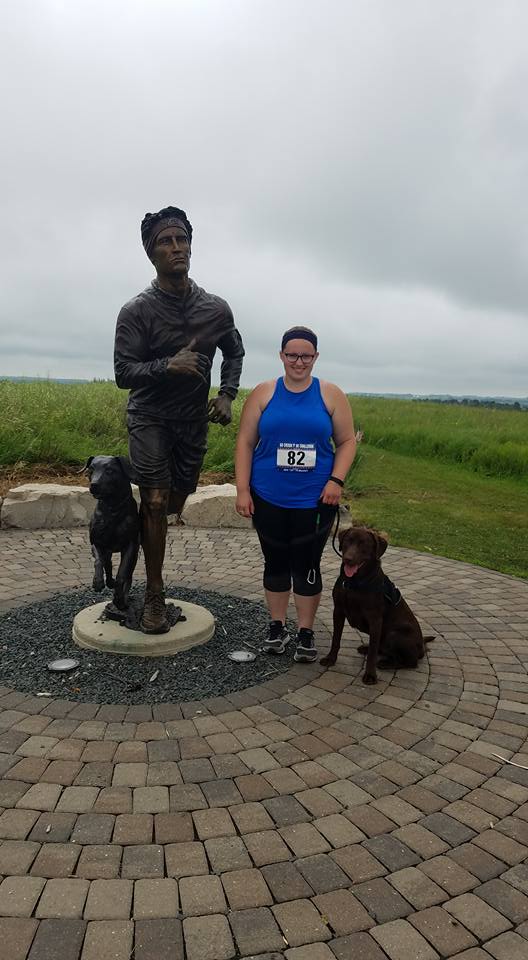 This month Moriah and I participated in a 5K which is run in memory of Jon Tumilson, who I'm lovingly named after.
October 2018 - 19 months old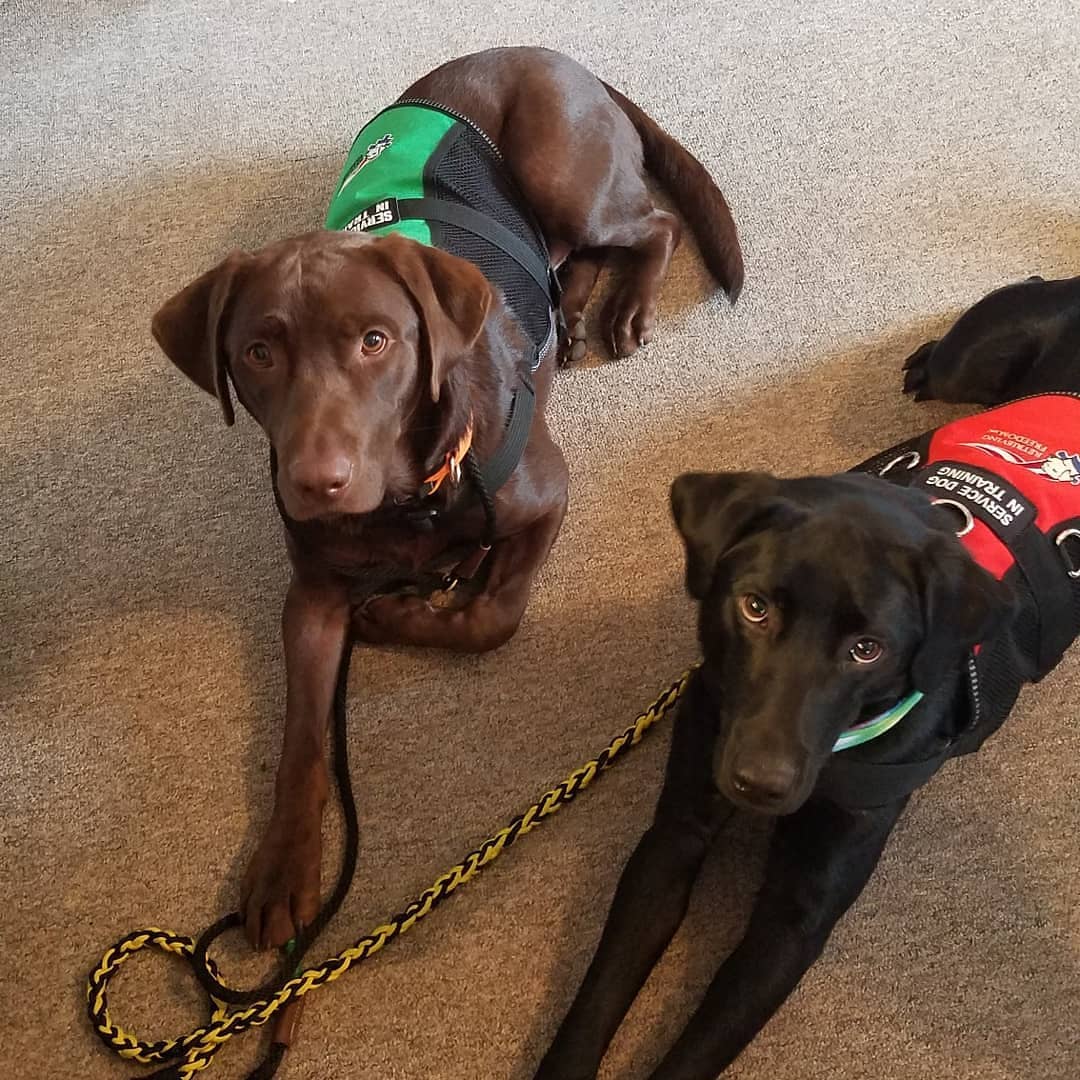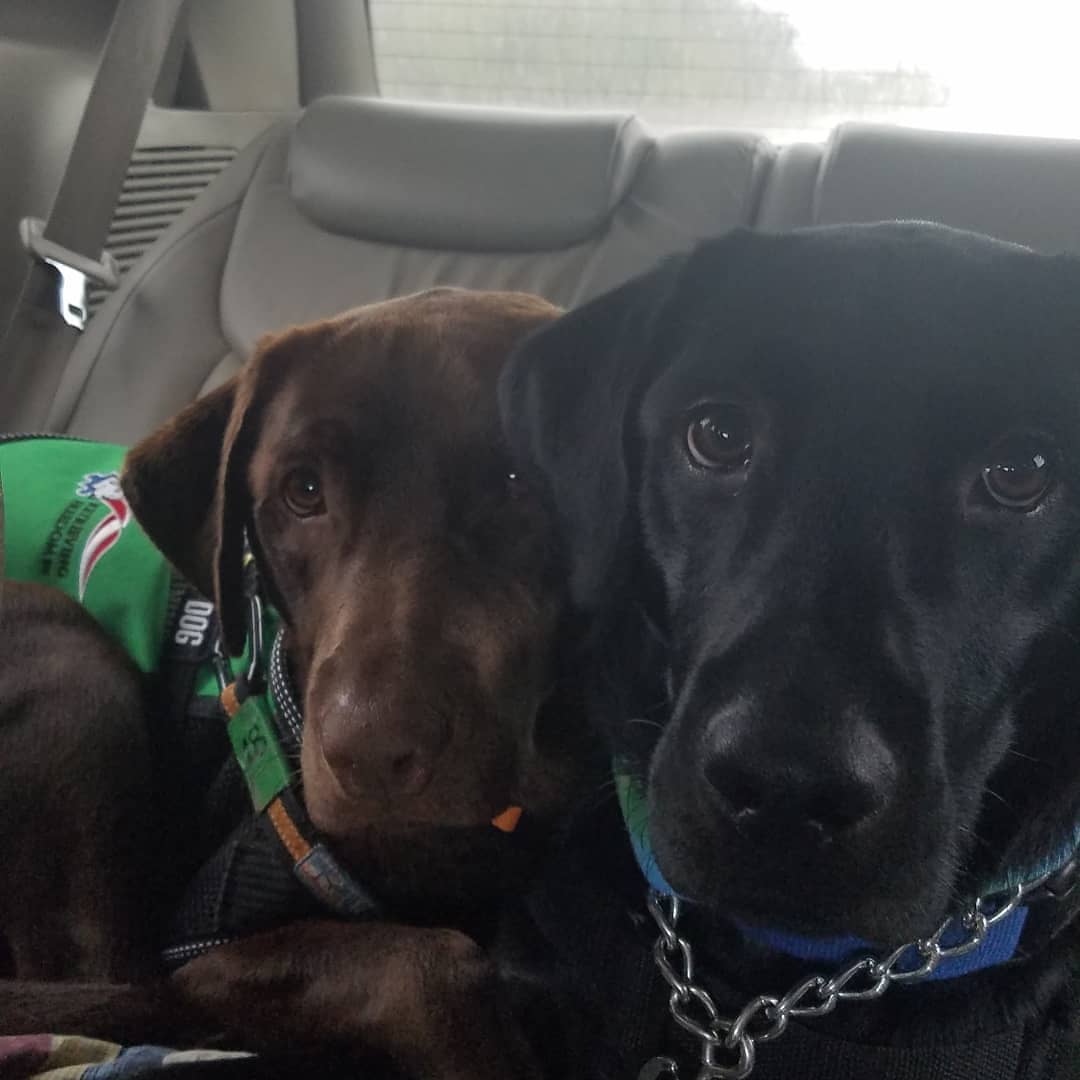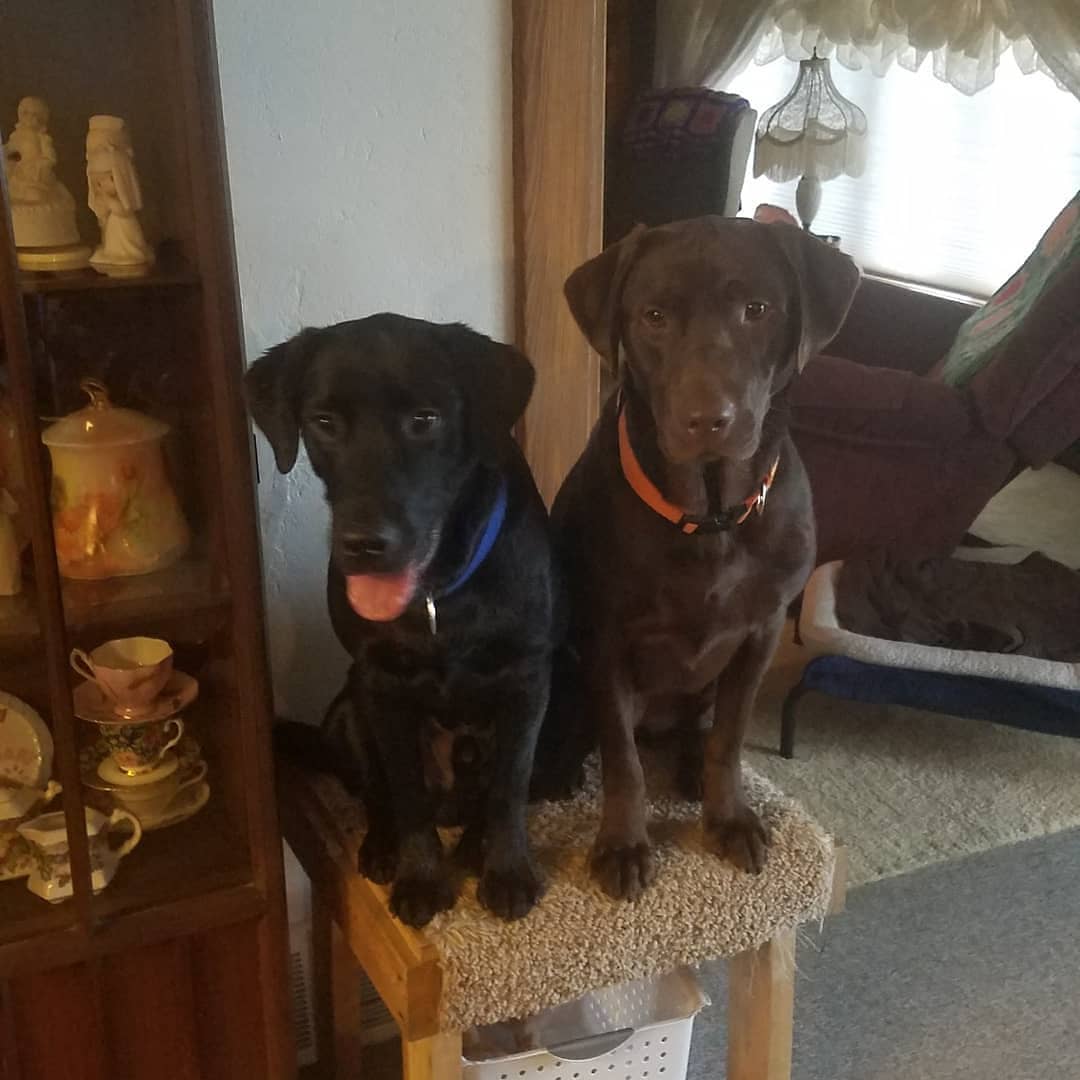 When I'm not working with the trainers, I continue to go home on weekends with Moriah.
Stage 3 Introduction
Over the last year and a half I have been working diligently to get to this part of training... Stage 3! I switched to my Stage 3 trainer at RFI and he has confirmed that I will be working toward becoming a service dog for a child with autism. During this stage I will begin to meet potential recipients, learn final training tasks, finish up my role in the impact programs, and complete the 100 required one-on-one hours with my future recipient. This stage is a 4 to 6 month process, and I understand there is still a chance that I might not complete the program due to health or performance. I'm looking forward to sharing with you about my first visits with potential recipients, trips into public, and other highlights throughout my final stage of training.
March 2019 - 2 years old!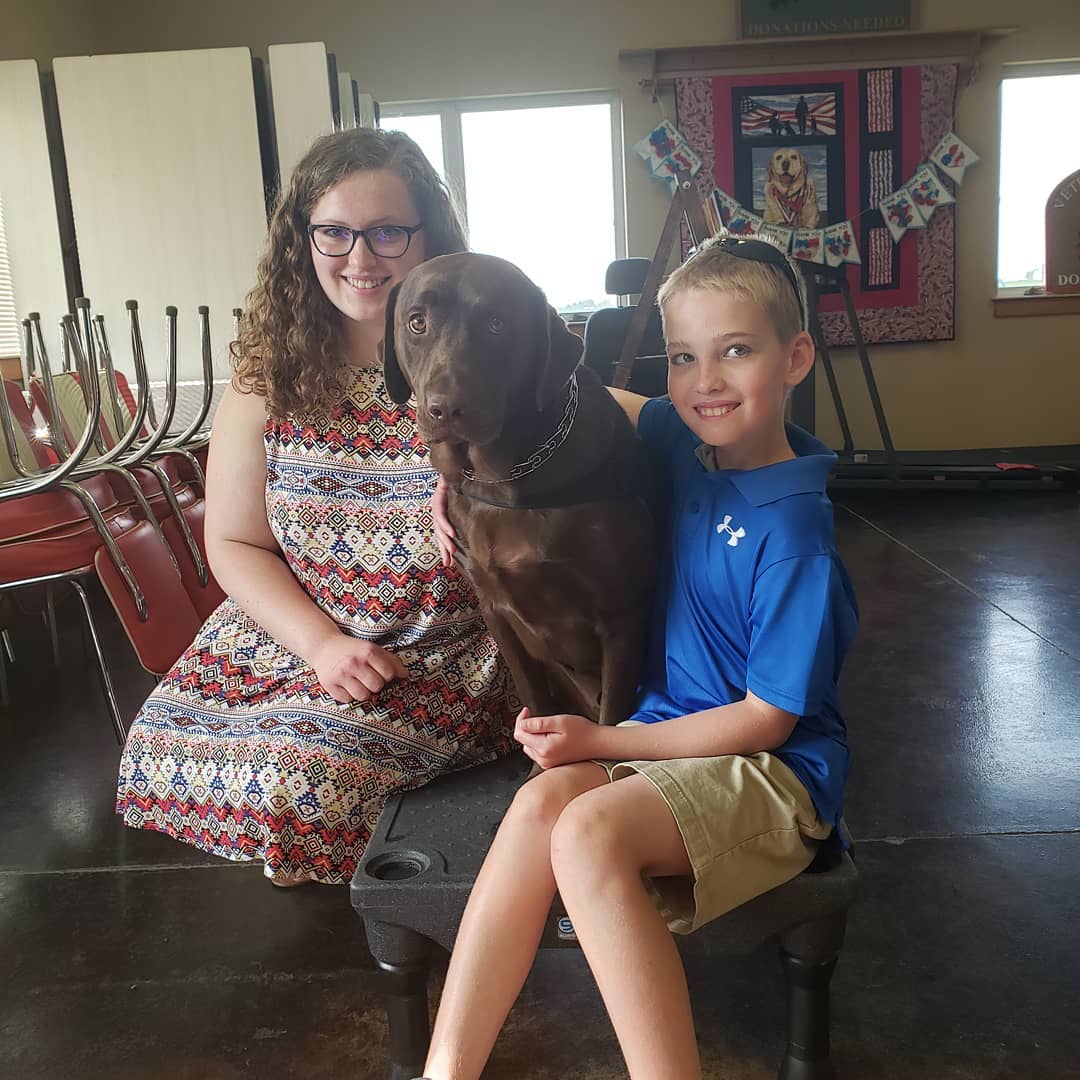 I was able to experience my two worlds colliding - my foster Moriah and my recipient Paxton met, chatted, and shared stories about me!