Placement - March 2020
I have officially been placed as a service dog! After two and a half years of hard work, I'm so proud to announce that Tanner and I have been deemed the perfect match, and we couldn't agree more. Day in, and day out, we are there for each other. Thank you to all who have supported us along the way - my breeder and puppy fosters, my teacher foster, my Wartburg College students, my trusty trainers, and most important of all - my fur-ever family. We couldn't have done this without you!
Here is a letter written by my special boy's mom, Alicon:
"My husband, Chris, and I had the perfect pregnancy…I mean, literally no hiccups. But, everything was not perfect upon Tanner's arrival. Tanner was born with a portion of his heart underdeveloped, and he was blue. We soon learned that Tanner had a congenital heart defect known as Tricuspid Atresia, and he would require a series of three heart surgeries, the first to be done within one week. Our world as we knew it was completely shattered, to say the least. Tanner was immediately prepared for transport to the NICU at UMC, where he would remain until his first surgery on day six of life. We did not get those most cherished moments of holding our firstborn, taking pictures with him, making lasting memories, etc.
Tanner has undergone three heart surgeries, with his last surgery being performed in Washington, D.C. at the age of 3 years old. In addition to his heart condition, we realized early on that Tanner was not meeting developmental milestones as he should. After further testing, we were dealt another "devastating blow" of a rare chromosome abnormality known as Inverted Duplication of Chromosome 15 (IDIC 15). Long story short, Tanner has severe cognitive and speech delays. He has also been formerly diagnosed with Autism and remains non-verbal. That's right….. Tanner has never spoken his first word.
In 2016 when Tanner was 10 years old, he was granted a wish through Make-A-Wish. Determining his wish was no easy task, and one that we did not take lightly. Our thoughts were, "Where do we start? What do we choose as our child's wish, when HE can't tell us what his "greatest dream or wish" would be?" After much research and looking "outside of the box", we chose a Service Dog for Tanner's wish. To say we were overjoyed to learn his wish had been granted is an understatement. The GREAT TEAM at Retrieving Freedom, Inc. in Senatobia, MS trained a service dog named "Benny" to fulfill Tanner's wish! Upon our family completing all of the necessary training to become service dog handlers, Benny came home with us. The interactions we witnessed between Tanner and Benny were indescribable. It was a match made in heaven, and Benny joined Tanner at school in November of 2016. Follow-up responses from Tanner's teachers were all positive, and they raved at how well Benny had been trained. They even commented about how they were able to use Benny to serve other children in the classroom. Our public outings with Tanner became more frequent and doable with Benny by Tanner's side, and we were finally able to "live" as a family again outside of our home. The future was looking bright. A future that would have been impossible if not for Make-A-Wish and Retrieving Freedom, Inc.
In July of 2018, Chris and I noticed something different about Benny. Despite his stoicism, he seemed lethargic, short of breath, and his abdomen was growing daily. What was wrong? Benny was only 3 ½ years old; he should have been in his prime. We took him to the Emergency Vet Hospital, where we were told that Benny's heart was severely enlarged, his lungs and abdomen were full of fluid, and they were unsure if Benny would recover. To our astonishment, Benny died later that day. We later learned that Benny was born with nearly the same congenital heart defect as Tanner, Tricuspid Valve Dysplasia. Throughout his illness, he remained Tanner's best friend and our strong helper while never failing to respond appropriately to all commands.
Retrieving Freedom, Inc. has offered Tanner and our family a second chance at what we hope will be a long-lasting partner for Tanner without a financial requirement. In support of the hard work they put in daily to train these dogs of service for not only our family but also others throughout the Southwest, we want to continue to provide to this non-profit (501c) organization. Will you join us? I promise, you will have no regrets!"
Stage 3 Introduction
With over a year of training and hard work, I received notification of my acceptance into the Stage 3 training course! This is the final stage of training for me to become a Service Dog placed with a veteran with a disability or child with autism. During this stage I will begin to meet potential recipients, learn final training tasks, finish up with my role in the impact programs, and complete the one-hundred hours of one on one training with a recipient. This stage is a 4 to 6 month process before my placement and I understand that there is still a chance that I might not complete this stage due to health or performance. I can't wait to tell you about my first visits with potential recipients, trips to public with new handlers, and other highlights of my Stage 3 training.
June 2019 - 21 months old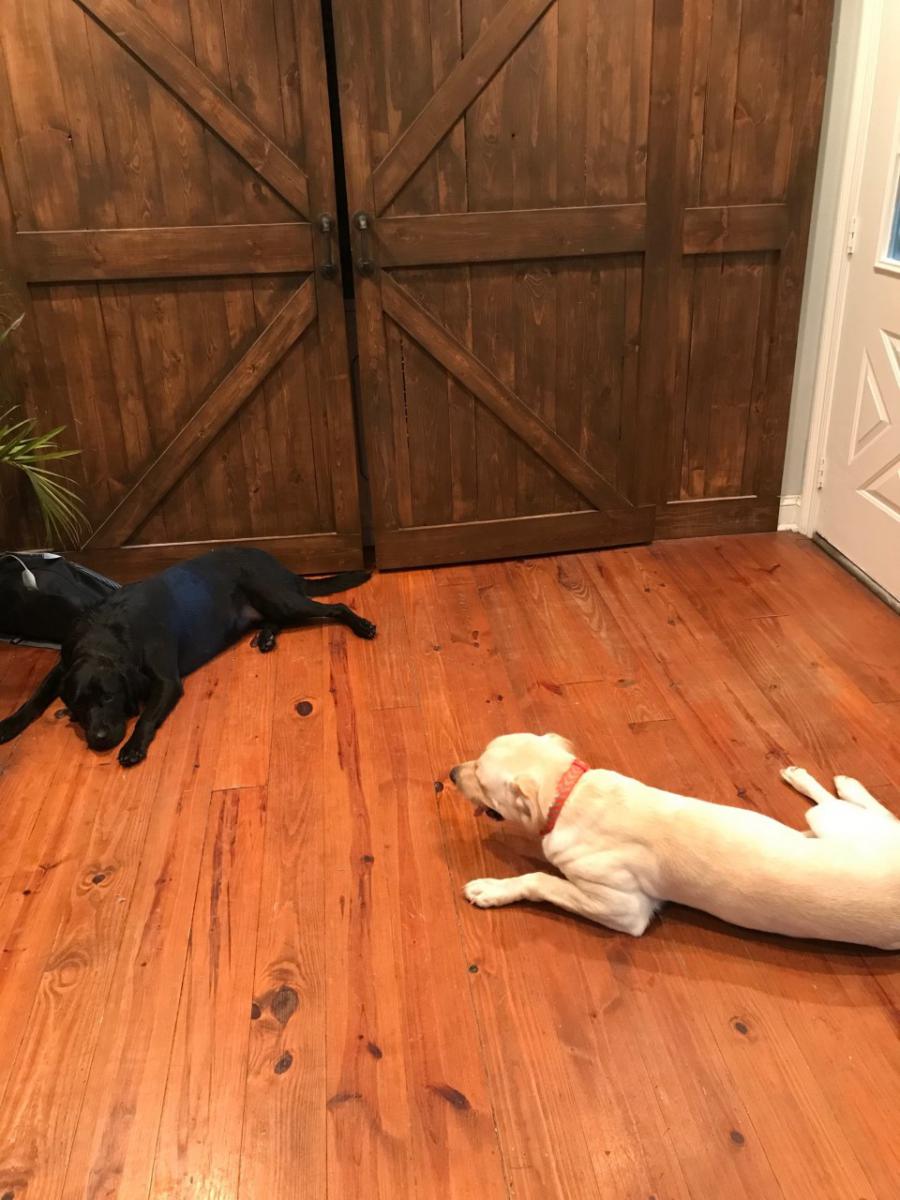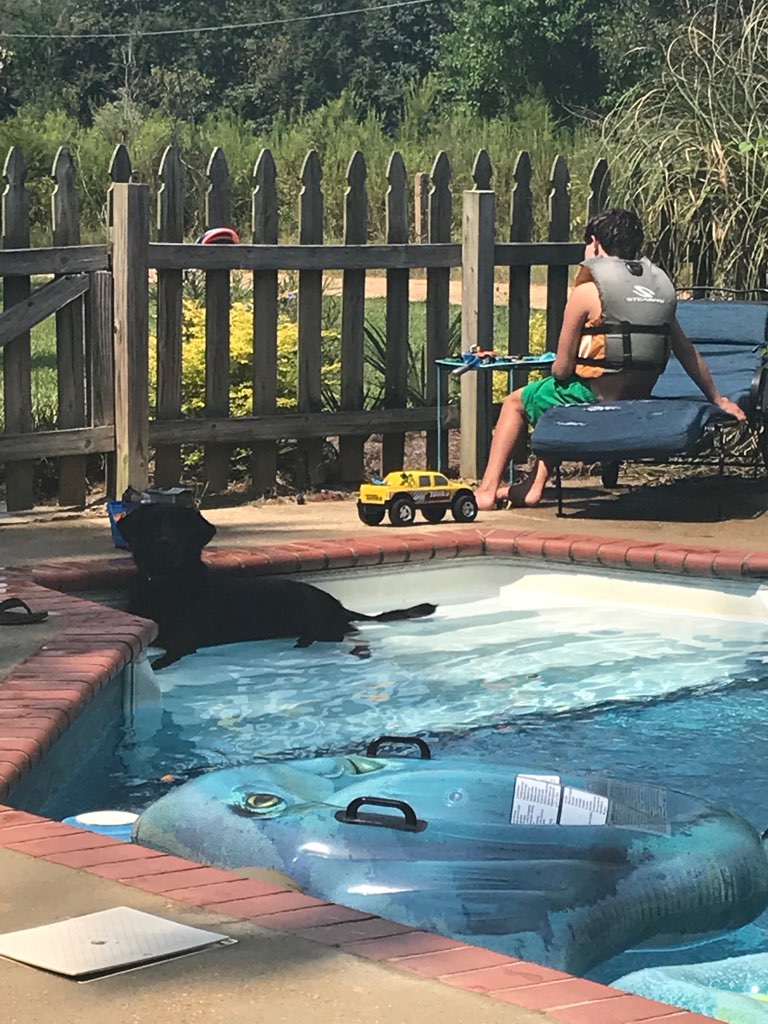 I have been identified to work as an autism service dog. Here are some photos from my first home visit. I have been enjoying my time with my new potential family and I am continuing to work hard to ensure this is the right match.
July 2019 - 22 months old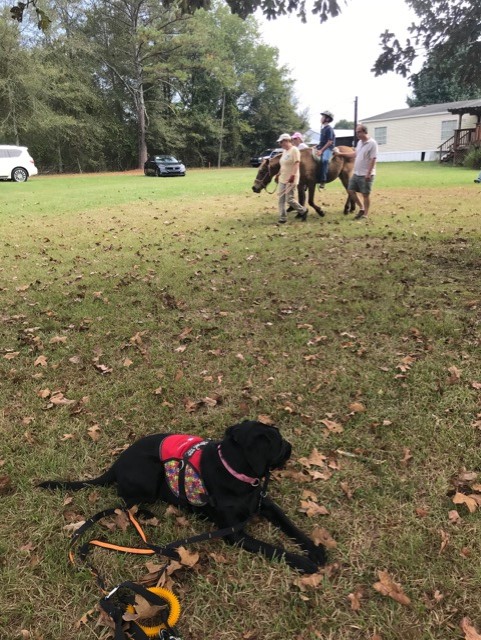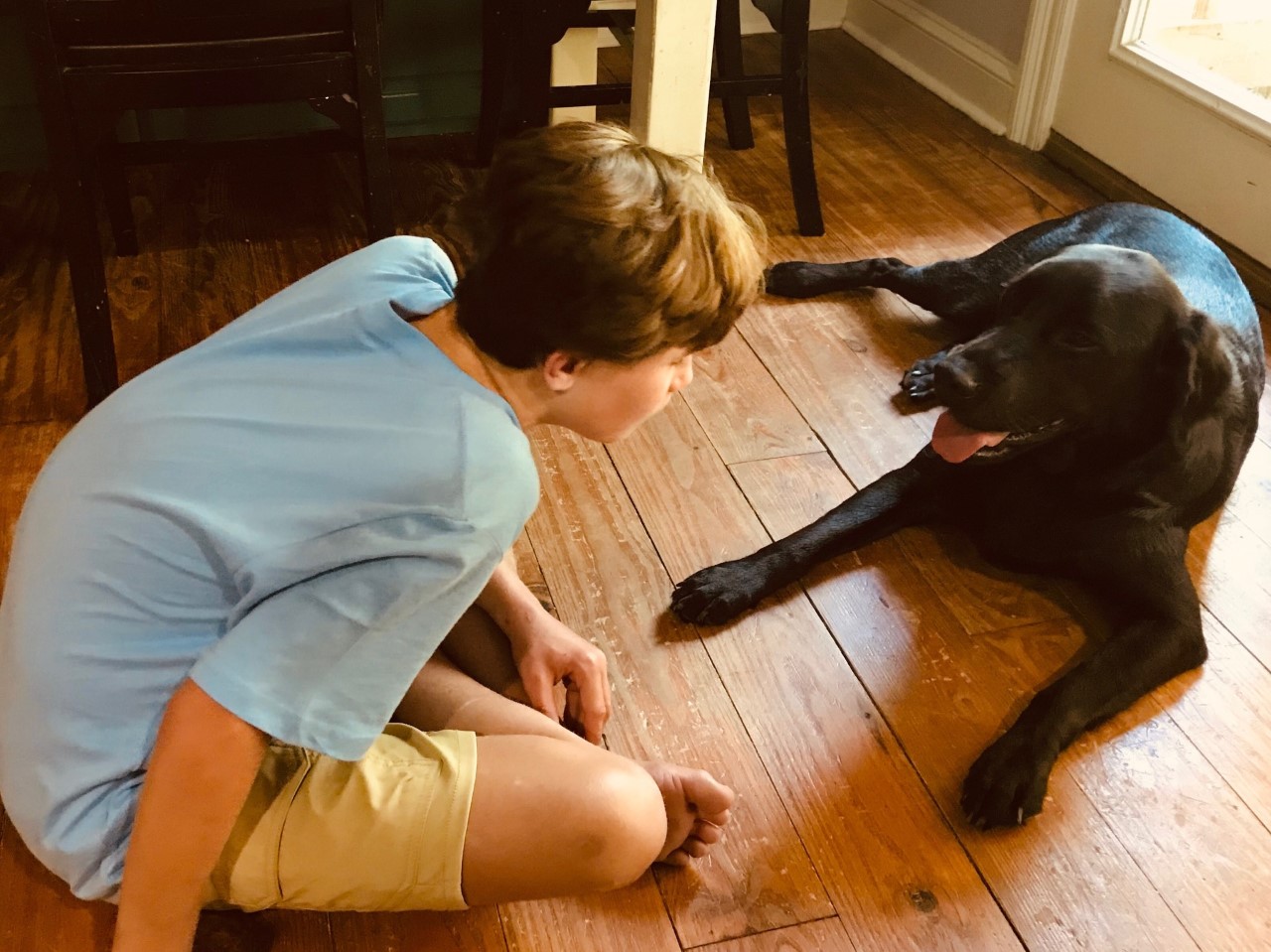 I am at my second home visit with my identified match. Here, I am pictured laying in the grass while my new favorite person is working with equine therapy. I was raised around horses with my foster, Cammi, so I am able to remain calm during these outings. Also pictured here, I am looking into the eyes of my child. The love between us two is immeasurable.
Stage 2 Introduction
Wahoo!!! I have officially been entered into stage 2 training, and I am so excited! Over the past 8 months I have had the opportunity to see the RFI mission first hand, and can't wait to dig deeper in the mission of changing lives through my training for veterans with disabilities and children with autism. This training stage will be another 8 months of working within the Retrieving Freedom Impact programs. Currently these impact programs include working with college students, at-risk teens, summer campers, inmates, and elementary students. During this Stage, I will also work closely with the RFI professional training staff to solidify my understanding of intermediate tasks and the foundation of future commands to help mitigate a disability. Follow me through this stage learning how I continue to make an impact!
October 2018 - 13 months old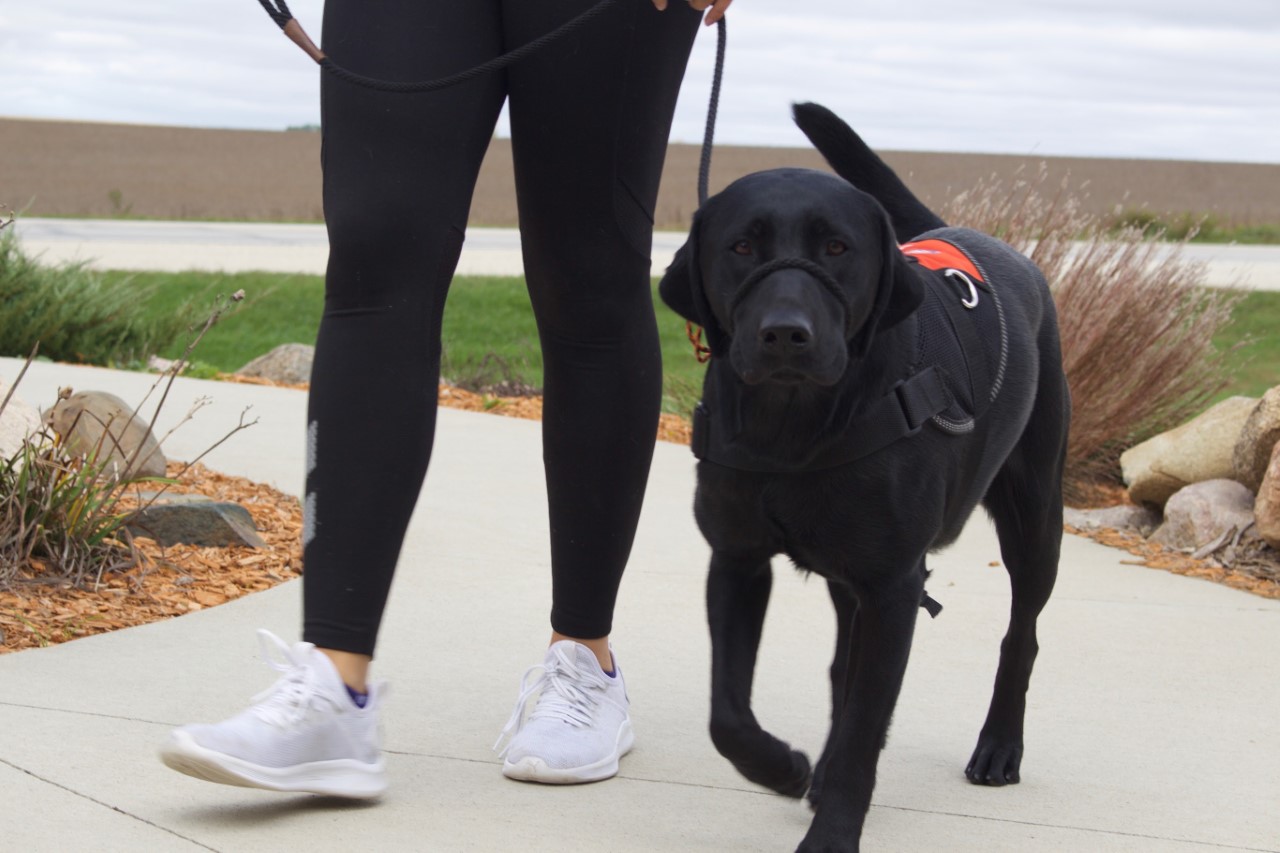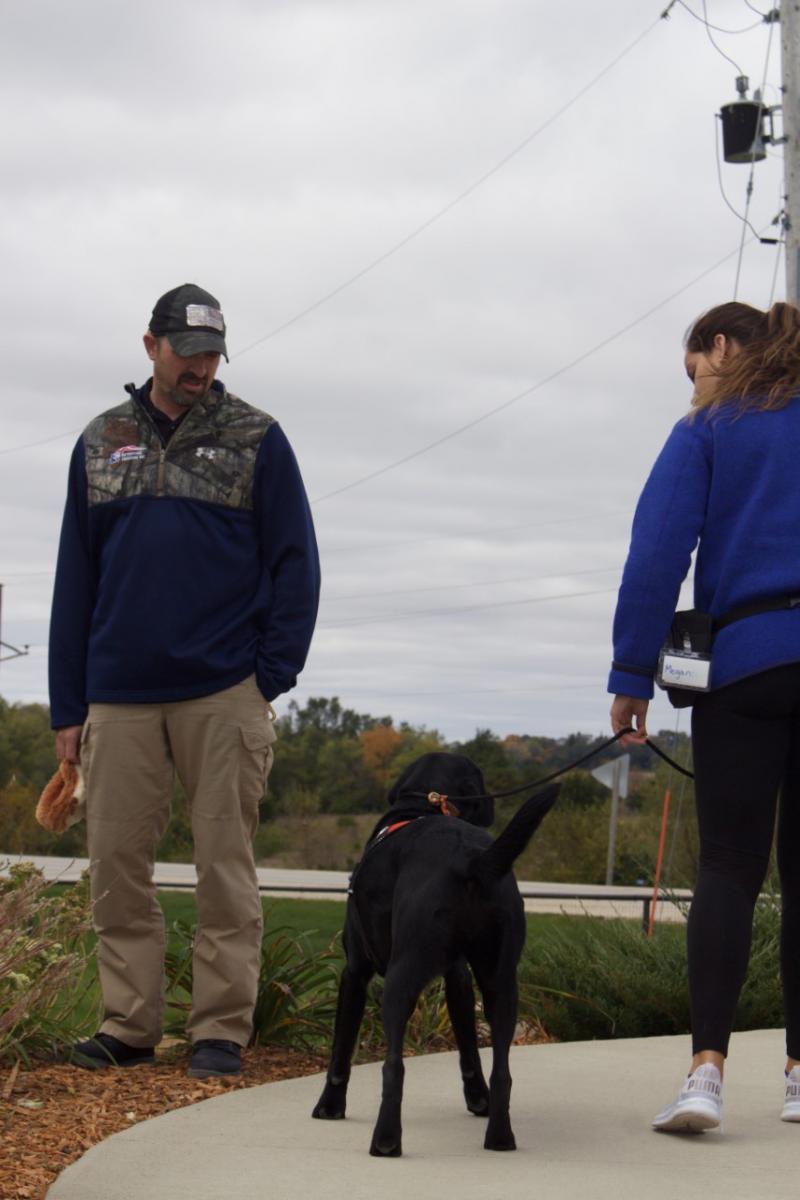 I am involved with the Wartburg College program. I am paired with a student who will work with me for the next several months. Together, we will continue to work basic obedience as well as introducing me to the beginning of task work with the guidance of RFI trainers. I am working on using a touch stick, and how to preform pressure therapy commands, such as crash and visit.
November 2018 - 14 months old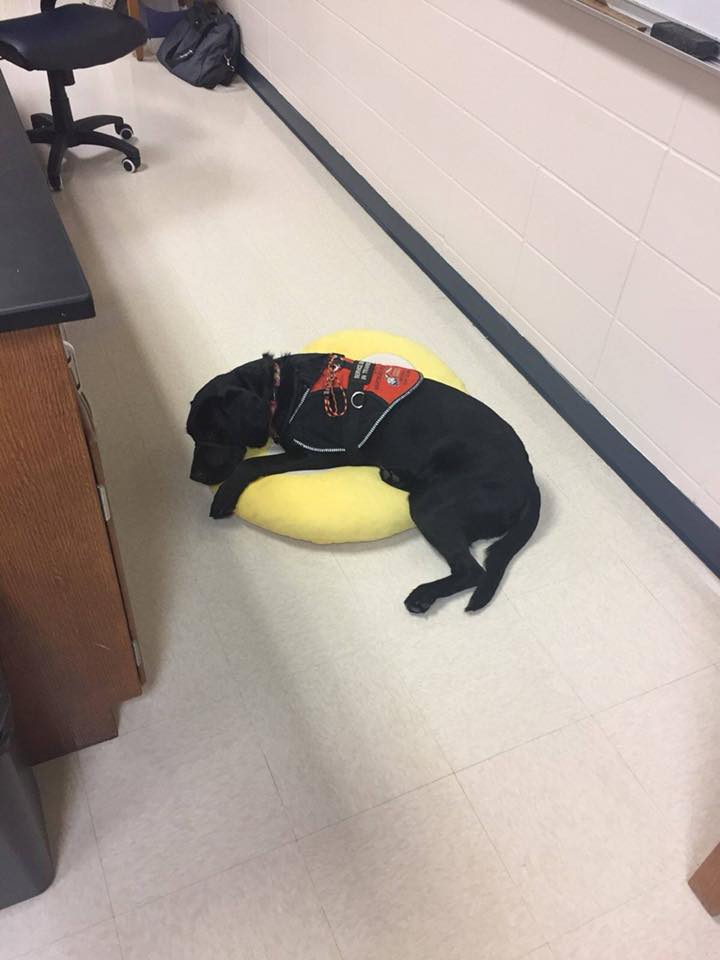 I am also participating in the Teacher Foster program. I attend school with my teacher foster, Mr. Clipperton. I am involved in Mr. Clipperton's middle and high school P.E. classes every Friday. I am able to experience all of the sounds, and the excitement of a school environment. Nothing phases me, though! I still manage to make sure to get in my daily naps.
Stage 1 Introduction
Hello, my name is Ivory. I am a Labrador/Golden Retriever mix.I am proud to have been selected to enter into the Retrieving Freedom training program. My parents are "Annie" who is originally from Kerrybrook Labradors and is now fostered by the Card family, and "Banks" who is from Golden Rule Retrievers. During this stage of training I will be spending approximately 8 months with my new volunteer foster, Cammi.
I was named after Army Spc. Ebe F. Emolo of Greensboro, North Carolina. My namesake was born in Ivory Coast in western Africa, which is where my name "Ivory" comes from. Spc. Emolo was killed in Iraq by a roadside bomb on April 7, 2007. The only survivor from this explosion was Ret. SSG Bobby Henline, who received his service dog, Daisy, from Retrieving Freedom in 2017. Bobby wanted to honor the four men lost that day, the day he calls his "Alive Day," and I was lucky enough to be named after one of them. Spc. Emolo was buried in Ivory Coast as a prince in June 2007. I couldn't be more proud to honor his legacy.
Throughout Stage 1, I will learn the basics obedience, public behavior, and a lot of socialization. I understand that it takes a very special dog to complete the program as there is a high standard to become an Service Dog. I am aware that I may be one of the dogs whose purpose is outside of service work so I will be updating my profile on a monthly basis for all that would like to follow my journey through the program.
November 2017 - 2 months old
I just started with my training with my volunteer foster, Cammi! I will spend my days at work with my foster mom, learning basic obedience such as walking on a leash, my name, and potty training.
December 2017 - 3 months old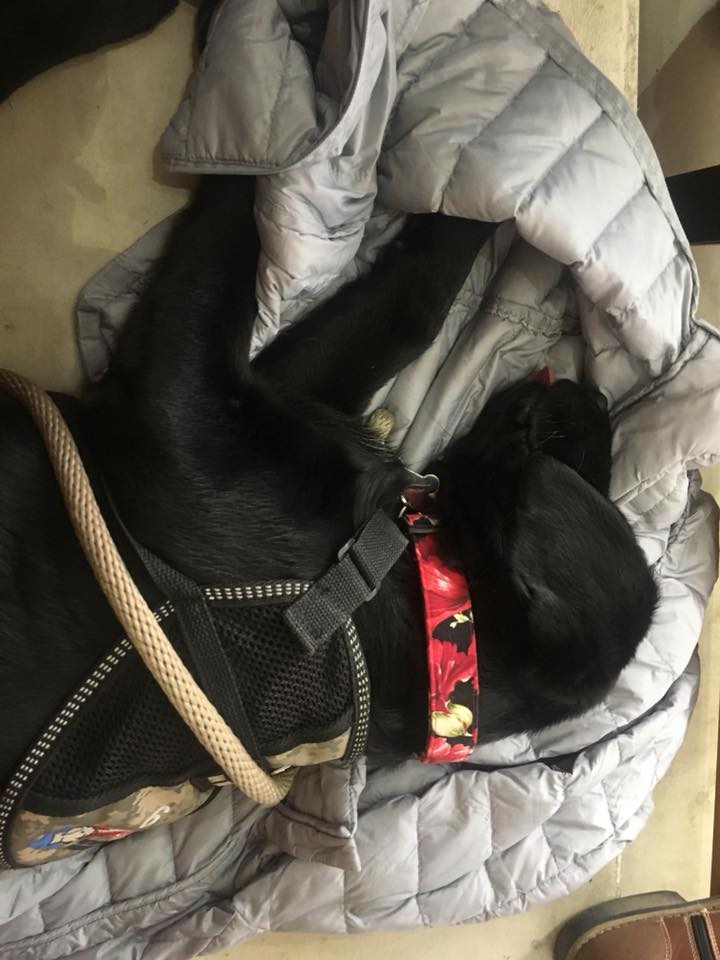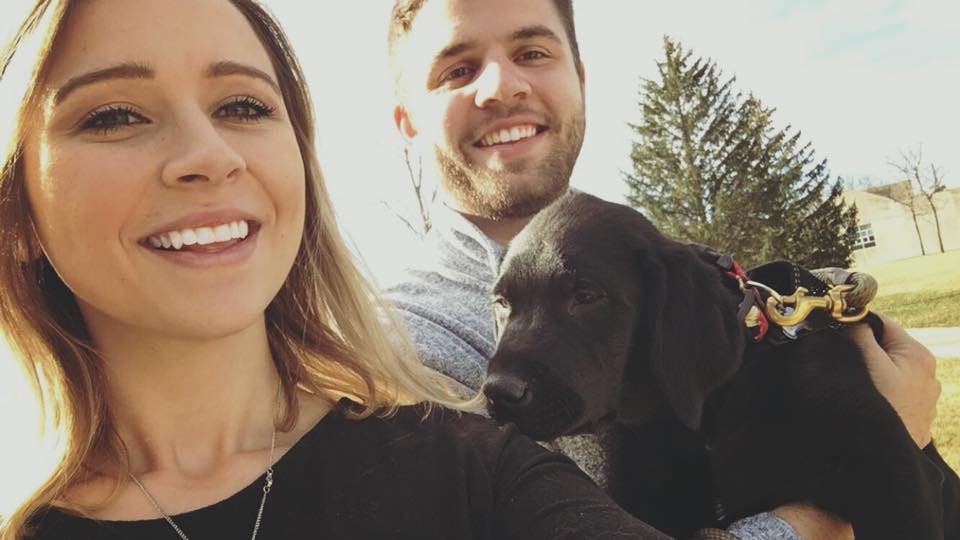 I enjoy sleeping at work. Cammi says that I can sleep through anything, and I a very calm puppy during the day. I enjoy cuddling and working for my treats. Enjoy this photo of me with my foster parents, Cammi and Nick!
January 2018 - 4 months old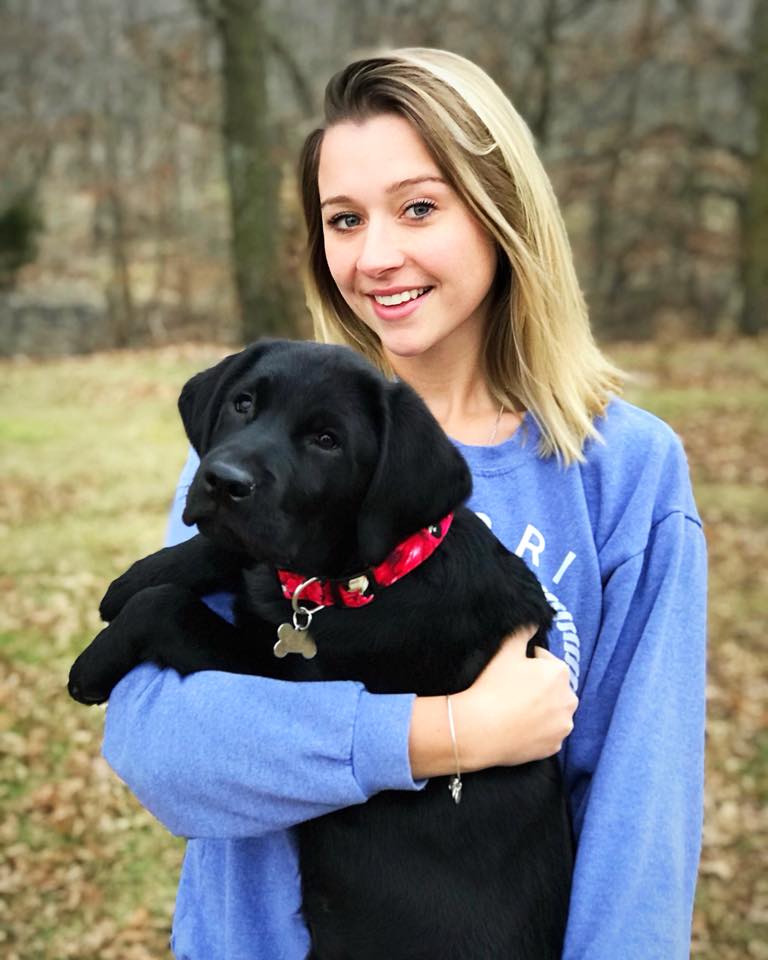 Aren't we adorable?! Cammi and I have been learning lots together over the past 2 months. I continue to work on basic obedience and will do anything for a treat. I still enjoy my evening play time but more importantly, I love to be cuddled and taking naps.
February 2018 - 5 months old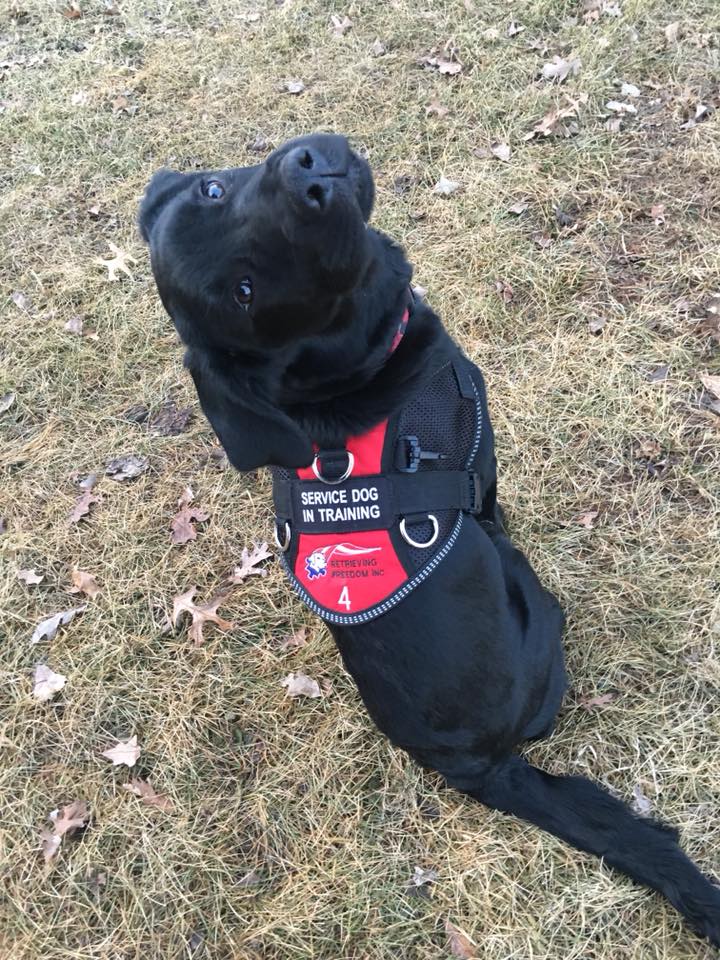 I am becoming confident with all of my basic obedience skills. I enjoy going shopping with my foster mom. I continue to display a sweet and calm personality and love to put on my vest and get to work.
March 2018 - 6 months old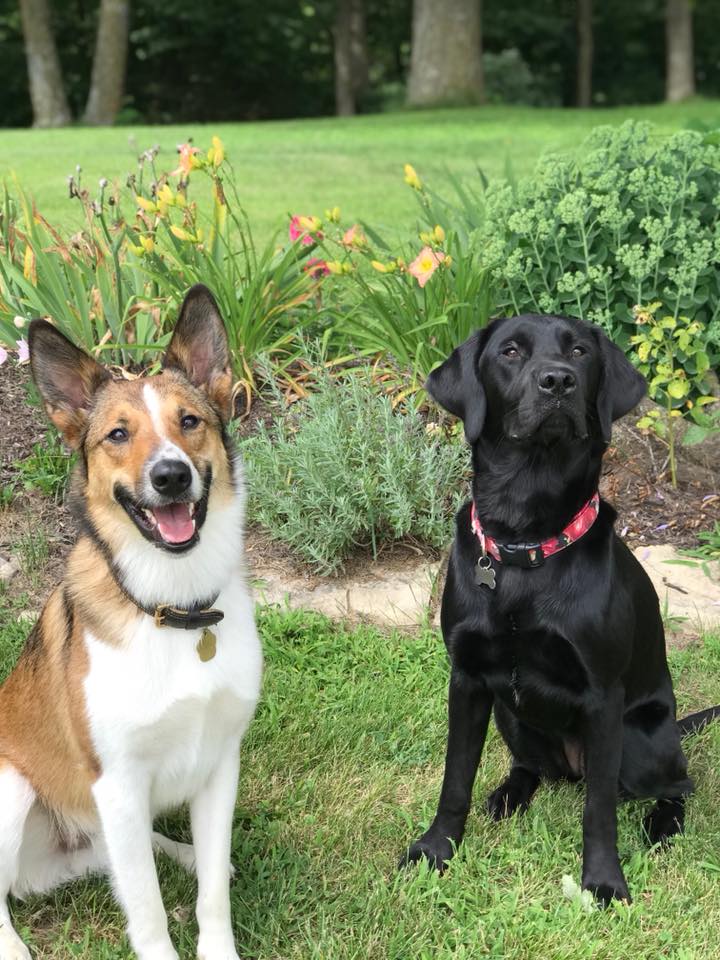 Here I am hanging out with my new best friend, Link. Link is my foster mom's personal dog, and we love to play together. I have been working hard on my loose leash walking skills and making eye contact with my handler. One of my favorite hobbies is going into public with Cammi - I wag my entire body with excitement when I get to put my training vest on.
April 2018 - 7 months old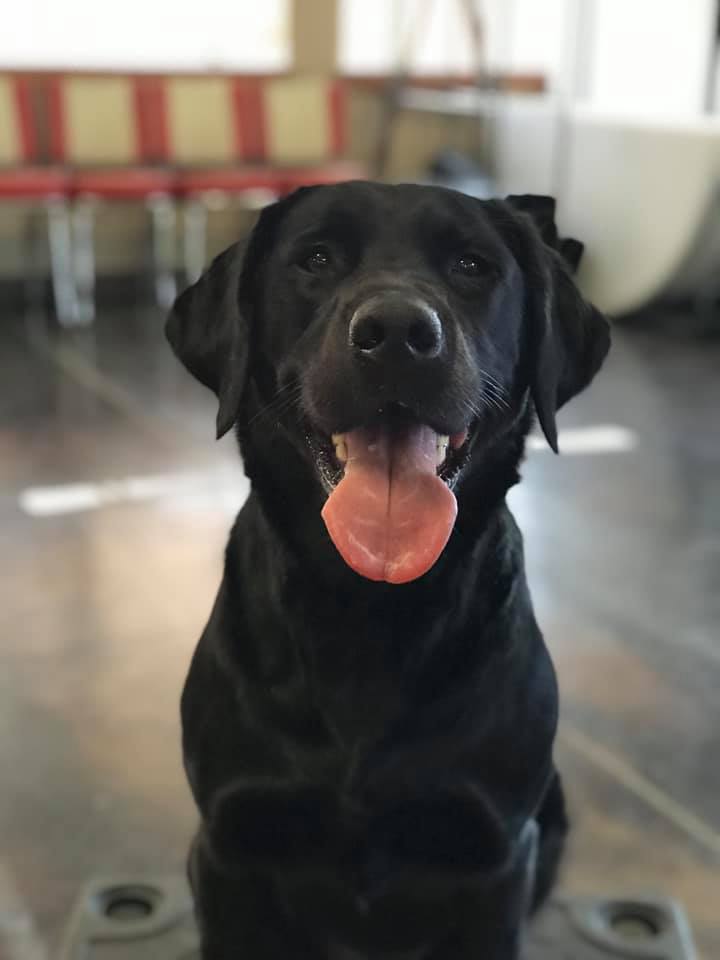 I tend to amaze the people around me with my calm and cuddly personality. I am confident with my basic obedience, and have gone on many different adventures with Cammi such as shopping establishments, restaurants, school, and various sporting events.
May 2018 - 8 months old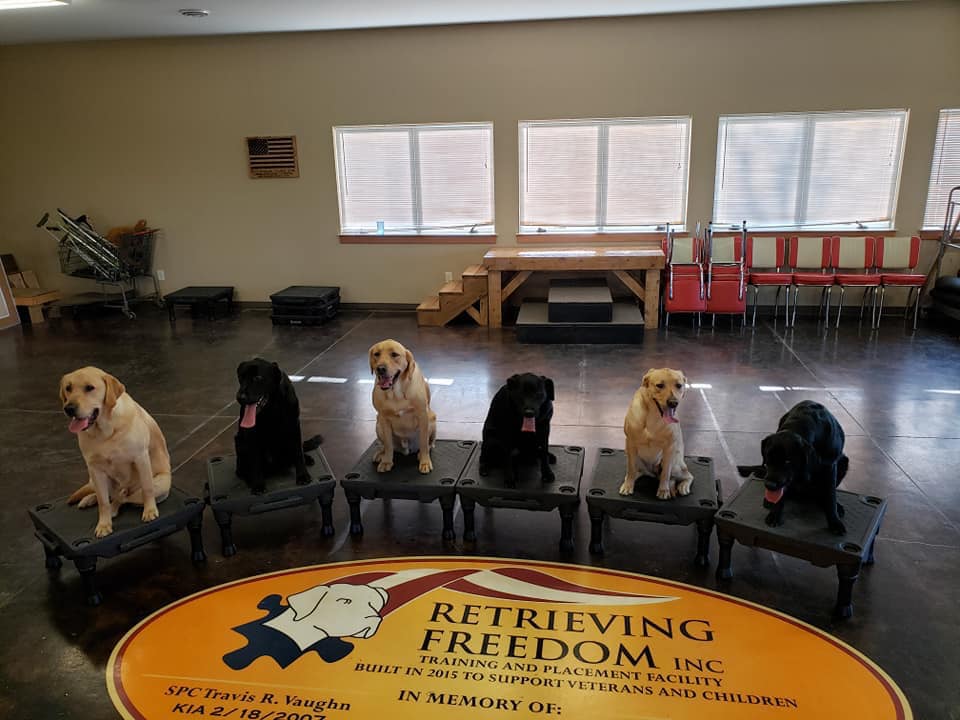 Check this out! I had the pleasure of having a play date with 5 of my littermates. I am ready for the next stage of training with the goal of becoming a service dog. I can't give enough thanks to my volunteer foster, Cammi, for giving me the best start! I hope to make her proud!