Sponsor Announcement
Retrieving Freedom staff have been working closely with Phyllis Cox to help sponsor my training. Phyllis graciously donated toward a sponsorship, which provided her the opportunity to give me my wonderful name! I want to thank Phyllis from the bottom of my heart for her generosity toward my training. I hope to make her proud!!
Tommie's Journey
Stage 1 Introduction
Hi there, I'm Tommie! I am proud to have been selected to enter into the Retrieving Freedom training program. I am from KC and Co. Labradoodles in Arkansas. During this stage of training I will be spending approximately 8 months with my new volunteer foster, Bobbi.
Throughout Stage 1, I will learn the basics obedience, public behavior, and a lot of socialization. I understand that it takes a very special dog to complete the program as there is a high standard to become a Service Dog. I am aware that I may be one of the dogs whose purpose is outside of service work so I will be updating my profile on a monthly basis for all that would like to follow my journey through the program.
September 2020 - 2 months old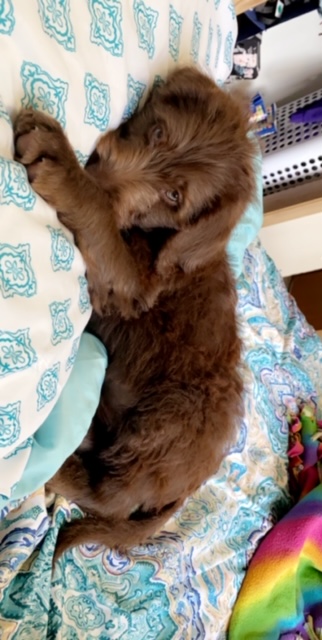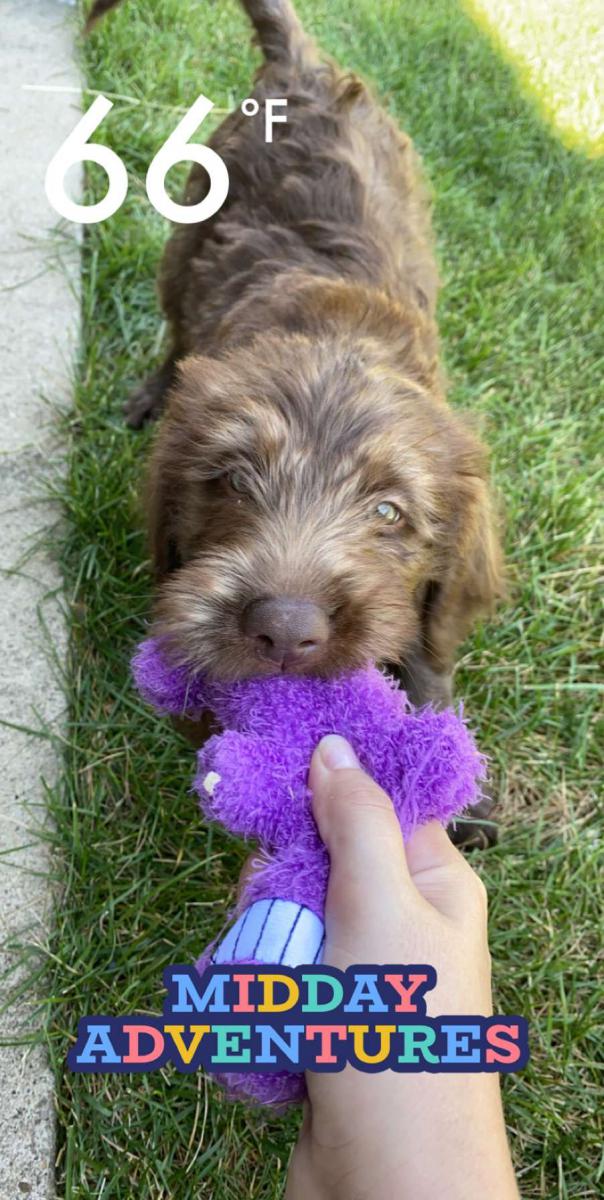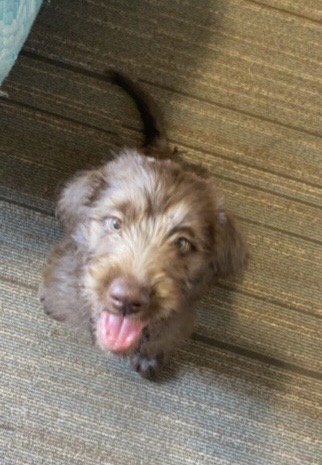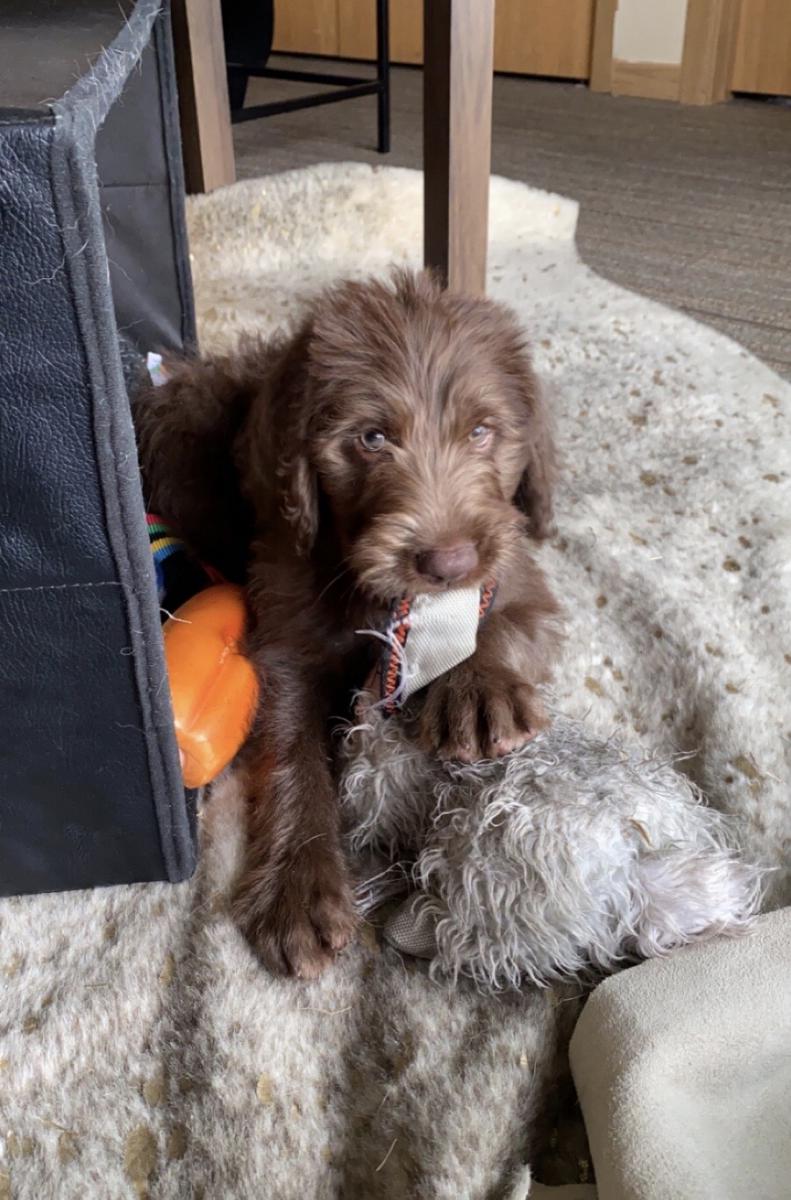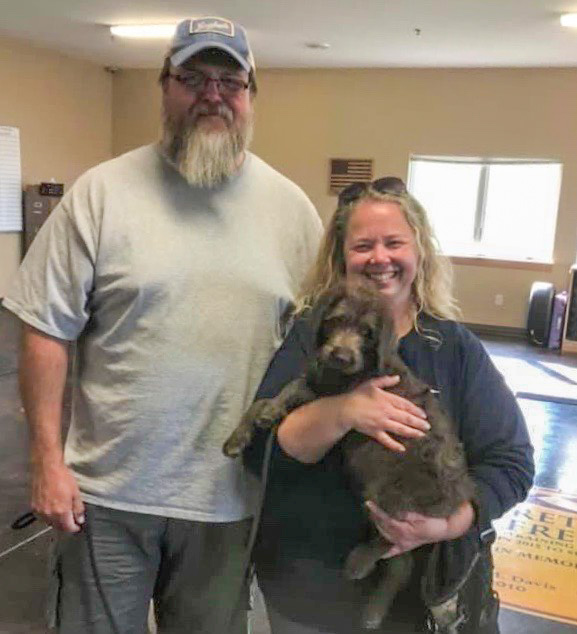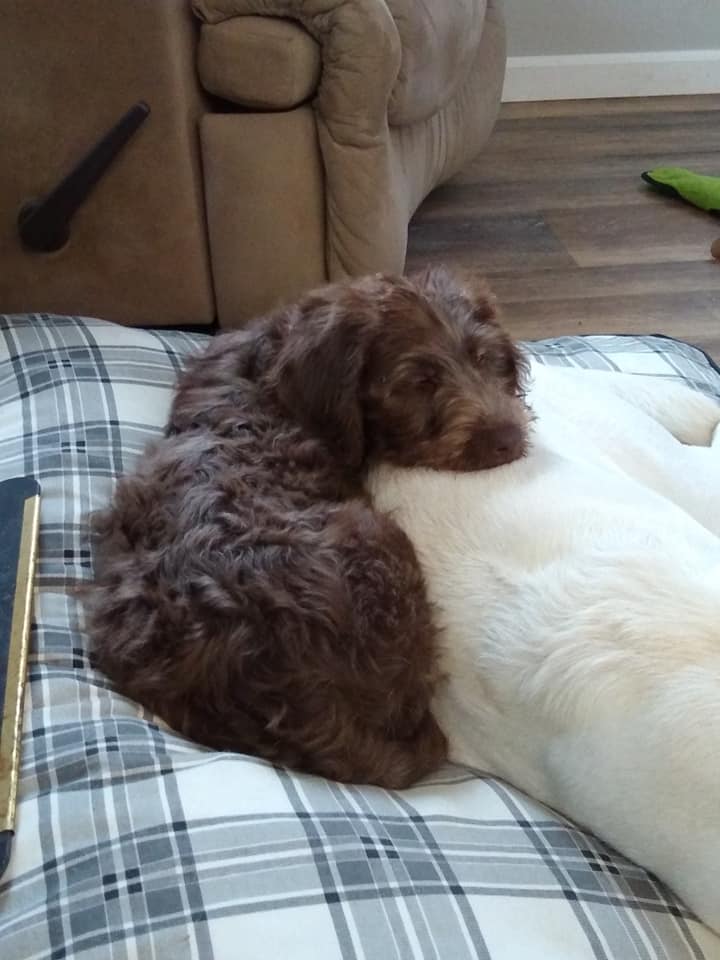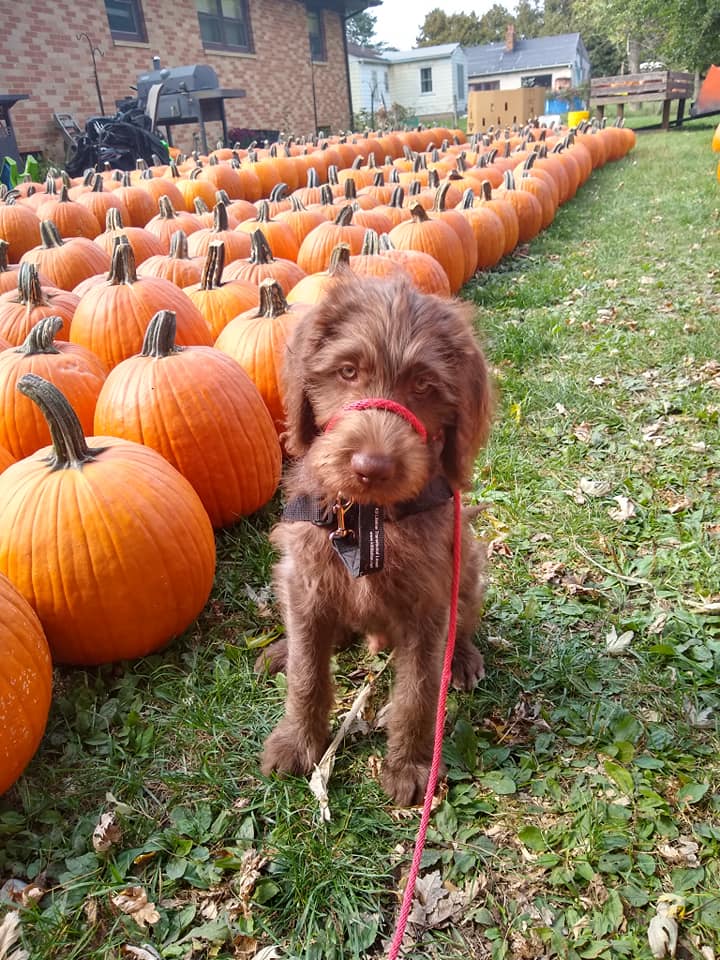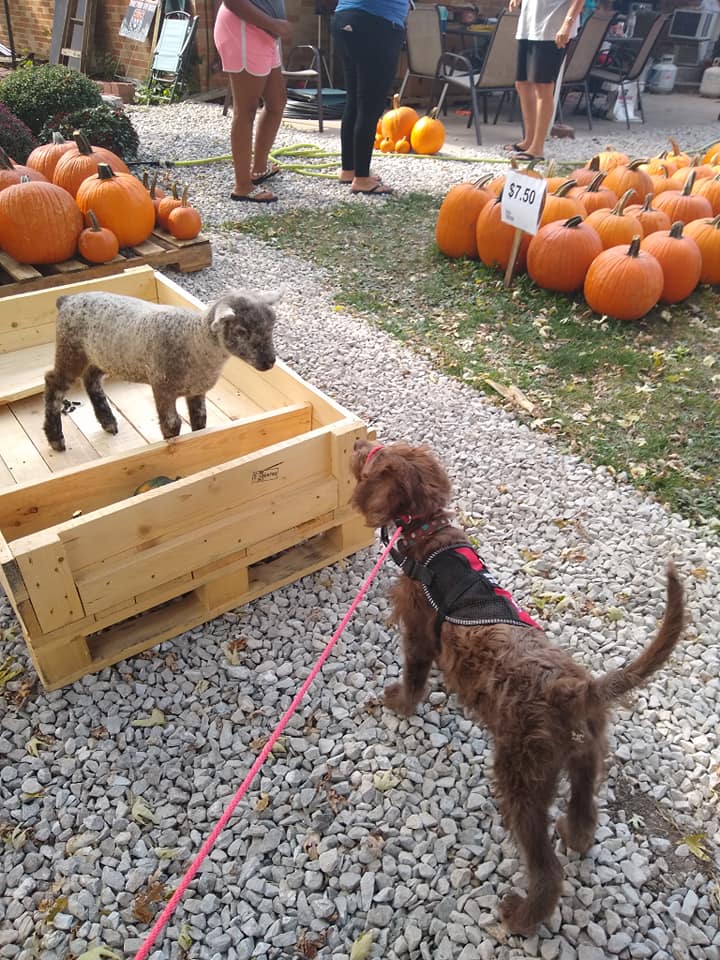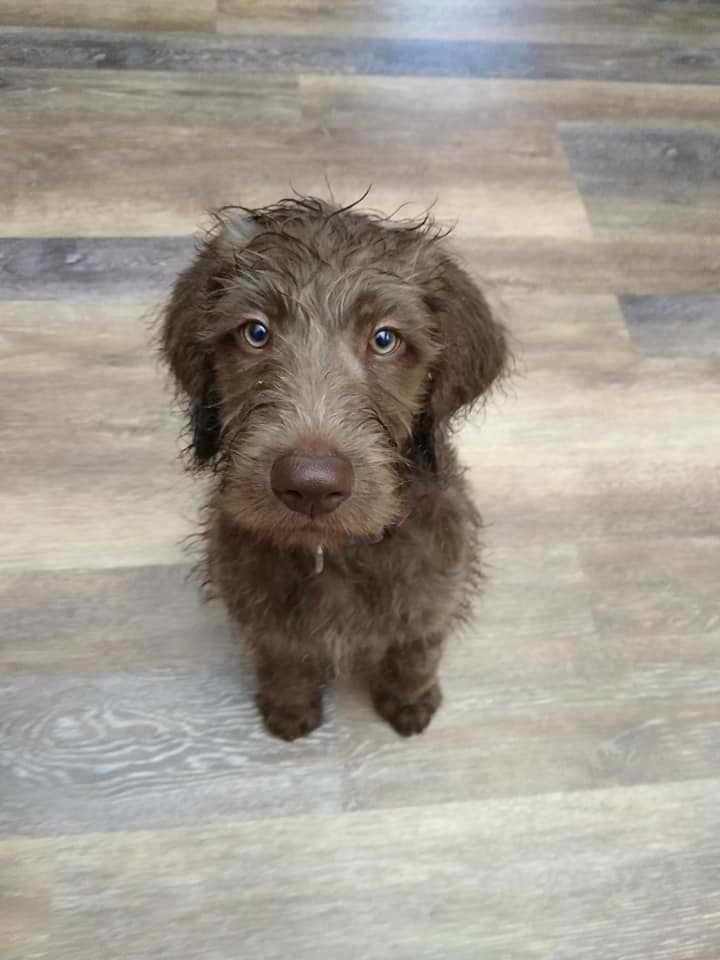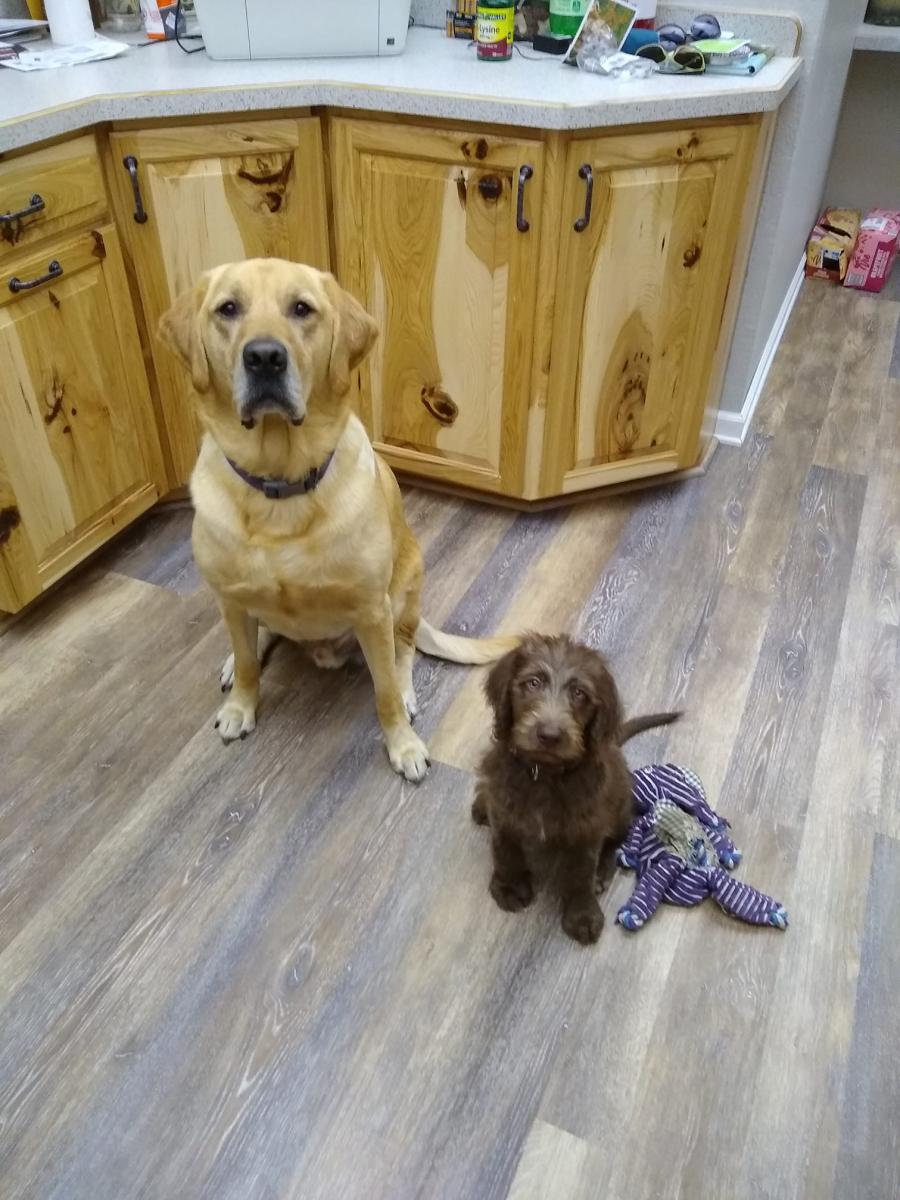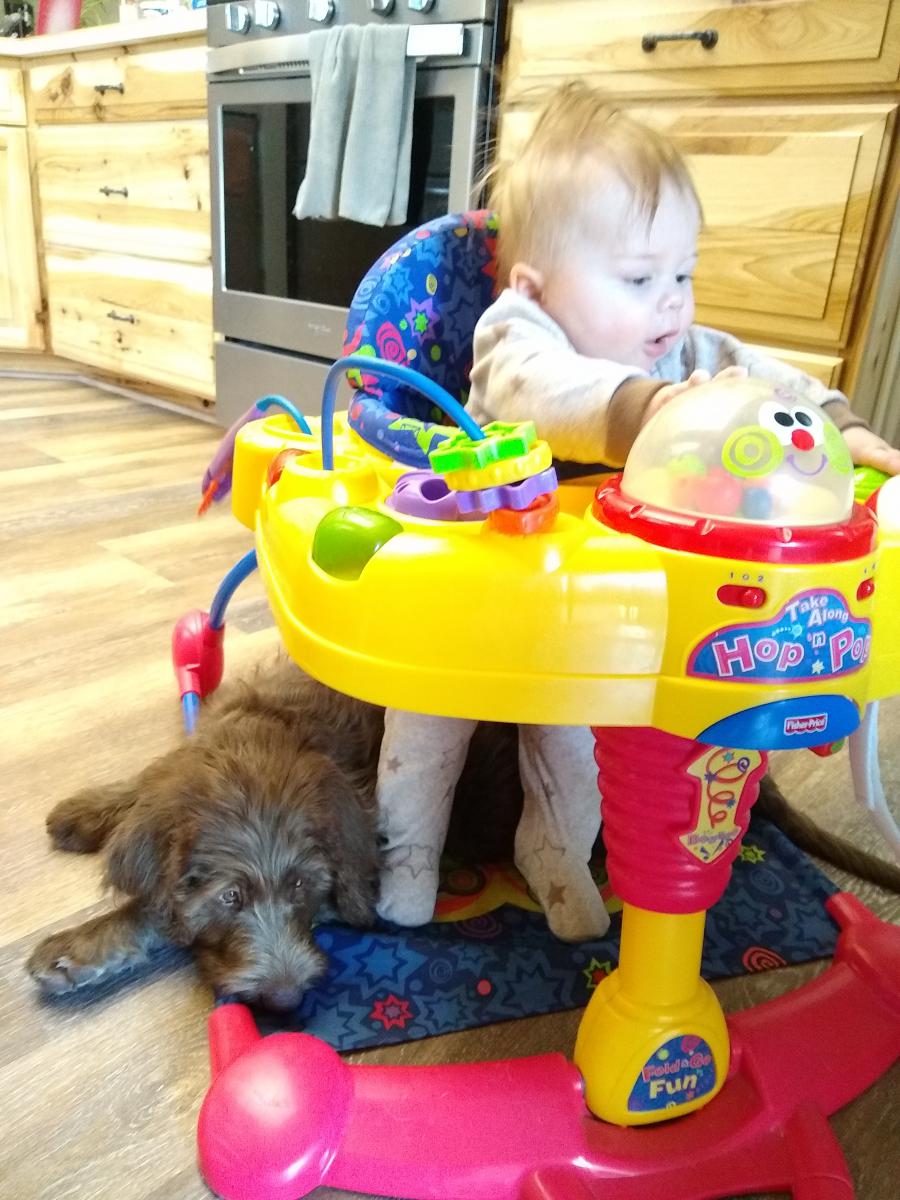 This month I transitioned from my wonderful breeder to my temporary foster, Jessa. She took me to college classes and began my potty and crate training. Then I transitioned again into the home of my puppy raiser, Bobbi. I'll continue working on what Jessa introduced with potty and crate training, I'll start learning my name, and how to walk on a leash! I'm excited to begin this journey.
October 2020 - 3 months old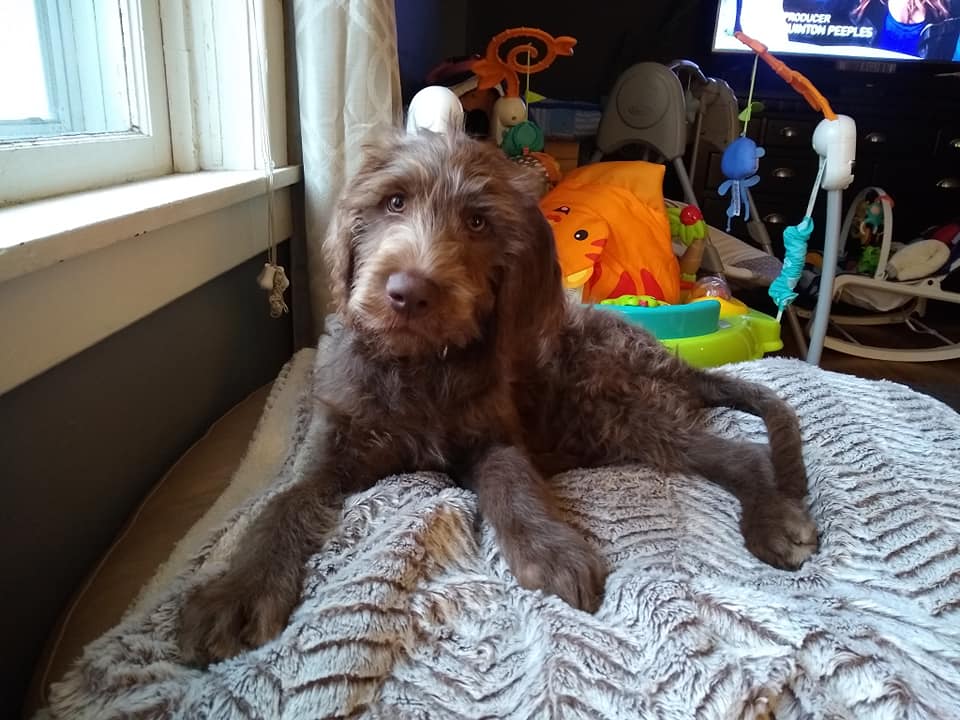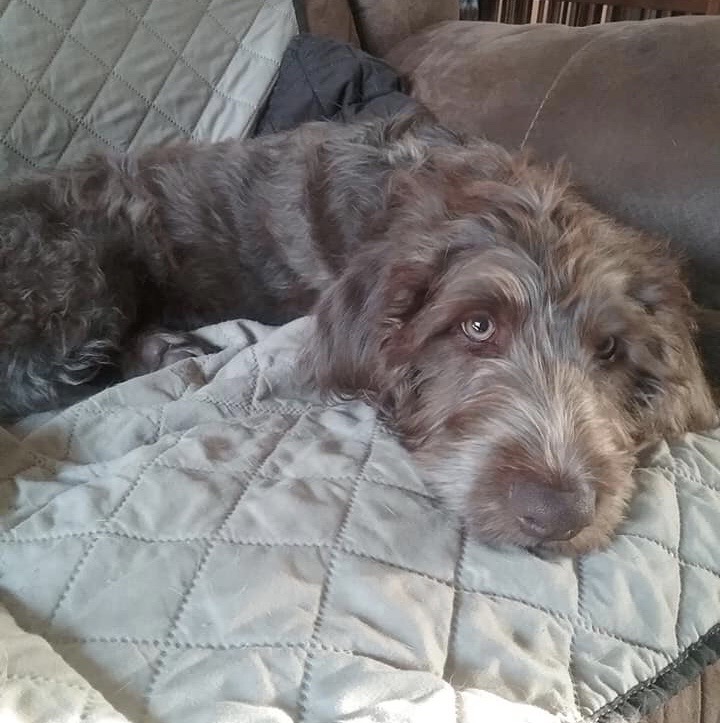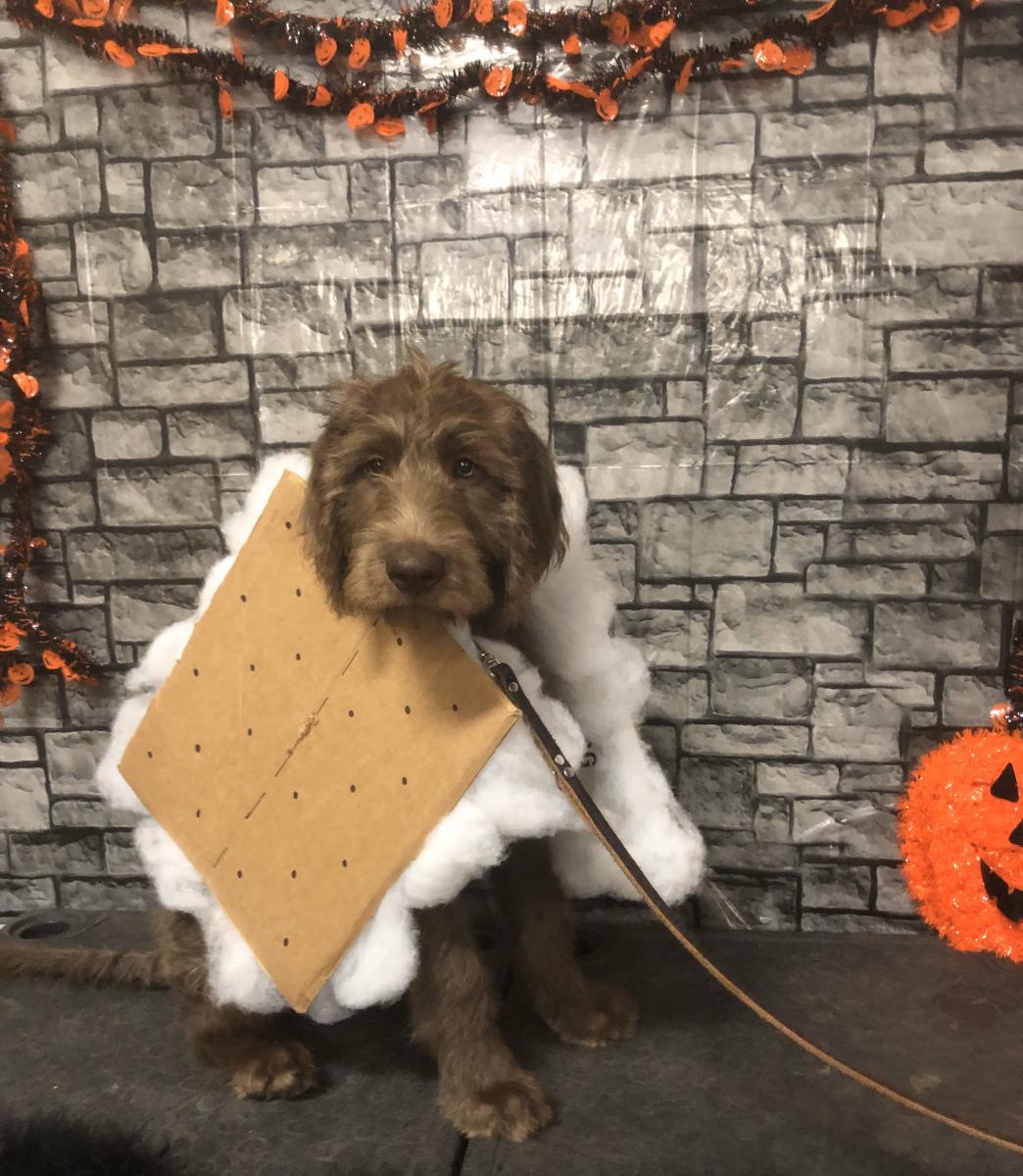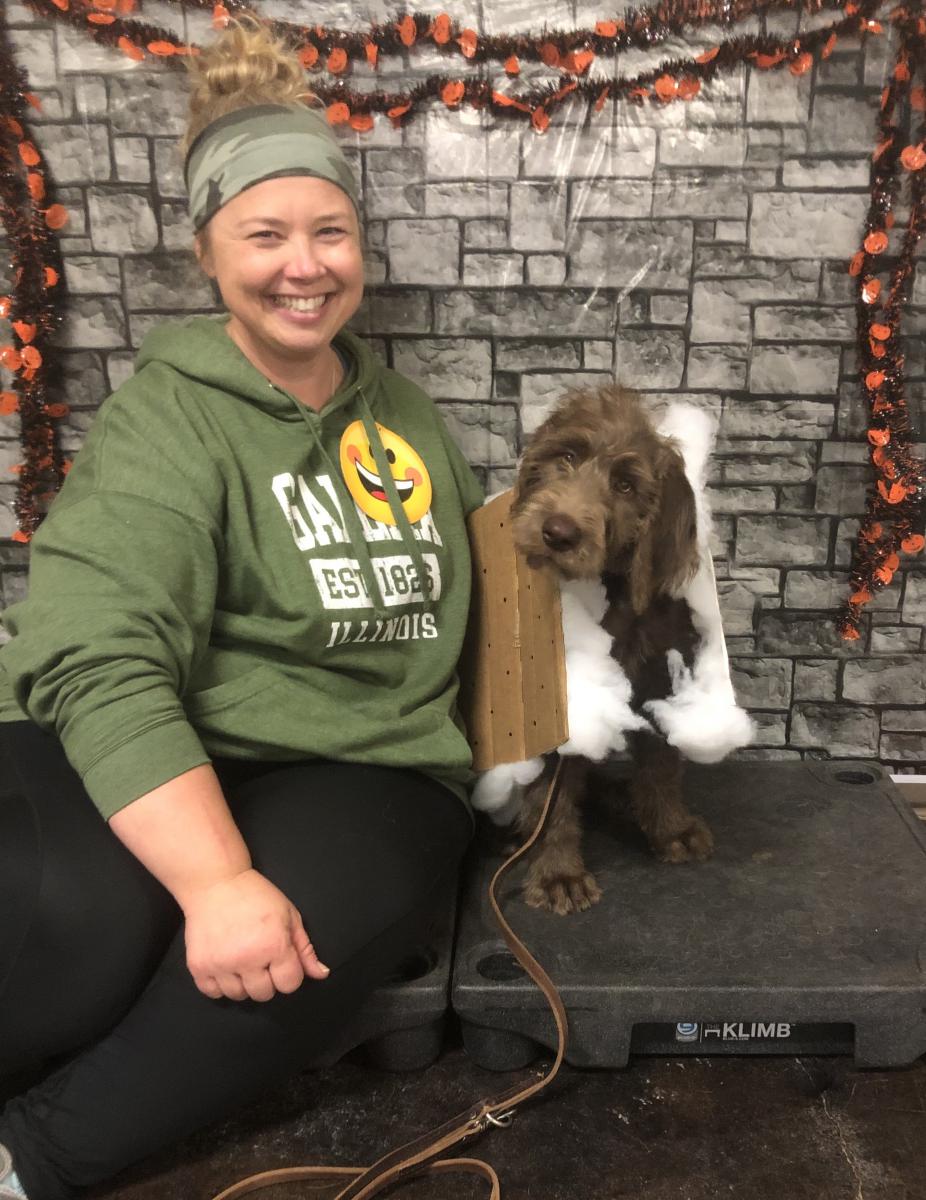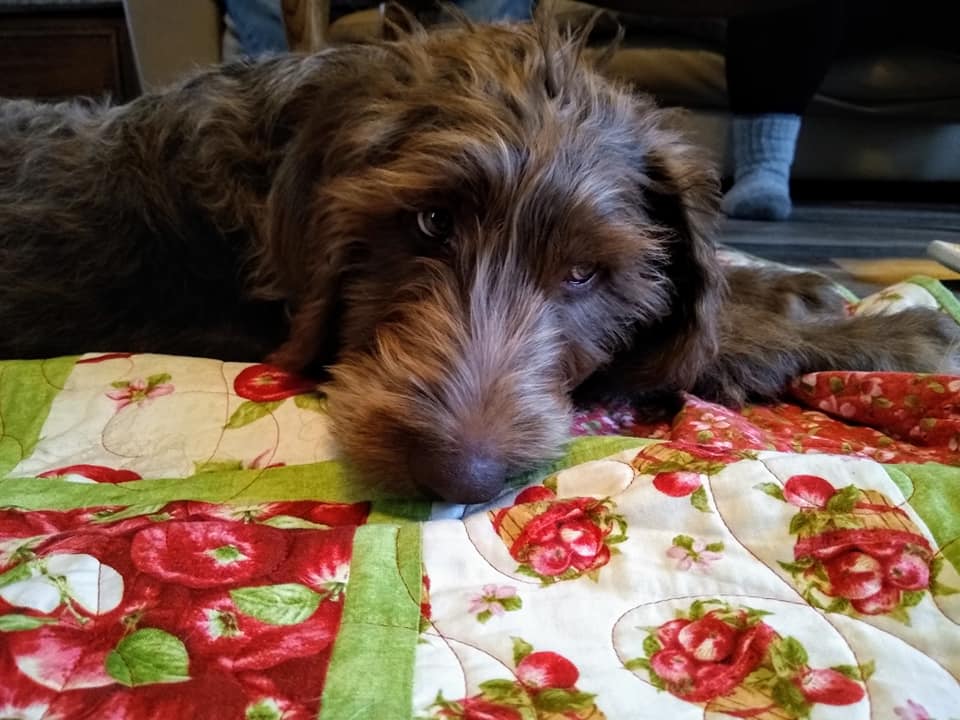 I firmly believe Bobbi puts these baby blankets down for me, and not for her grandson. We get along great! He and I are best buddies. We especially enjoy napping together. I dressed up as a s'more for Halloween. I didn't mind the costume at all!
November 2020 - 4 months old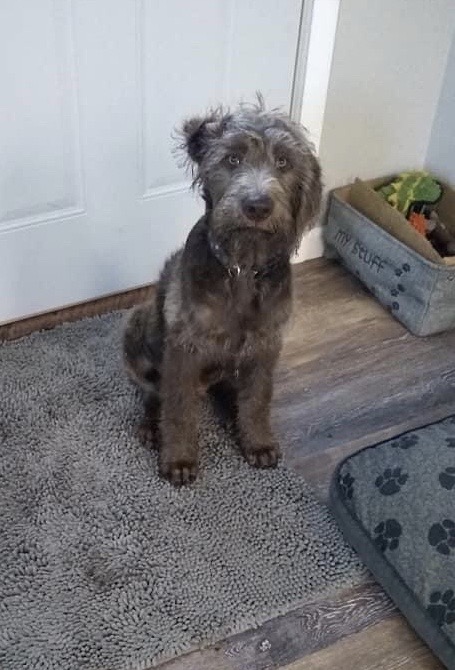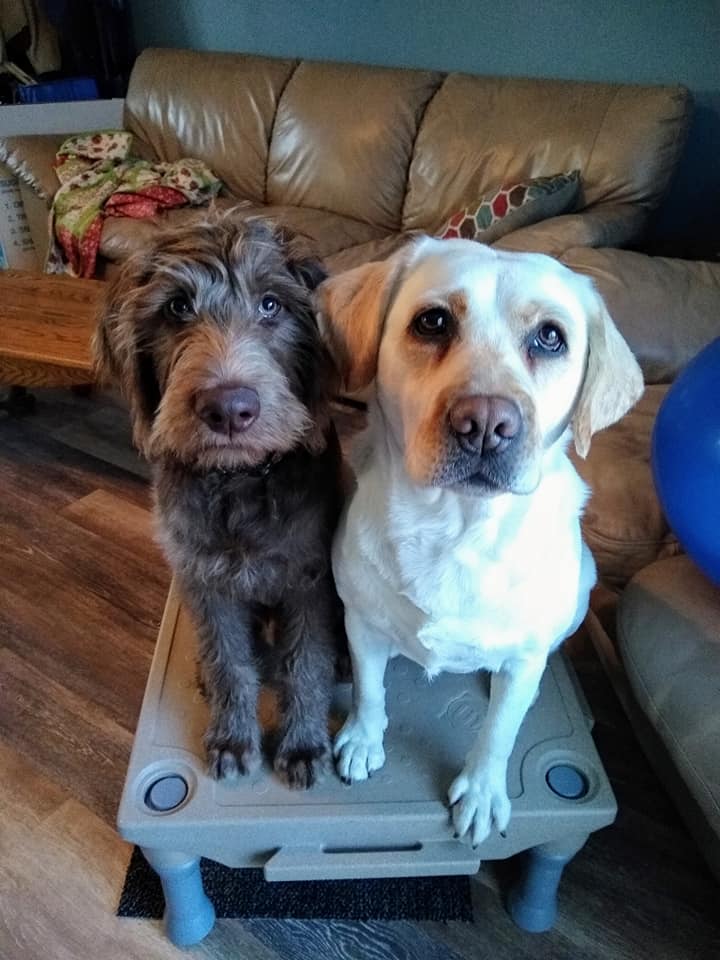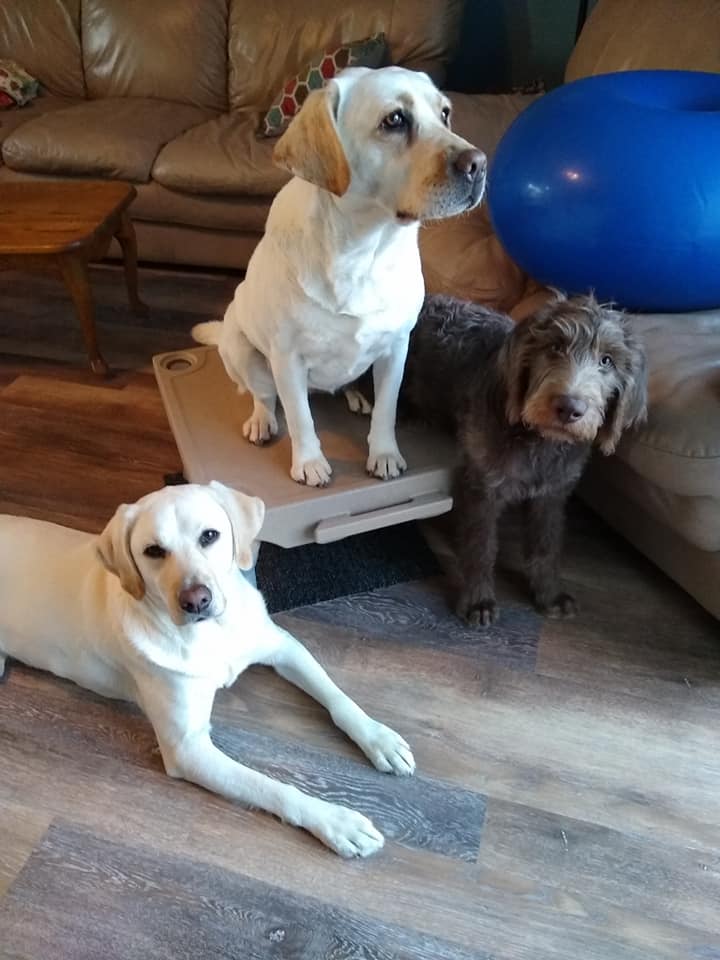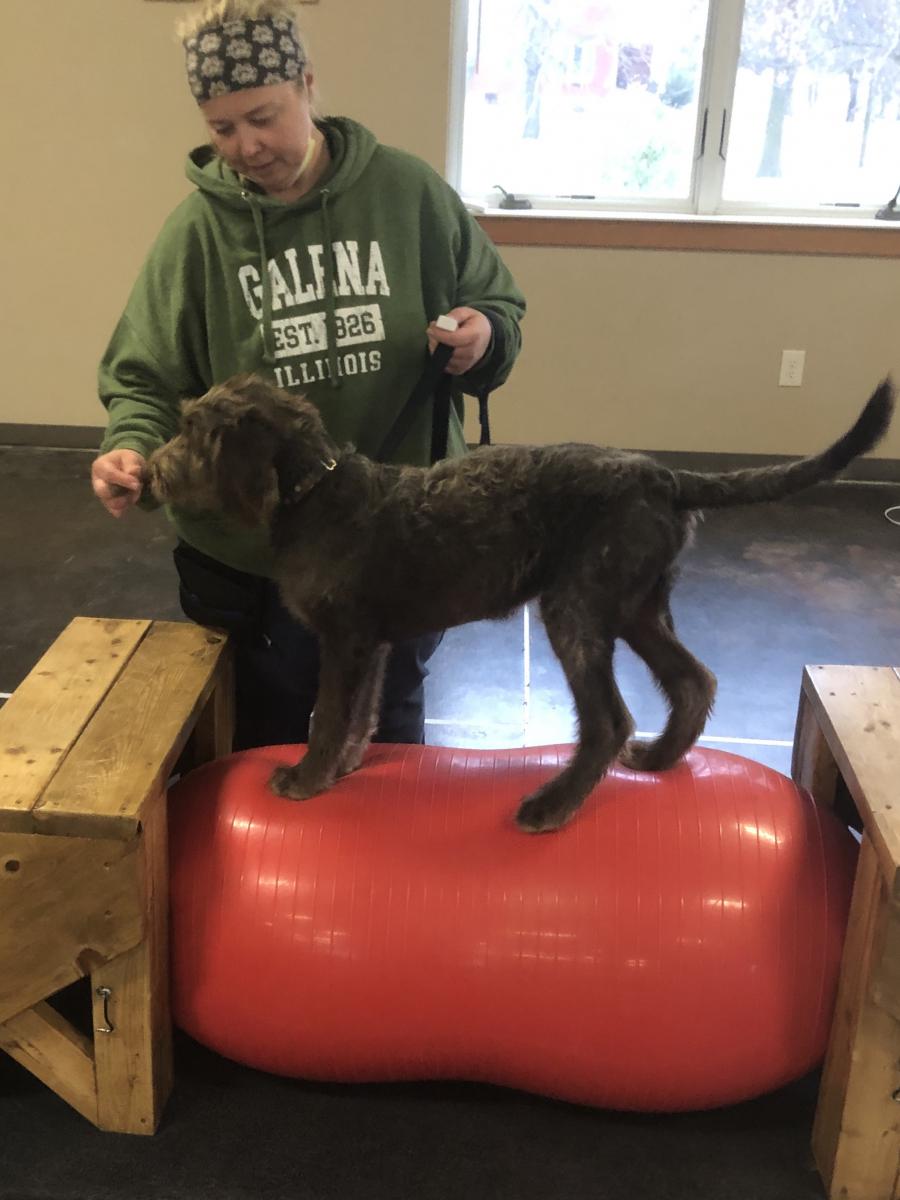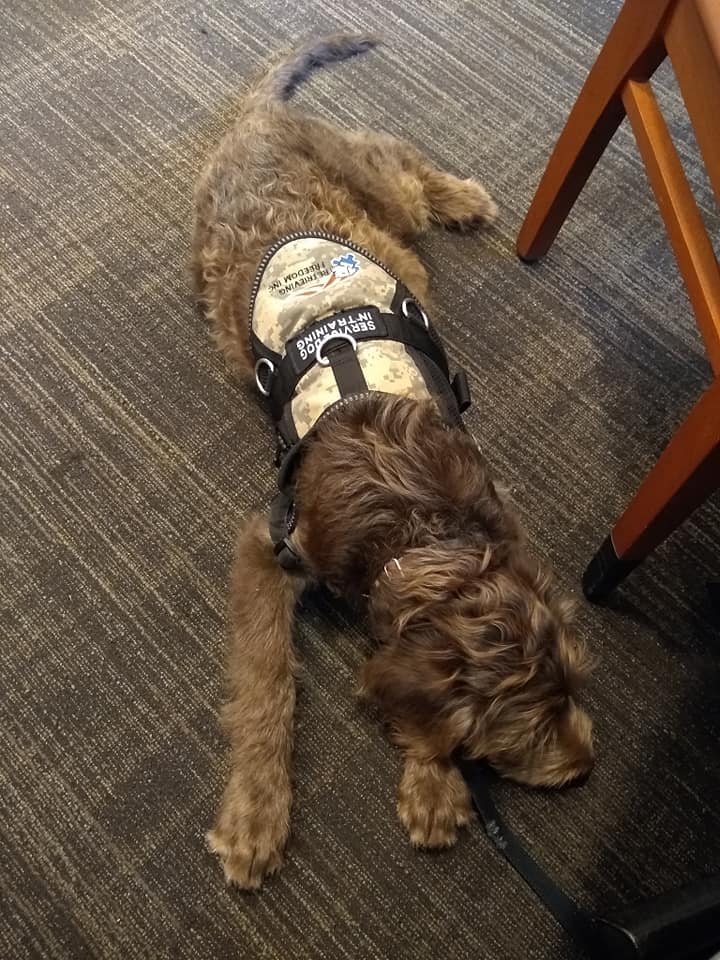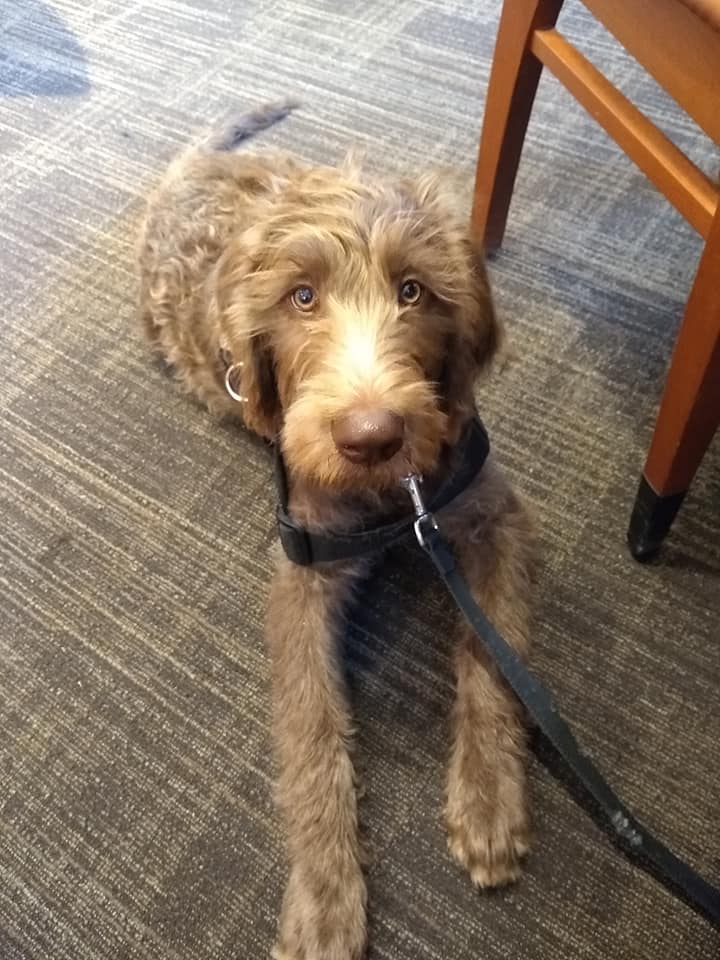 You're looking at the face of a puppy who is beginning to be awake for more hours of the day and is always looking for something to do! This is a positive sign for my training: I'm always up for the opportunity to learn new tasks!
December 2020 - 5 months old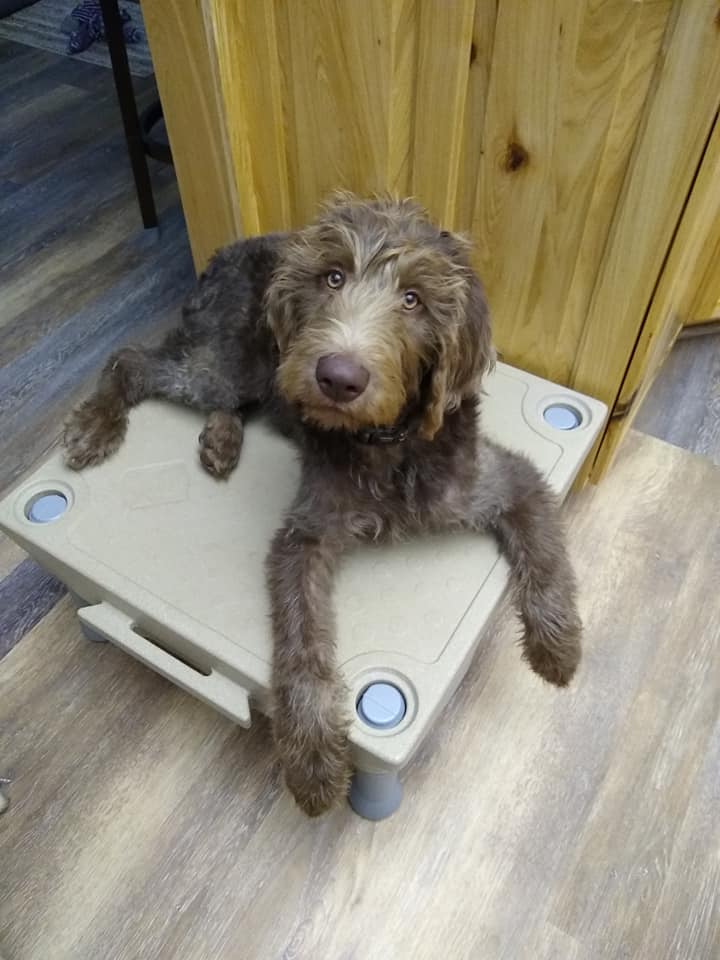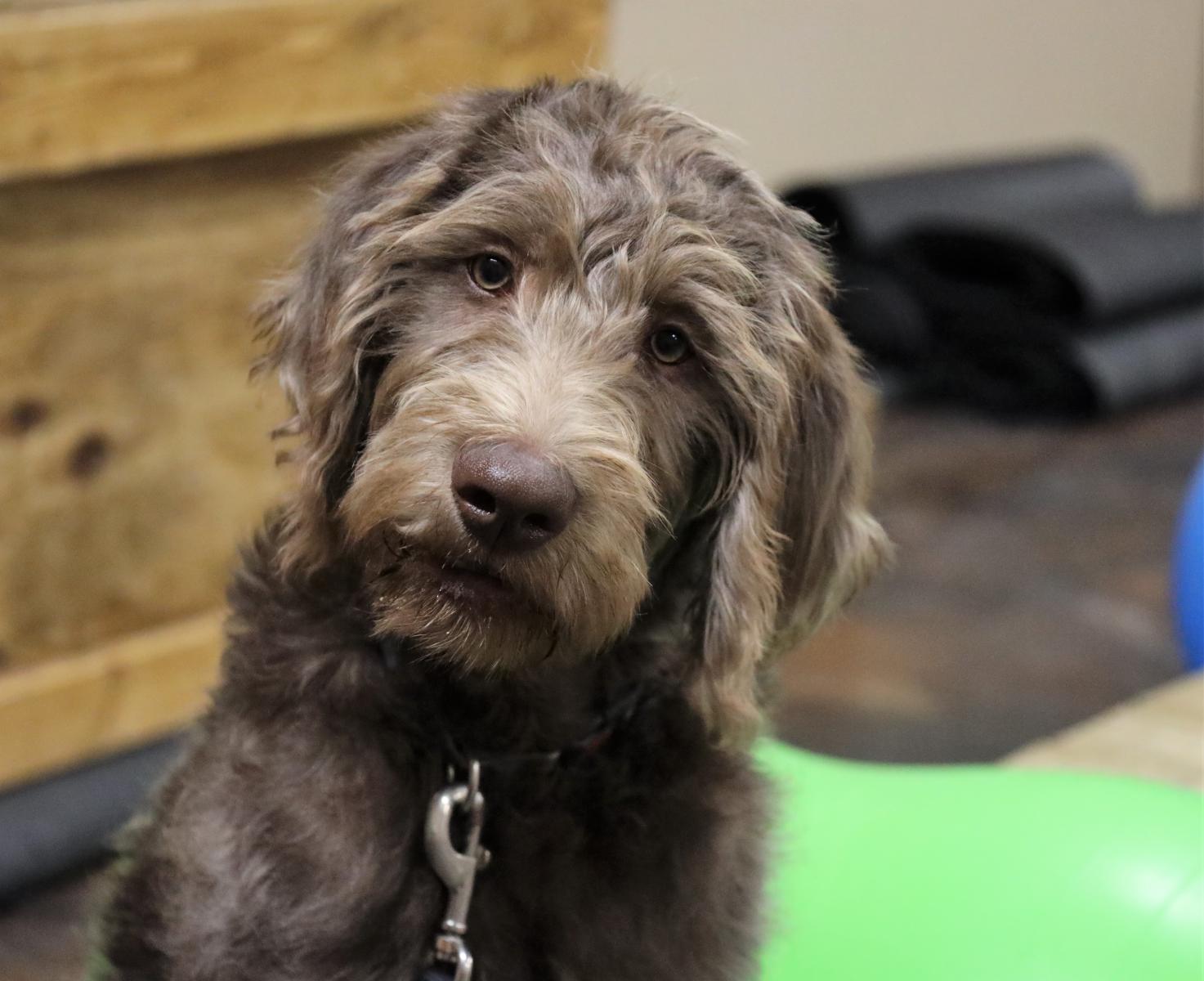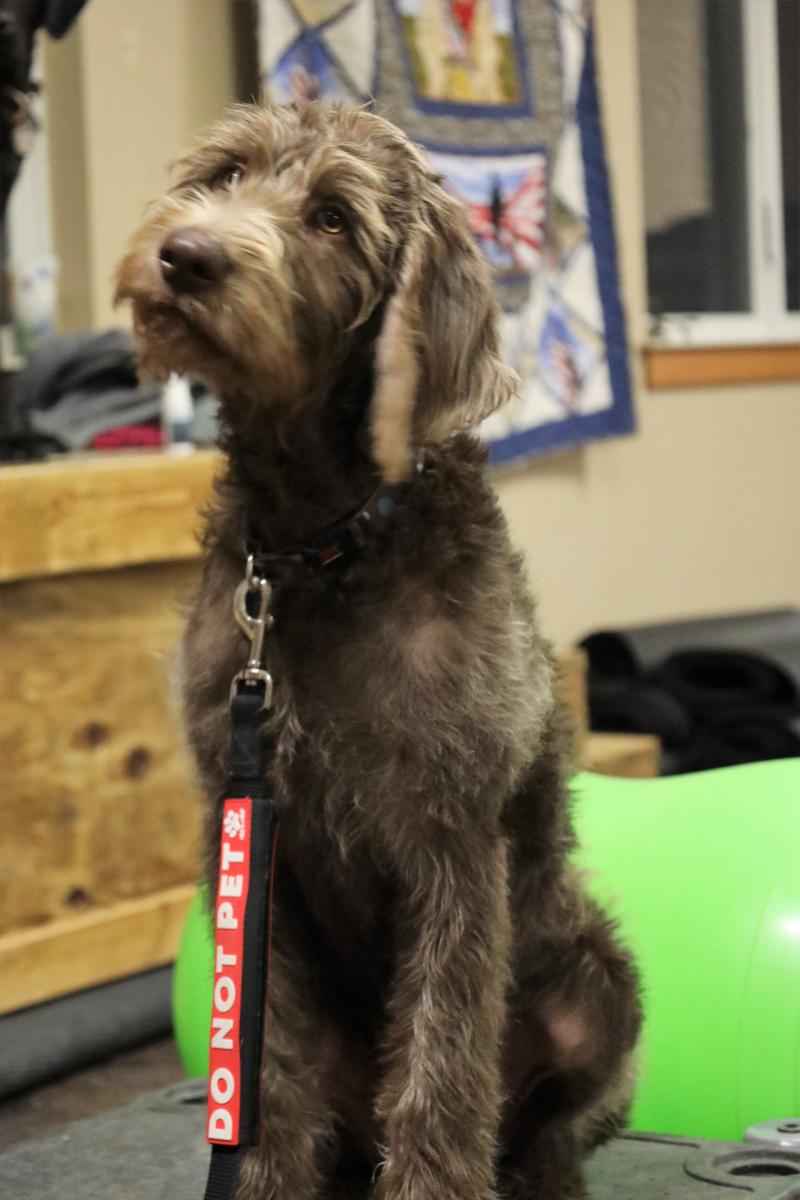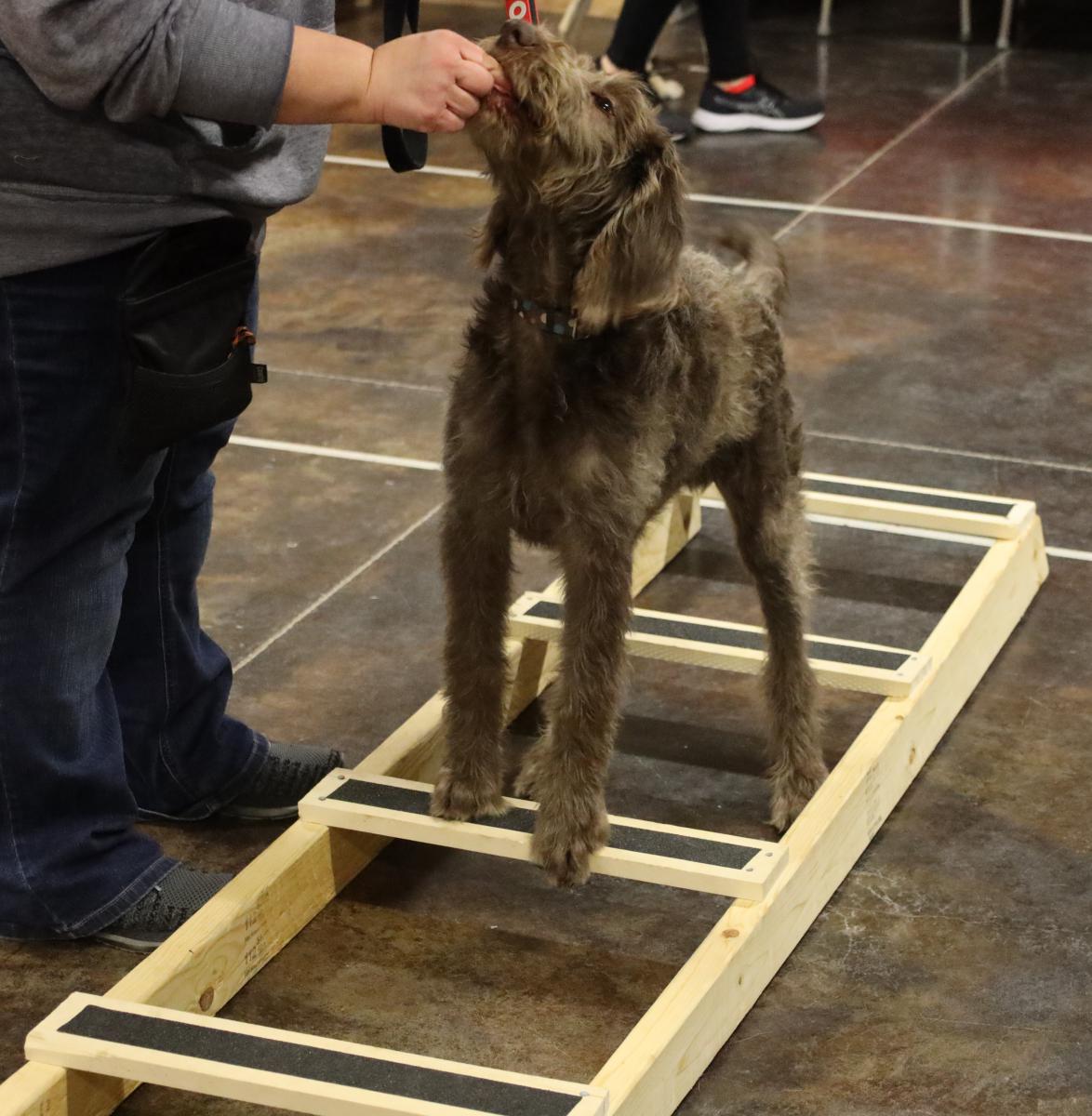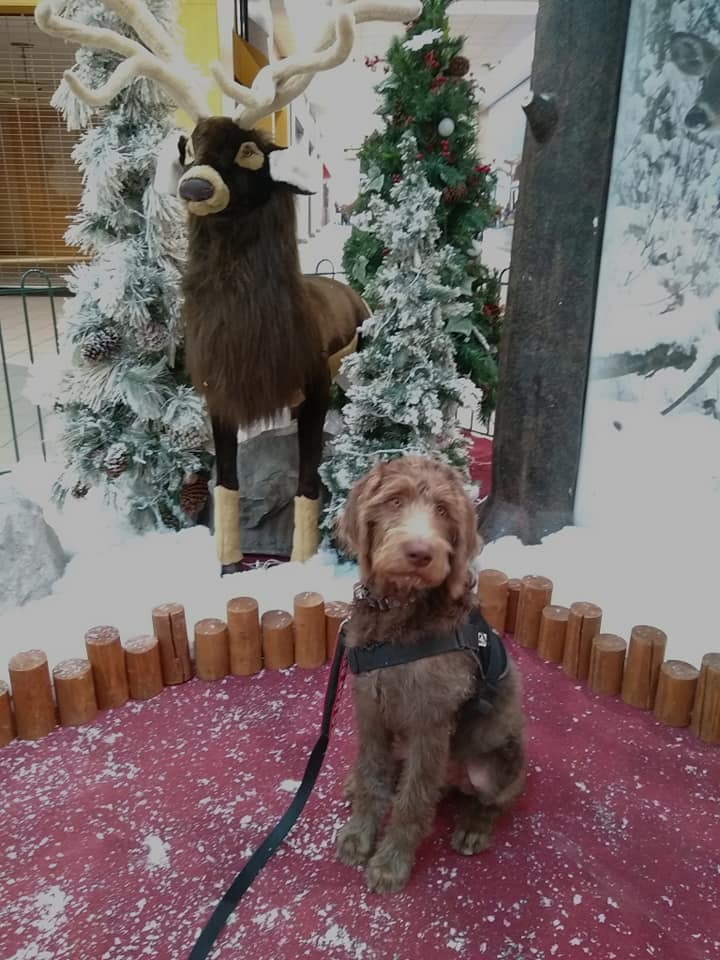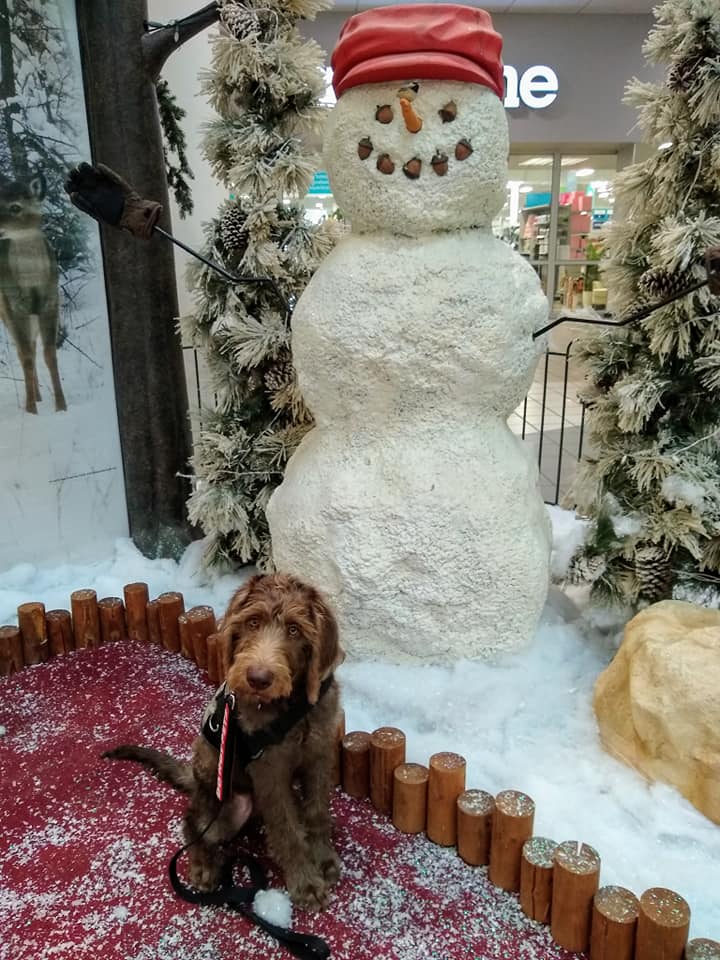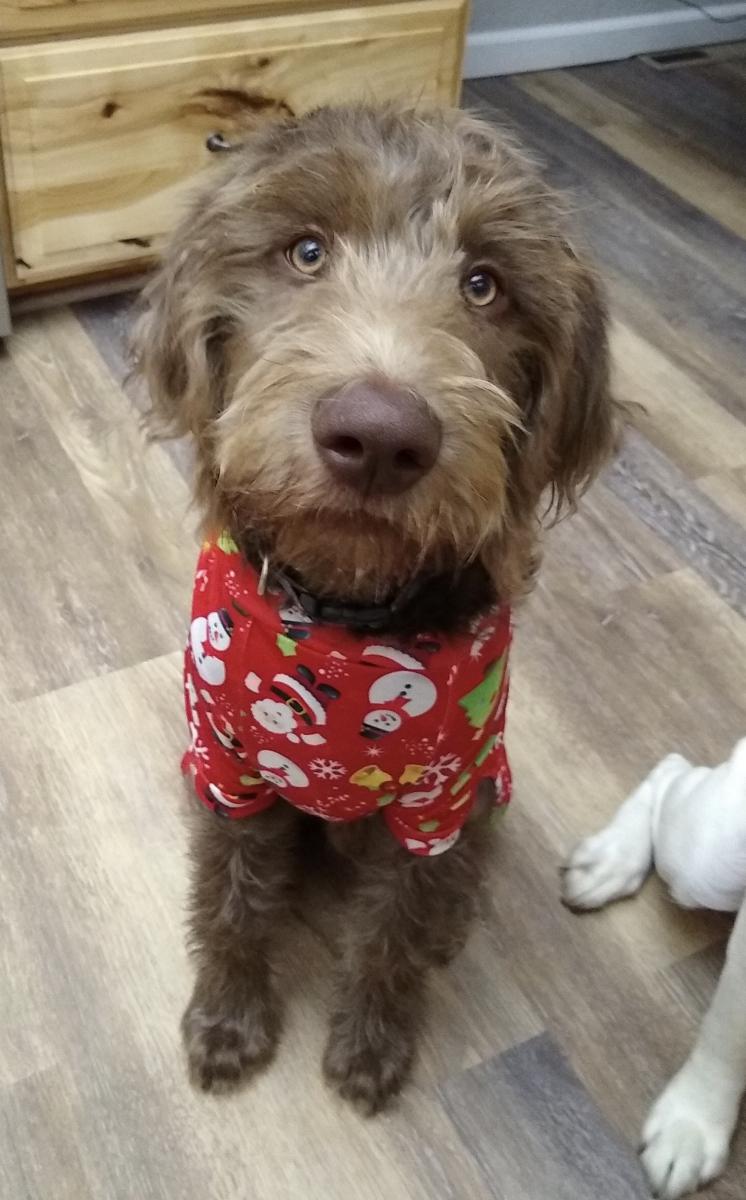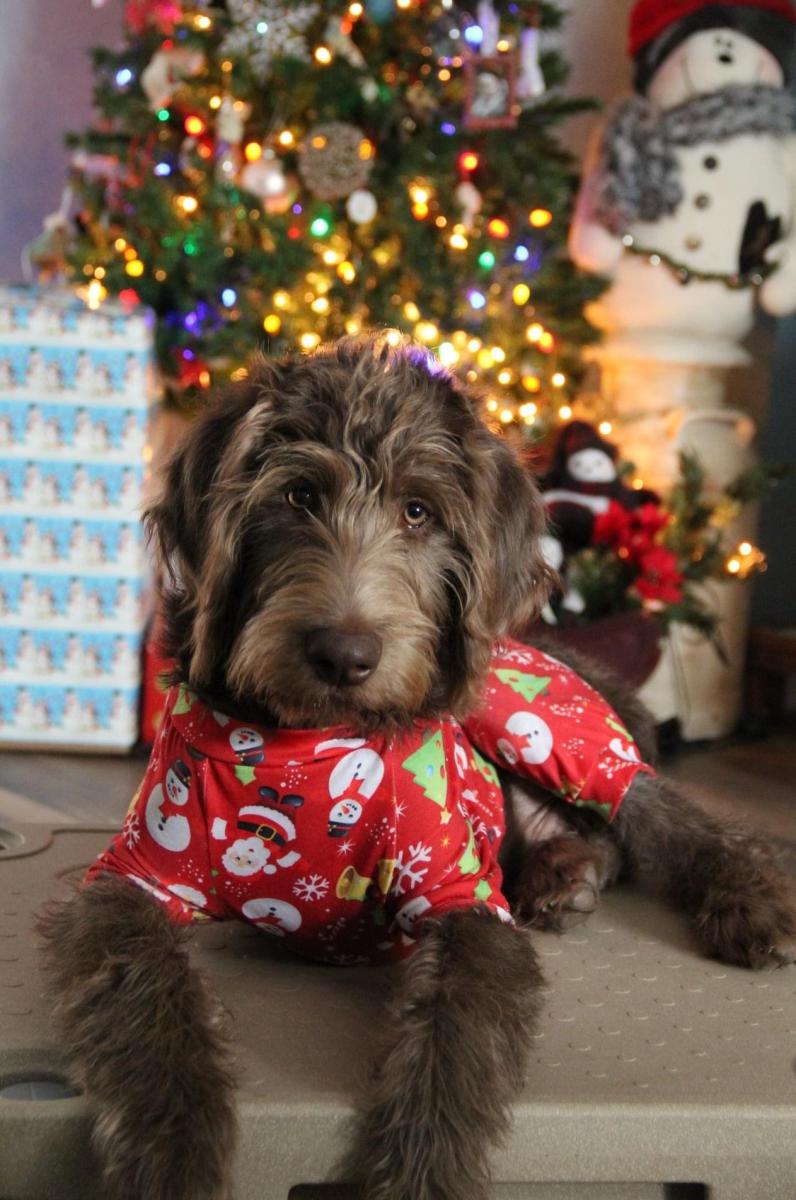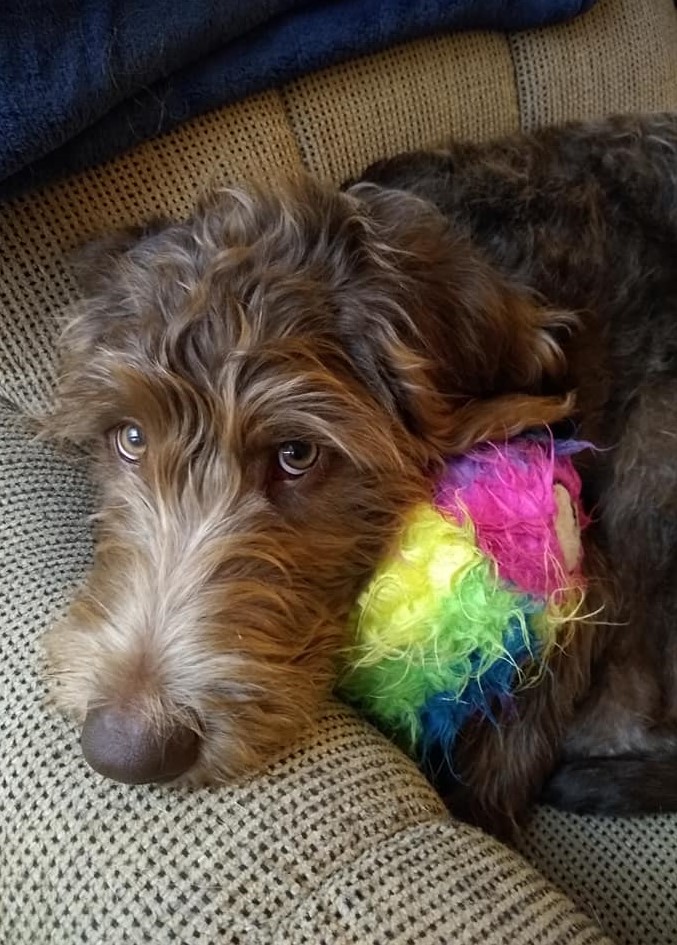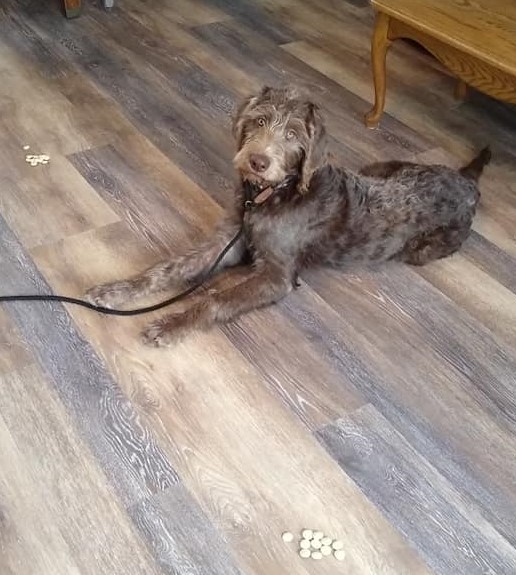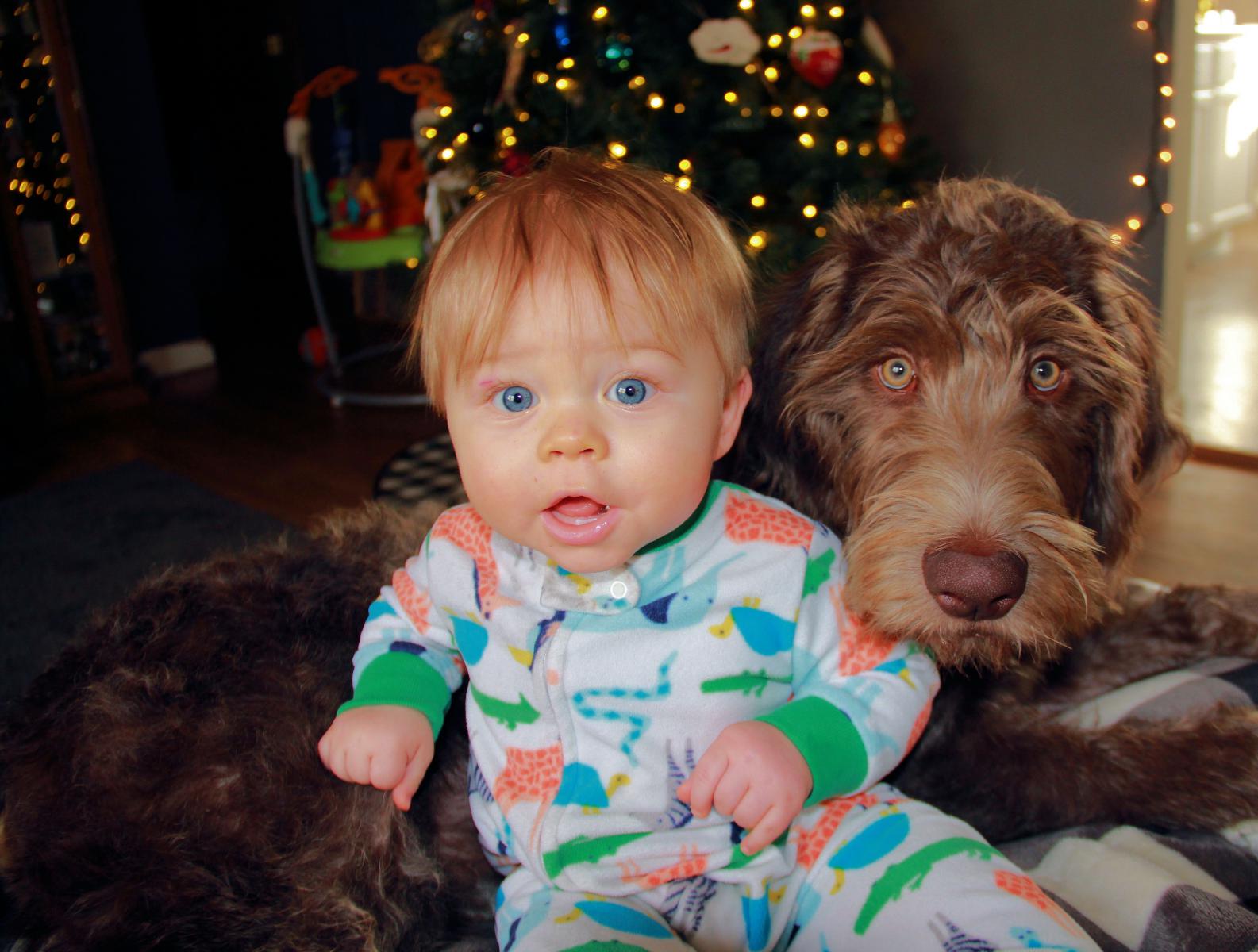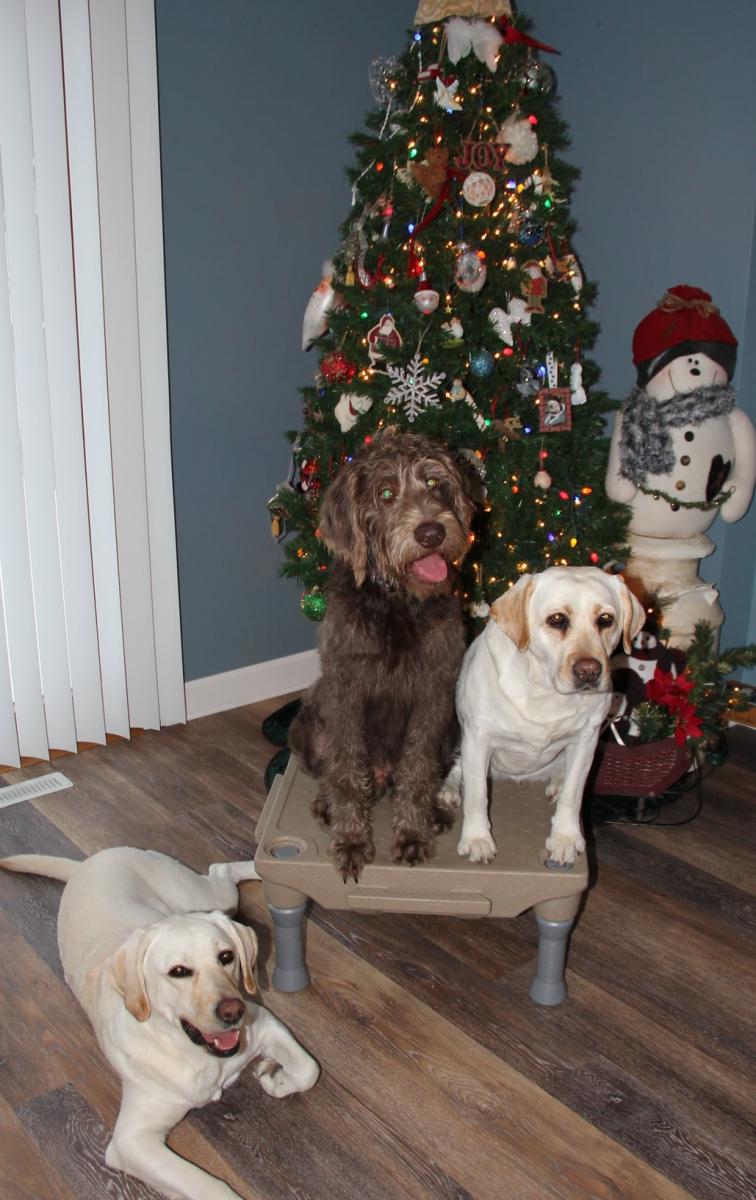 With the holiday season comes a new set of distractions. My foster Bobbi and I went to the local mall to learn to navigate walking through crowds, noise, and new interactions (such as this oversized snowman and reindeer!) while a craft show was taking place. The only thing I struggled with was my own reflection in the windows! I'm also working on ignoring food (including my dog treats!) and other temptations on the ground. I can only take treats from my handler's hand. I'm working on ignoring distractions - I'm especially distracted when strangers are walking behind me or talking directly to me.
January 2021 - 6 months old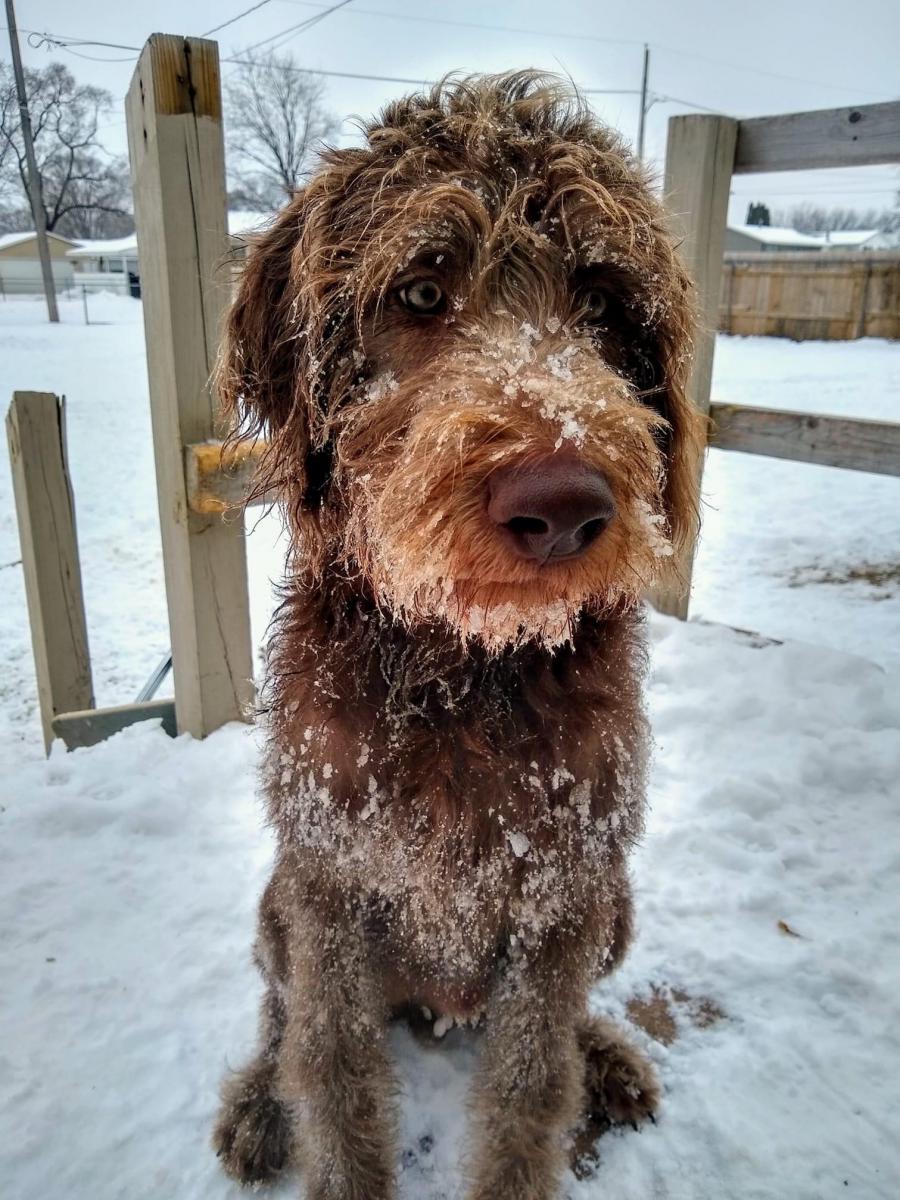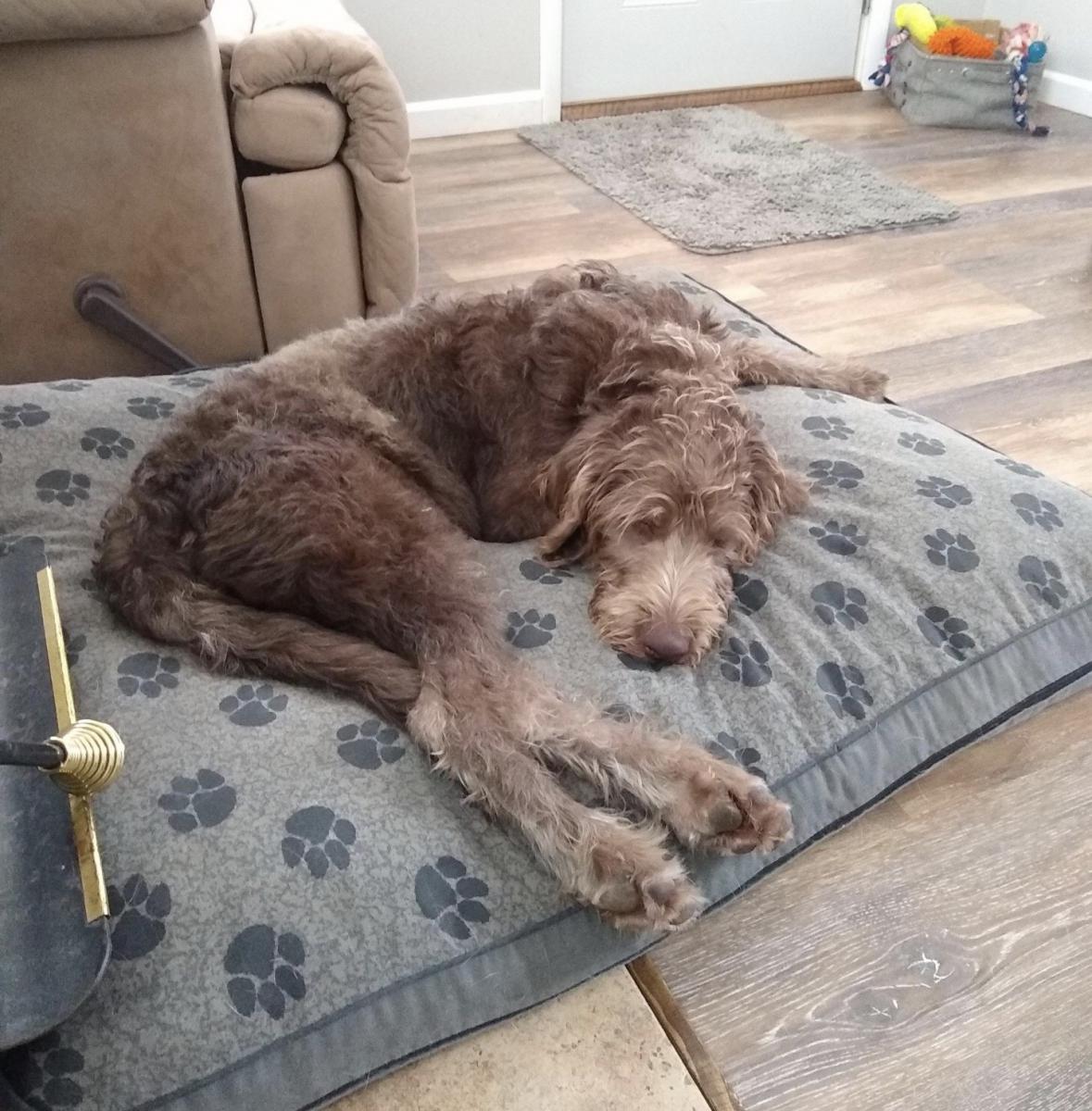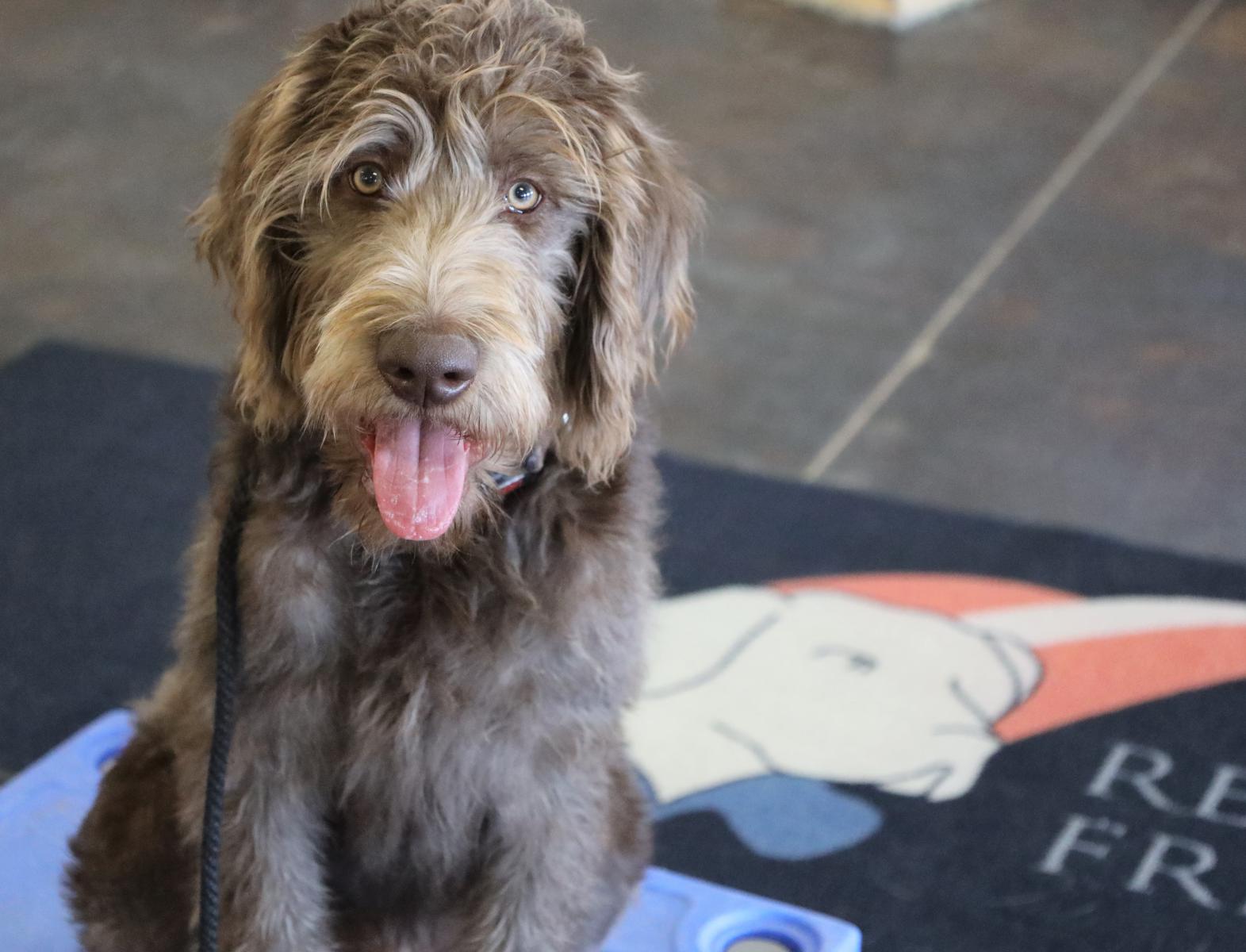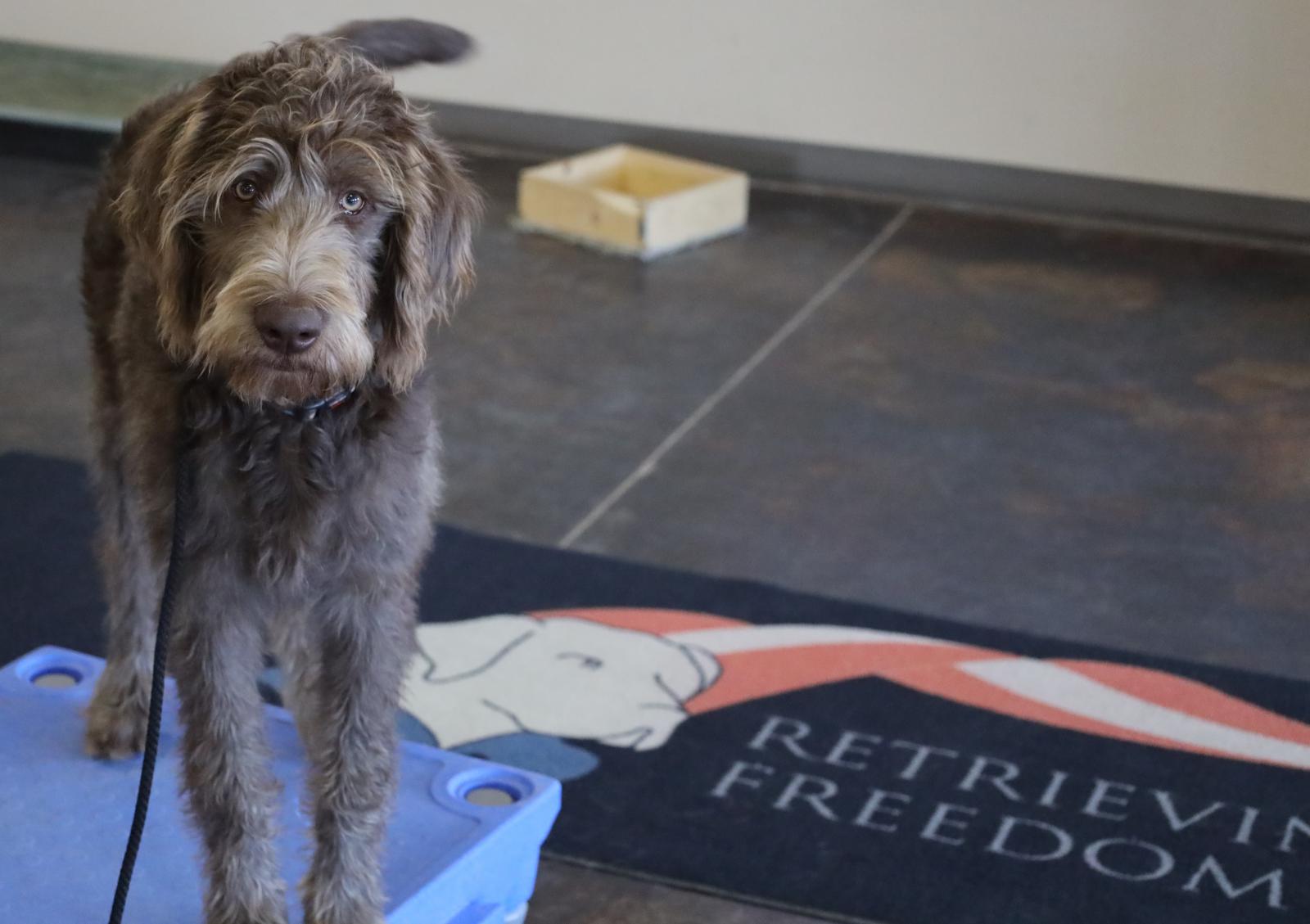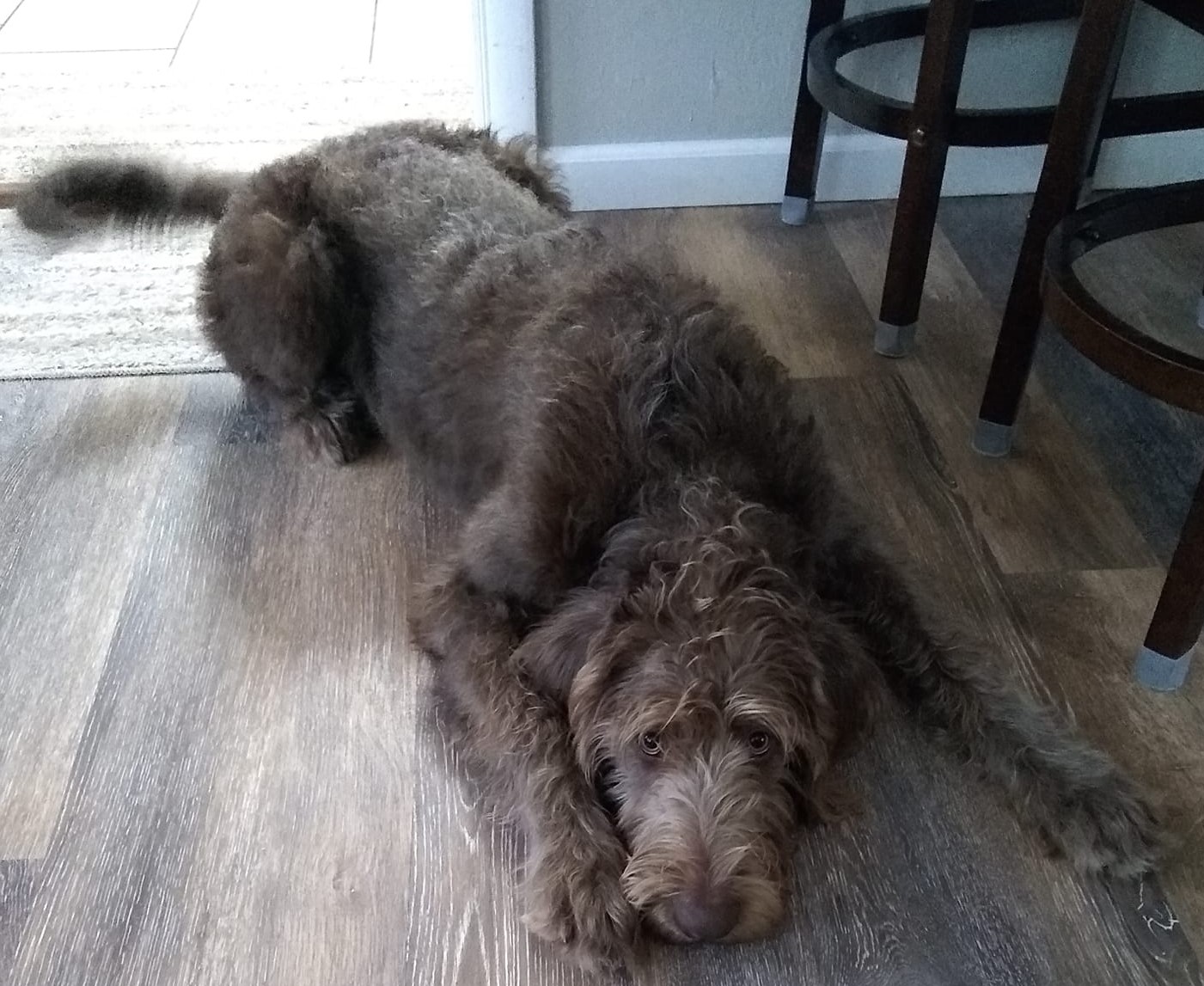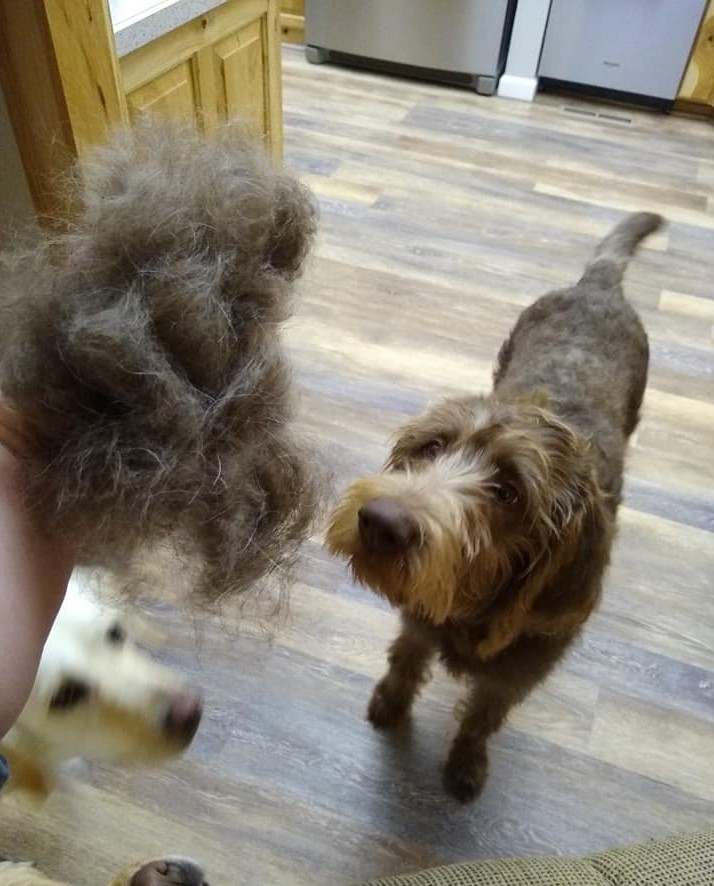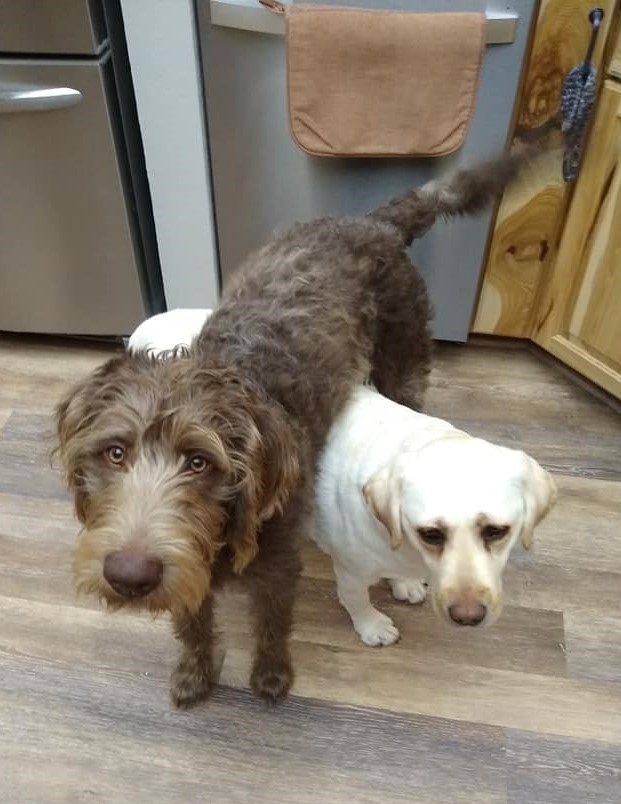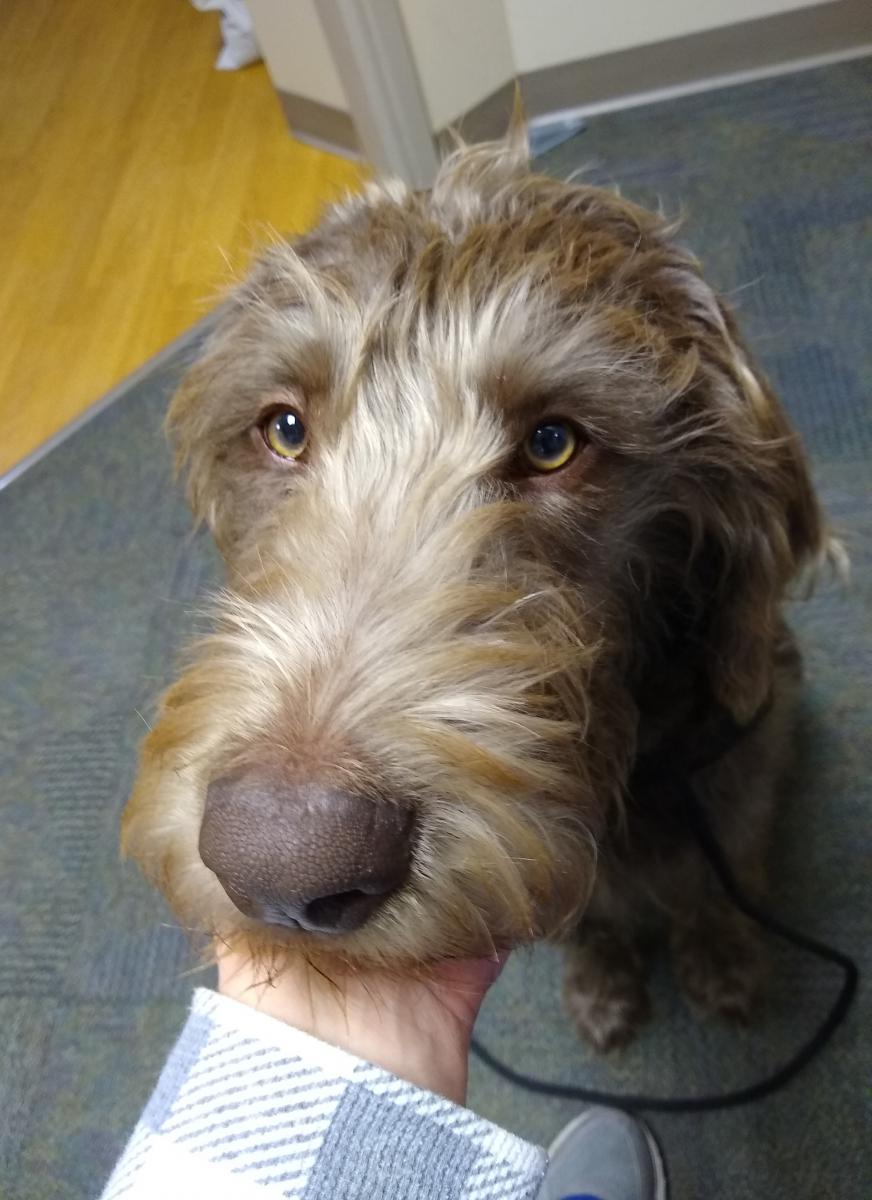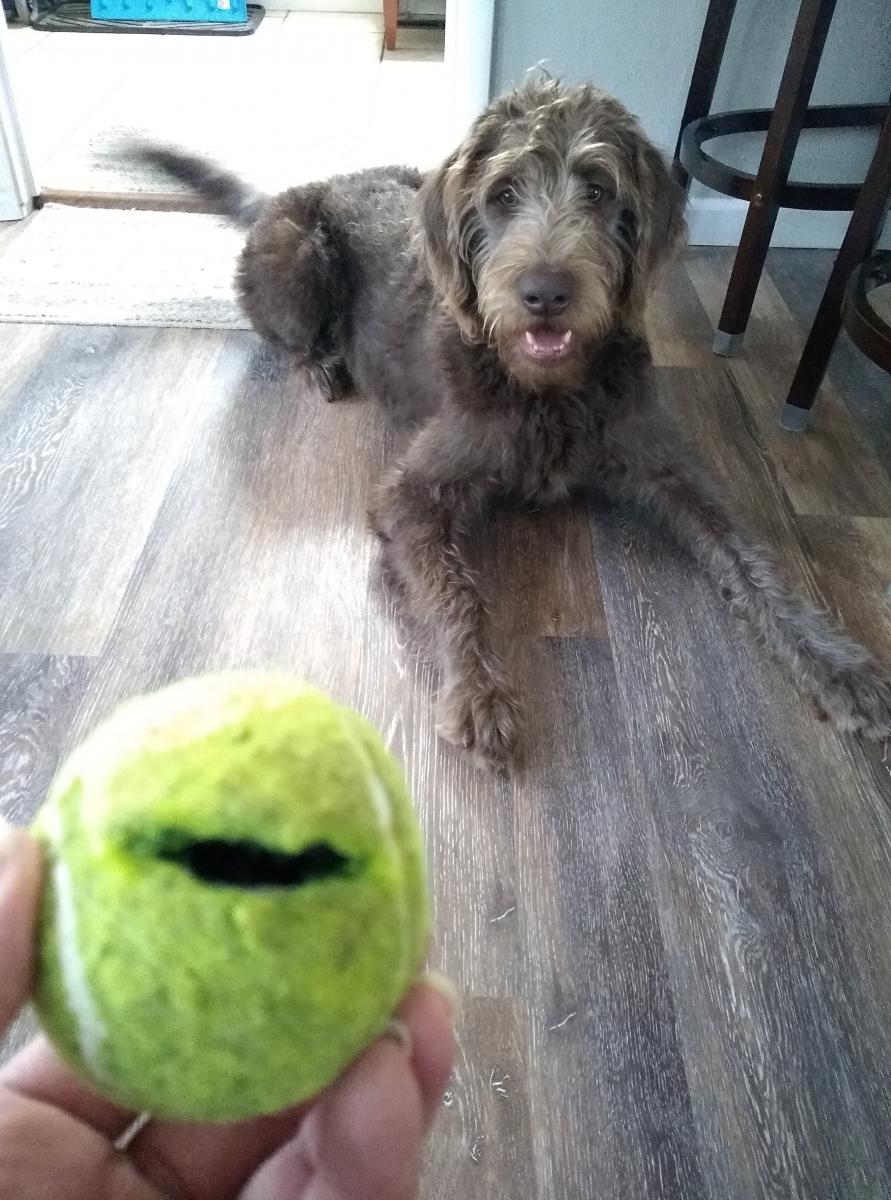 I love playing in this fluffy white stuff that Bobbi calls snow! I have plenty of fur to keep me warm, so I romp around and get covered in it. It's important to have free time outside of training - that way, I don't get worn down and tired of training. If I do, I could refuse to perform tasks when asked of me. I am getting so tall that my sisters who are labrador retrievers can walk under me!
February 2021 - 7 months old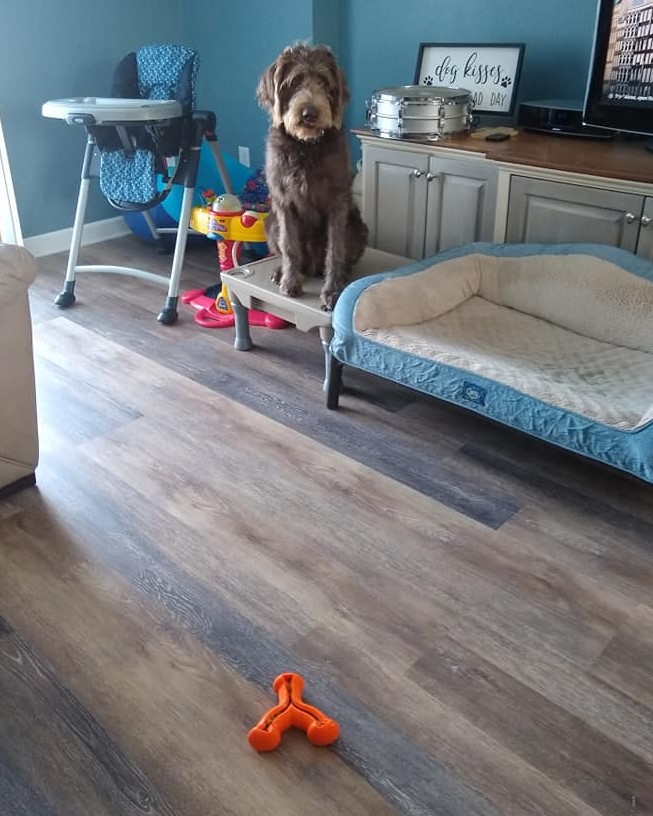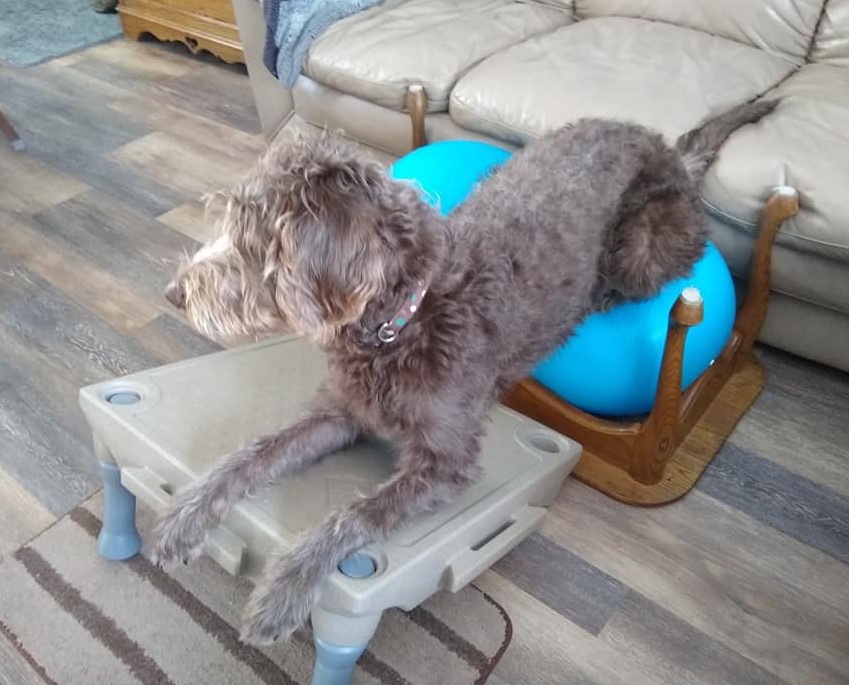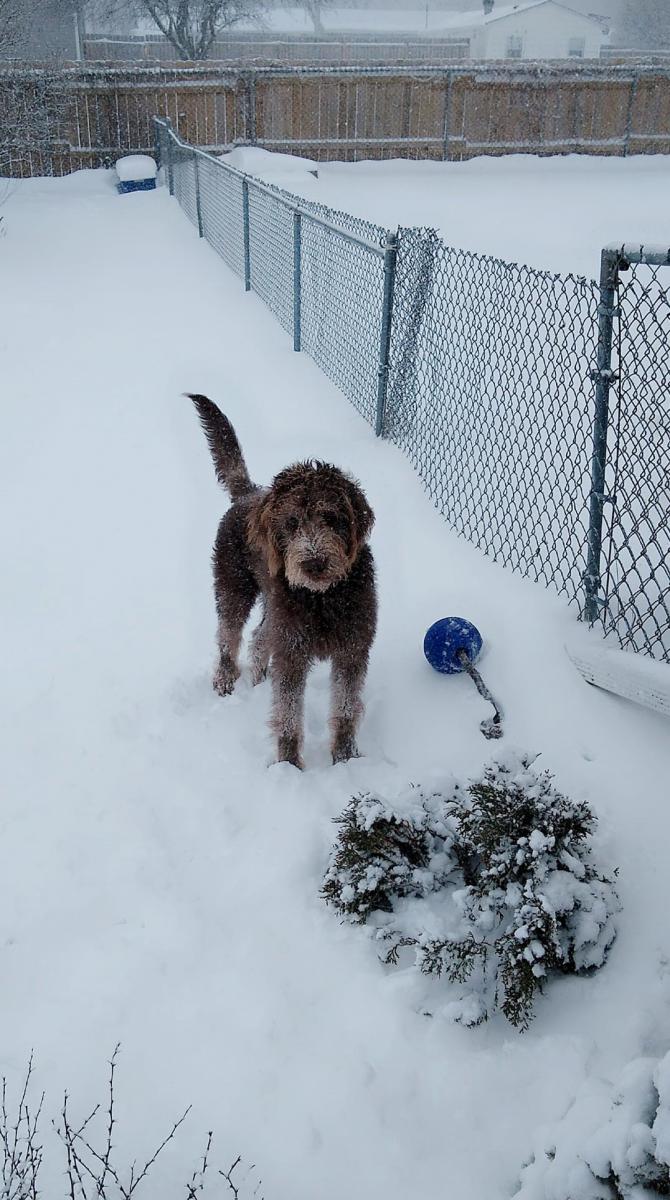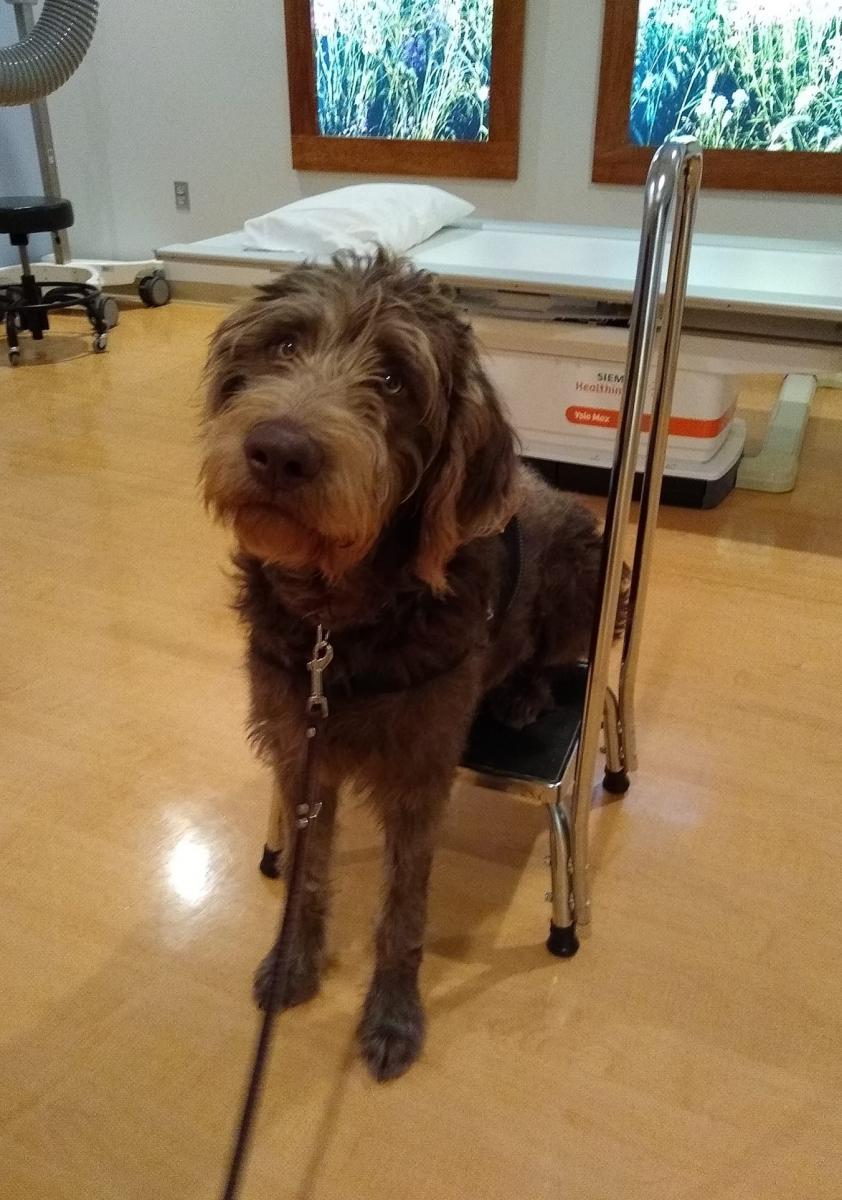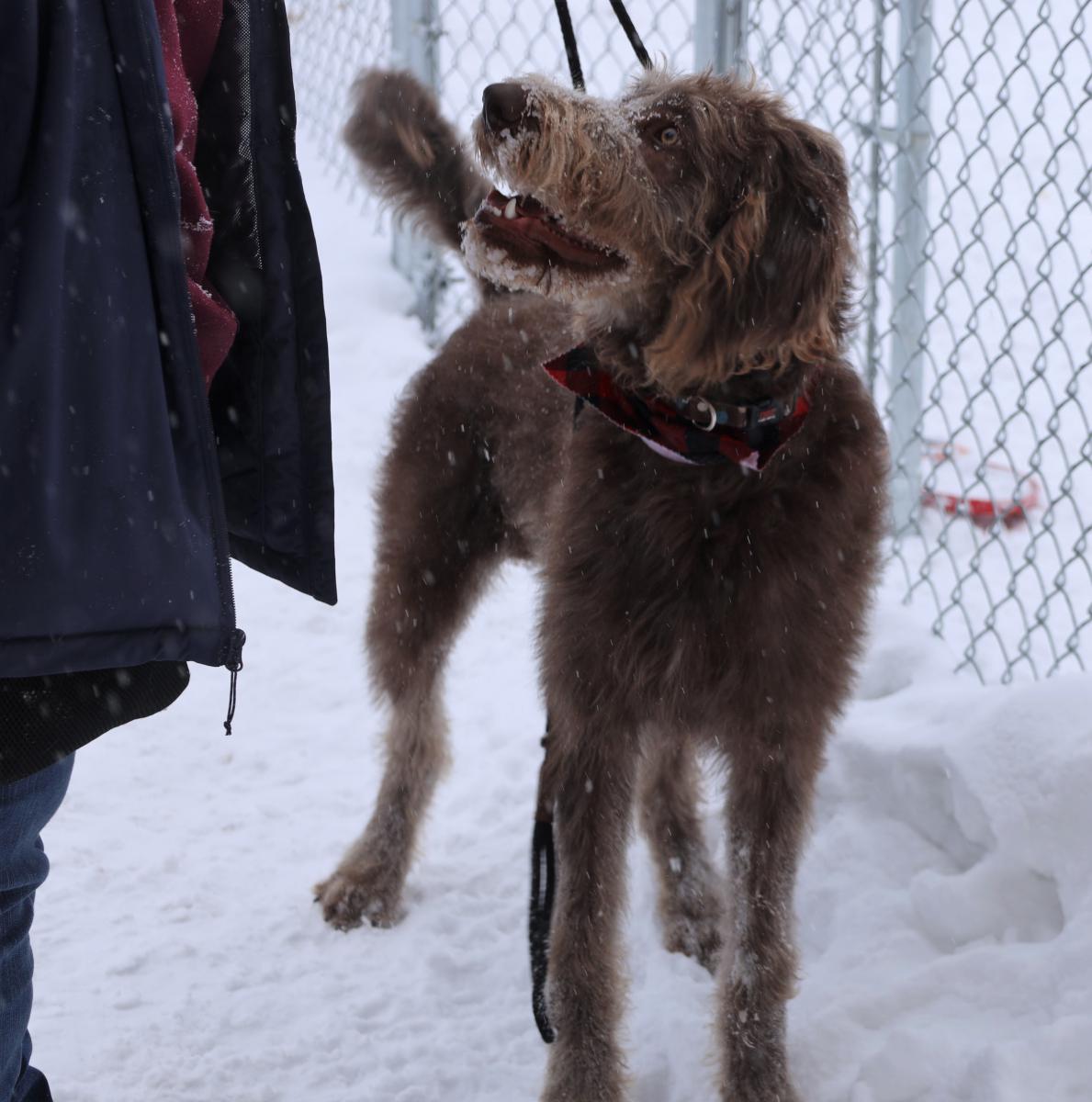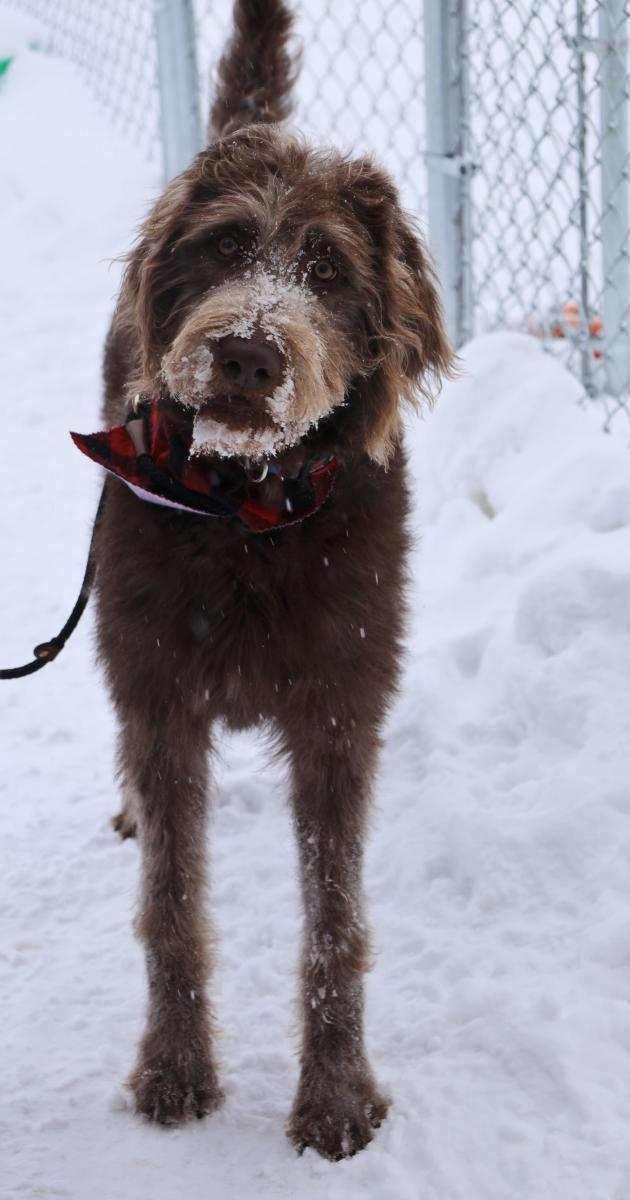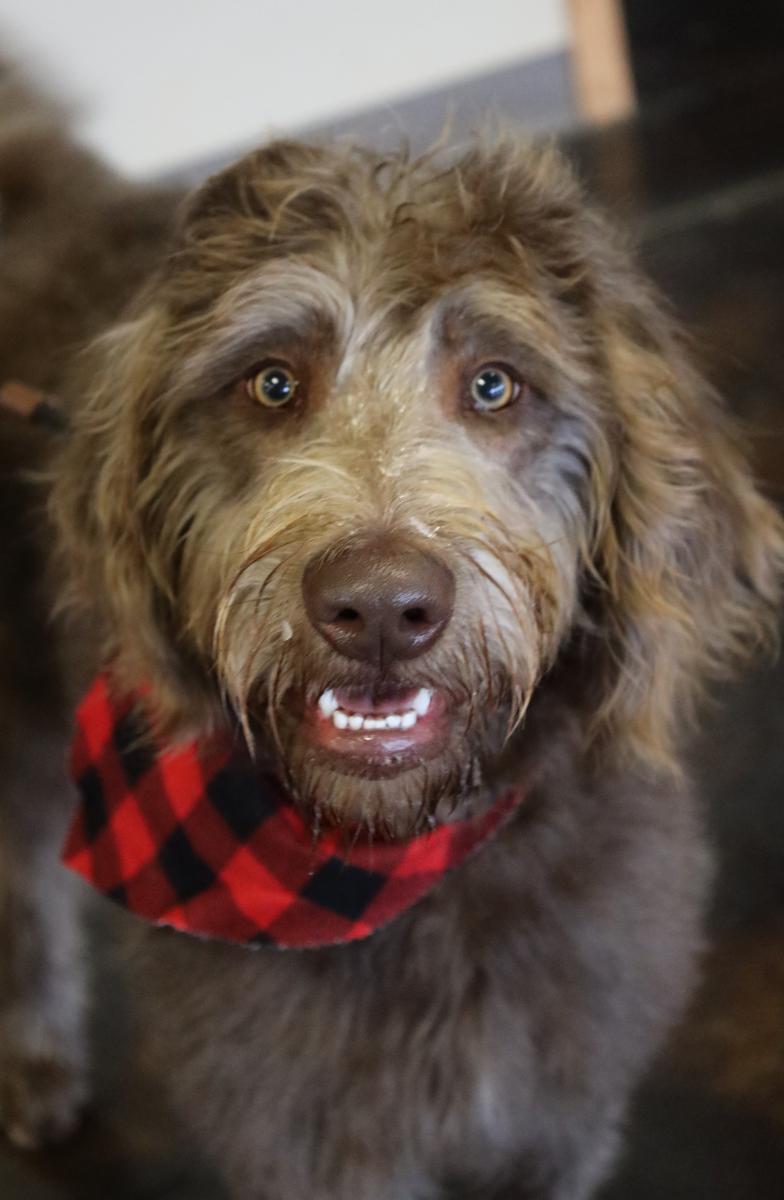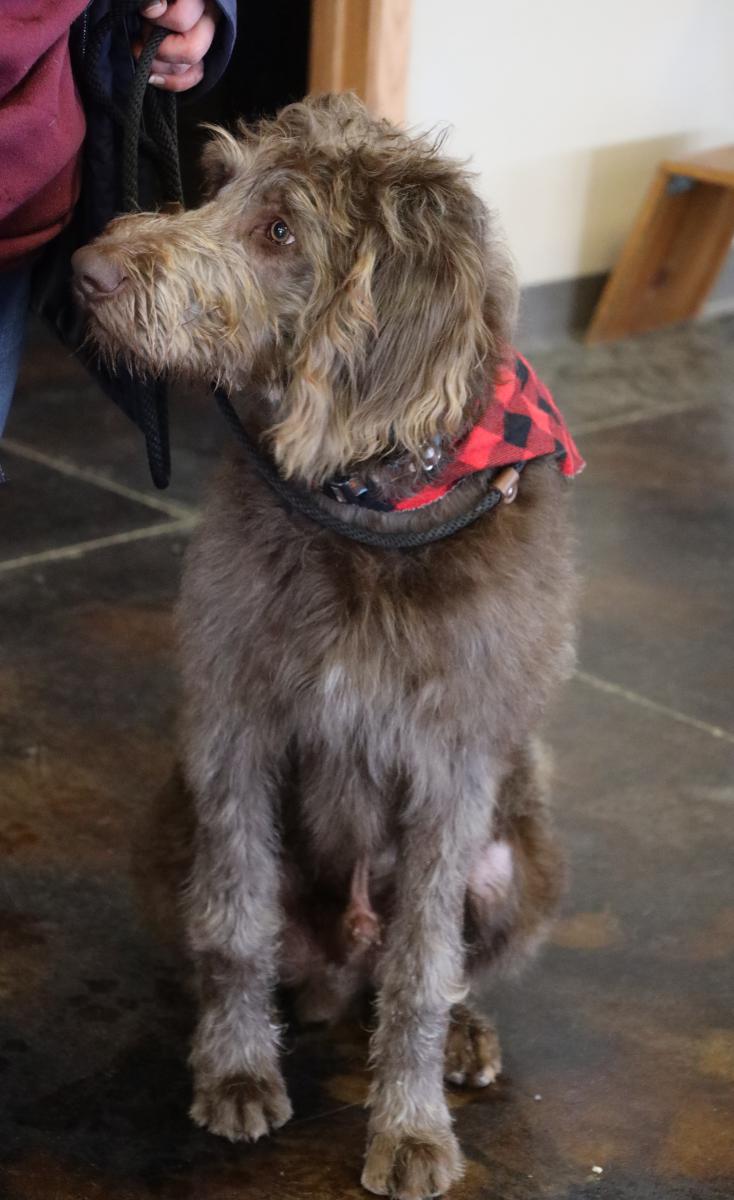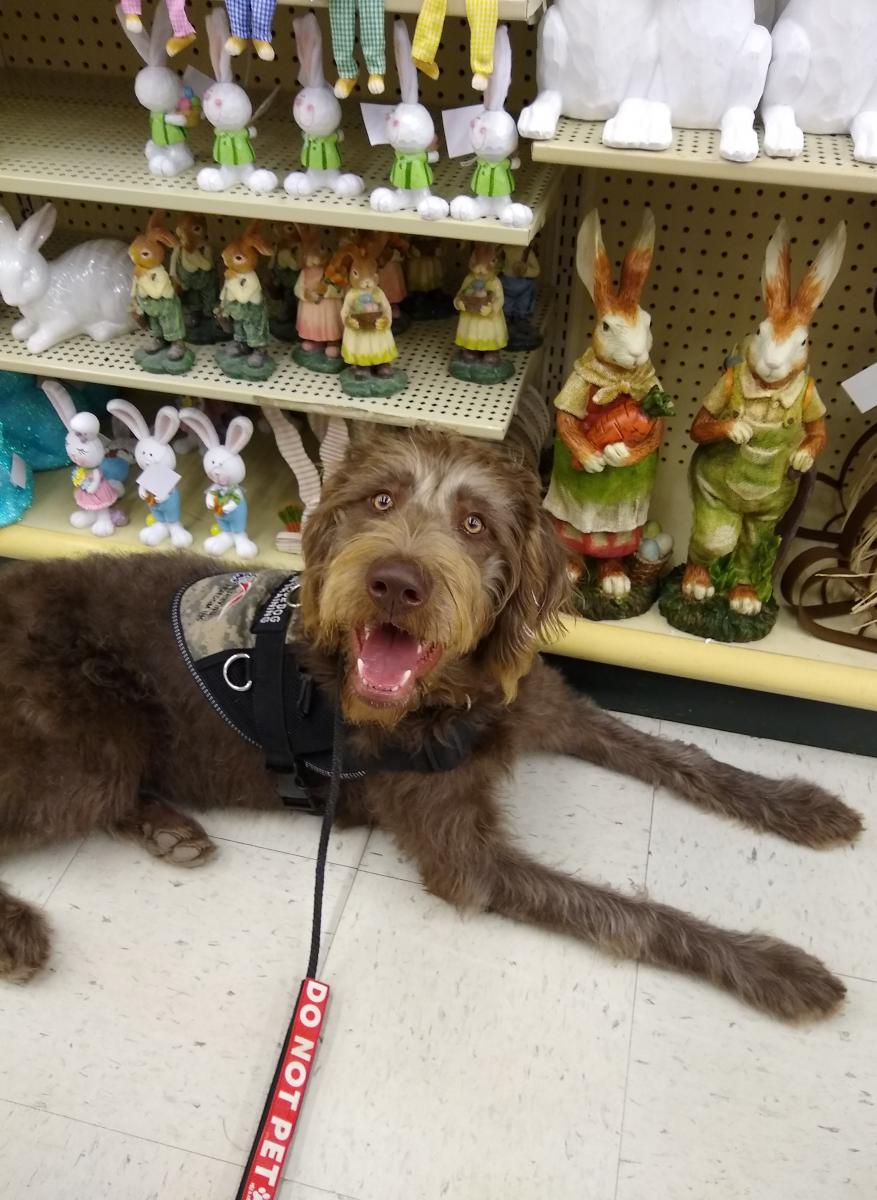 Bobbi had to get creative this month. Since it was so cold, we had to find ways to get my extra energy out inside the house rather than out in the yard. If it weren't so cold, I could play in the snow all day. I love romping around in it! I had my first haircut this month and behaved well for the groomer!
March 2021 - 8 months old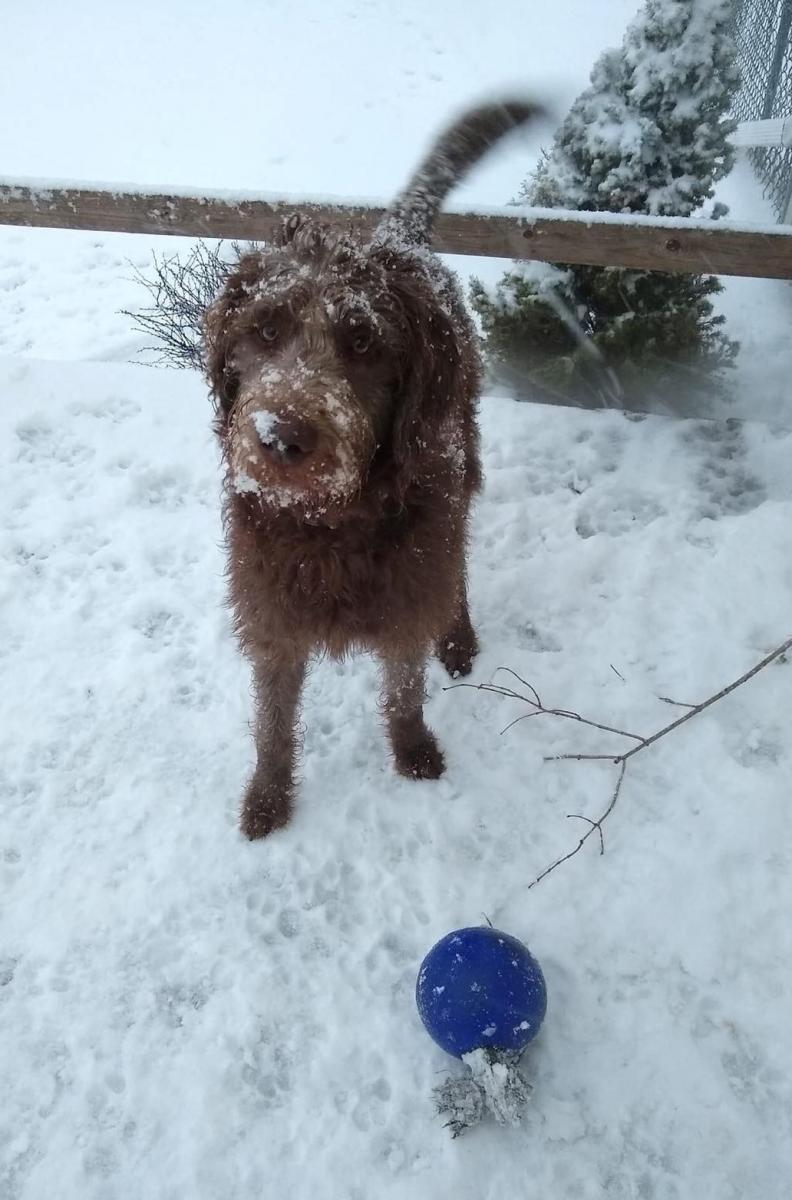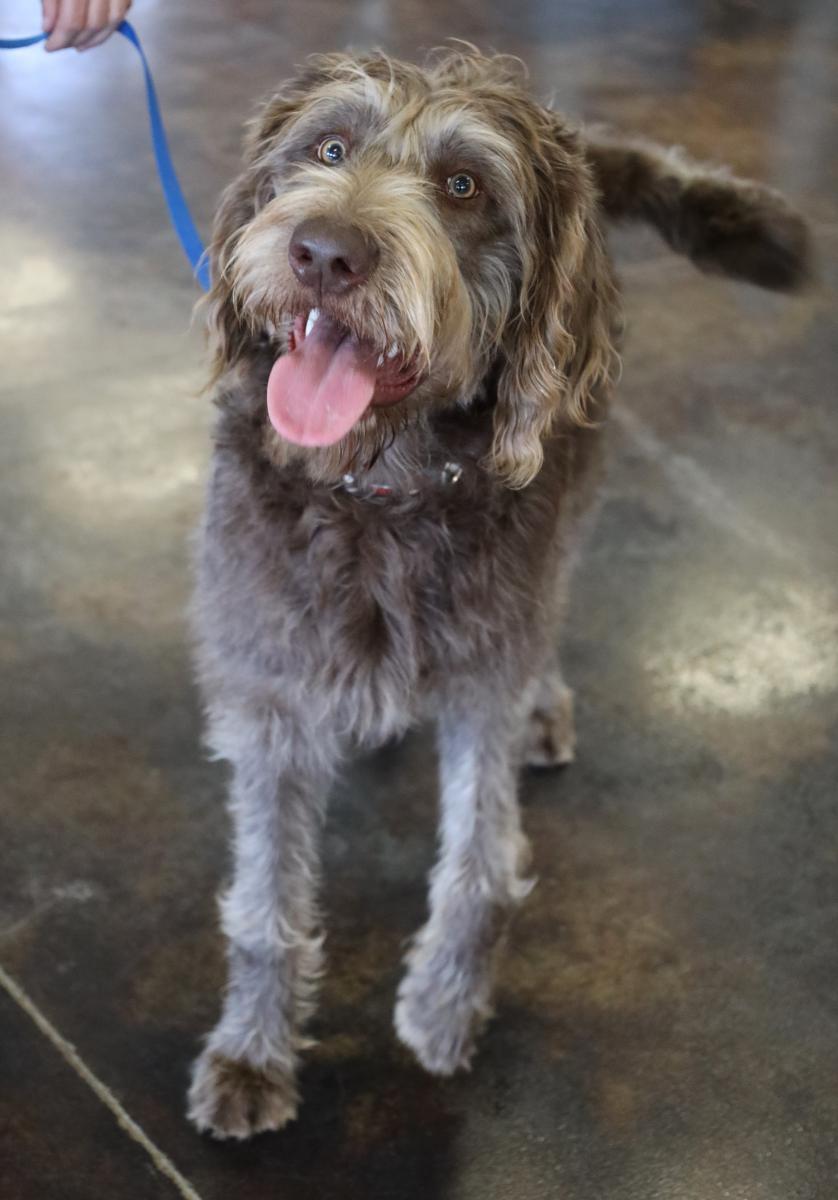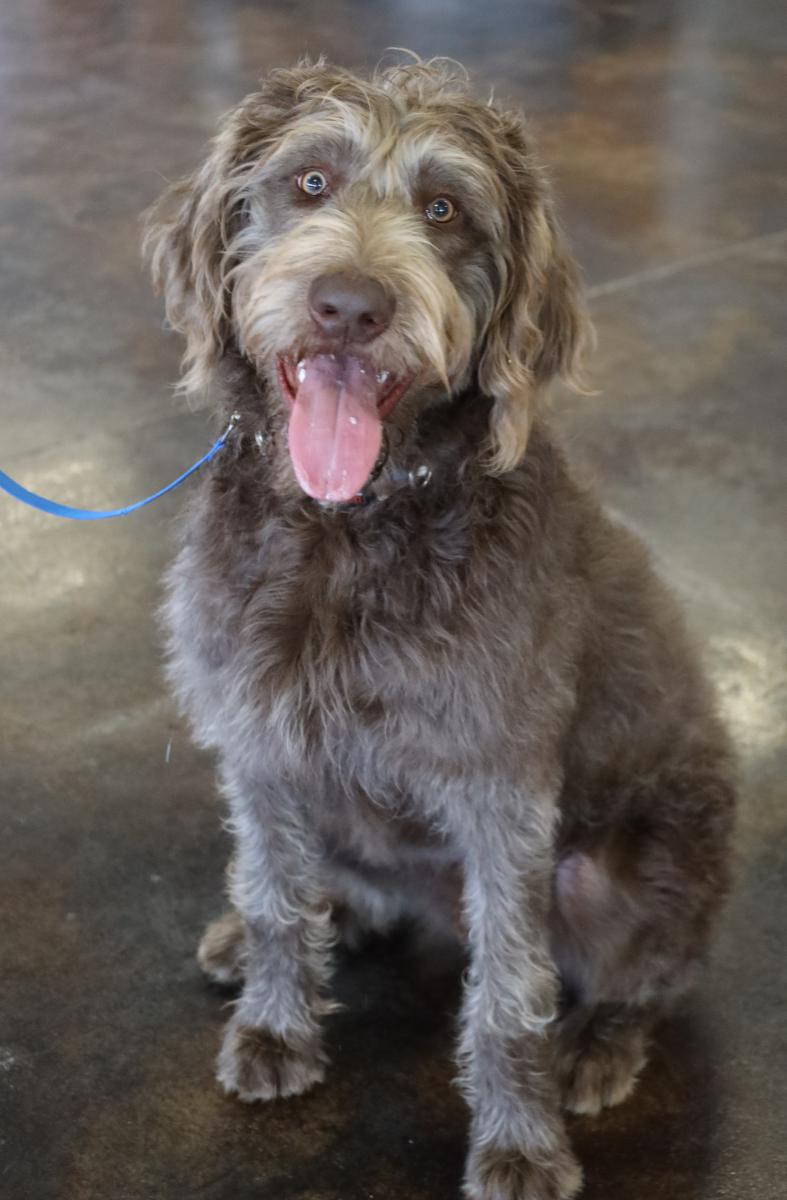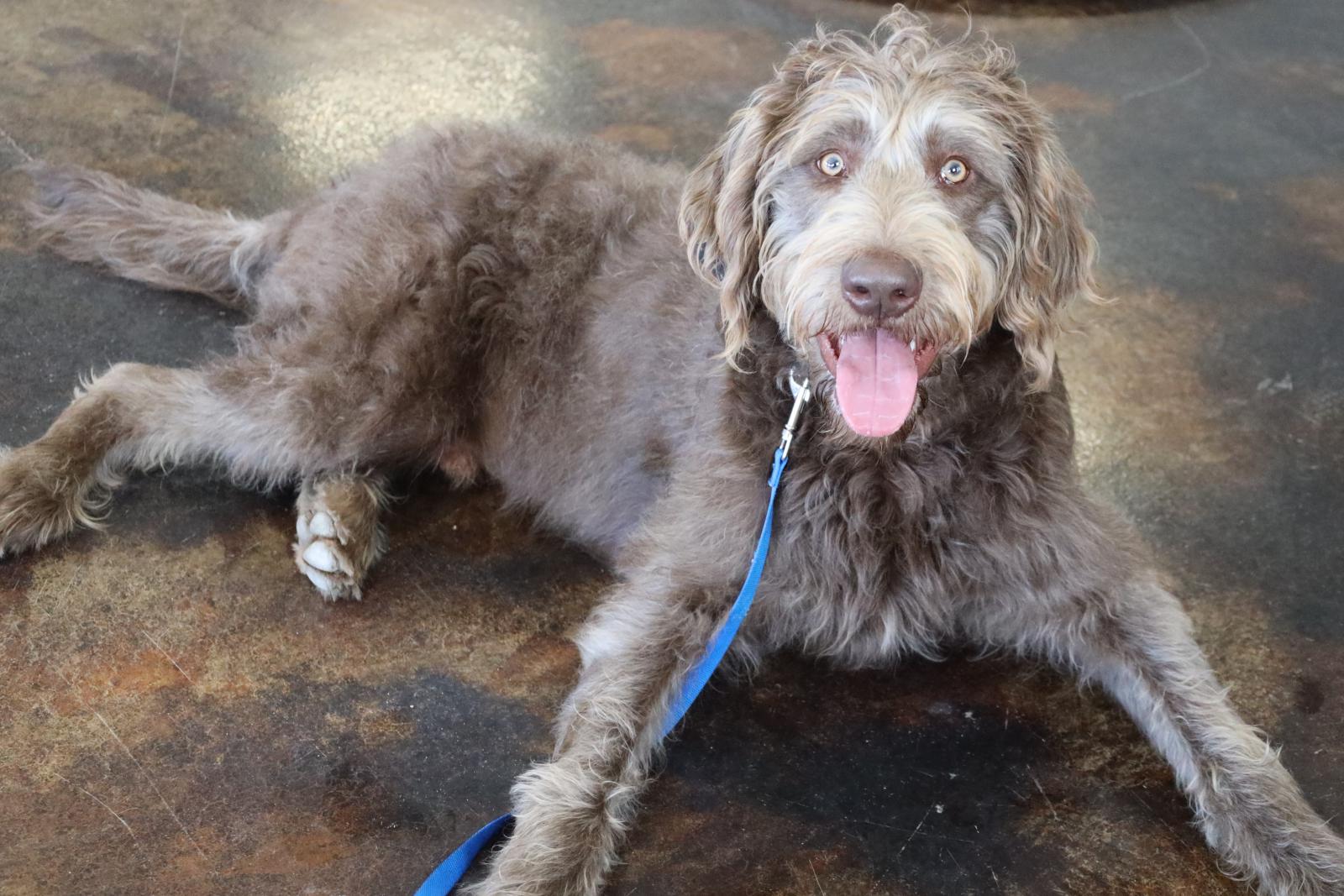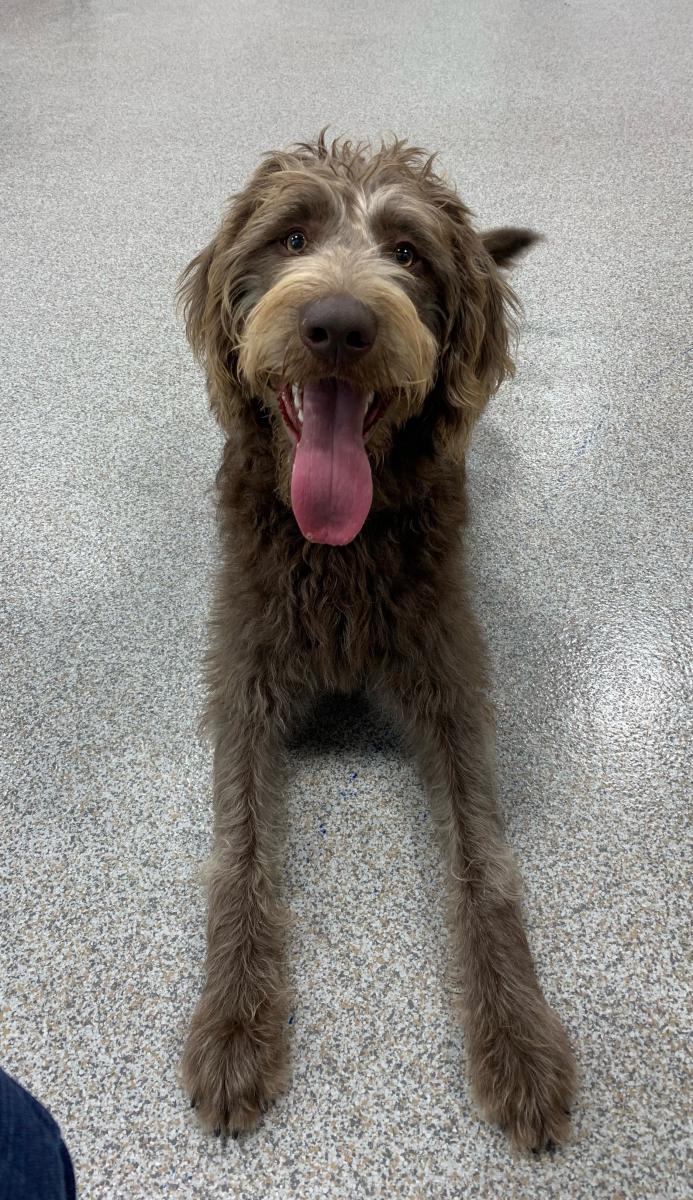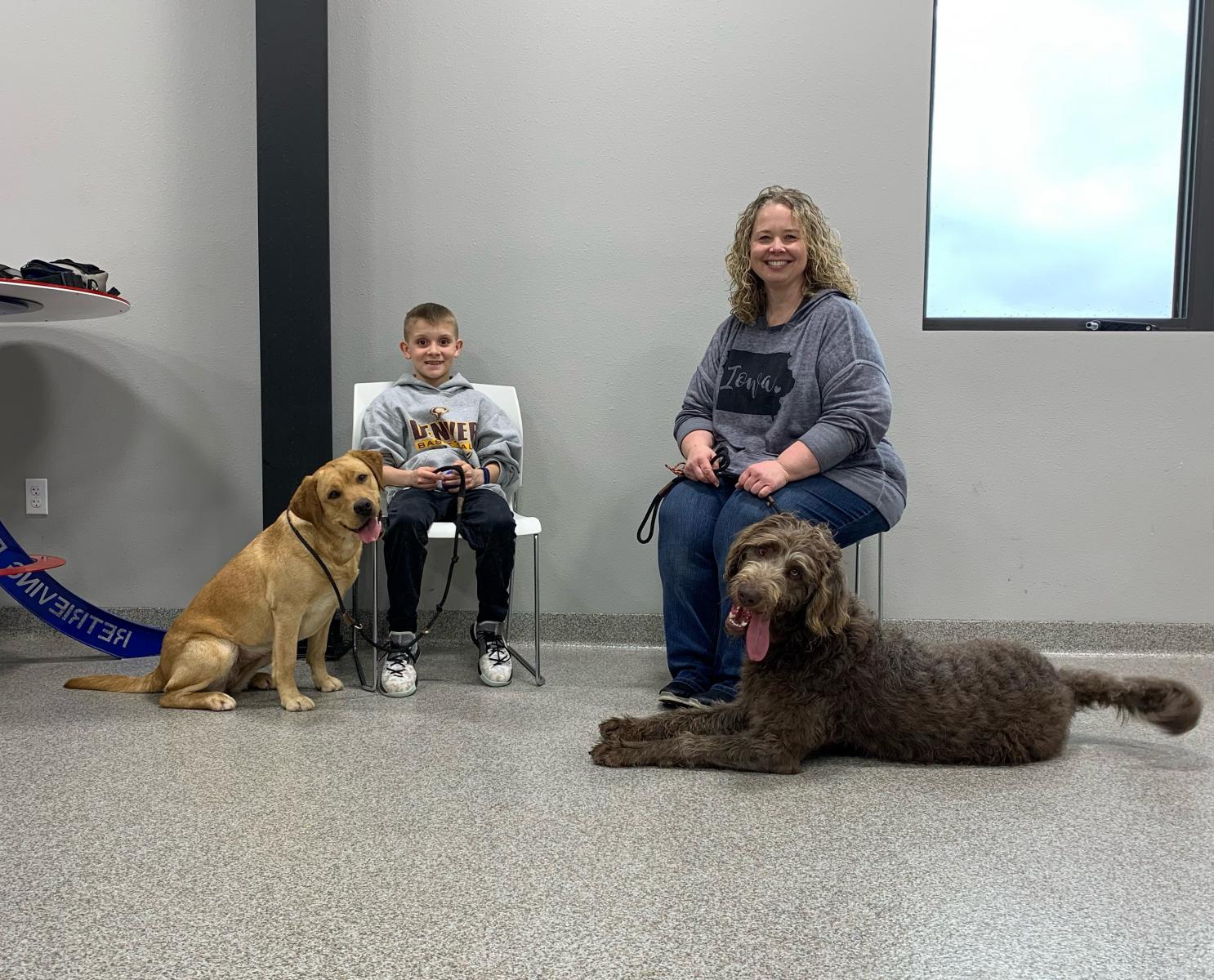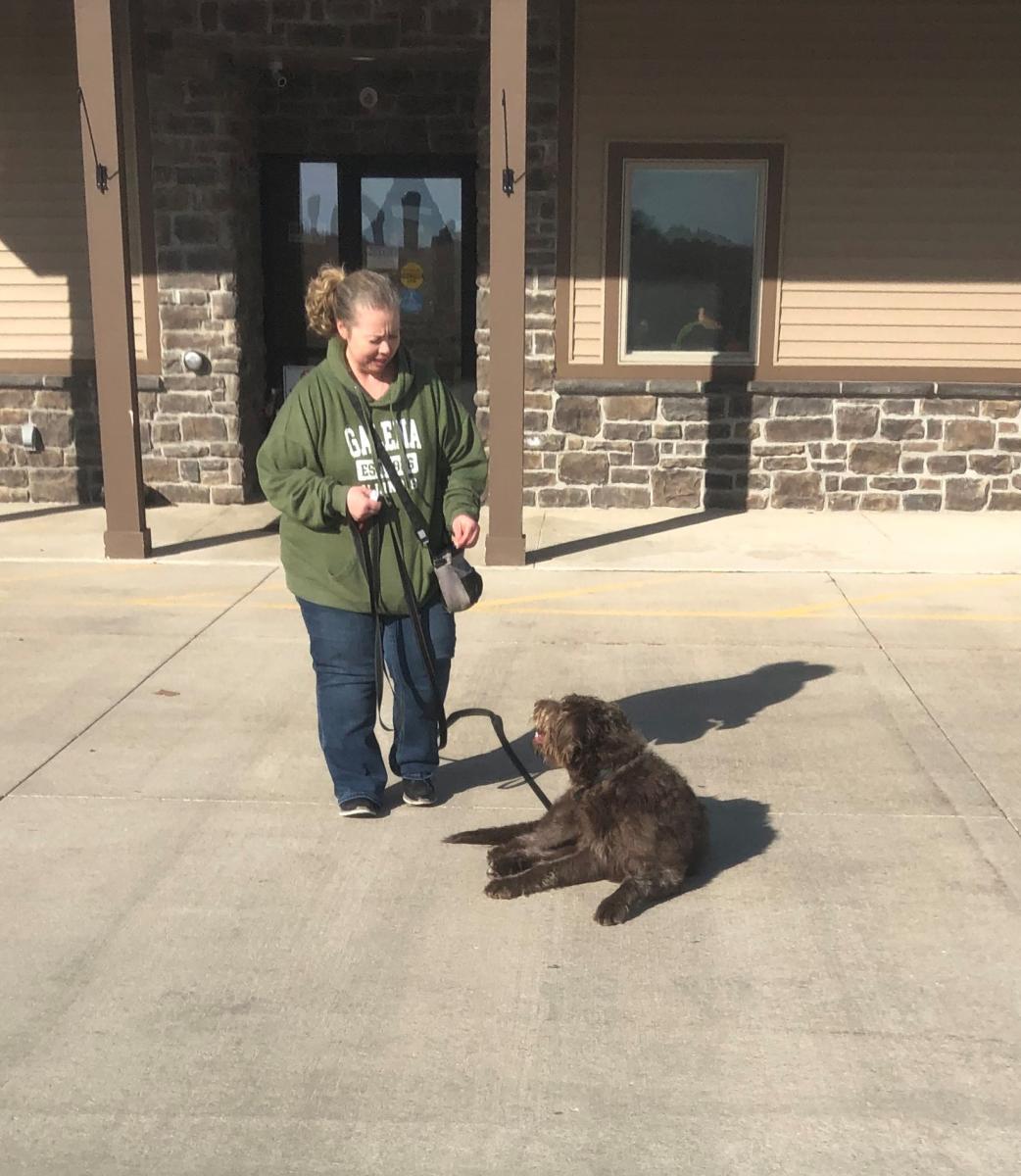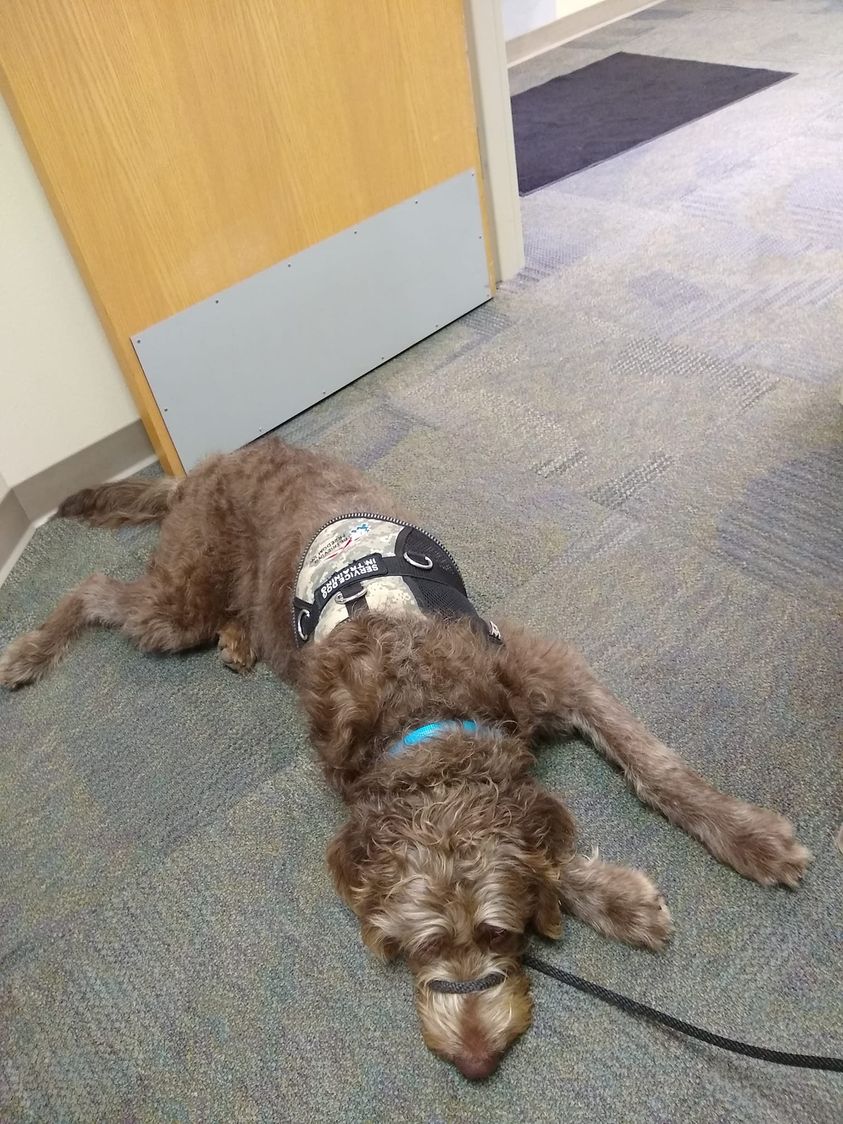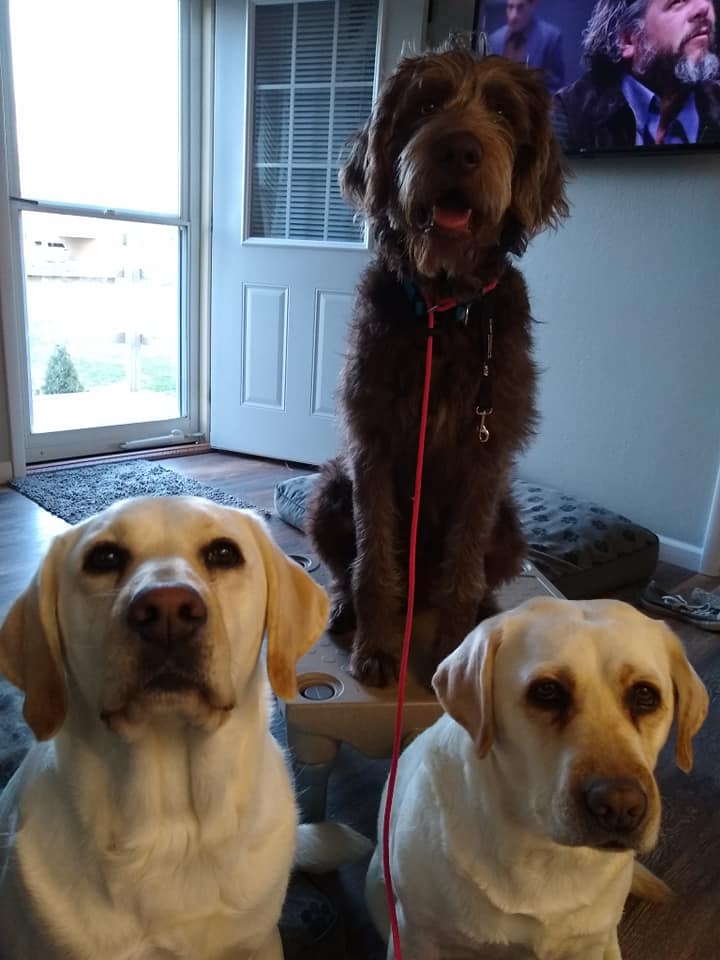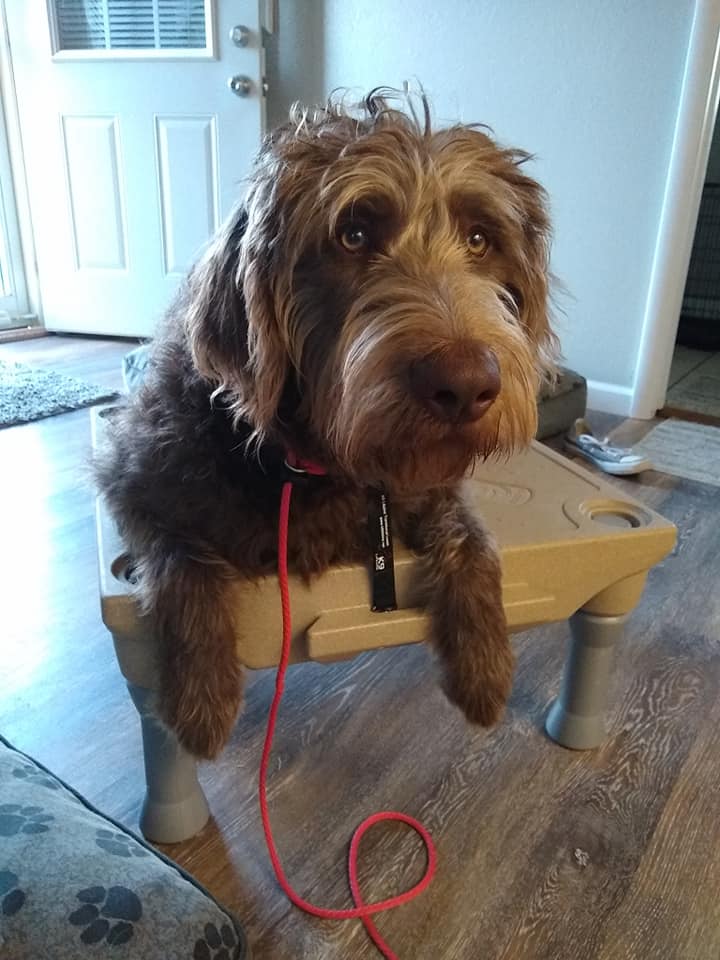 I was so excited to see another snow storm this month! I love playing in the snow and my fluffy fur keeps me warm. Bobbi and I took a road trip to the new Retrieving Freedom facility where Bobbi's previous foster puppy, Penny, has been training. I behaved well in the car and loved meeting staff at the other facility!
April 2021 - 9 months old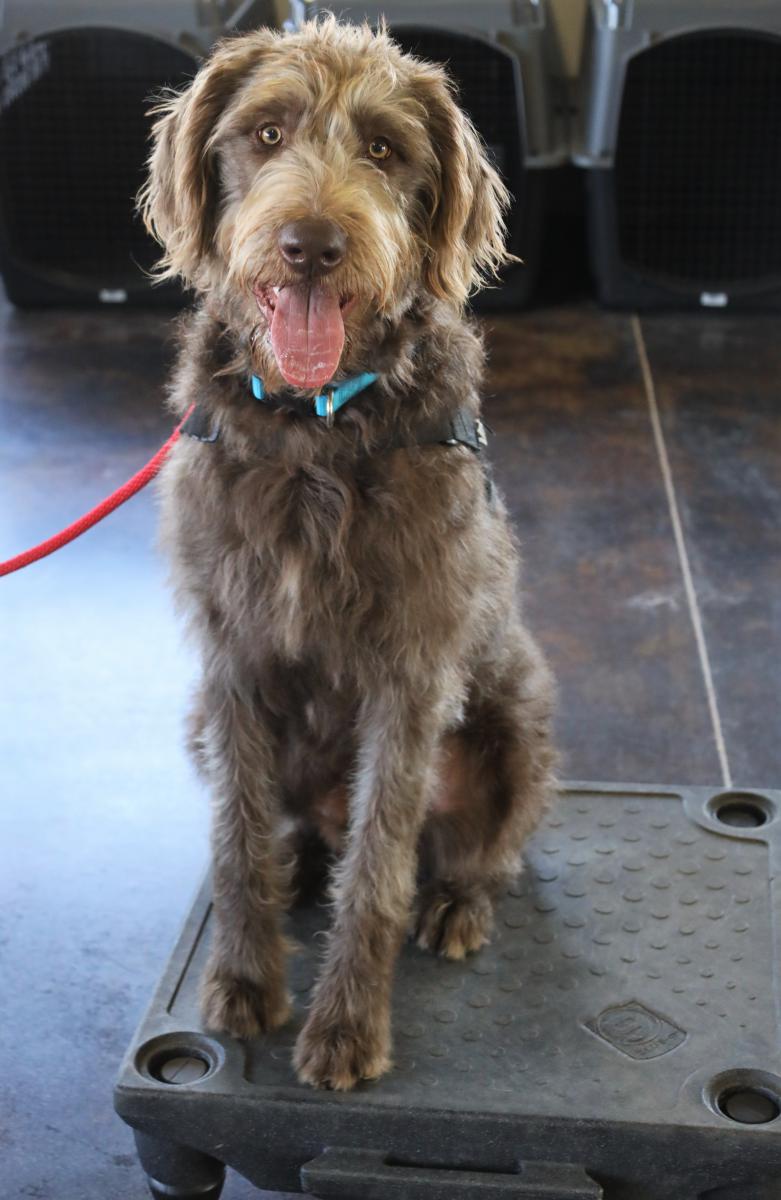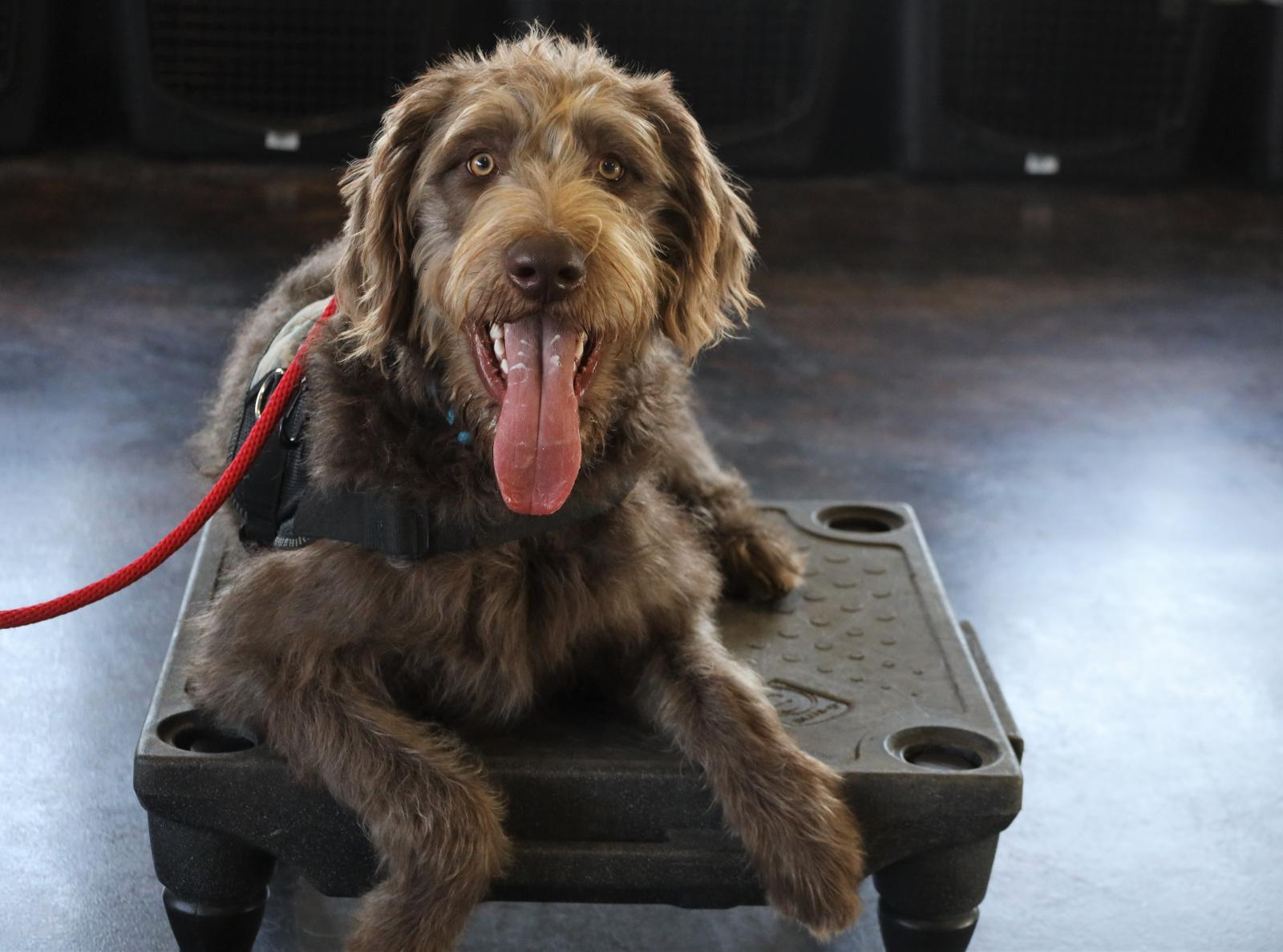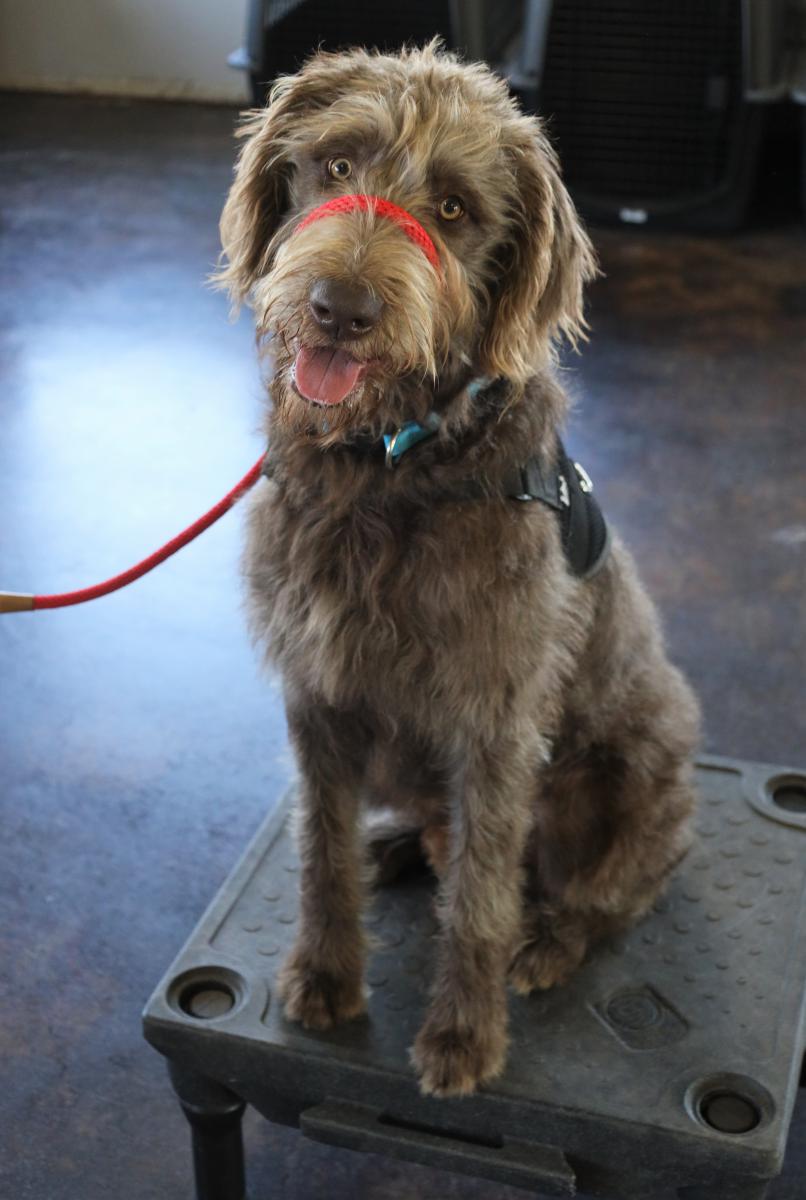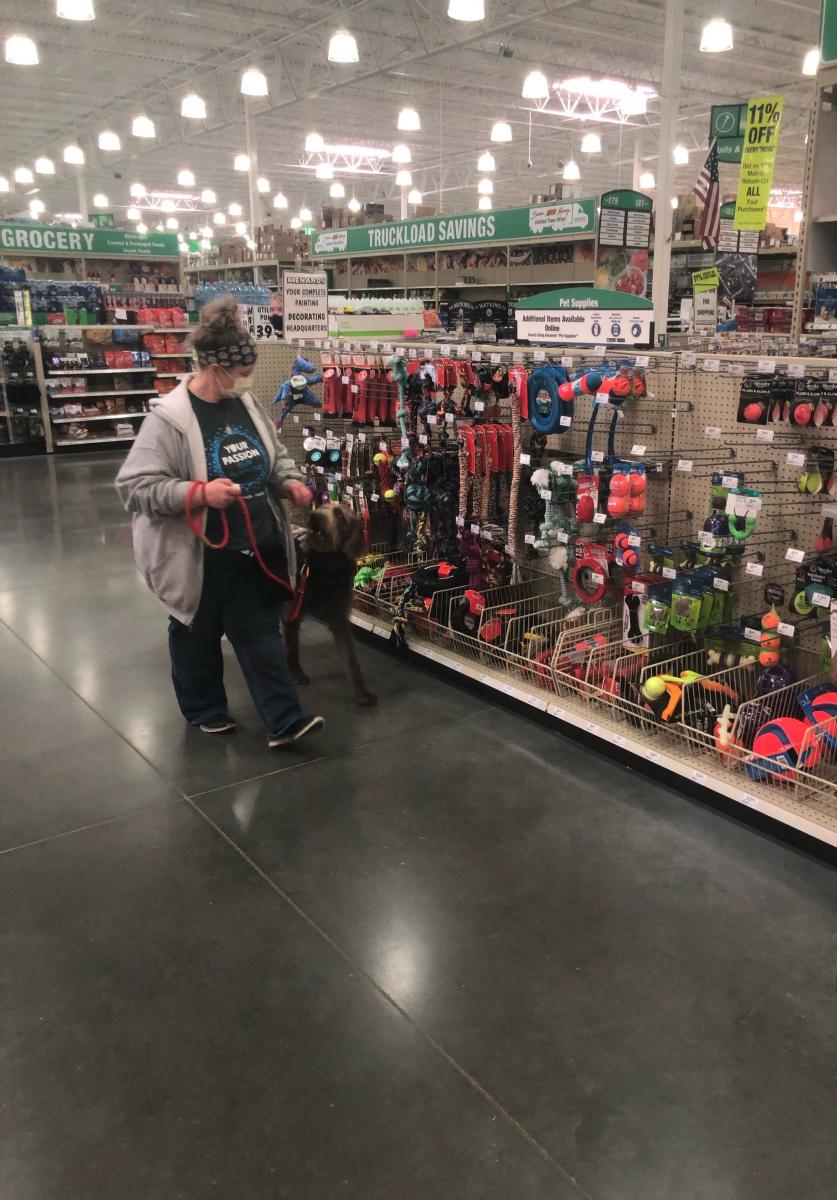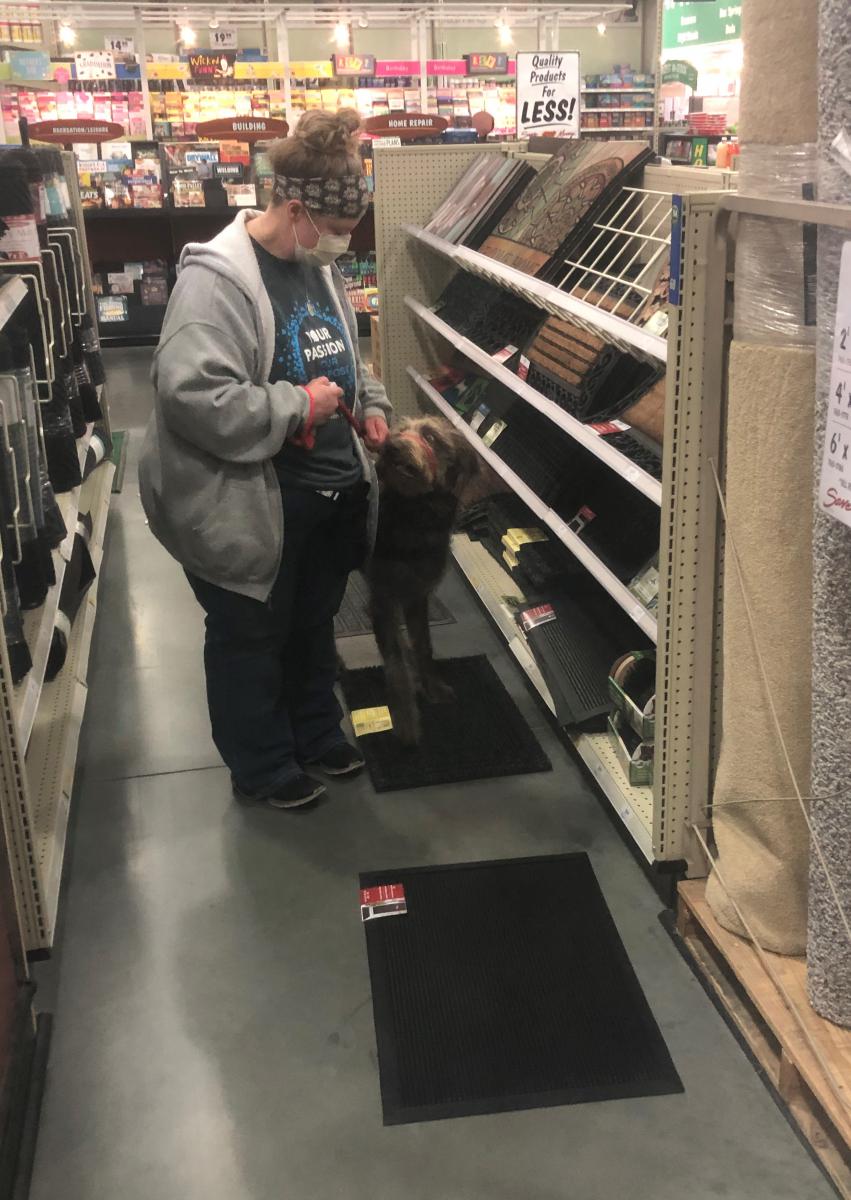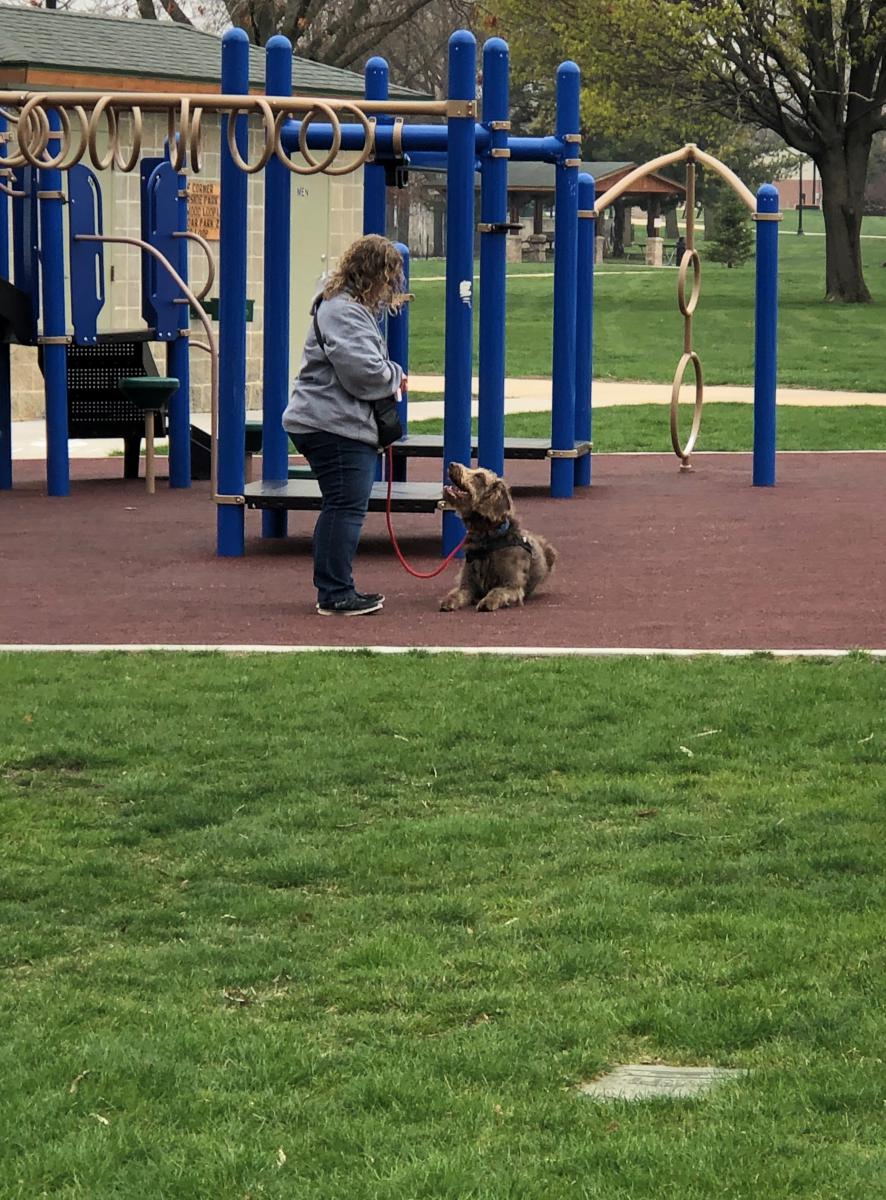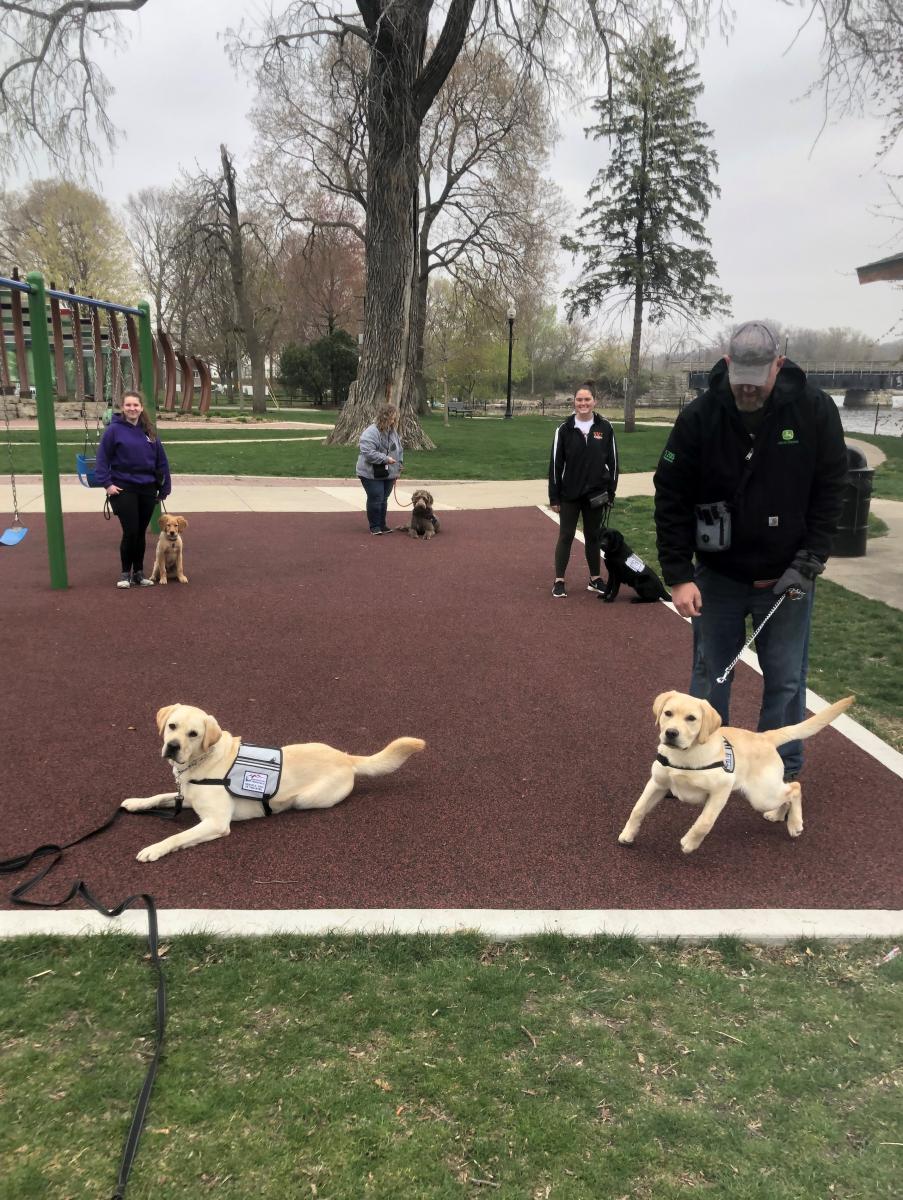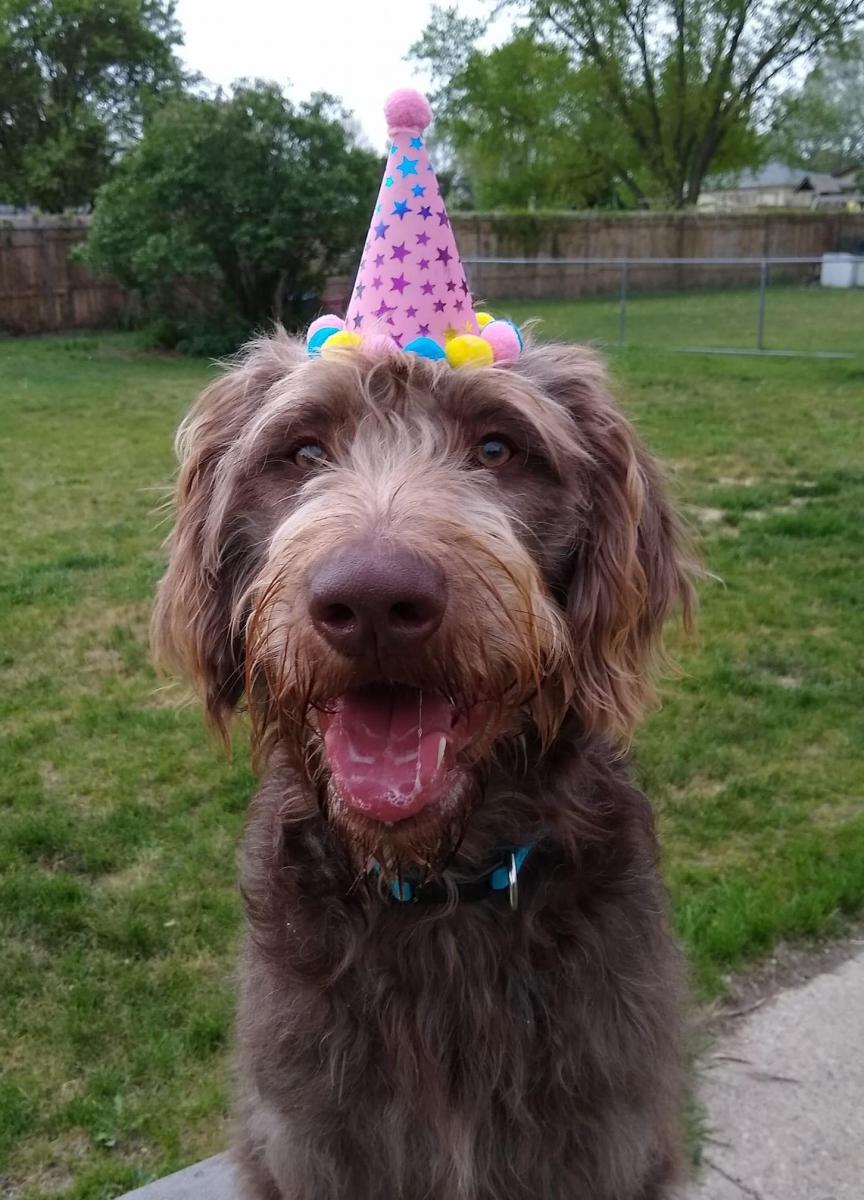 I have gotten SO tall over the past few weeks! I hit a growth spurt and hover over my labrador foster siblings at Bobbi's house. Bobbi and I participated in a public training session with other service dogs in training. Look at how well I kept eye contact with her, even as we walked past the toy aisle (my favorite)! I practiced performing the "sit" and "place" commands on various new surfaces such as different-textured rugs.
May 2021 - 10 months old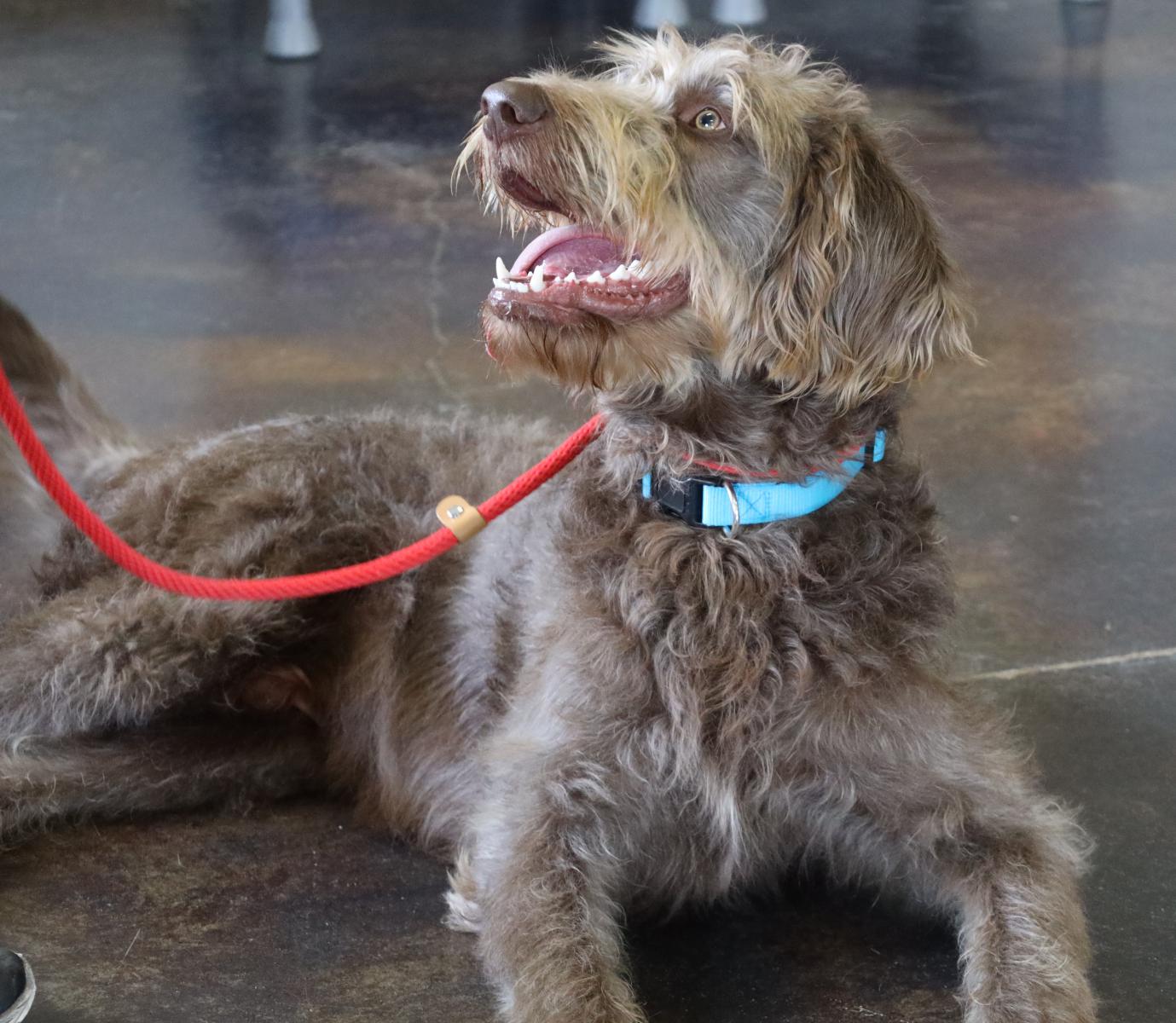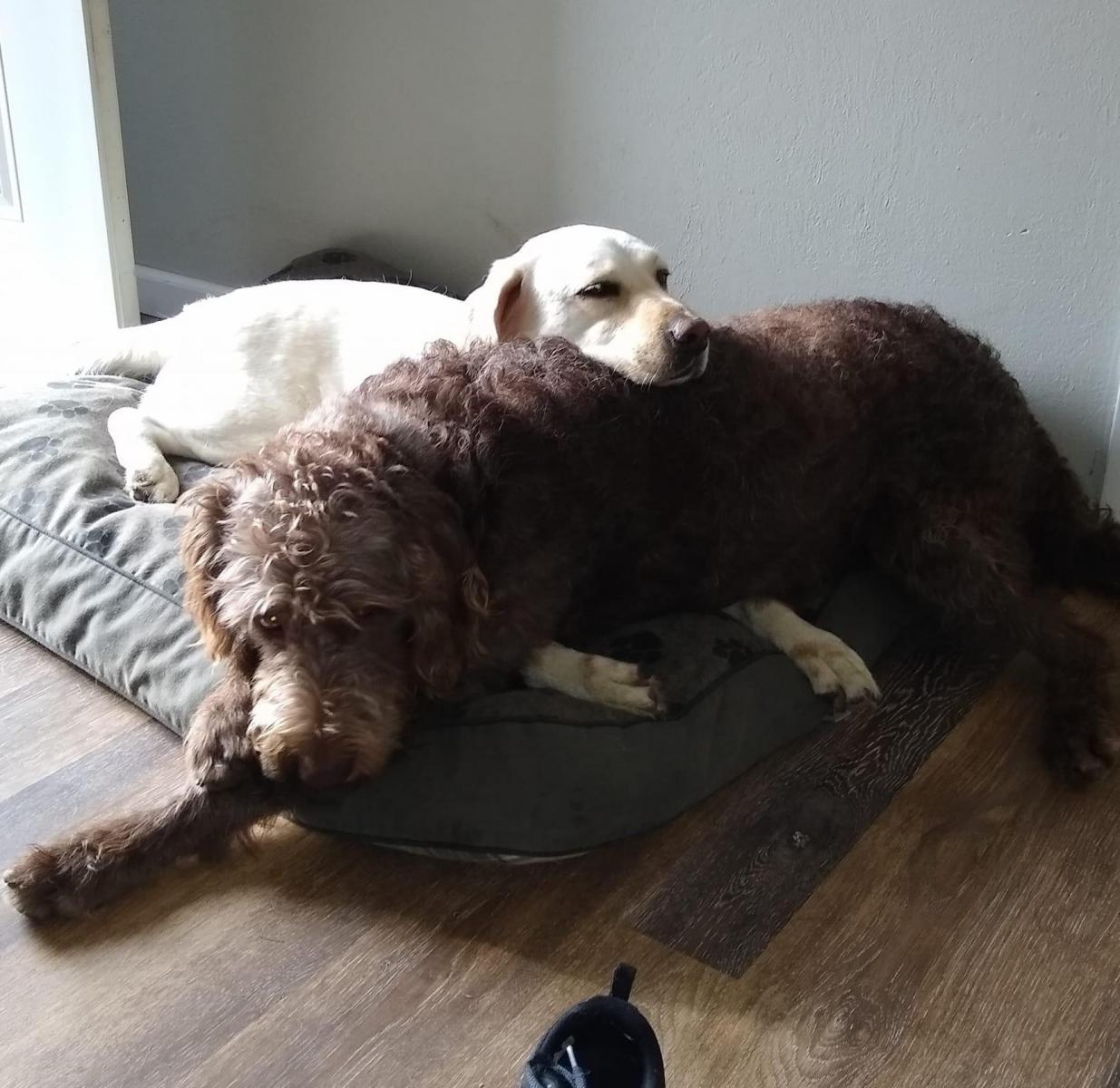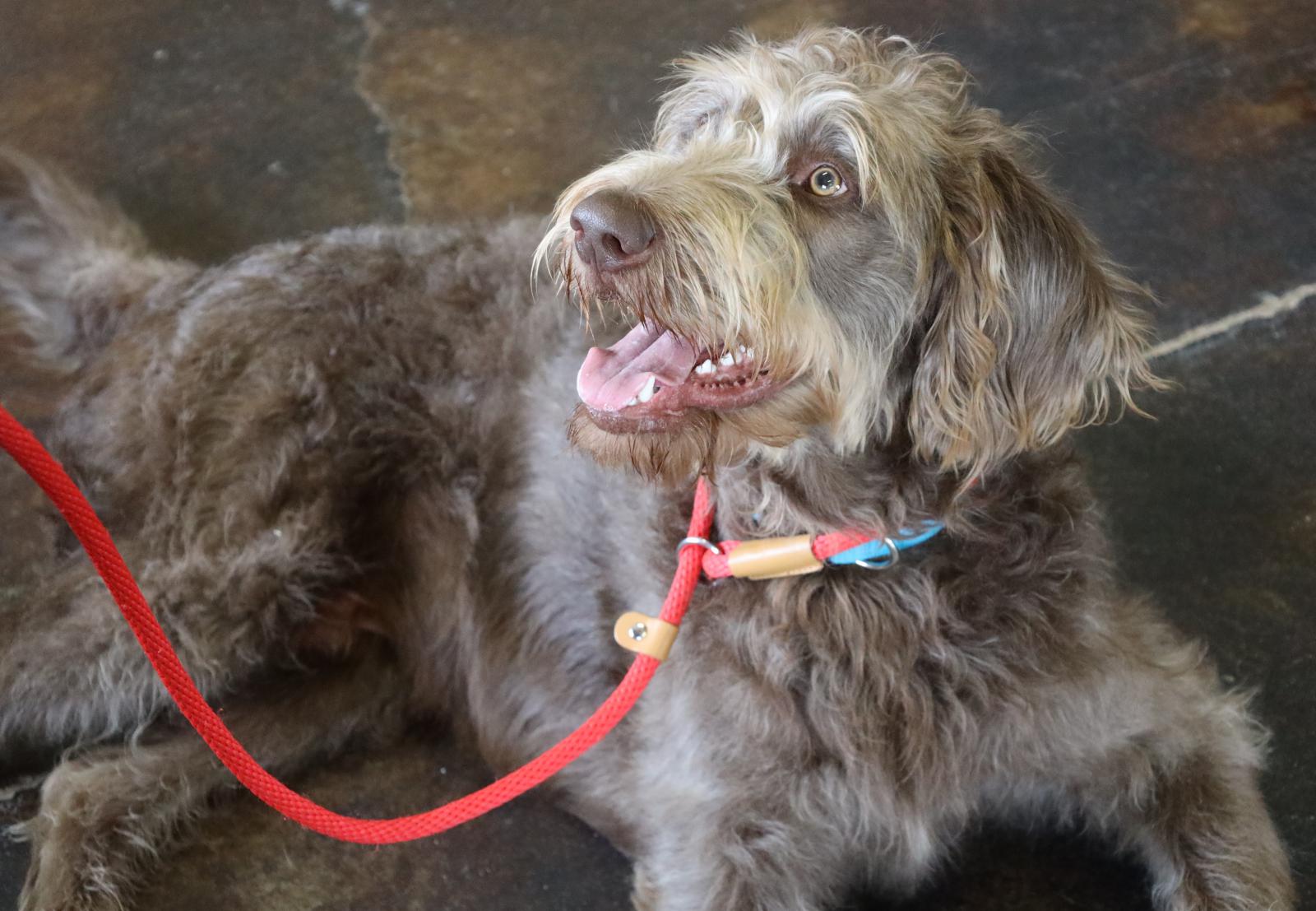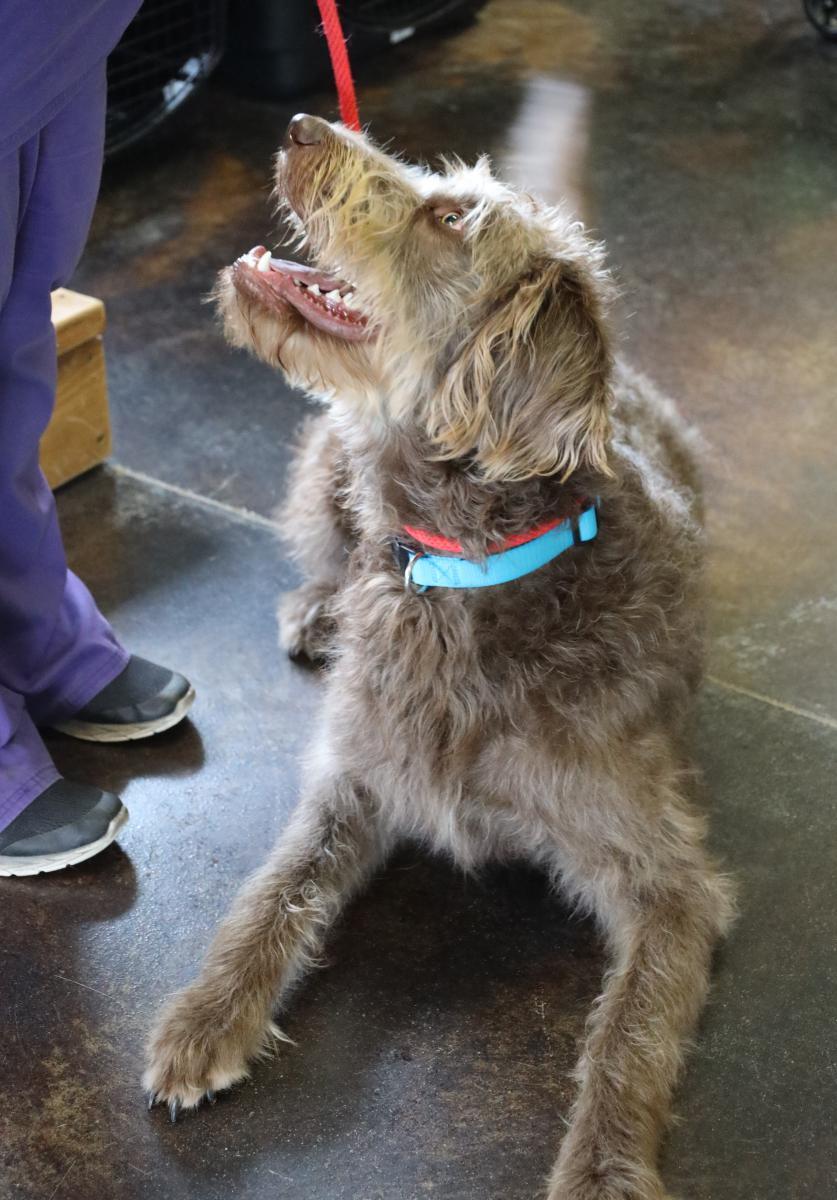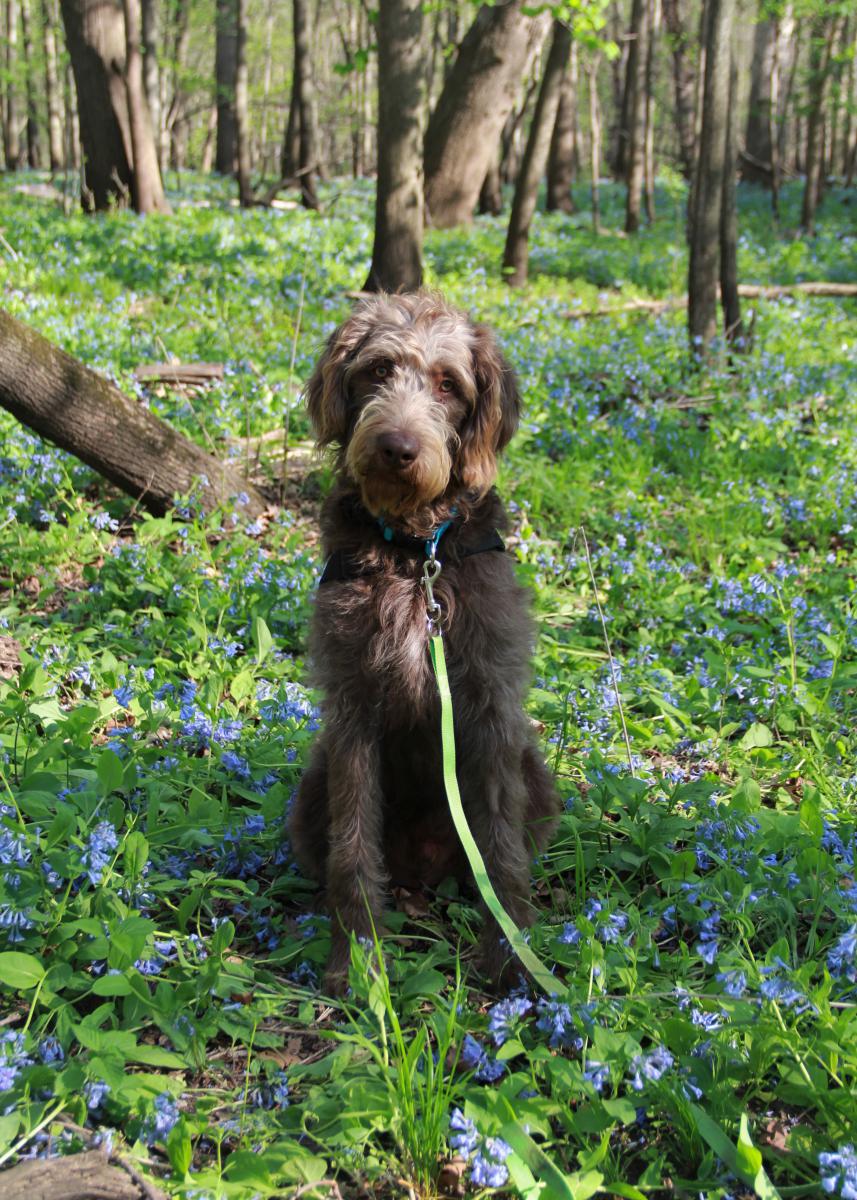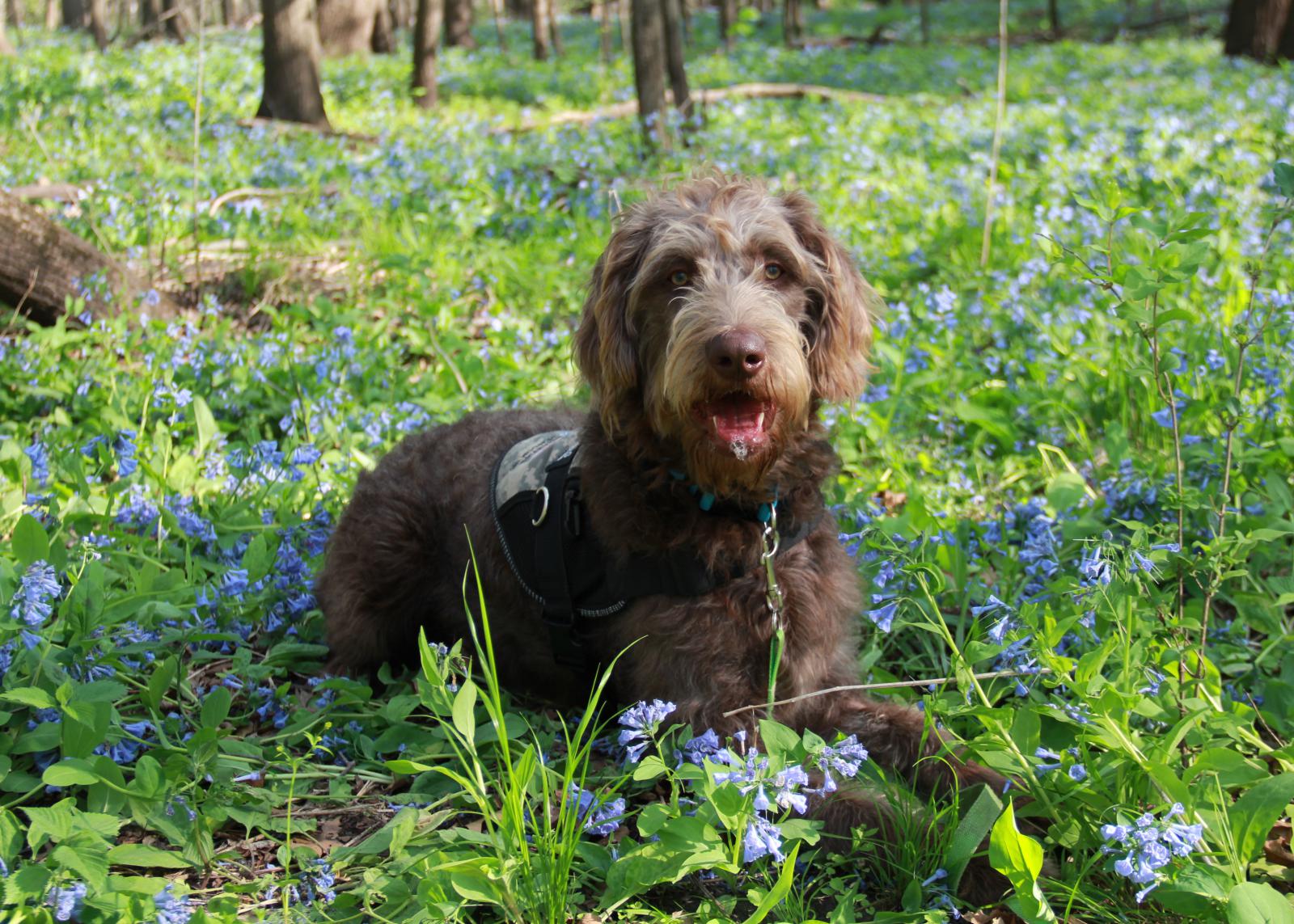 I maintain great eye contact with my handler while training! This month I completed a few simulated turn-ins, which means I spent one weekend at a time overnight at the training facility. This is to help transition when it comes time for me to officially turn in for formal training!
June 2021 - 11 months old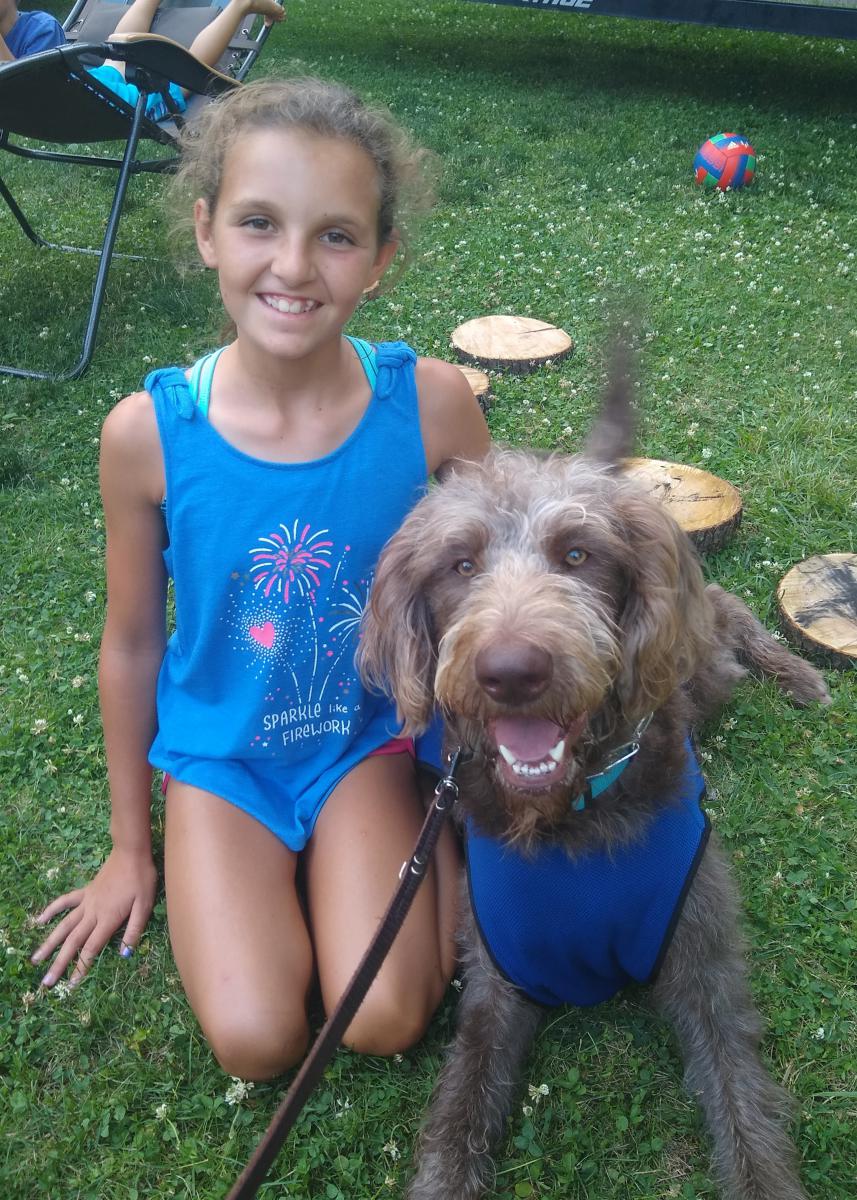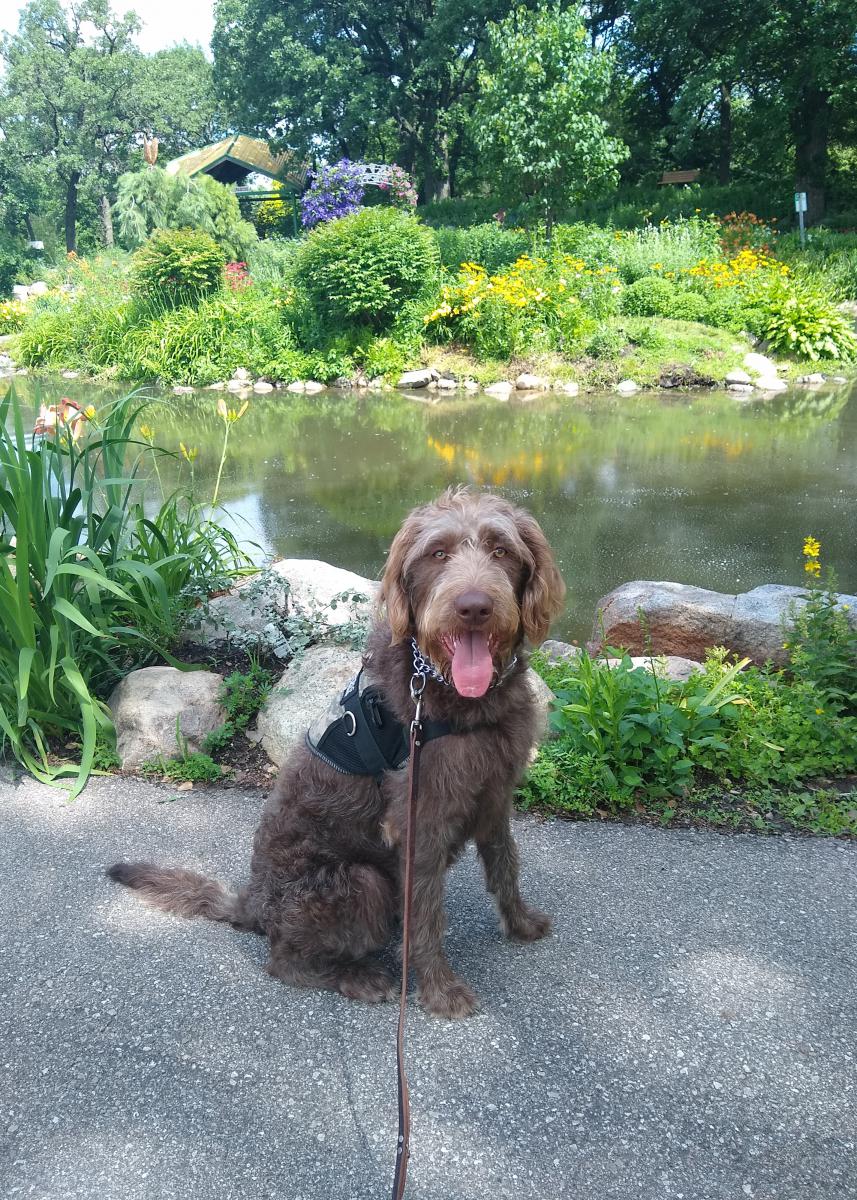 I experienced my first campground this month! Over the duration of a week at the campground, I experienced lots of new things: kids riding bikes and other toys, large inflatable beach toys, and people coming by me with dogs unexpectedly. Though I'm not perfect, I'm making noticeable improvements each day. Sometimes I bark when a dog startles me, but I'm comfortable and don't bark if I can see them approach from a distance away.
July 2021 - 1 year old!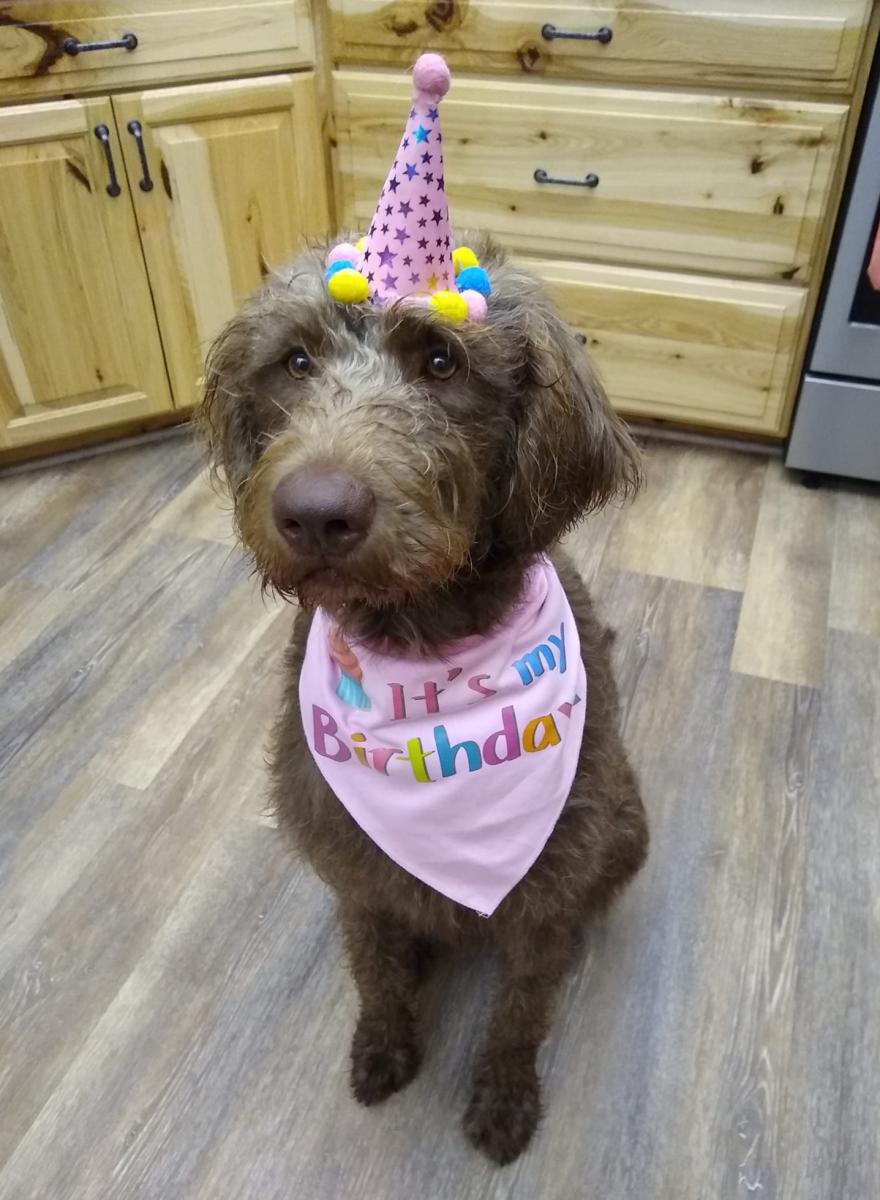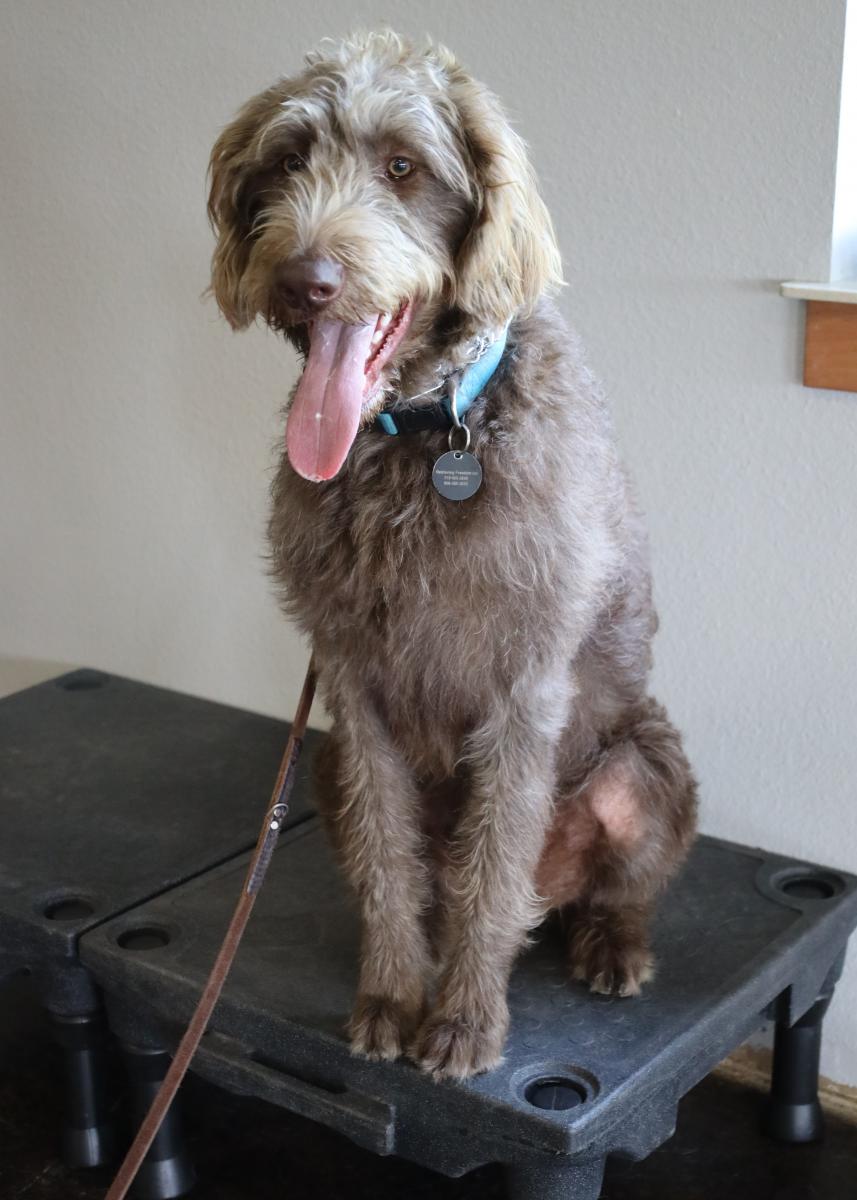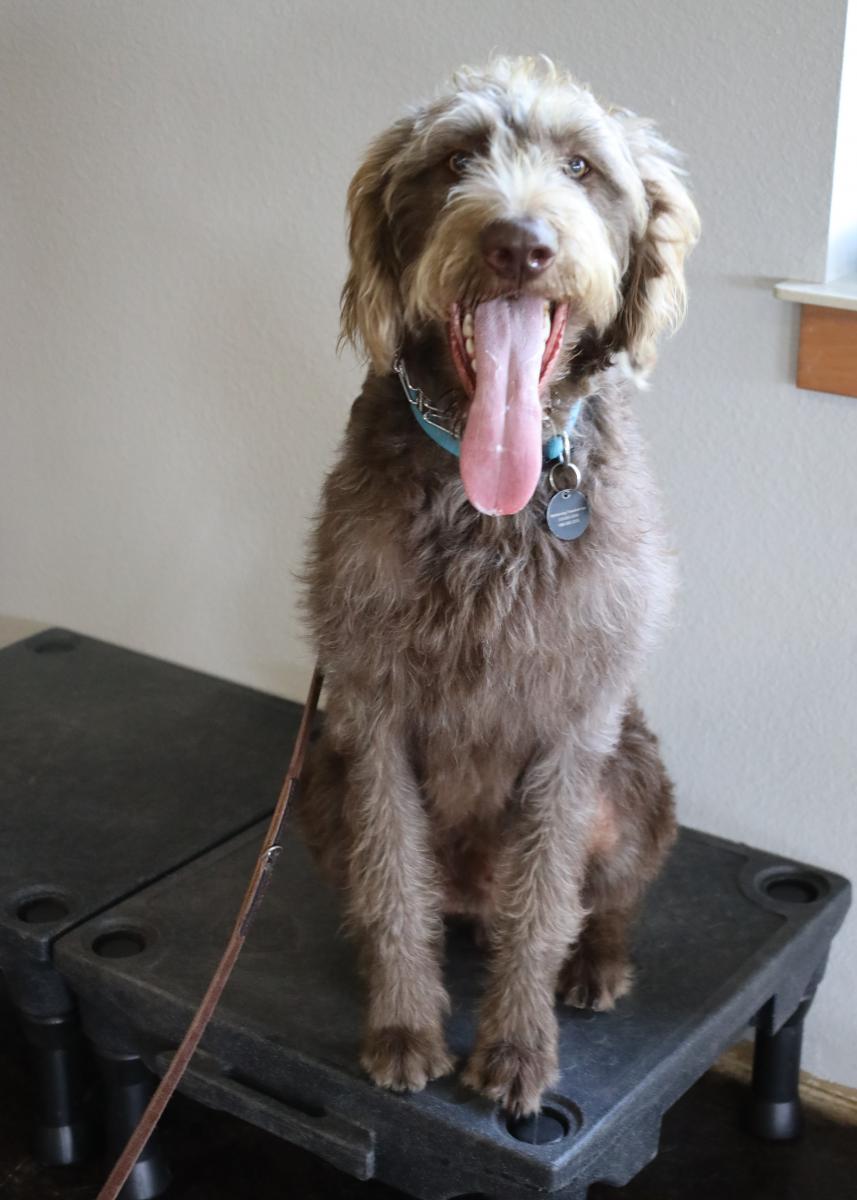 I celebrated my first birthday this year! I was given lots of extra attention, a special treat, and plenty of snuggles! Neither Bobbi nor myself can believe how quickly the last 10 months together have gone by. We know our time together is coming to an end soon, so we are soaking up every minute.