Placement | June 2021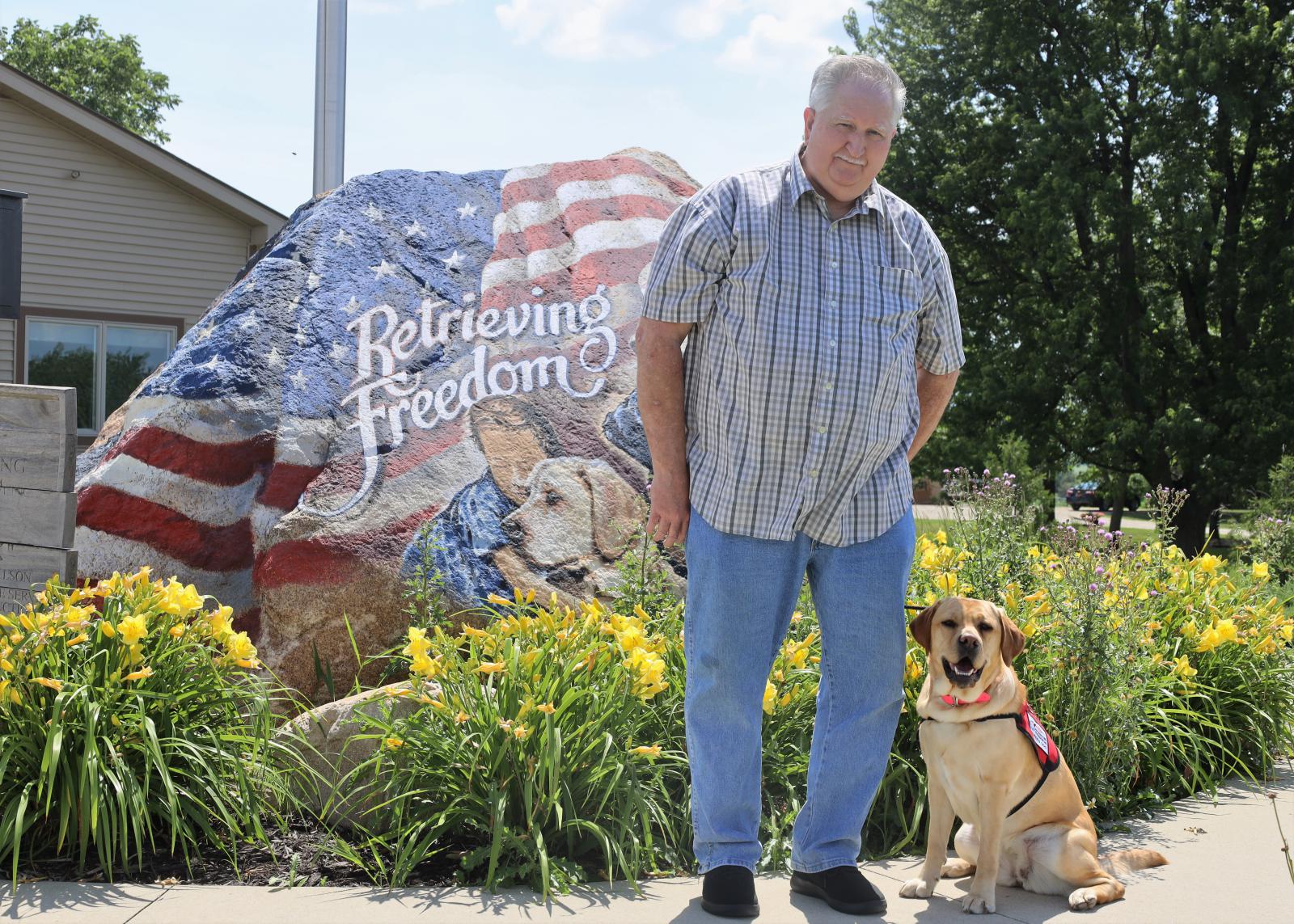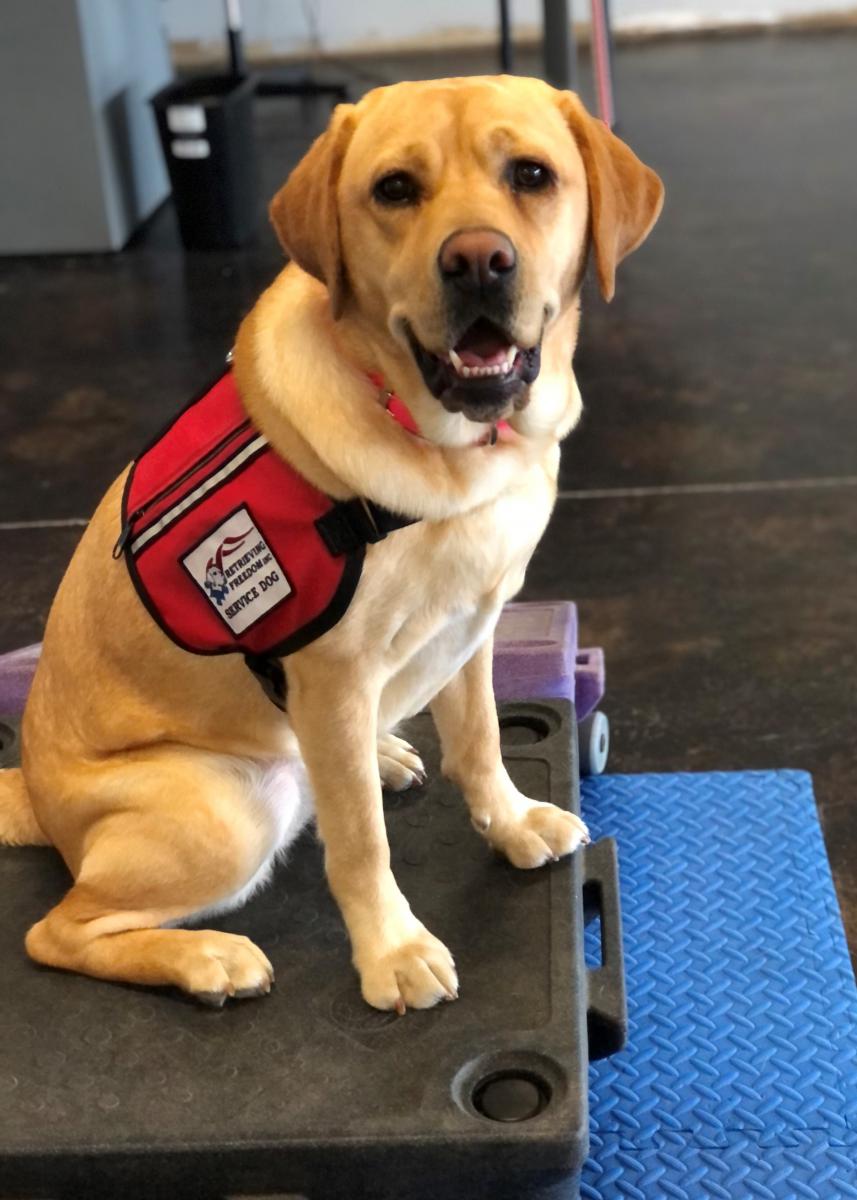 We are proud to announce the placement of Veteran Service Dog Anchor with her new best pal, Frank! Spending just a few minutes with this duo will allow you to see how connected they are and how much they care about each other. Anchor will assist Frank with various tasks to mitigate his disability. Join us in congratulating Frank and Anchor!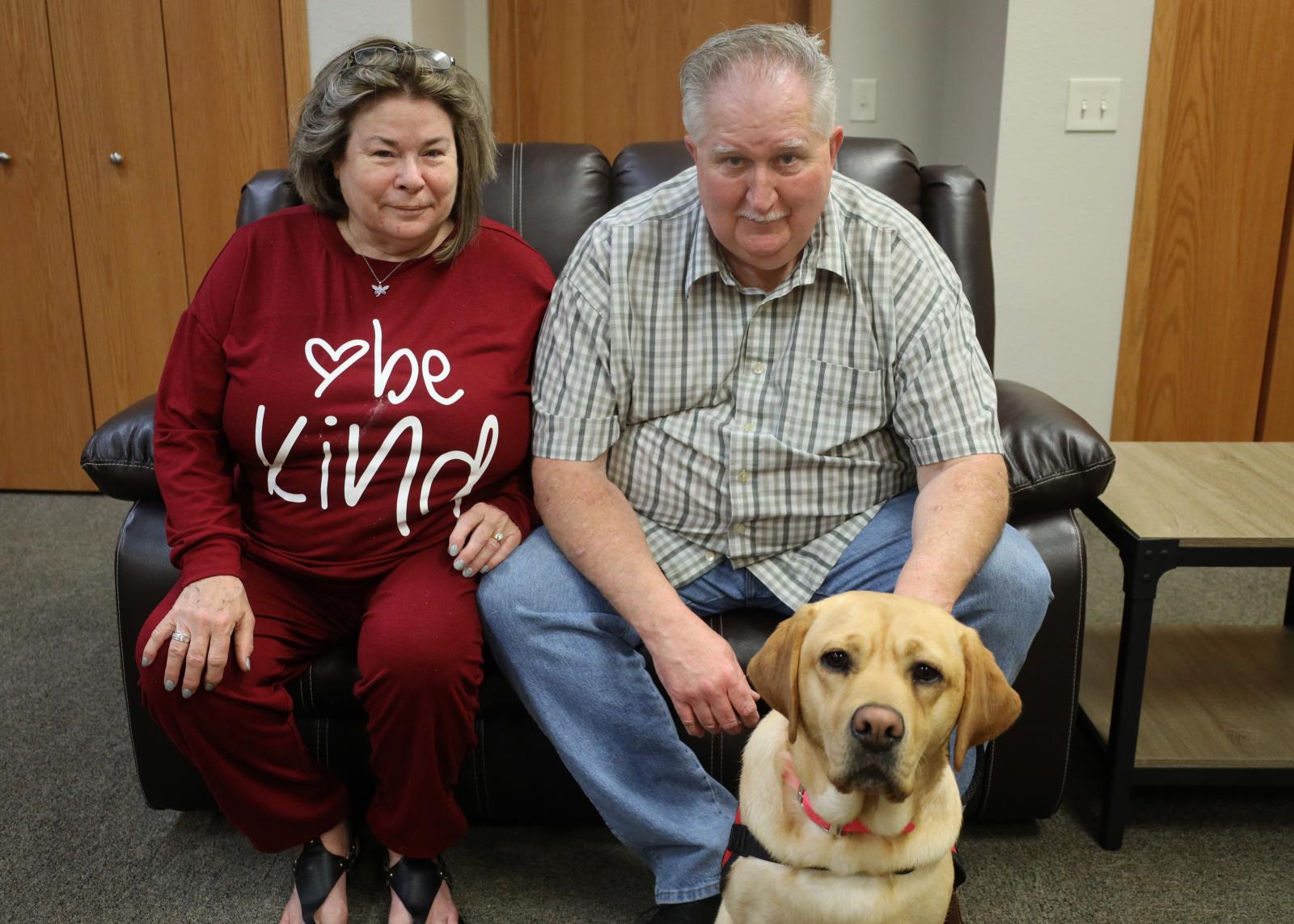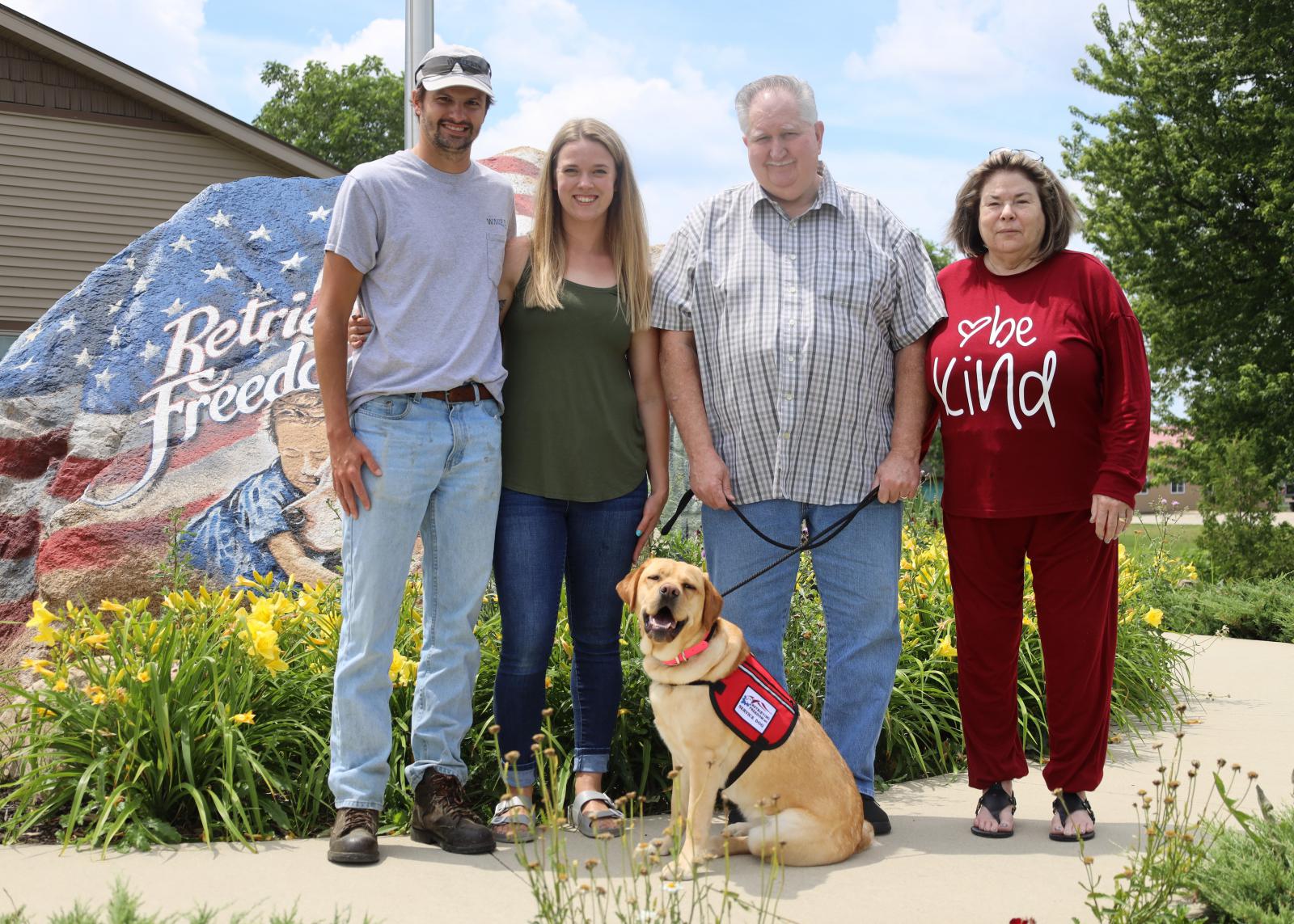 How fitting that Anchor was placed with a Navy Veteran - she was named in honor of RFI's Sailor, a sweet service dog in training, who left us too soon.
Sponsor Announcement
Many thanks to the Shirar family for their sponsorship of Anchor's final leg of training! With their support, she was able to make a successful placement with Navy Veteran Frank. We can't thank you enough, Shirar family, for your dedication to Anchor's training and placement!
Frank's Story
I joined the United States Navy after being drafted into the military in 1969 during the Vietnam War. I chose the Navy after my grandfather, who was also a Navy Veteran.
After being diagnosed with post-traumatic stress disorder (PTSD) later in life, my doctor and I determined together that a companion would be a great fit for my life. I was at a banquet and saw a veteran with his service dog. I asked where he had gotten it, which was how I found Retrieving Freedom.
Since training with service dogs at Retrieving Freedom, I have noticed myself impatiently waiting for the next training session. I always get excited to go and can't wait for the day that I have my dog officially by my side and can get on with living my life. What I hope to gain from having a service dog by my side is to have more self-control, especially with my emotions, to have less anxiety and get upset less frequently. A service dog will also help me pick up items off the floor and open doors.
Even though I was diagnosed with PTSD later in life, I have suffered from the symptoms of it since leaving the military. A service dog will help me live my life again, rather than just going through the motions. With your donation to Retrieving Freedom, you will help Veterans like me get their life-changing companions. Thank you for your support.
Anchor's Journey
Stage 1 Introduction
Hello, I am Anchor. I am proud to have been selected to enter into the Retrieving Freedom training program. My parents are "Shimmer" and "Spade" from RidgeView Labradors. During this stage of training I will be spending approximately 8 months with my new volunteer foster, Sara.
Throughout Stage 1, I will learn the basics obedience, public behavior, and a lot of socialization. I understand that it takes a very special dog to complete the program as there is a high standard to become a Service Dog. I am aware that I may be one of the dogs whose purpose is outside of service work so I will be updating my profile on a monthly basis for all that would like to follow my journey through the program.
October 2019 - 2 months old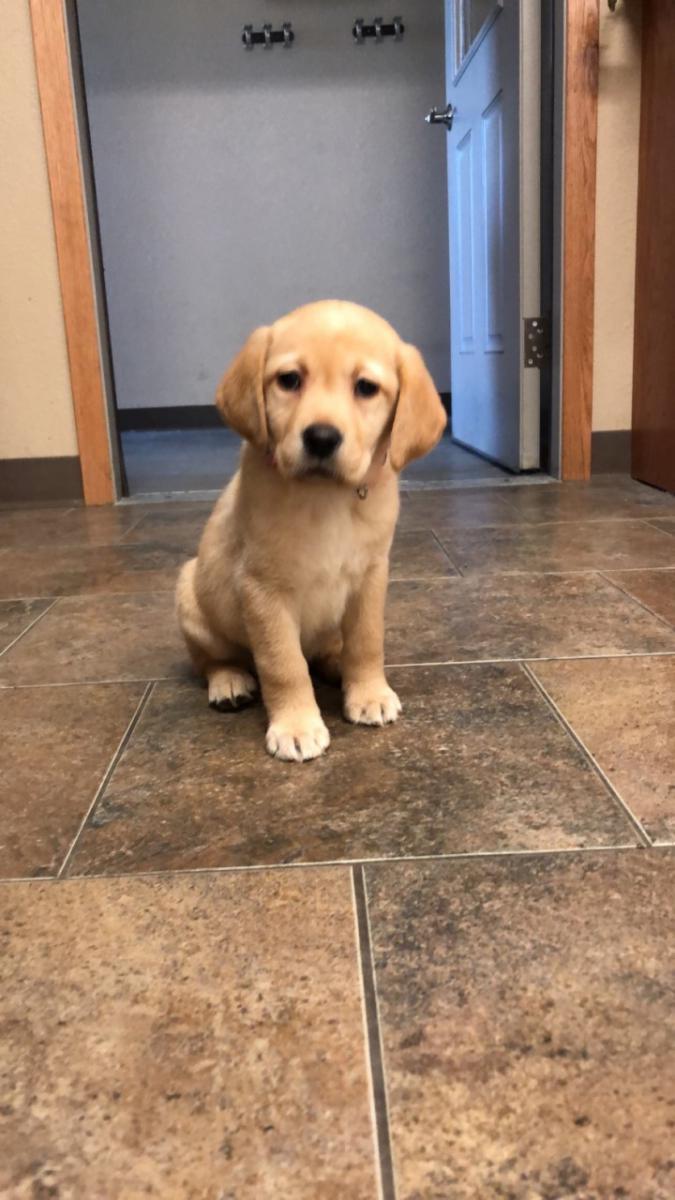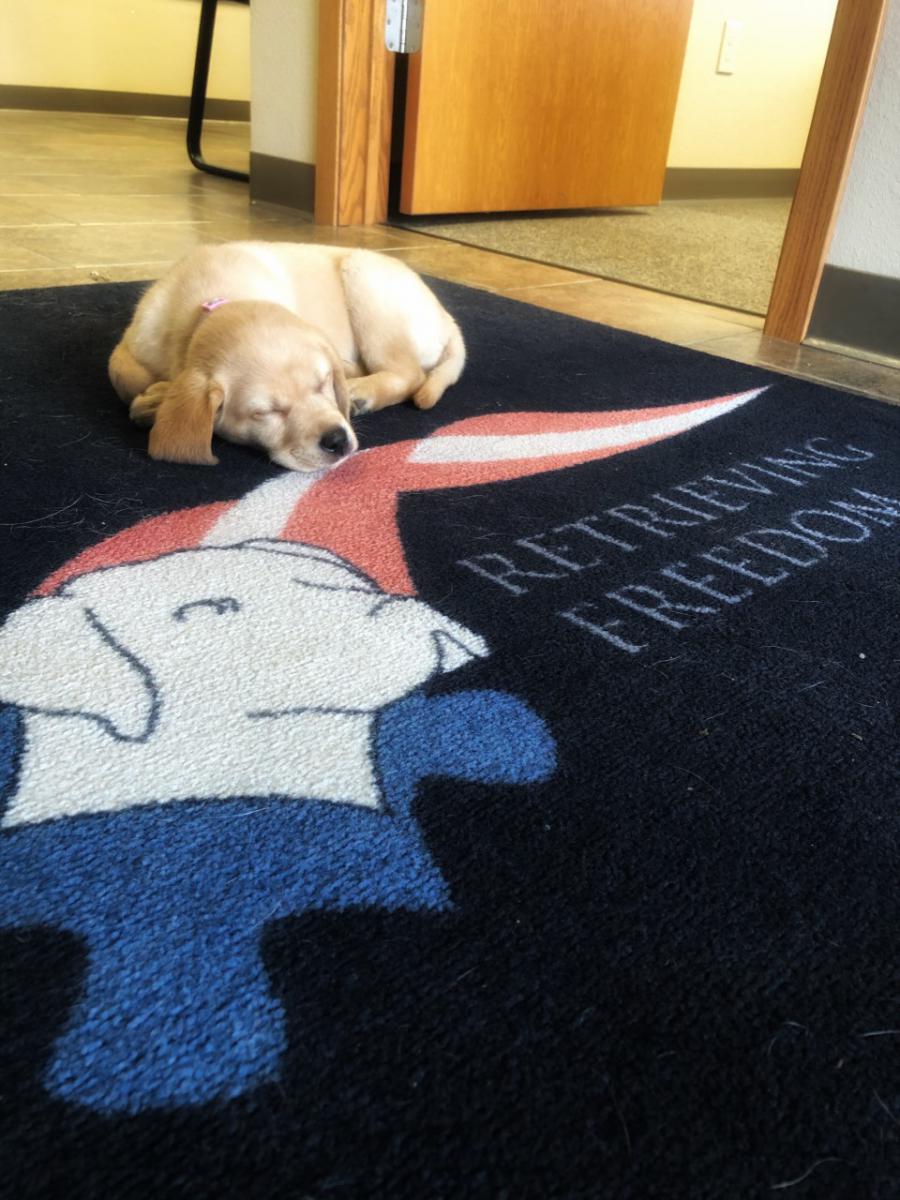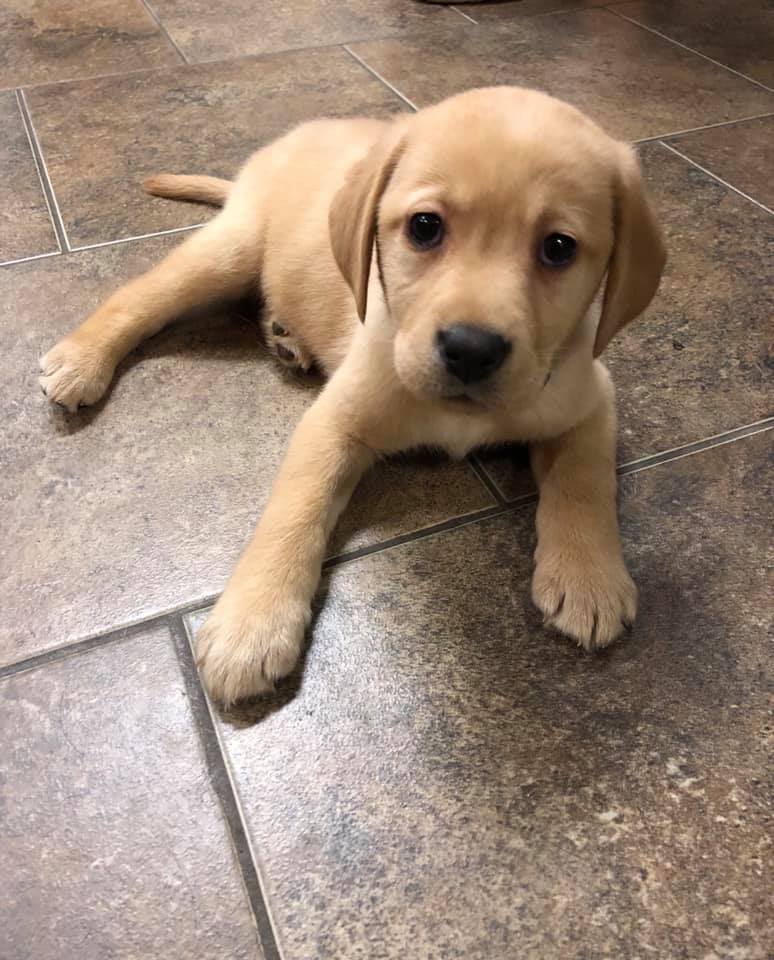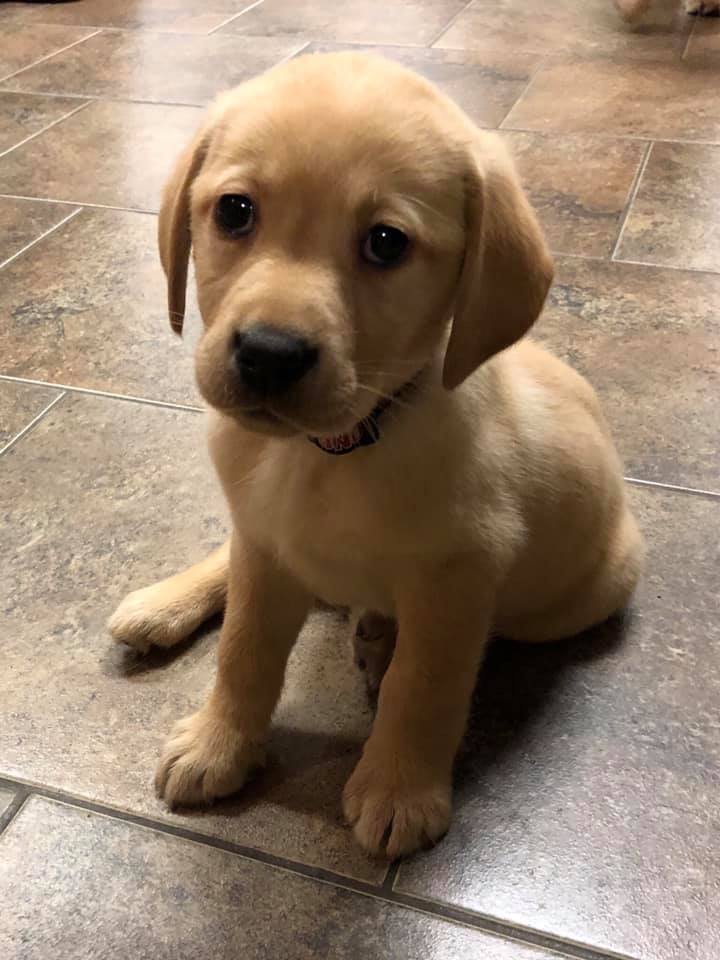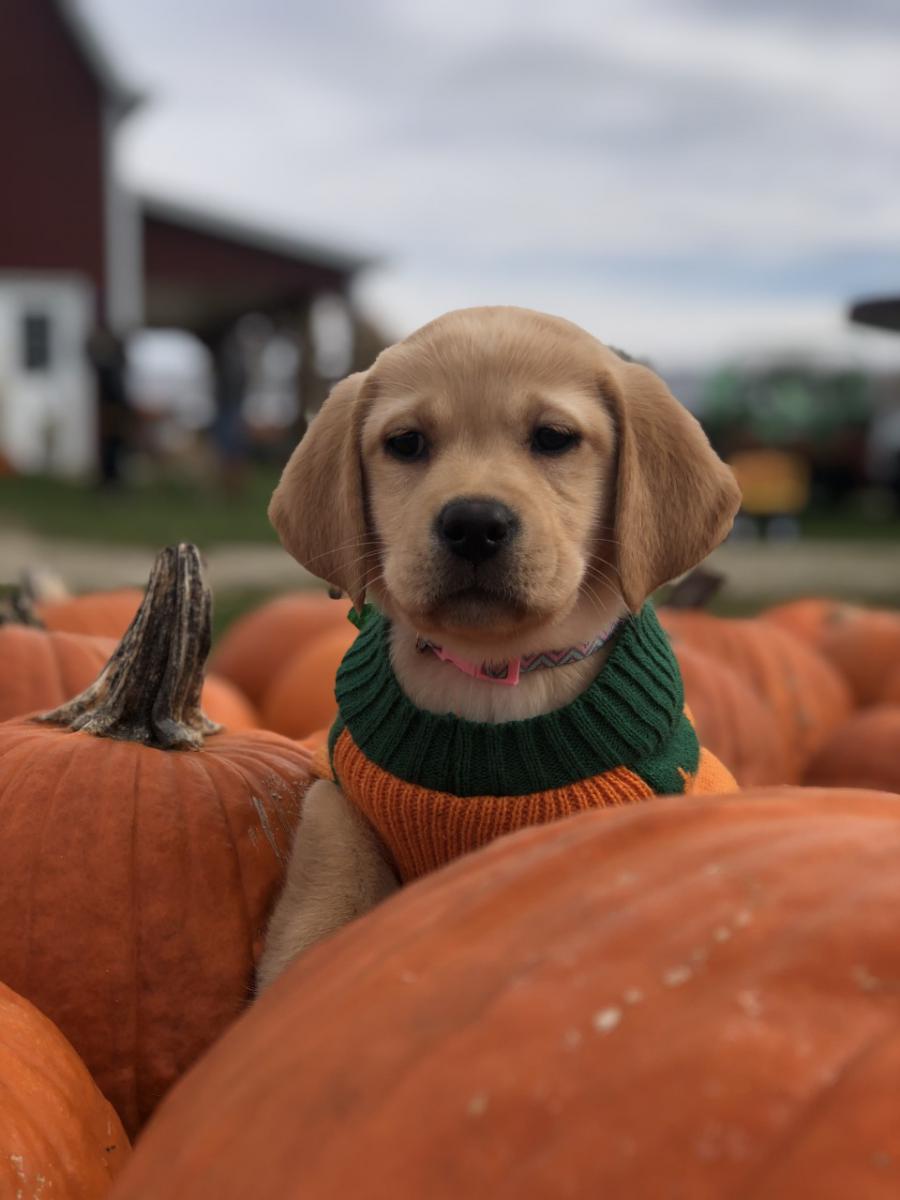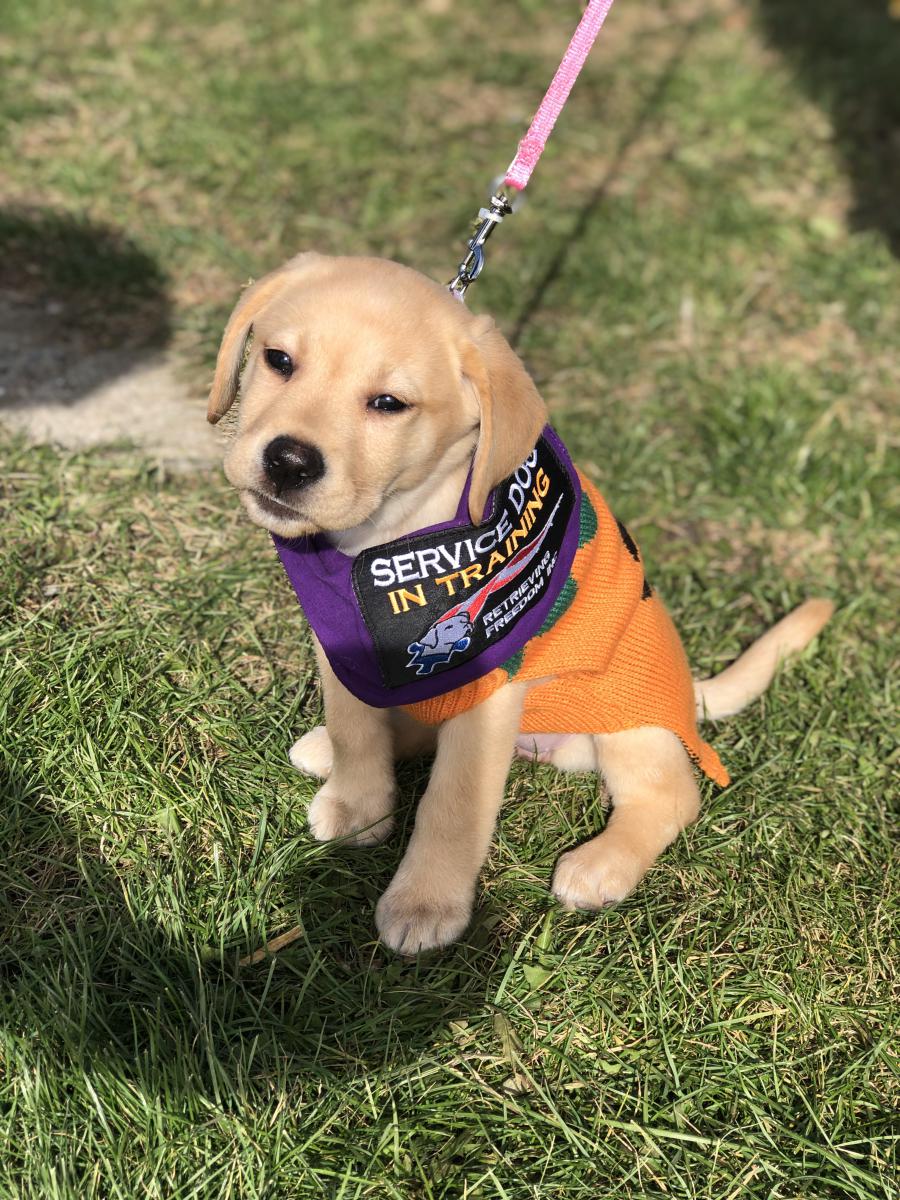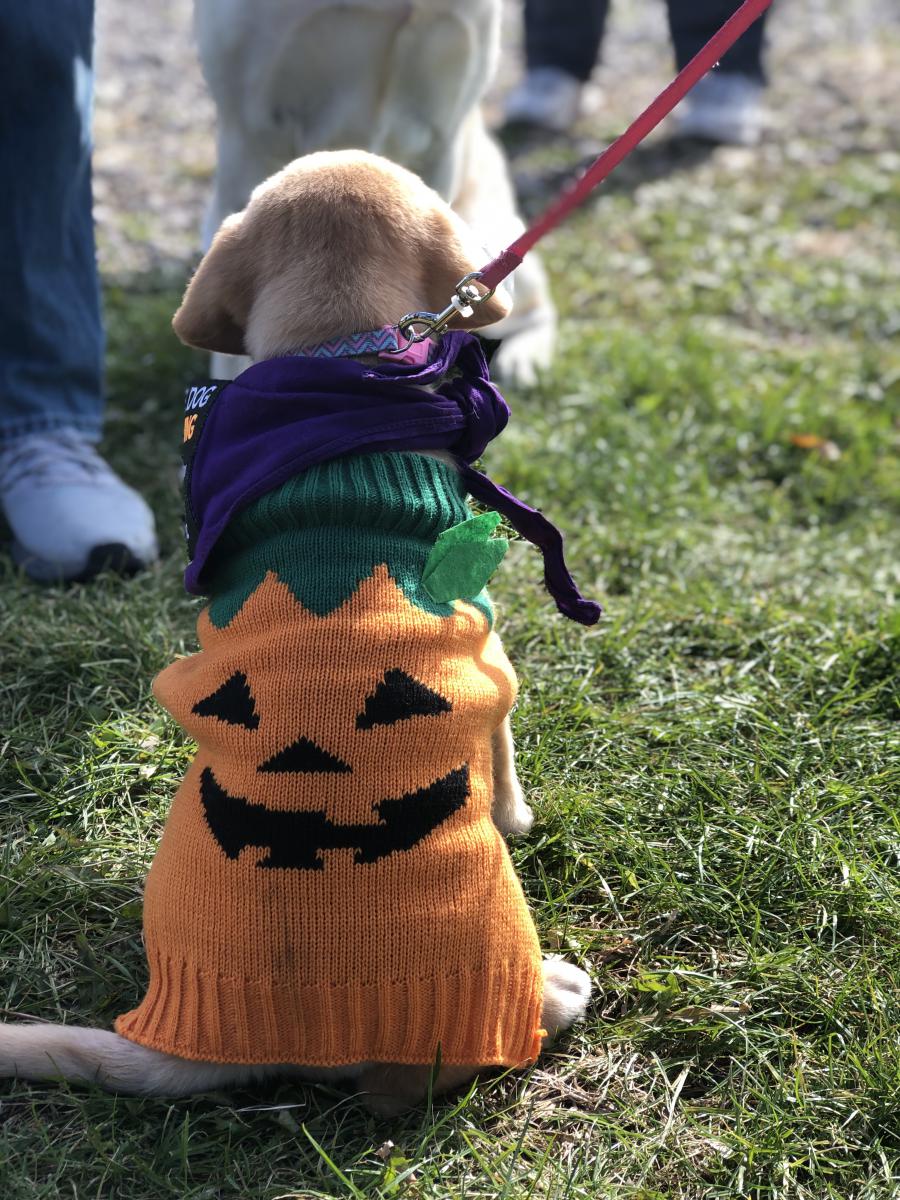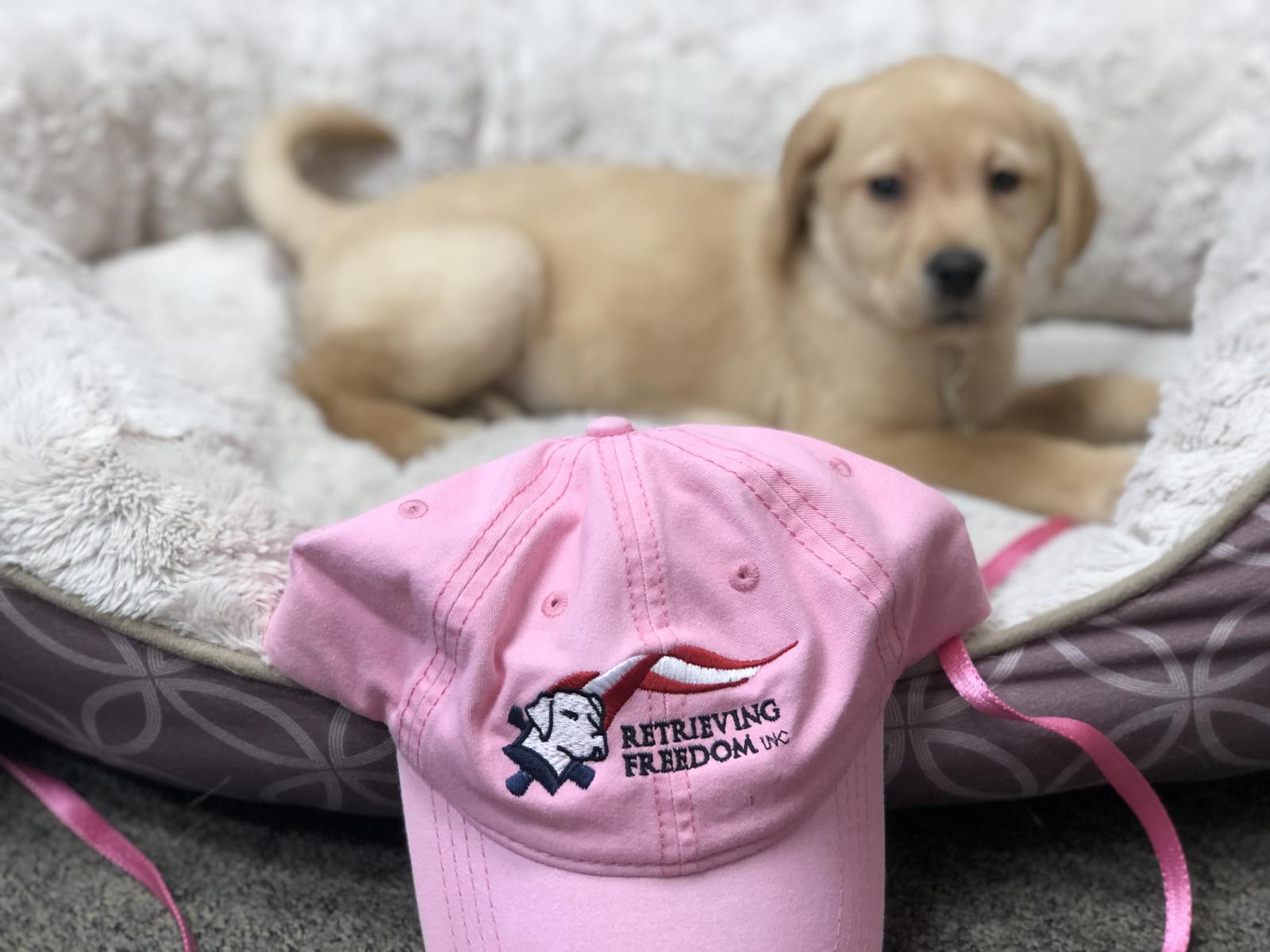 I just got to meet my foster mom, Sara. She calls me "tiny but mighty" and tells me that I have a big job to do someday! I am excited to start my training in hopes to become a service dog someday. I was able to go to my first pumpkin patch and I was more concerned about missing my afternoon nap than I was seeing all the sights and smells at the farm.
November 2019 - 3 months old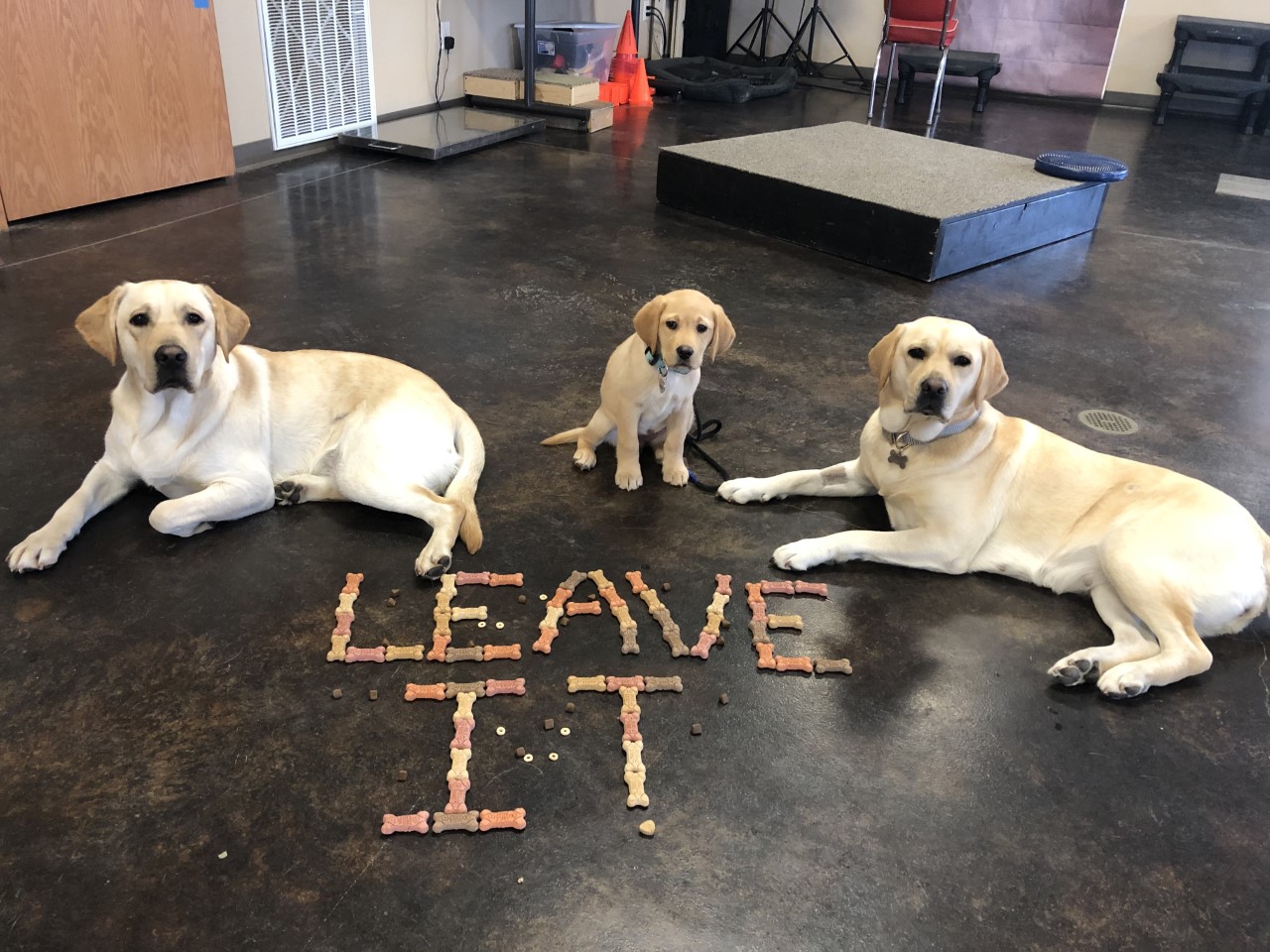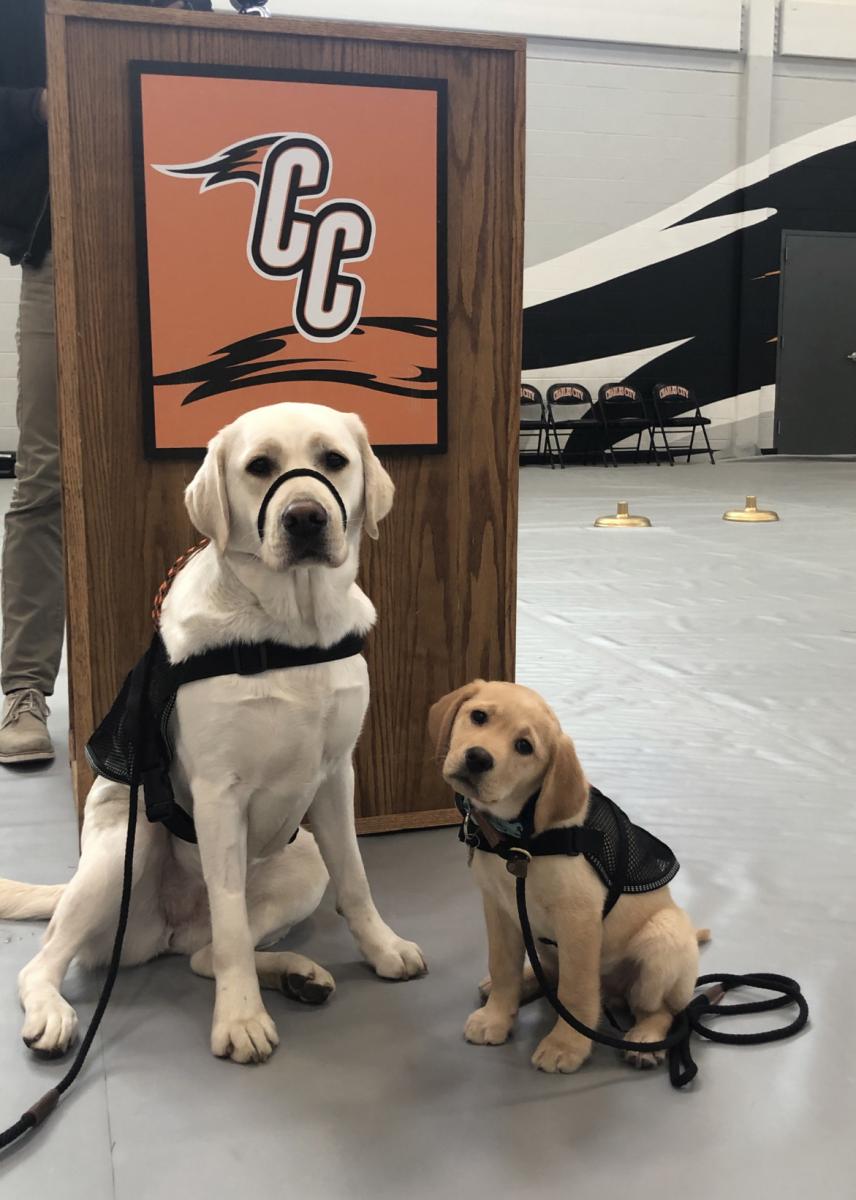 I understand the command "sit" and I am working on the command "down." I am practicing my self control skills with my foster siblings, RFI service dog in training "TD" and RFI breeding female, "Lacie." I was also able to attend a Veteran's Day presentation with my foster Sara, RFI staff Keegan and another service dog in training, Tilly.
December 2019 - 4 months old

I have been busy with my foster mom doing lots of shopping and continuing to perfect my basic obedience out in public. I am getting used to using a gentle leader and working as a "team" with foster. I was able to practice walking through crowds during a town event where I got to meet The Grinch! I also got to meet Santa, I asked for a new bone, and a new squeaky toy. I sure hope I make the nice list this year.
January 2020 - 5 months old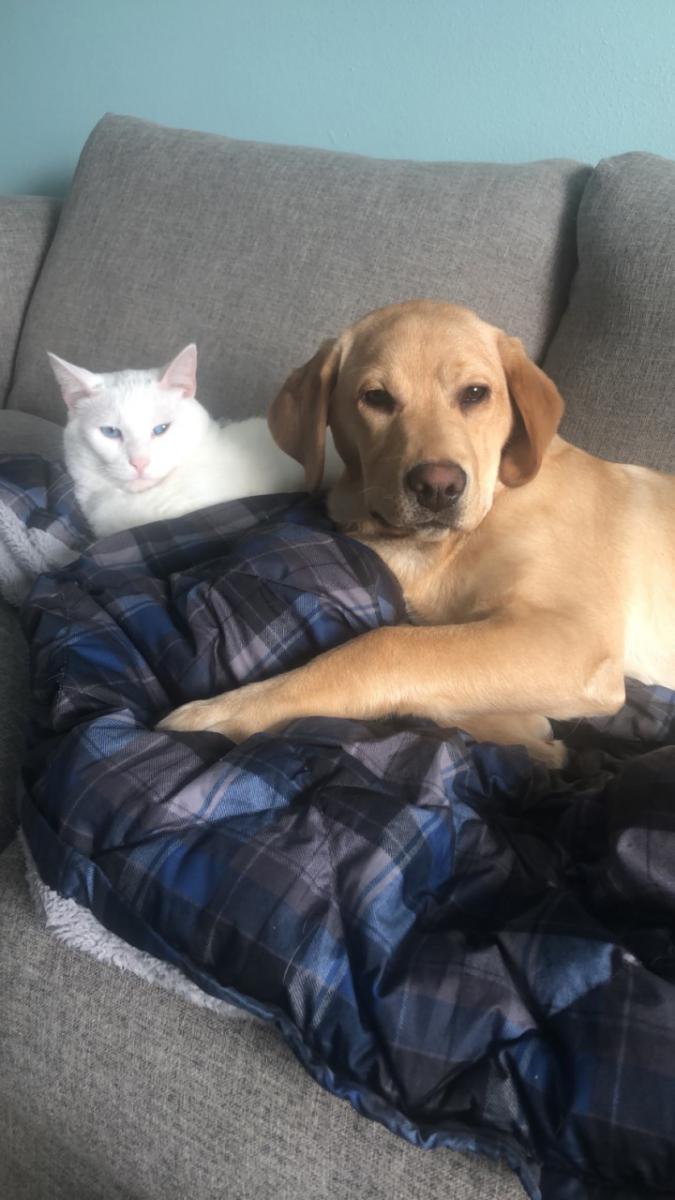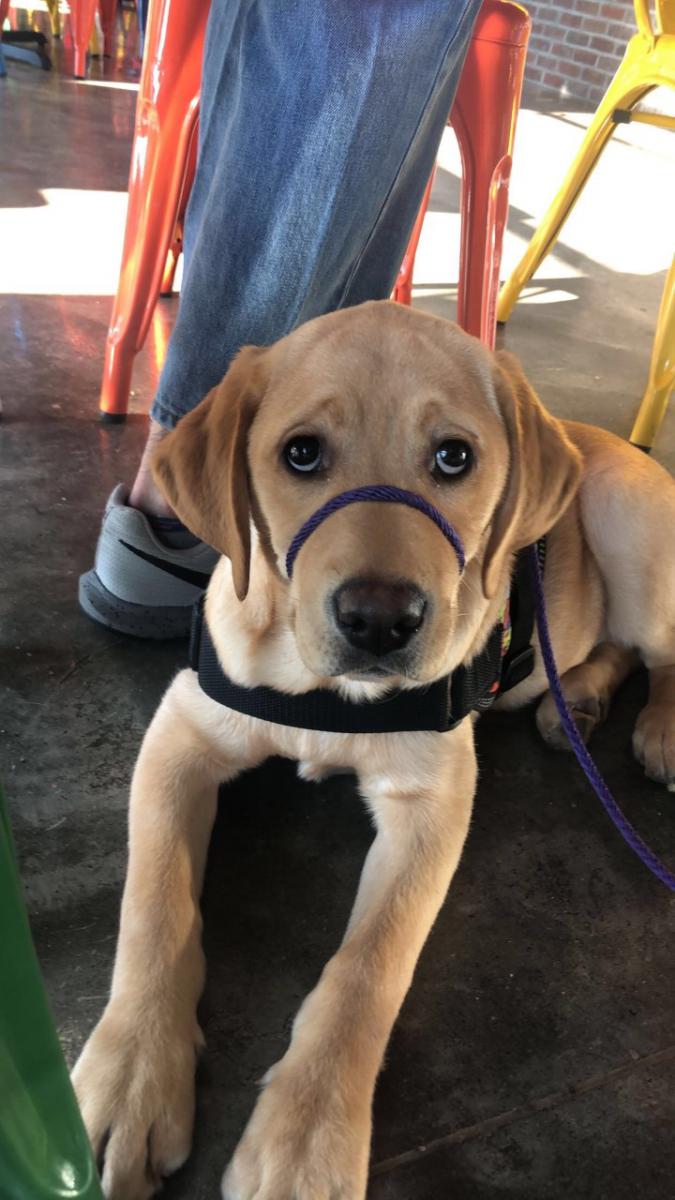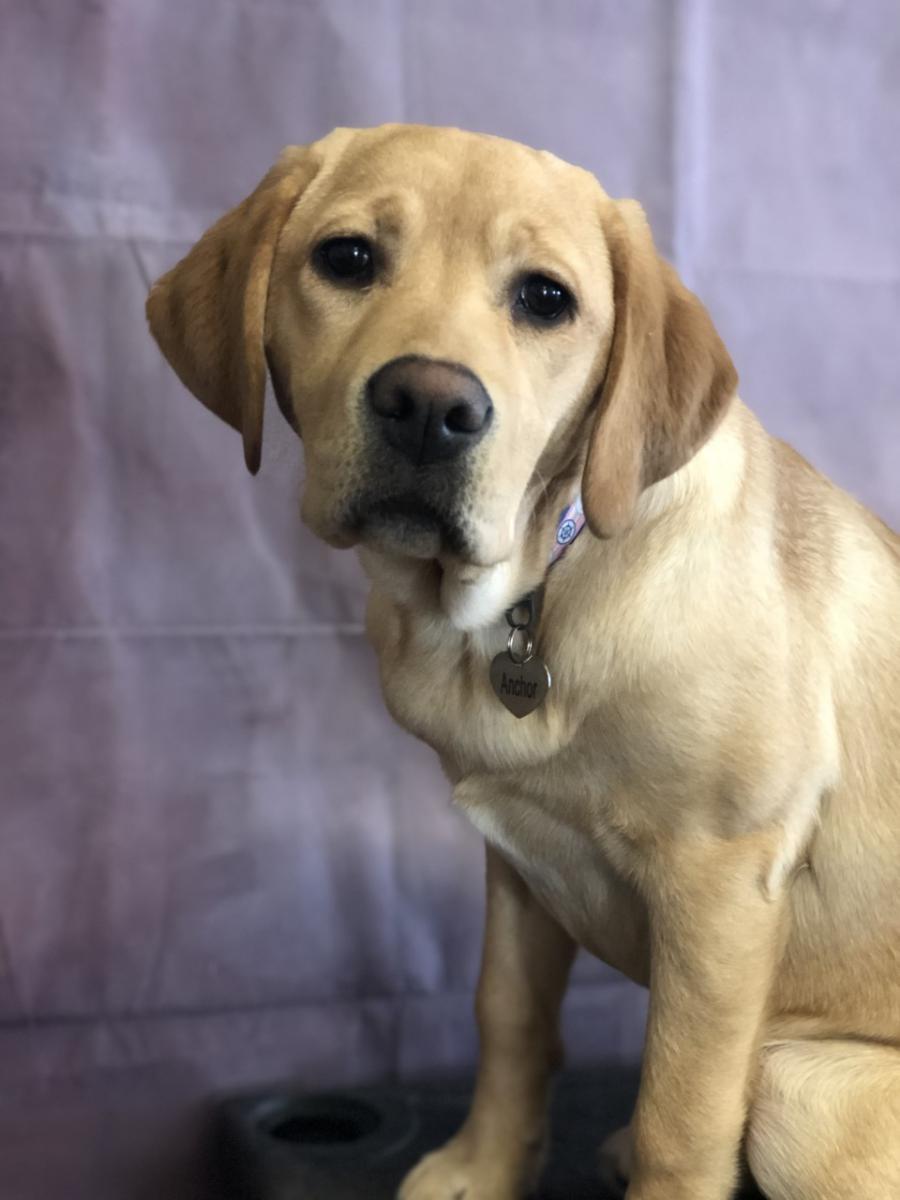 The new year has been off to a busy start for me! I have been to many new places and I continue to work on my basic obedience. The picture on the left, I am cuddling with my feline friend, Captain. The picture on the right is one of my foster parents favorite place! I was sad though because they told me I couldn't have any doughnuts.
February 2020 - 6 months old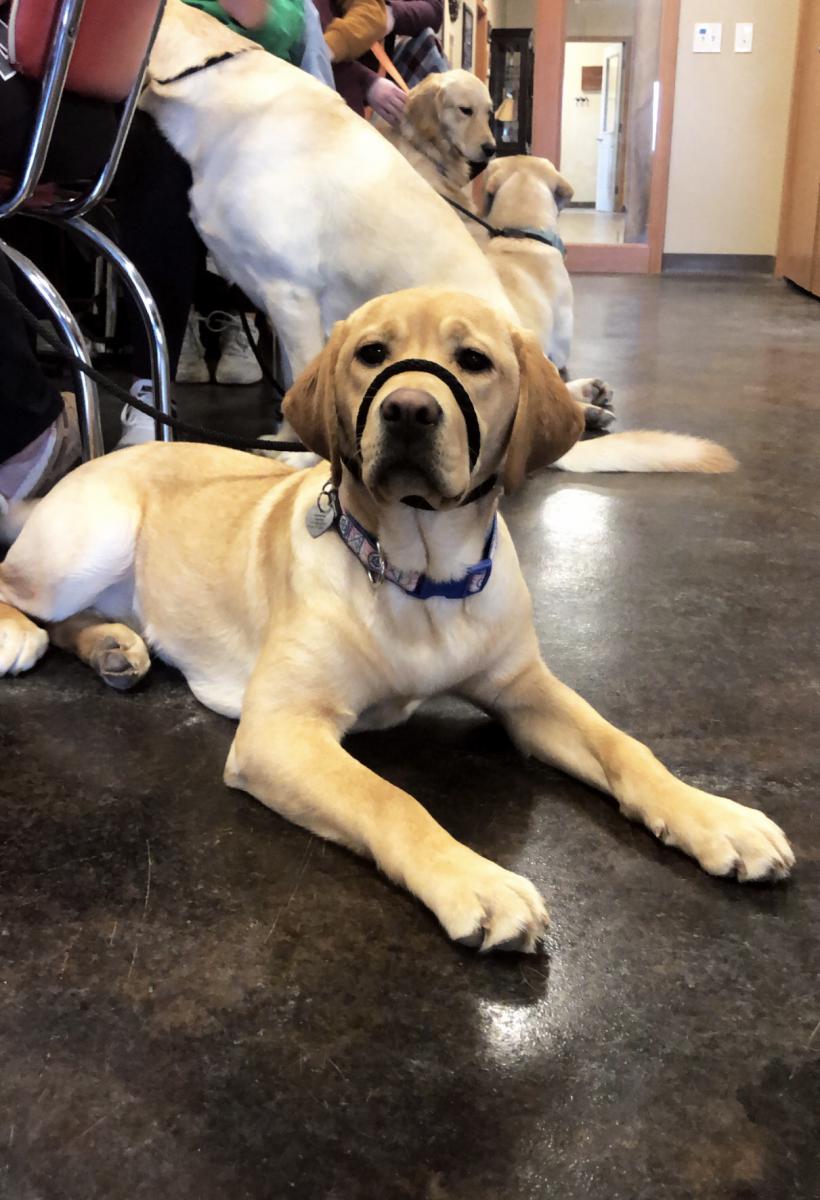 I've been working lots more in public lately. I have been taking trips to spend the day on Wartburg College's campus with various students. It's great because walking across campus is exhausting, so I take a nice long snooze when we get to class.
March 2020 - 7 months old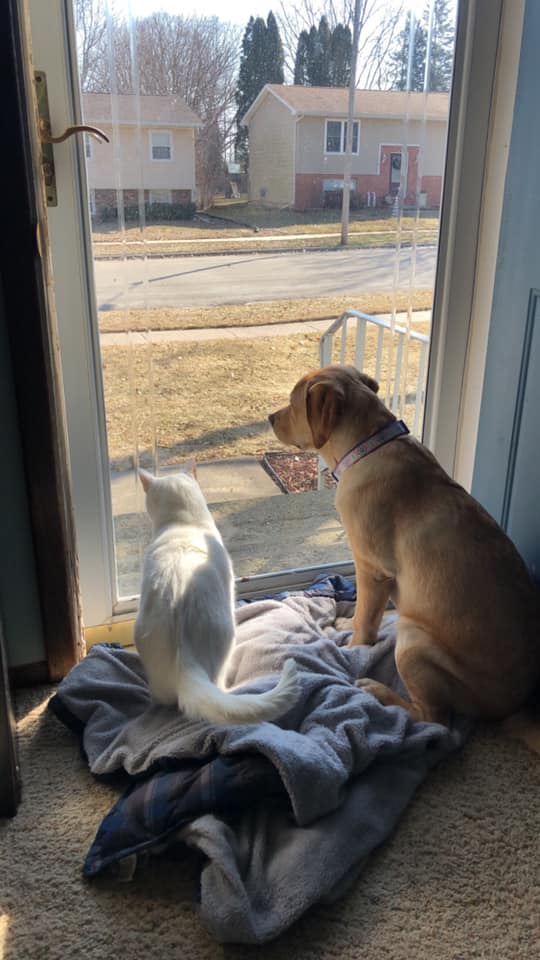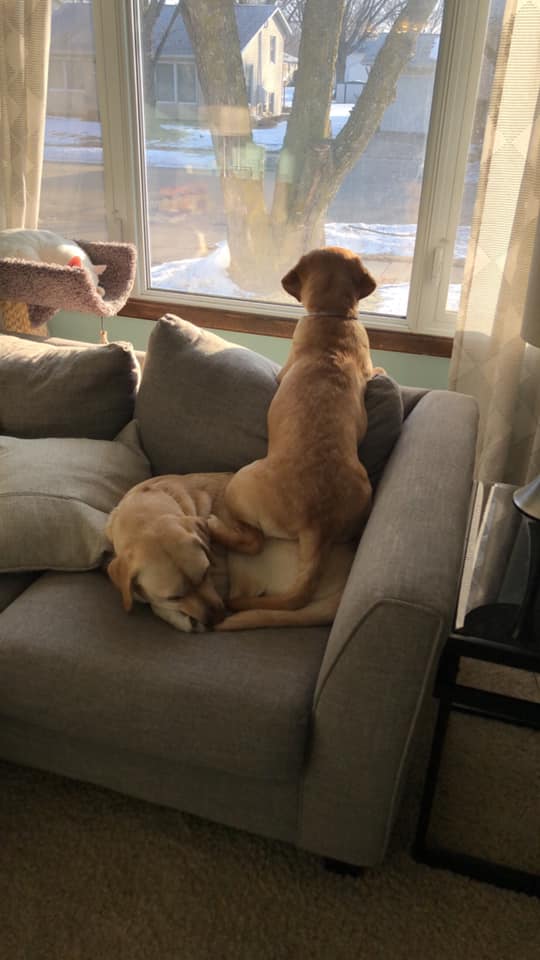 Watching out any visible window is my favorite thing to do! I like to watch squirrels, bunnies, my neighbors, and more. Sometimes the squirrels taunt me by running around in the front yard, and sometimes I have to use my sister Lacie as a prop so I can see better.
April 2020 - 8 months old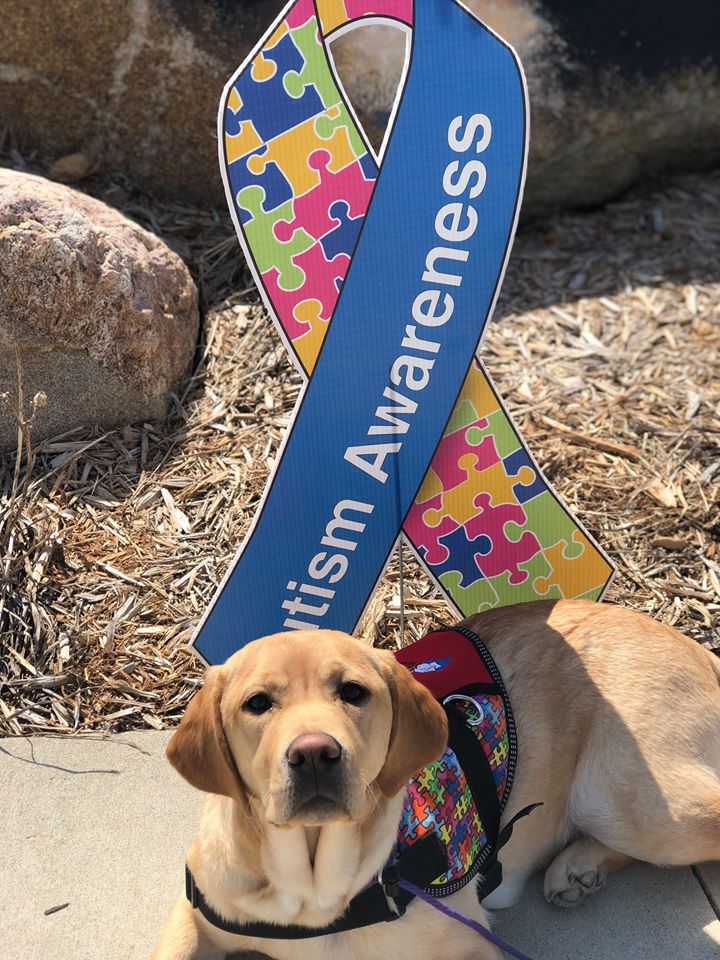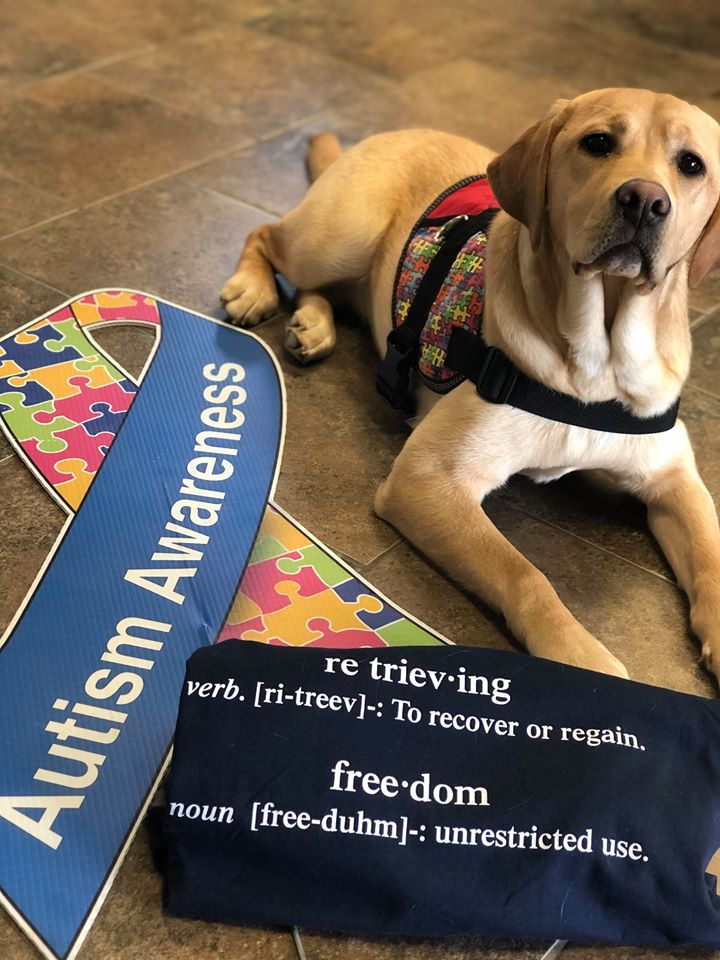 Autism Awareness Month!
June 2020 - 10 months old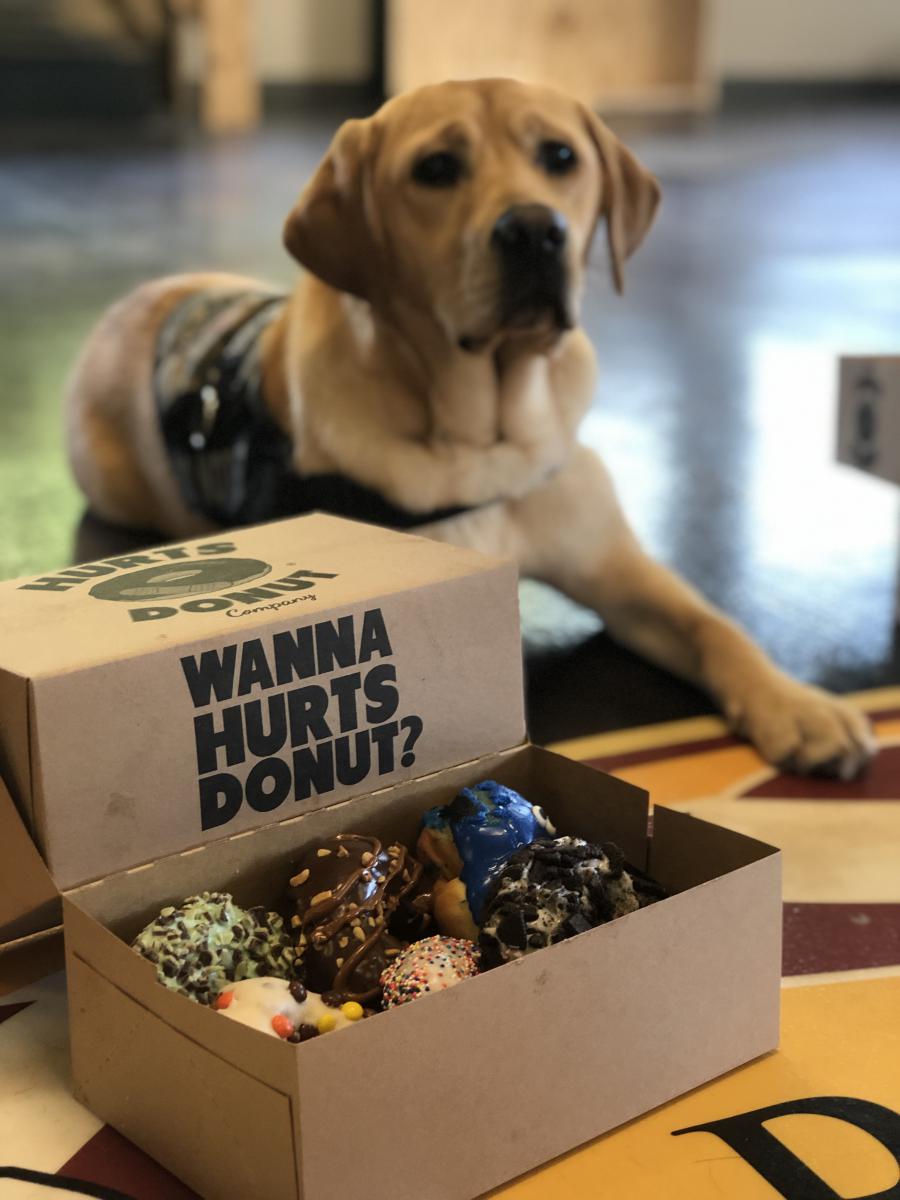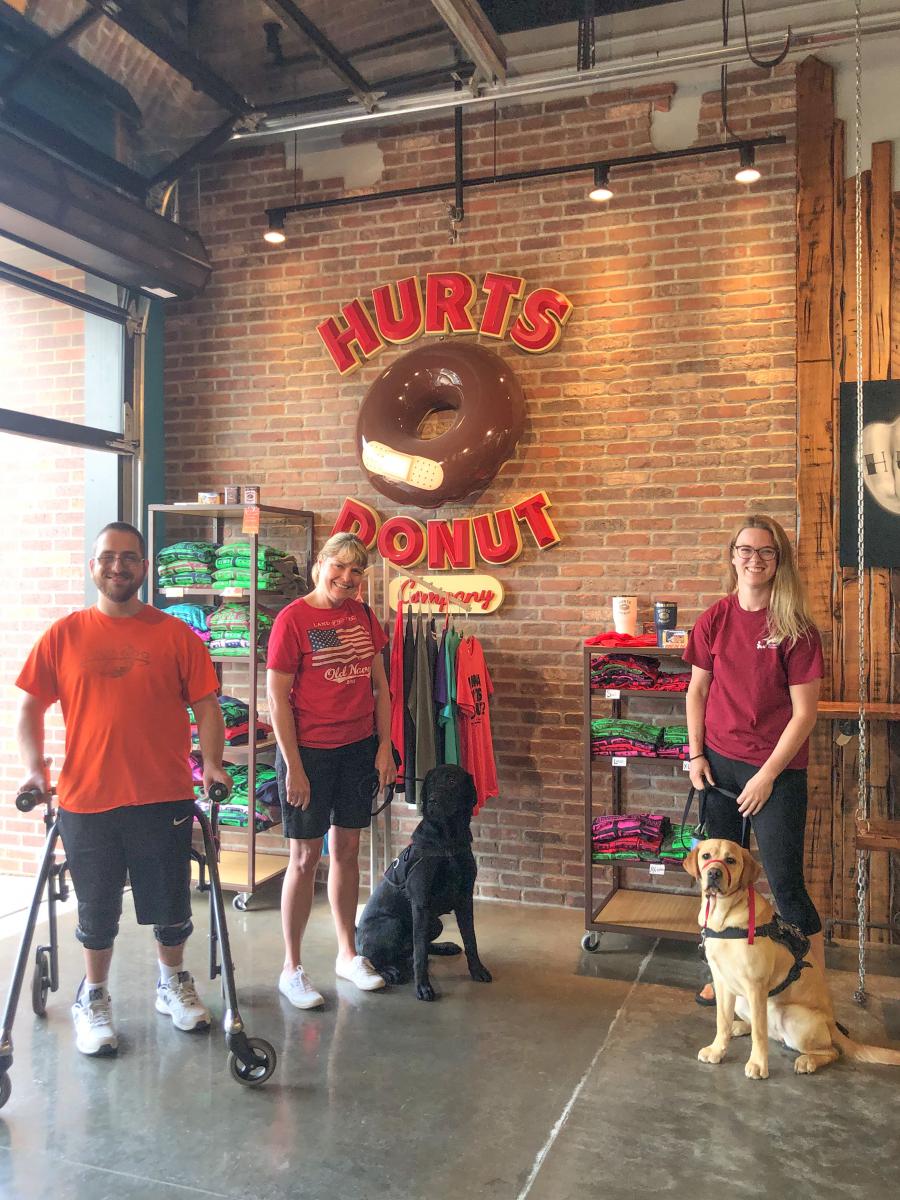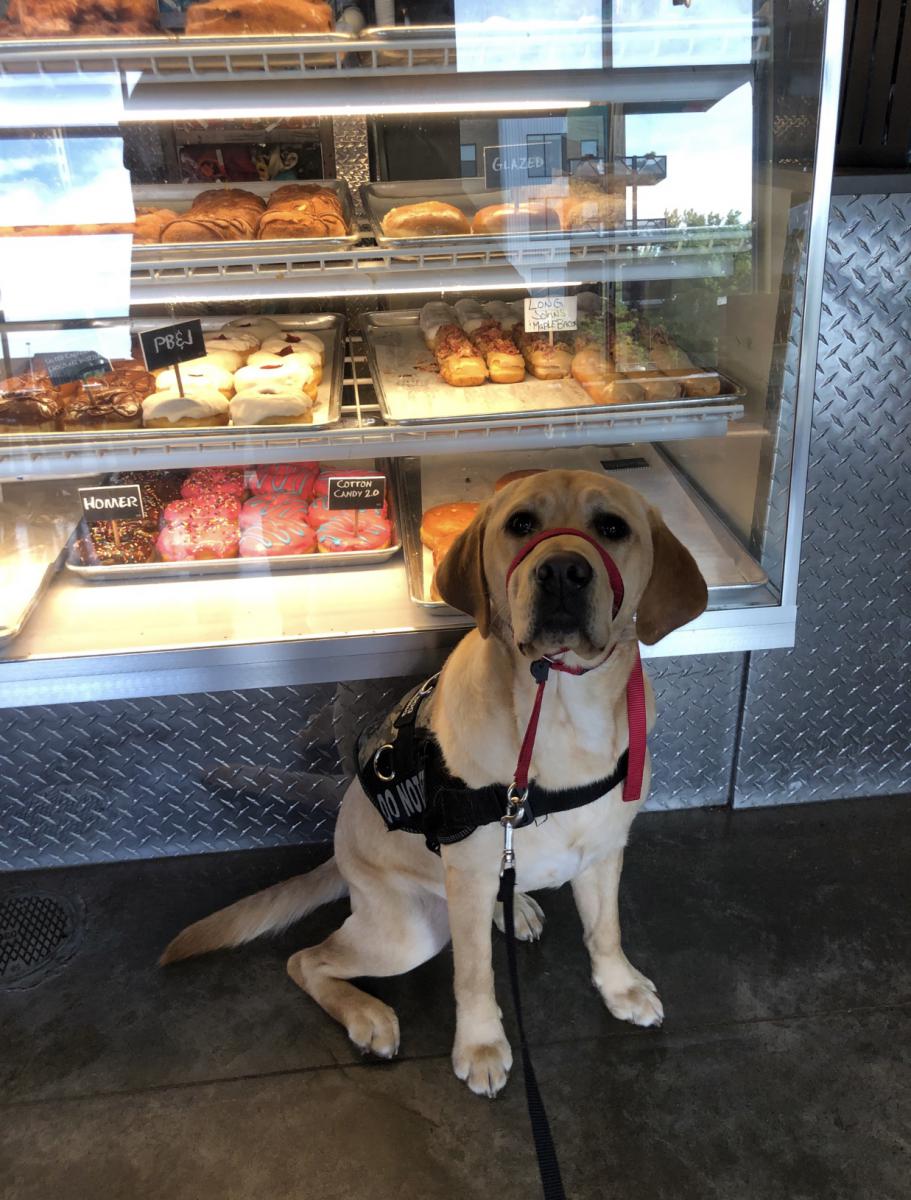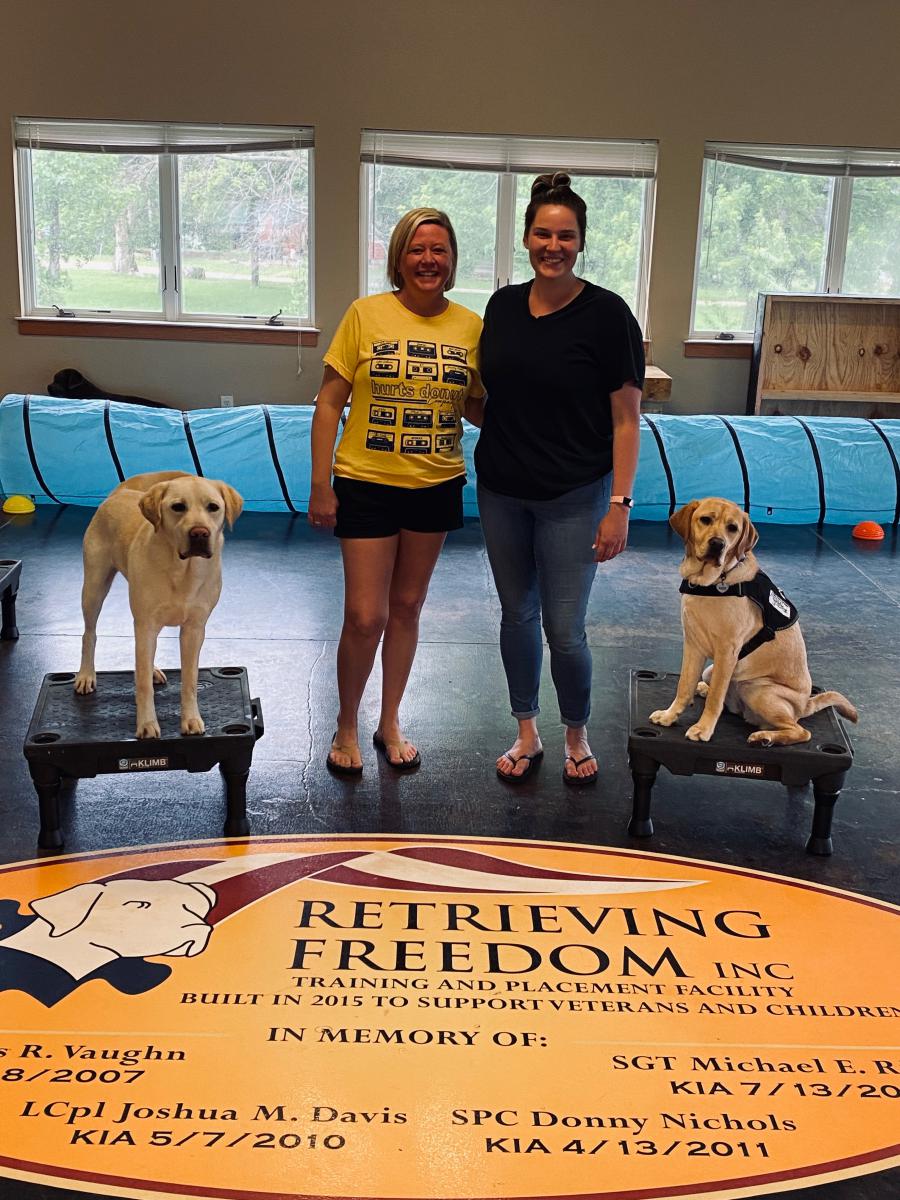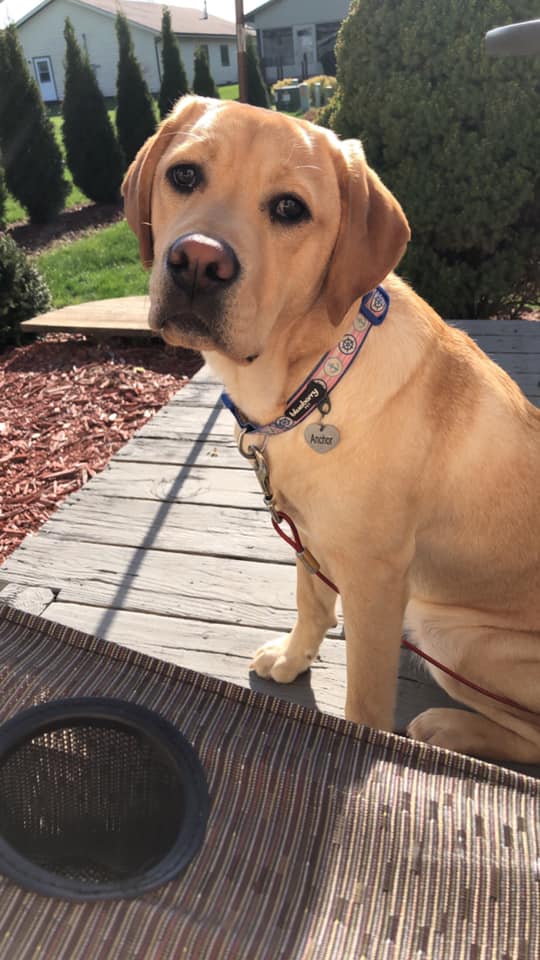 This month I showed support on National Donut Day at Hurts Donut Co. in Cedar Falls, IA. They donated 10% of their sales for 24 hours straight to Retrieving Freedom!
July 2020 - 11 months old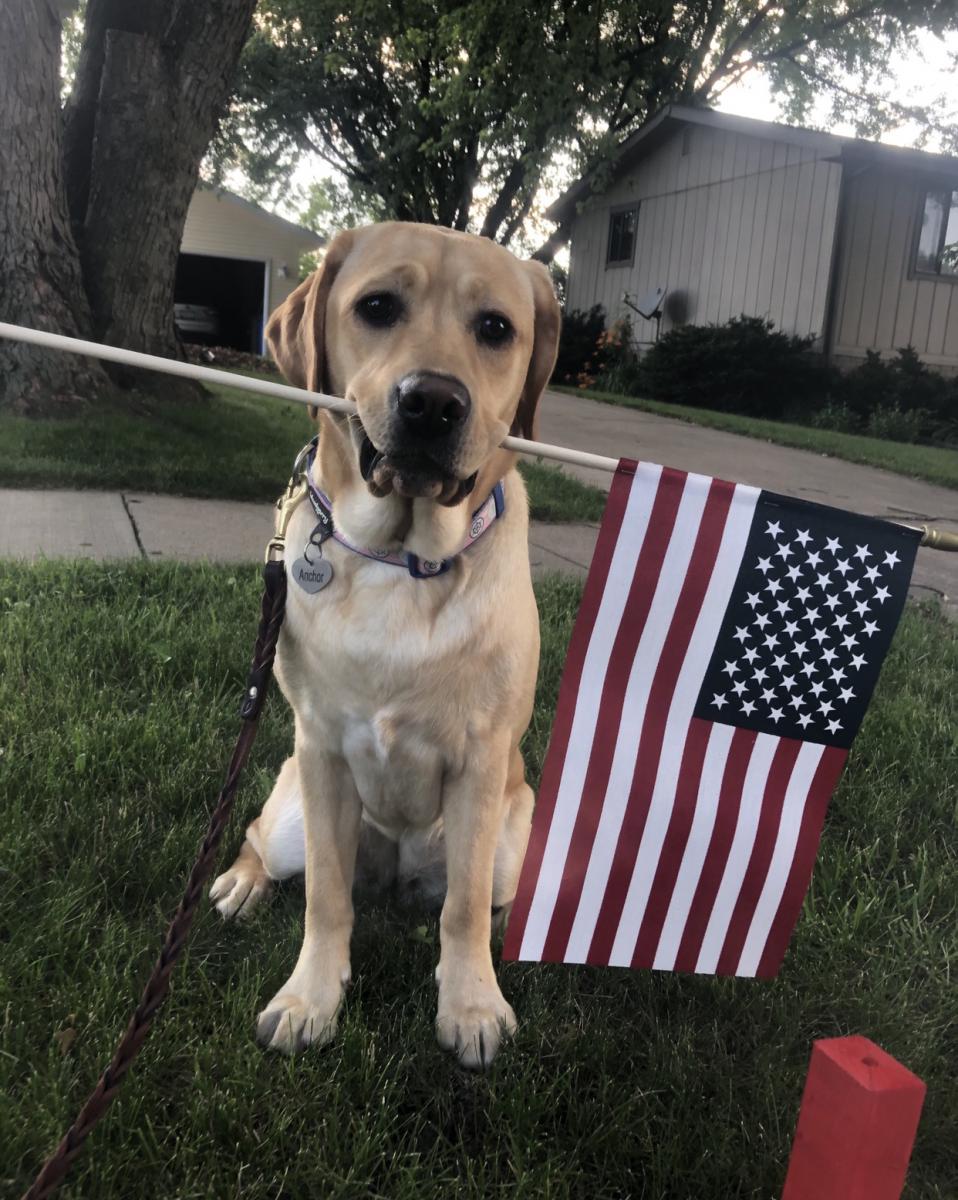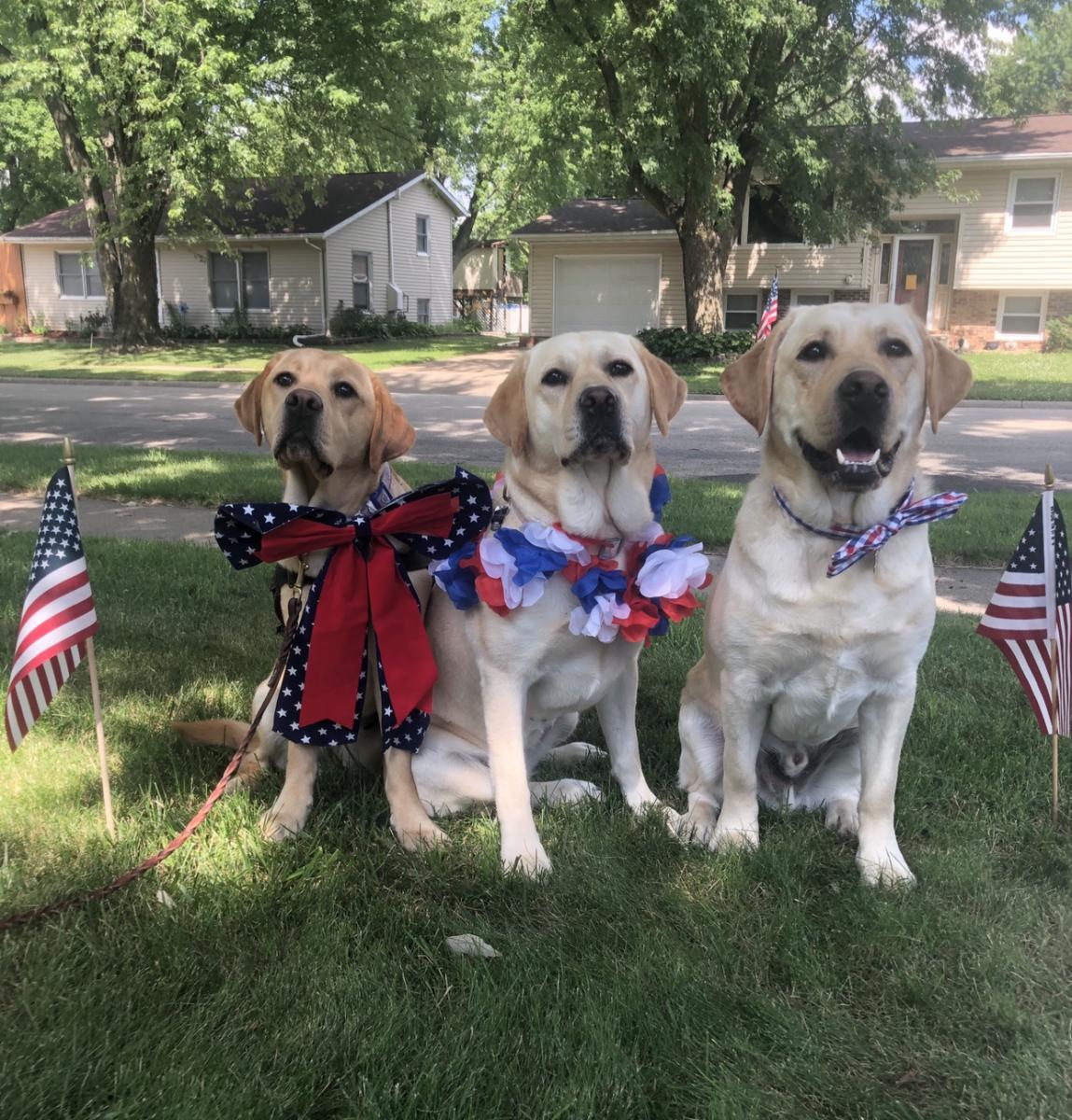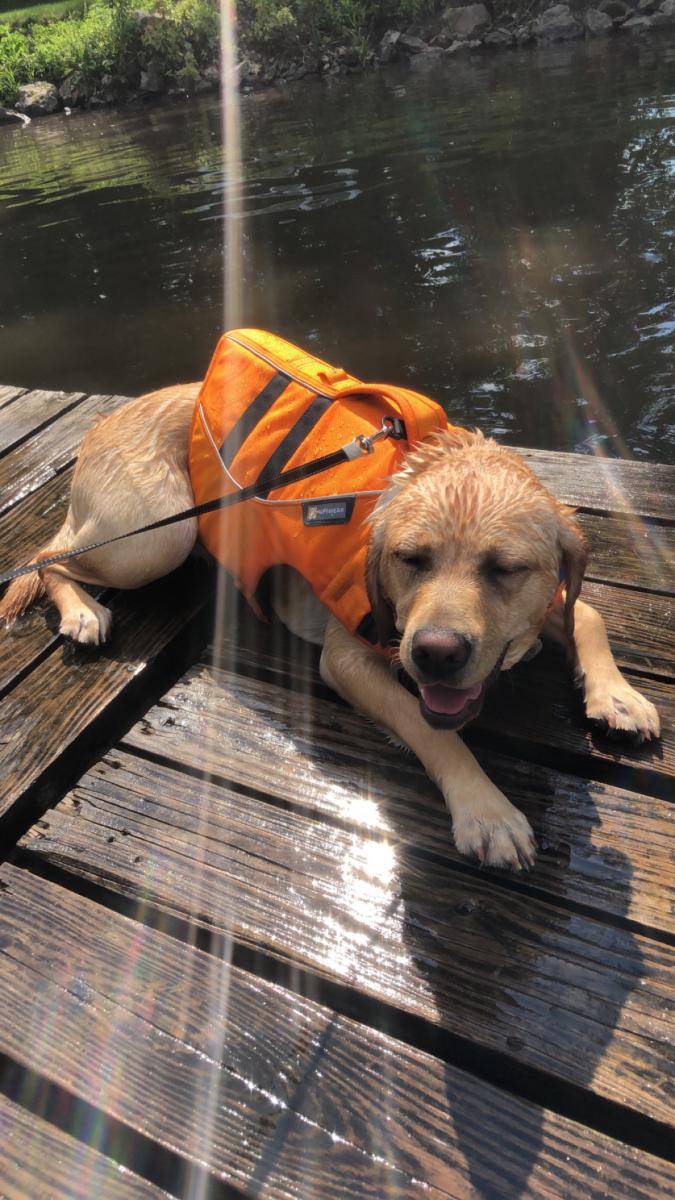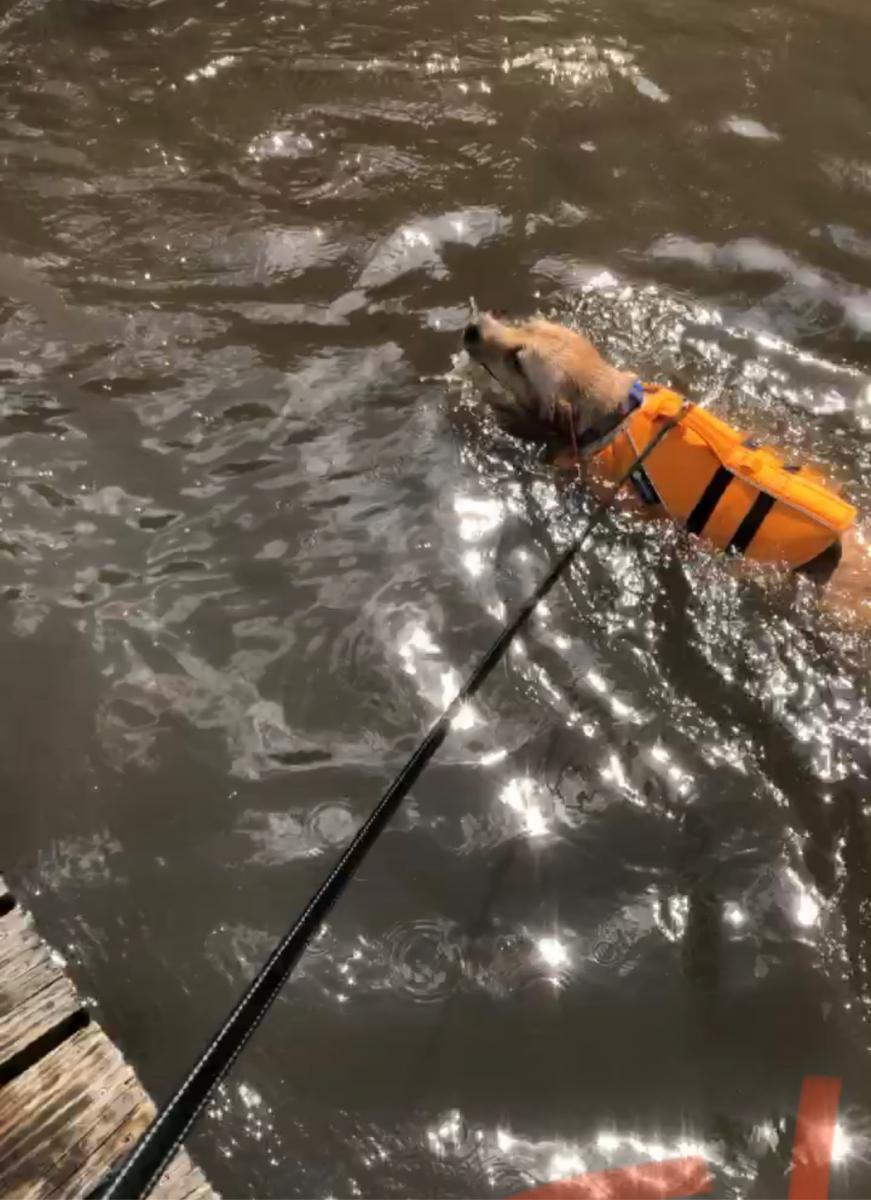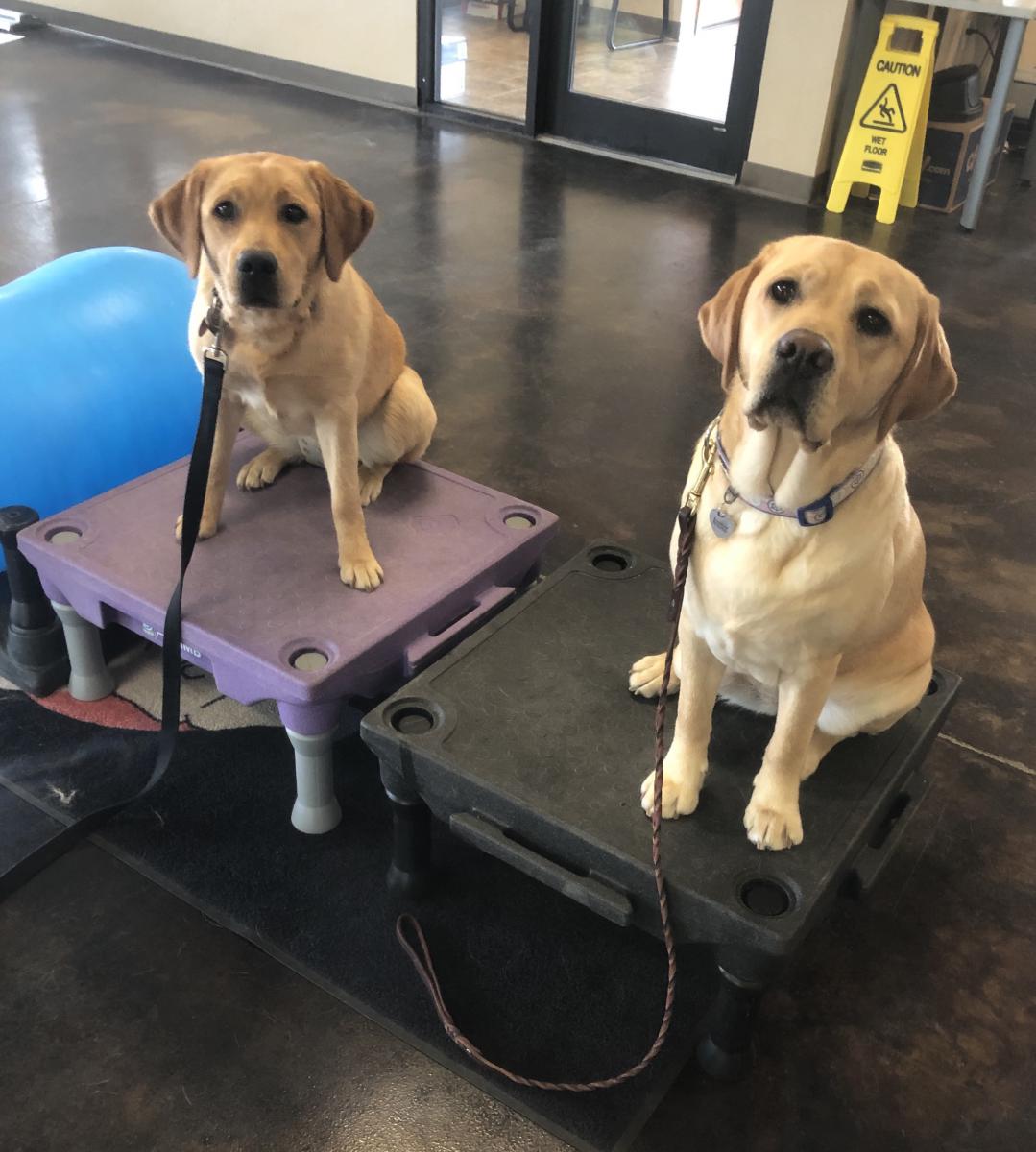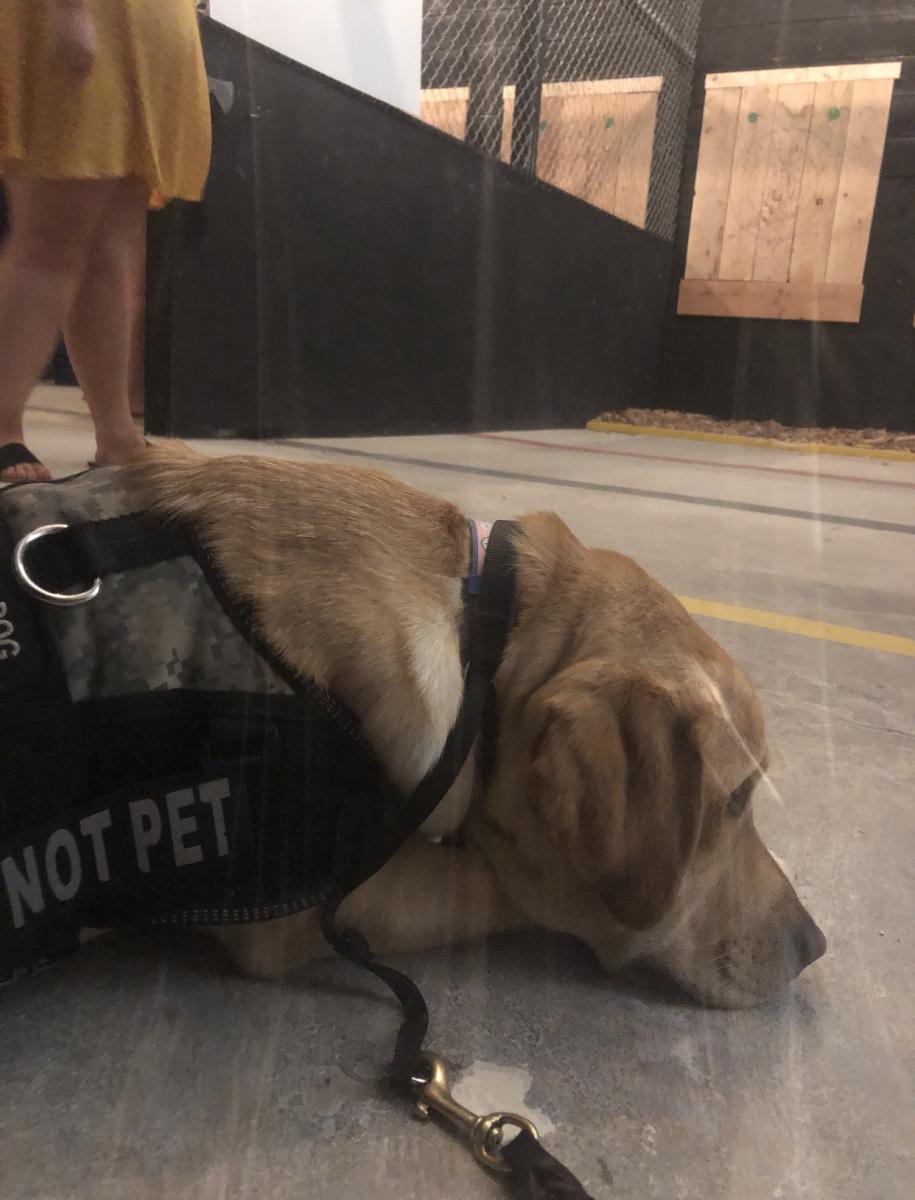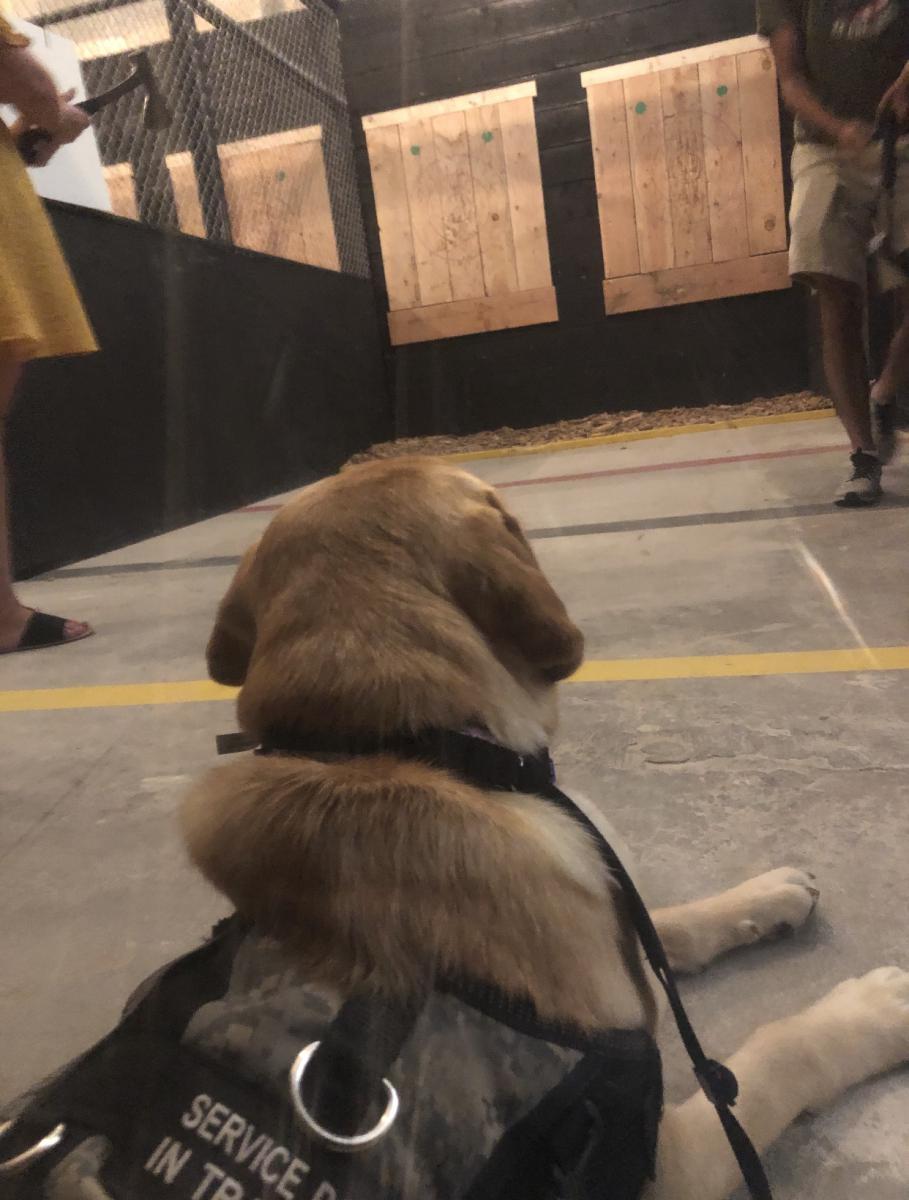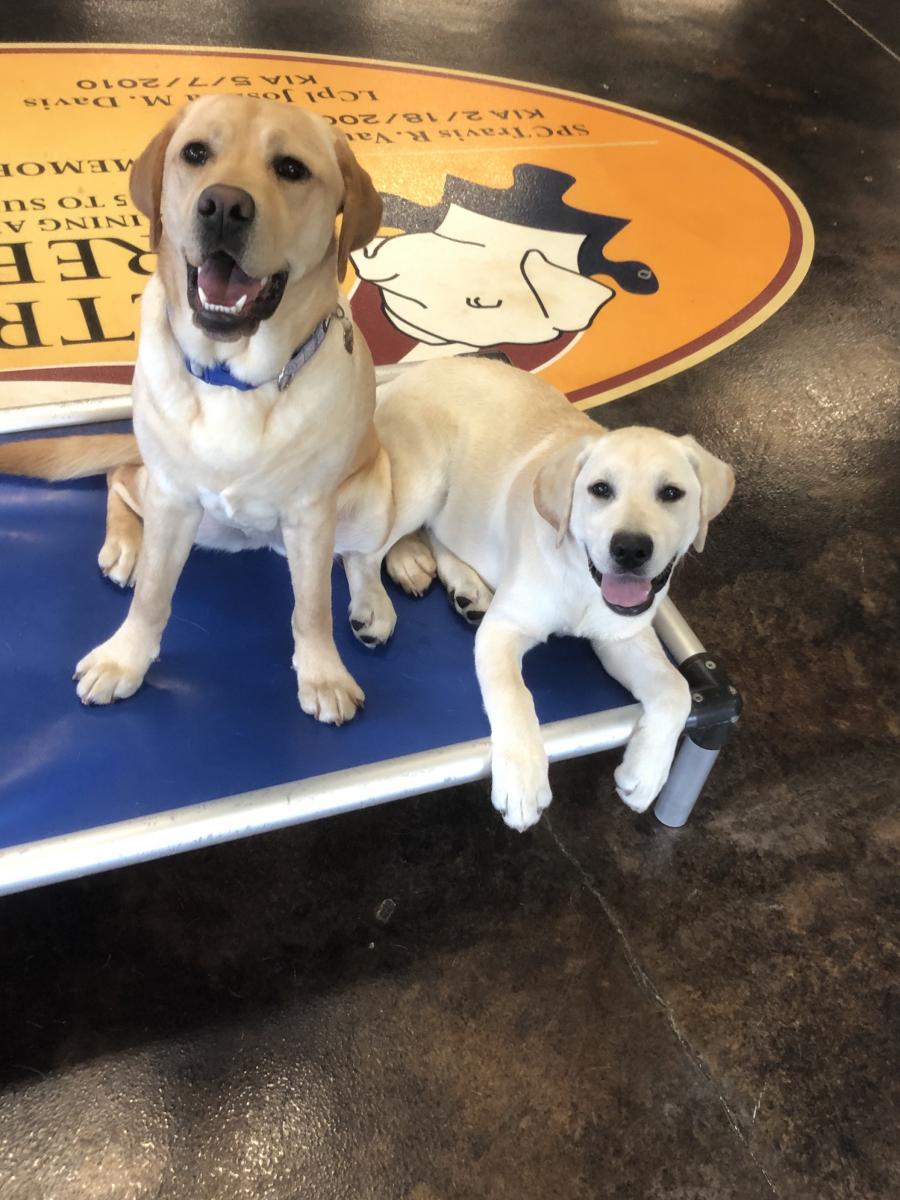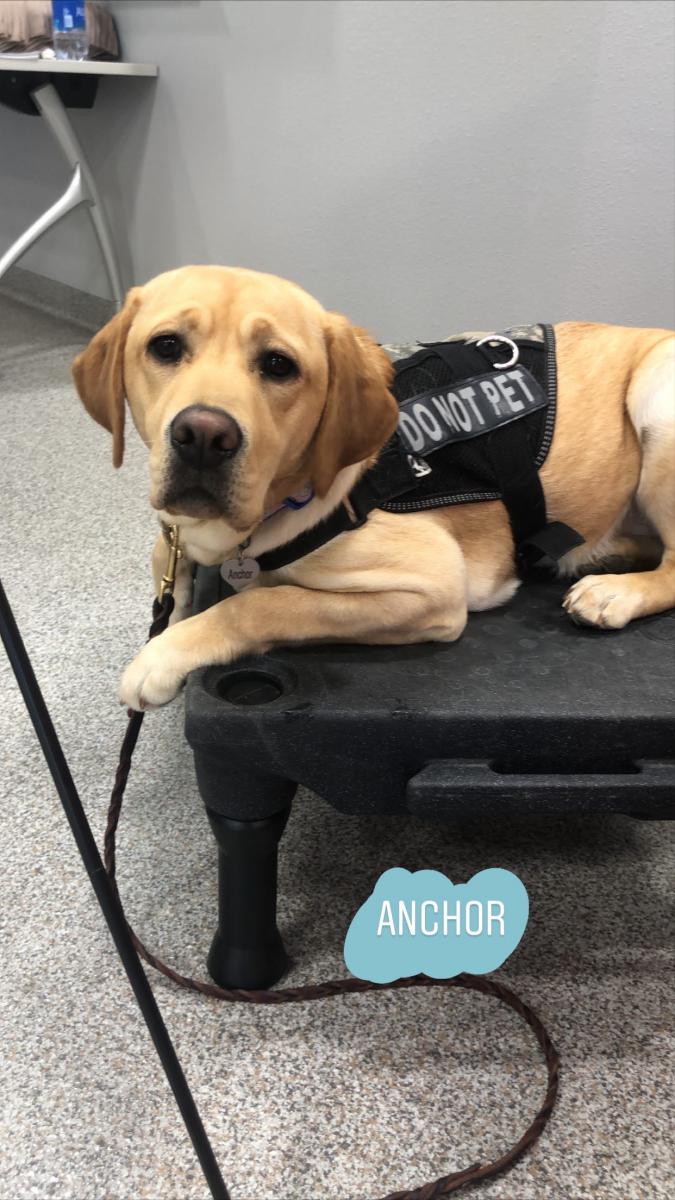 So far this month I have tackled lots of new and exciting things: fireworks and swimming. I also watched axe throwing for the first time! For my safety, I was placed further away than the recommended distance and someone maintained control of my leash at all times.
August 2020 - 1 year old!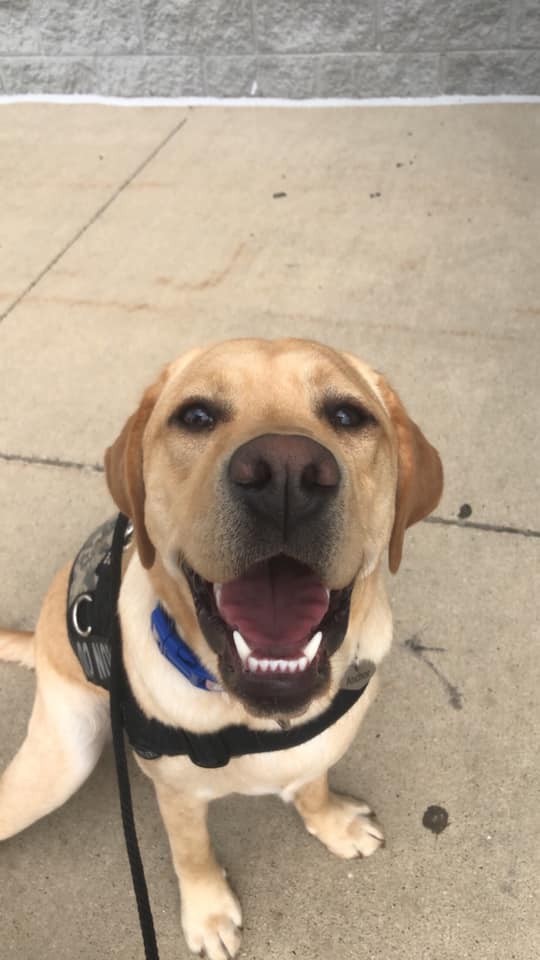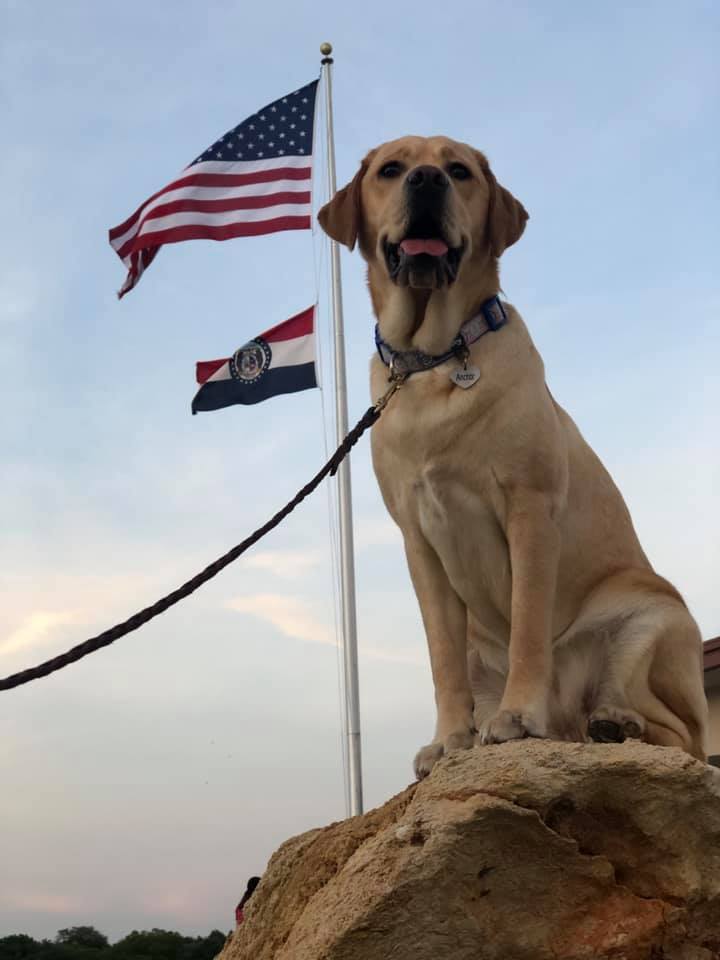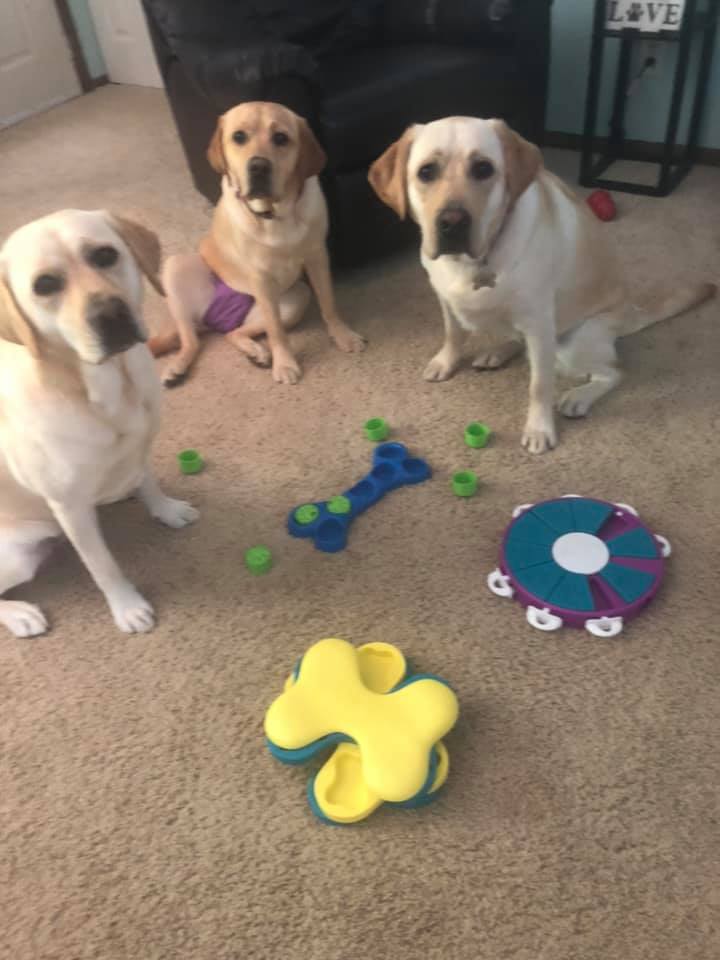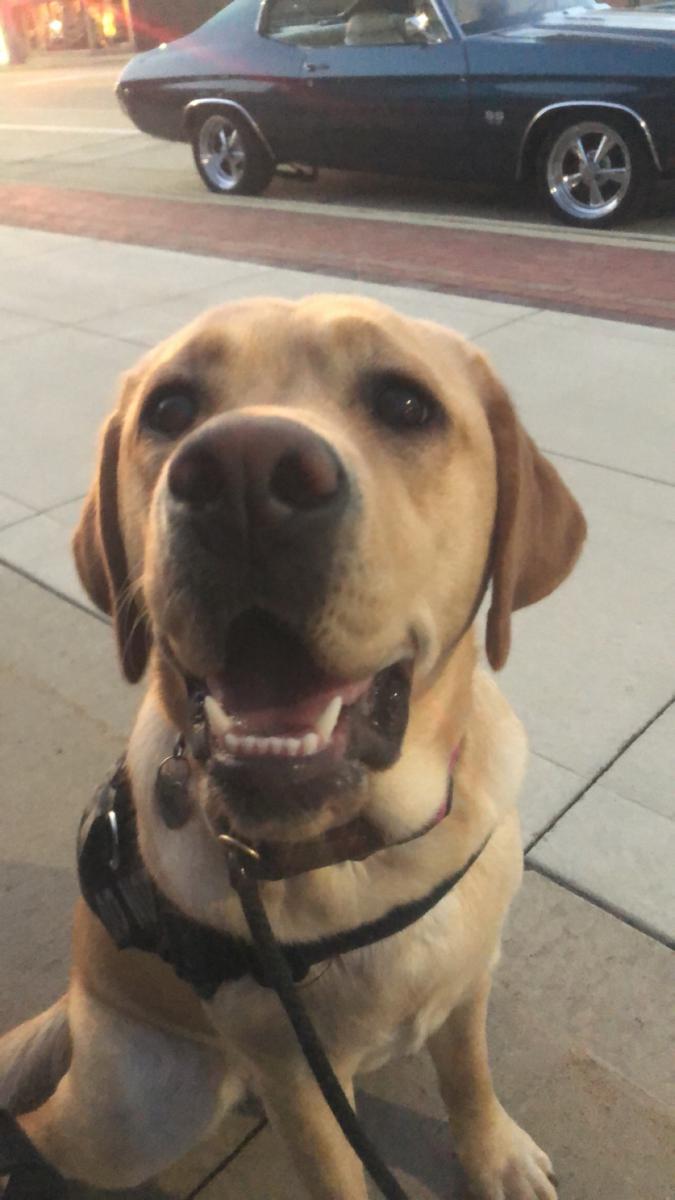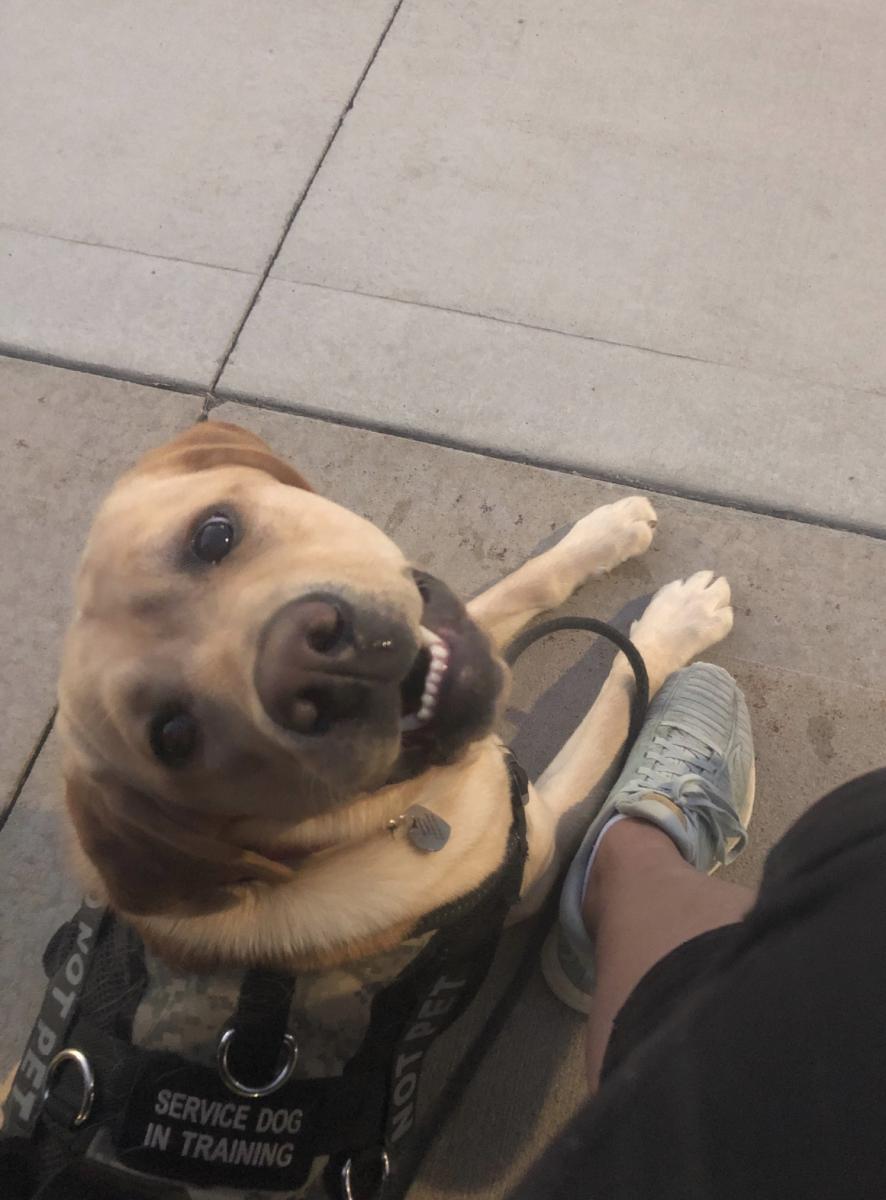 This month I celebrated my first birthday! I also began going on home visits with a teacher, Mrs. C., who will take me to her classroom once per week throughout this upcoming school year! I am so excited for this next step. This means I'm transitioning into Stage 2, which is bittersweet - I'm looking forward to learning more with various handlers and the professional trainers at RFI, but I will miss my foster home! I can't thank Sara enough for all she's done for me so far on this journey.
Stage 2 Introduction
Wahoo!!! I have officially been entered into stage 2 training, and I am so excited! Over the past 8 months I have had the opportunity to see the RFI mission first hand, and can't wait to dig deeper in the mission of changing lives through my training for veterans with disabilities and children with autism. During this Stage, I will work closely with the RFI professional training staff to solidify my understanding of intermediate tasks and the foundation of future commands to help mitigate a disability. Follow me through this stage learning how I continue to make an impact!
September 2020 - 13 months old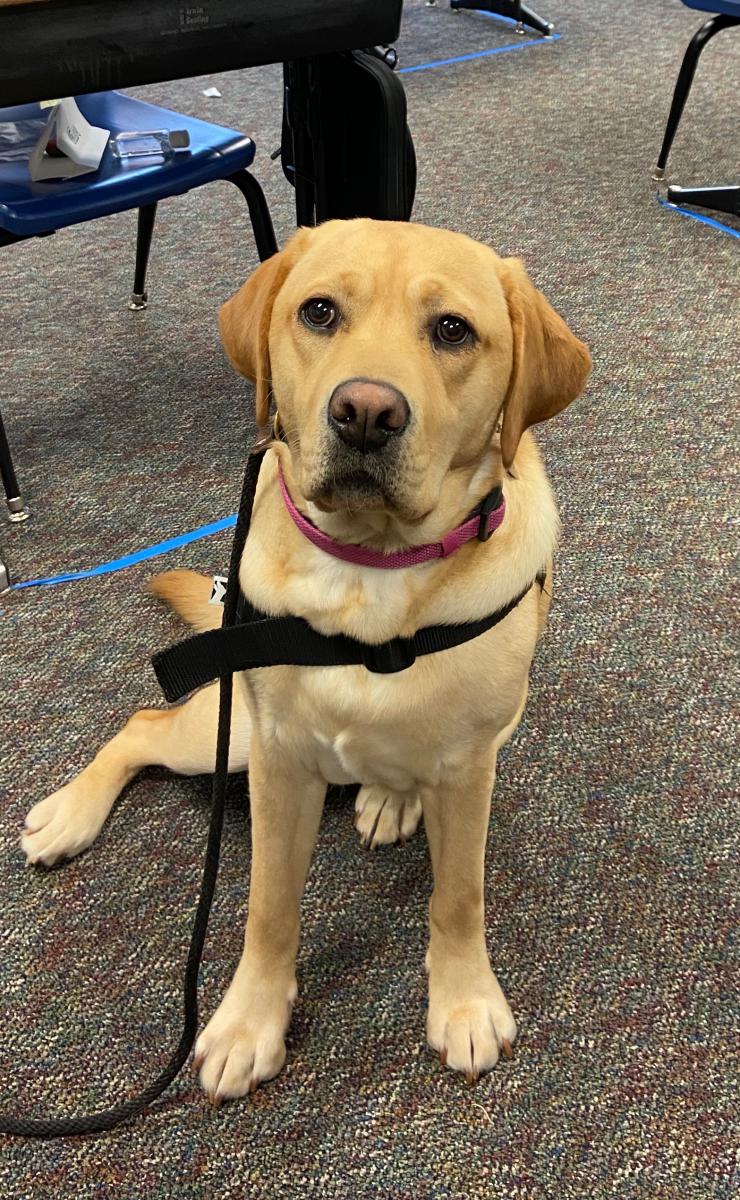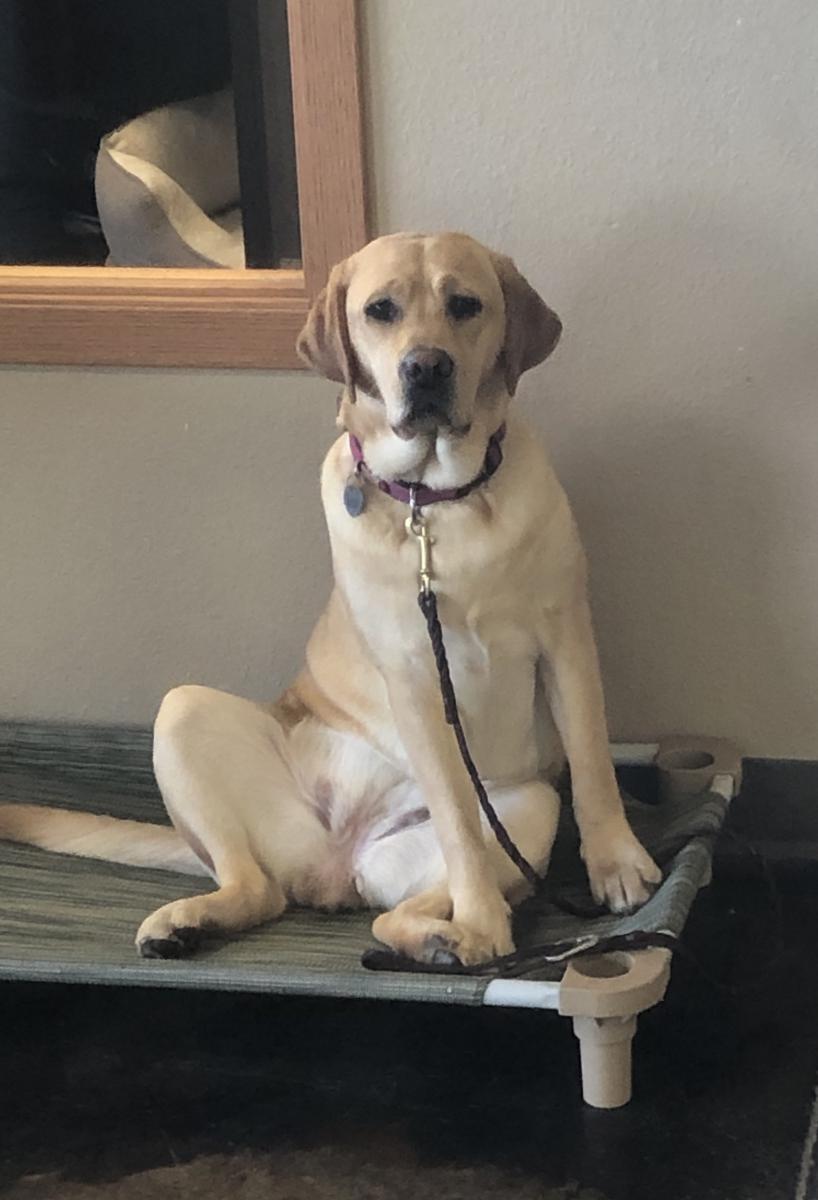 This month, I began transitioning into the second stage of my training journey! I have begun going to an elementary school with Mrs. Carignan. She teaches 4th grade and once per week, I'm able to go into her classroom and learn from her students, while they learn from me! I'm the perfect dog to enter a classroom program because of my super calm demeanor.
October 2020 - 14 months old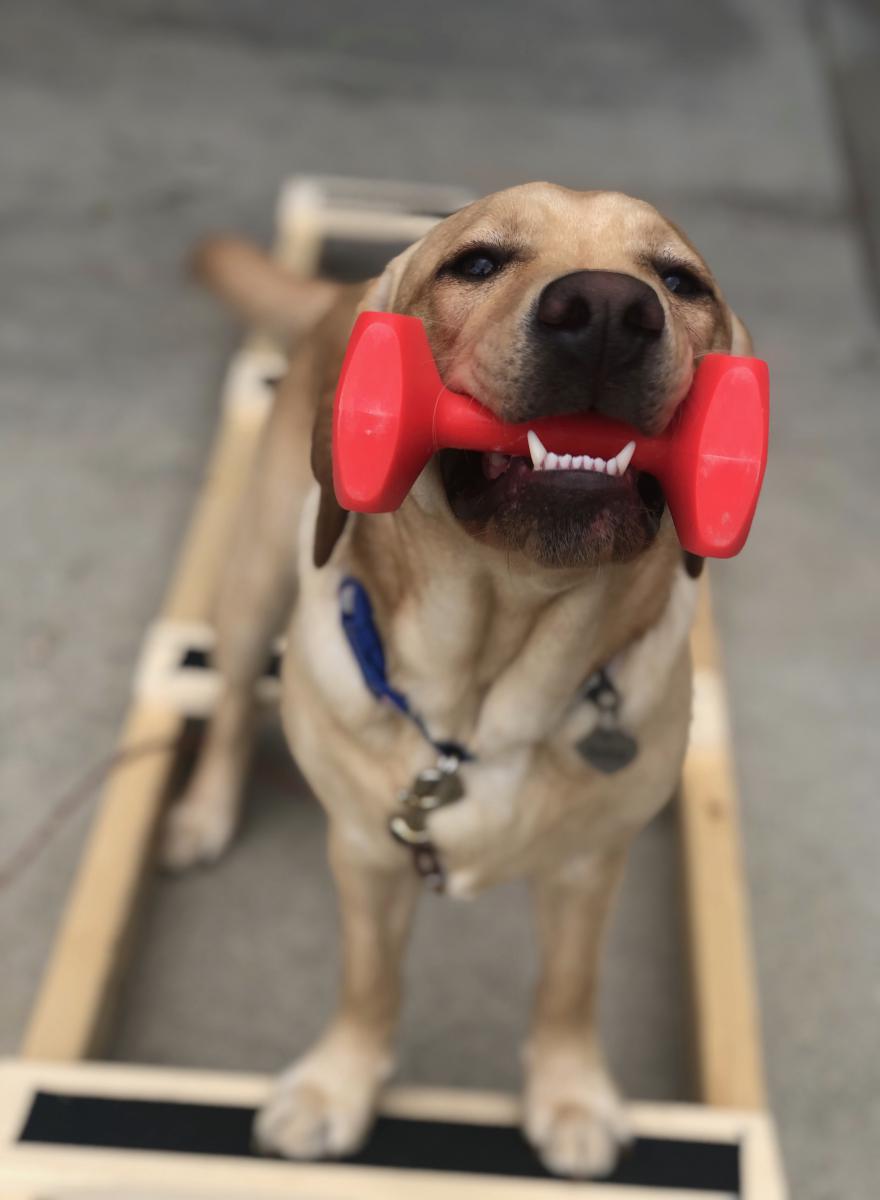 I've learned how to retrieve items and love doing so! My favorite thing to retrieve is this red dumbbell. I'm so proud to carry it around!
November 2020 - 15 months old
This month I tried something new: College! I spent a day at Wartburg College with a student handler, which allowed me to experience so many new sights and sounds. None of the loud noises I encountered bothered me at all! The only time I got distracted was walking outside and seeing all the squirrels run around campus. I just wanted to play with them!
December 2020 - 16 months old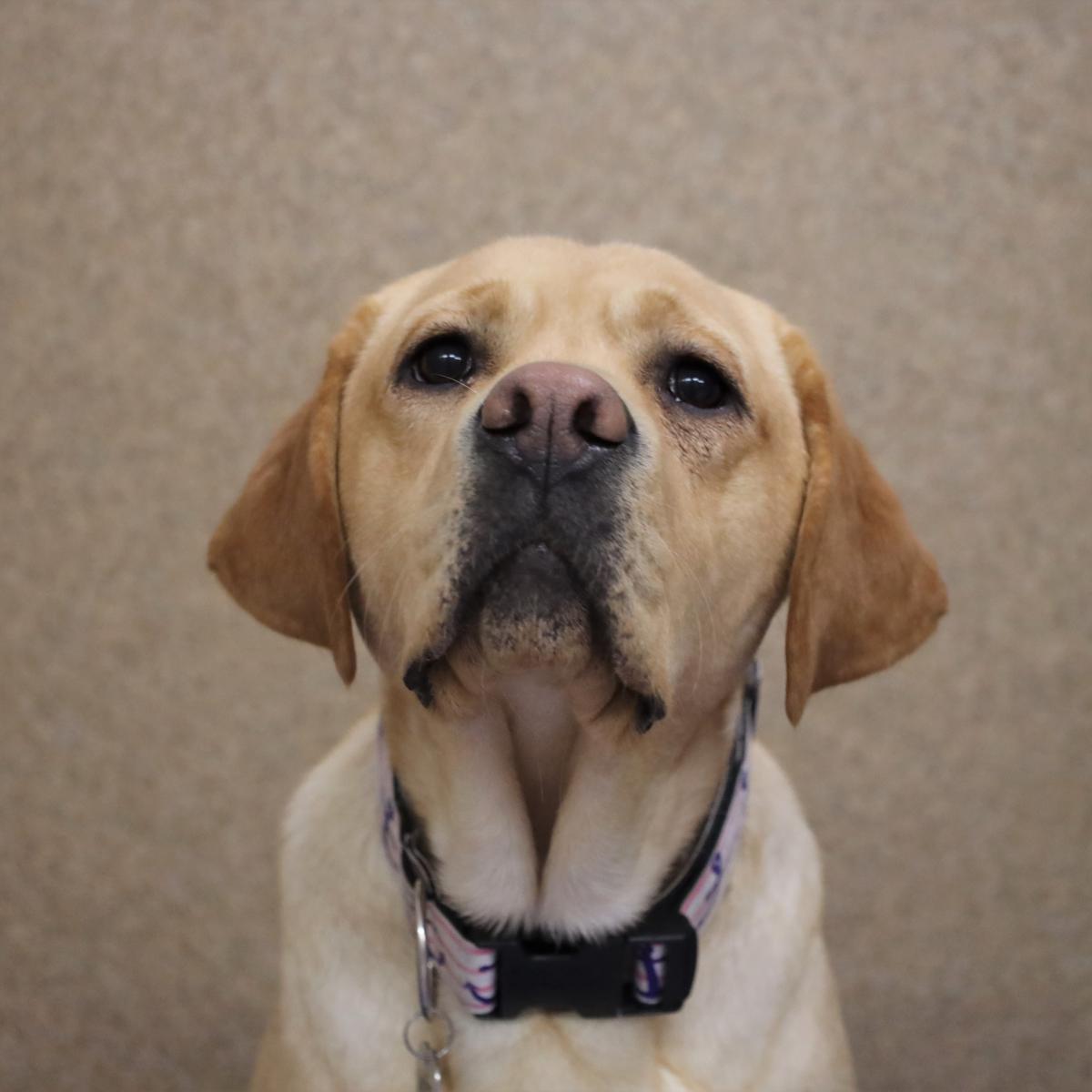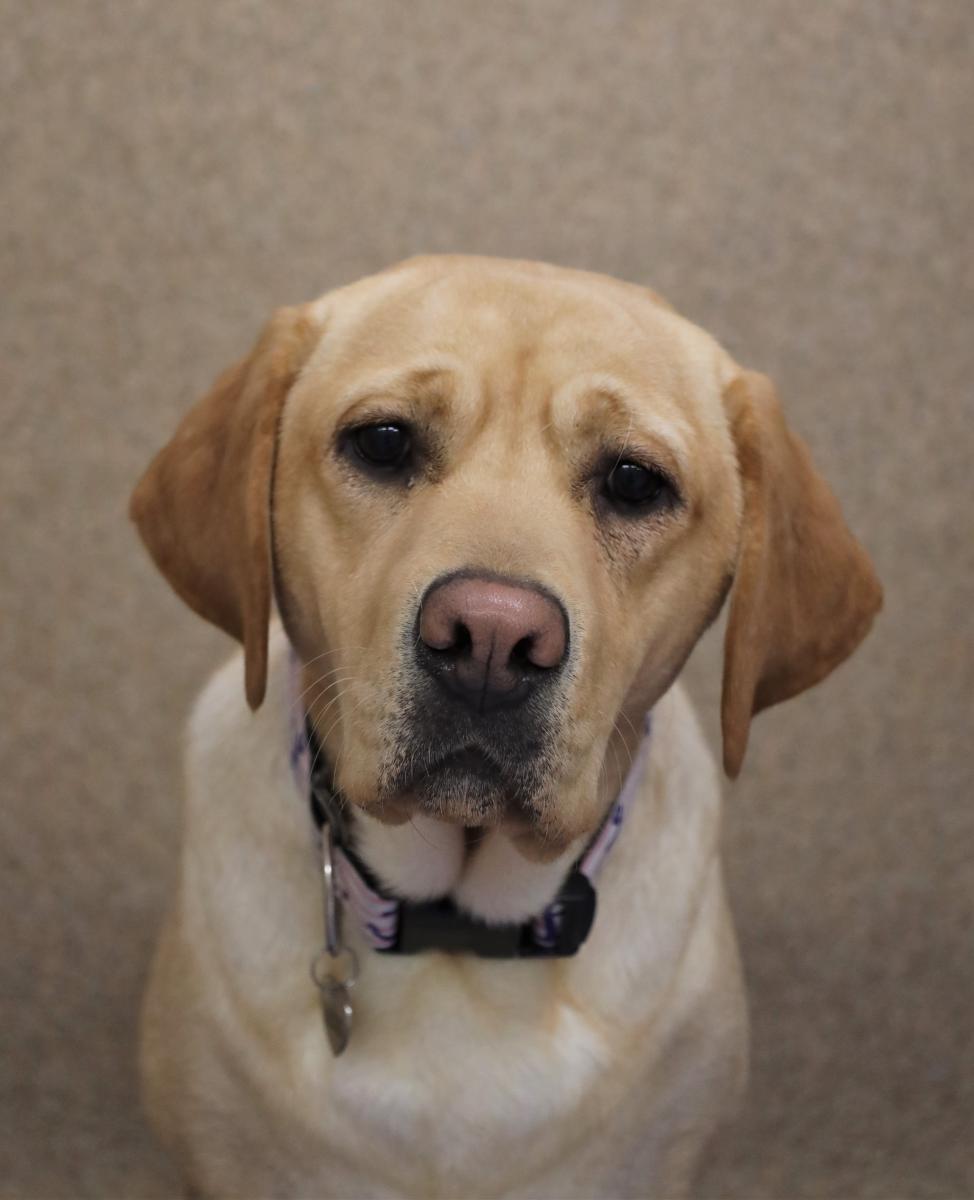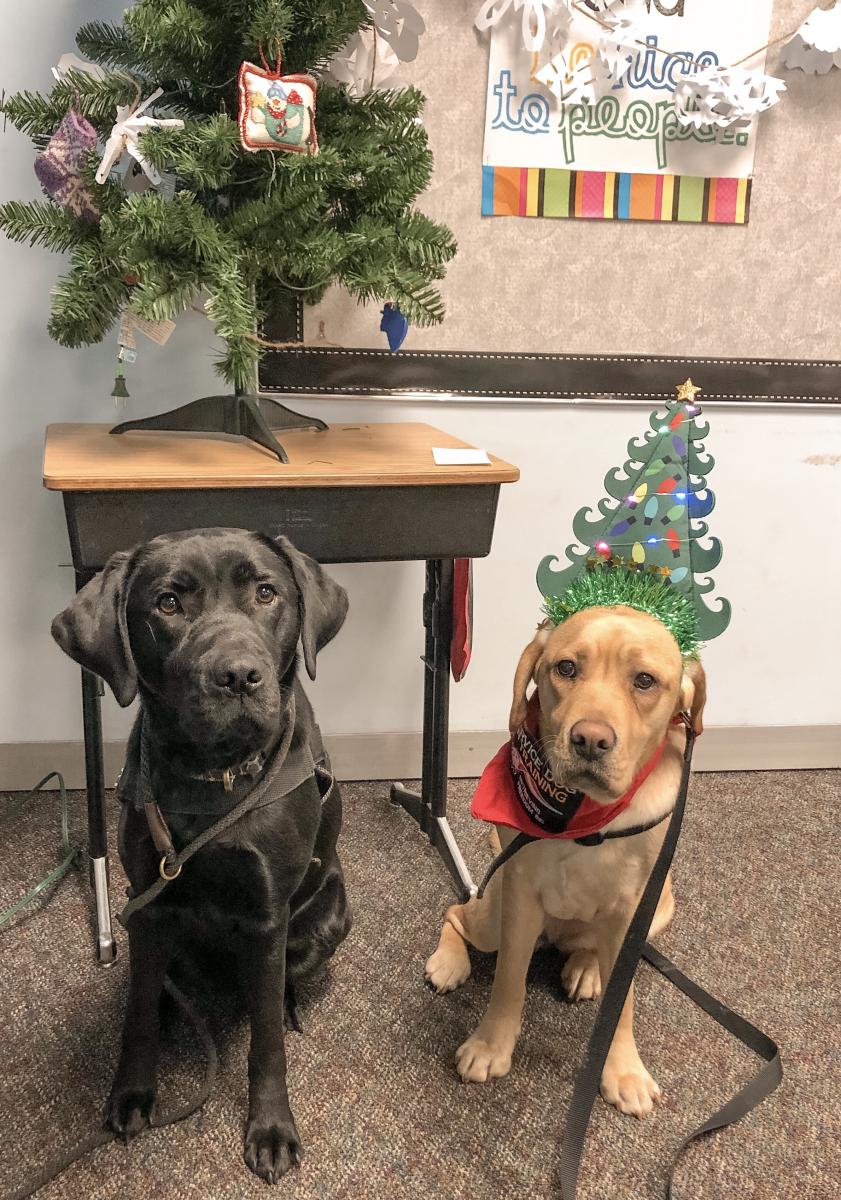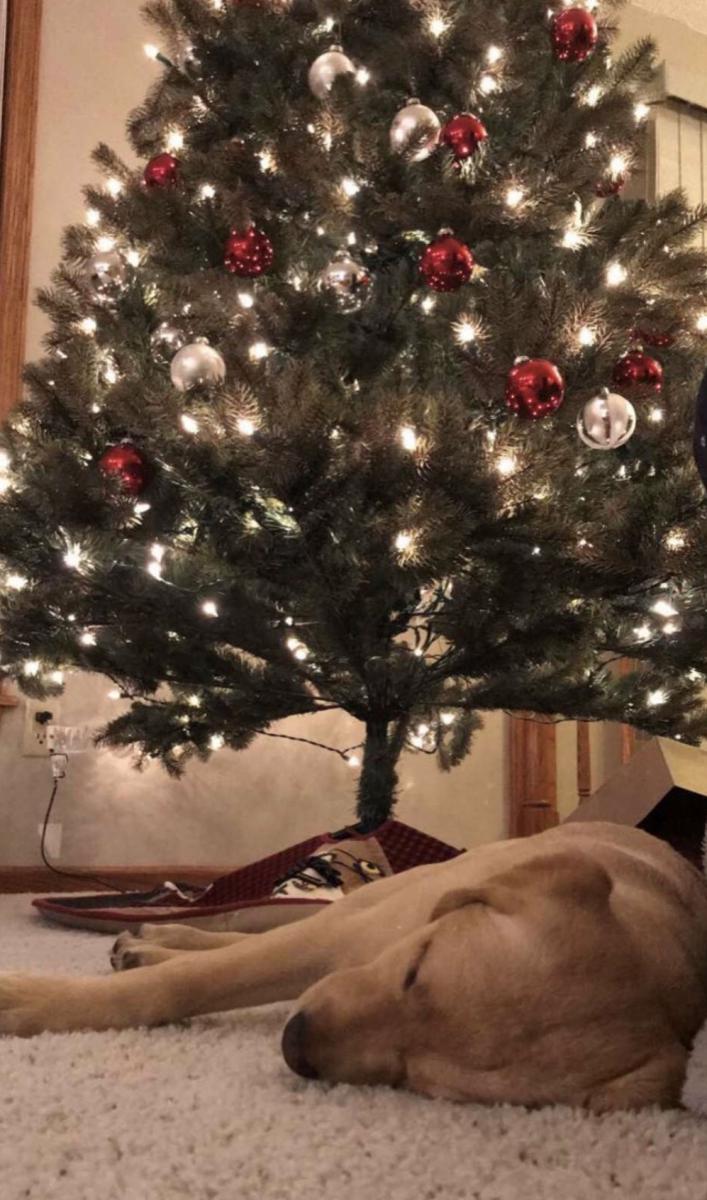 I am ready for the holidays! My teacher foster Mrs. C. put this silly Christmas tree hat on and I didn't move an inch. I am very tolerant of new things! I've been spending as much time with my foster Sara and my teacher foster Mrs. C. as possible, because next month I'll head into a new training program.
January 2021 - 17 months old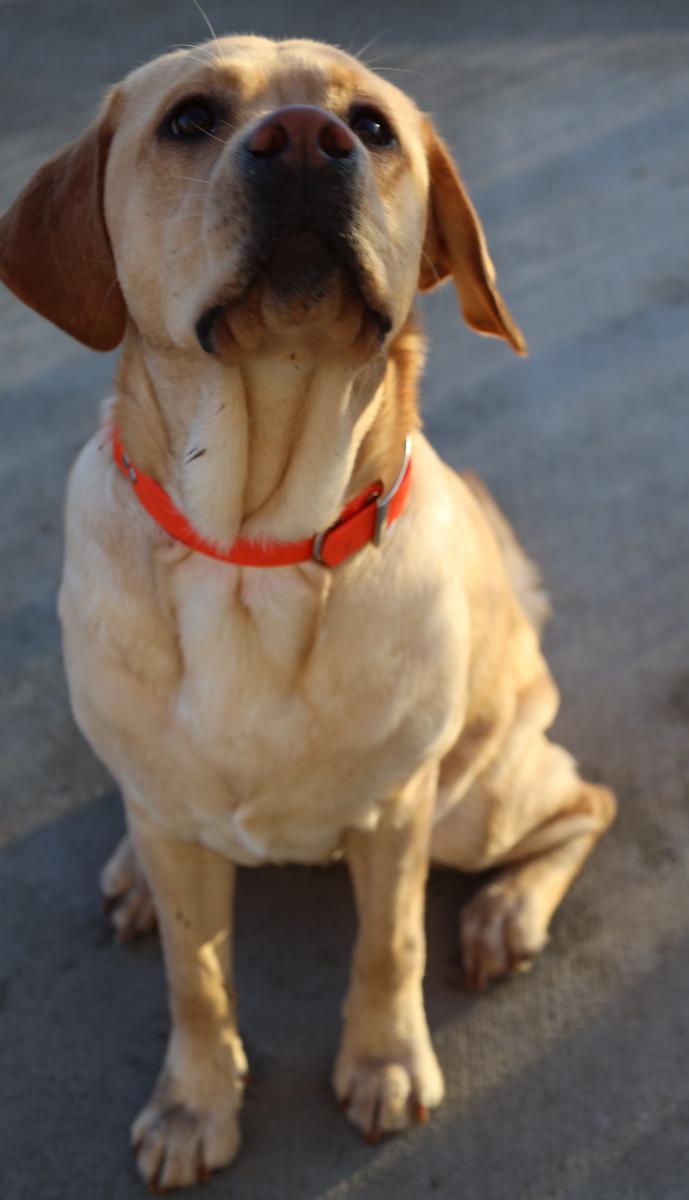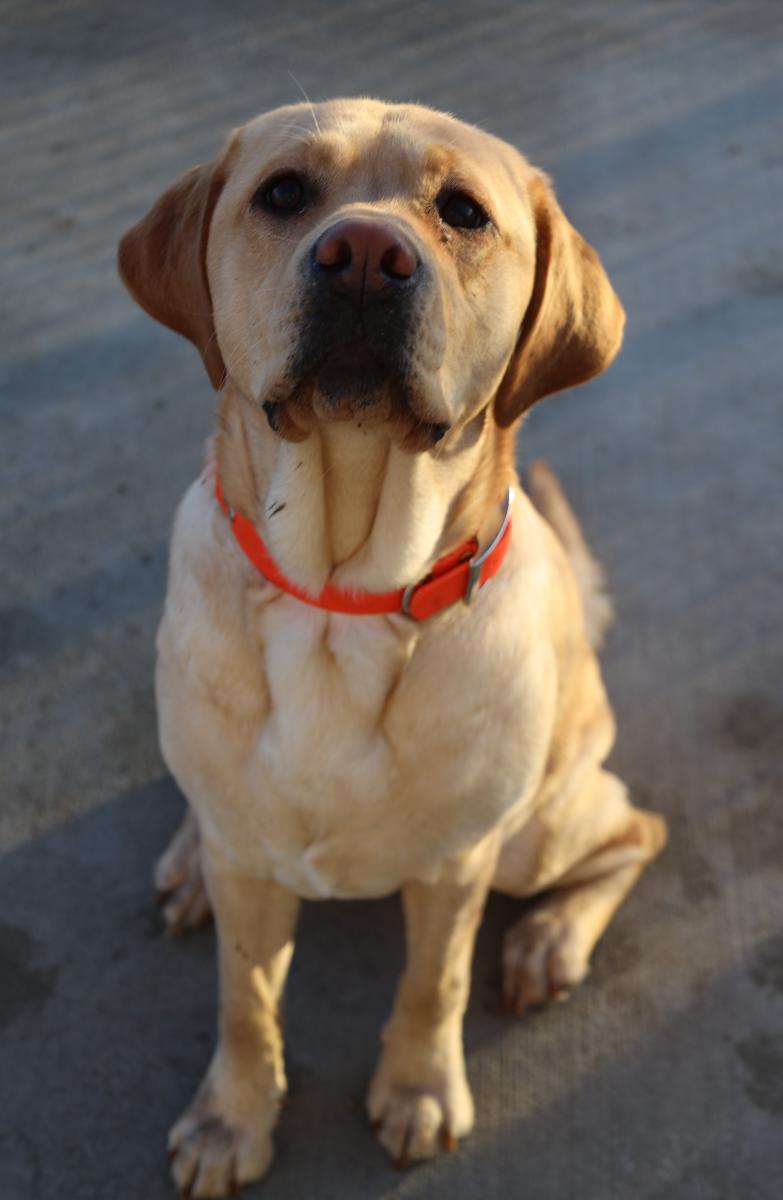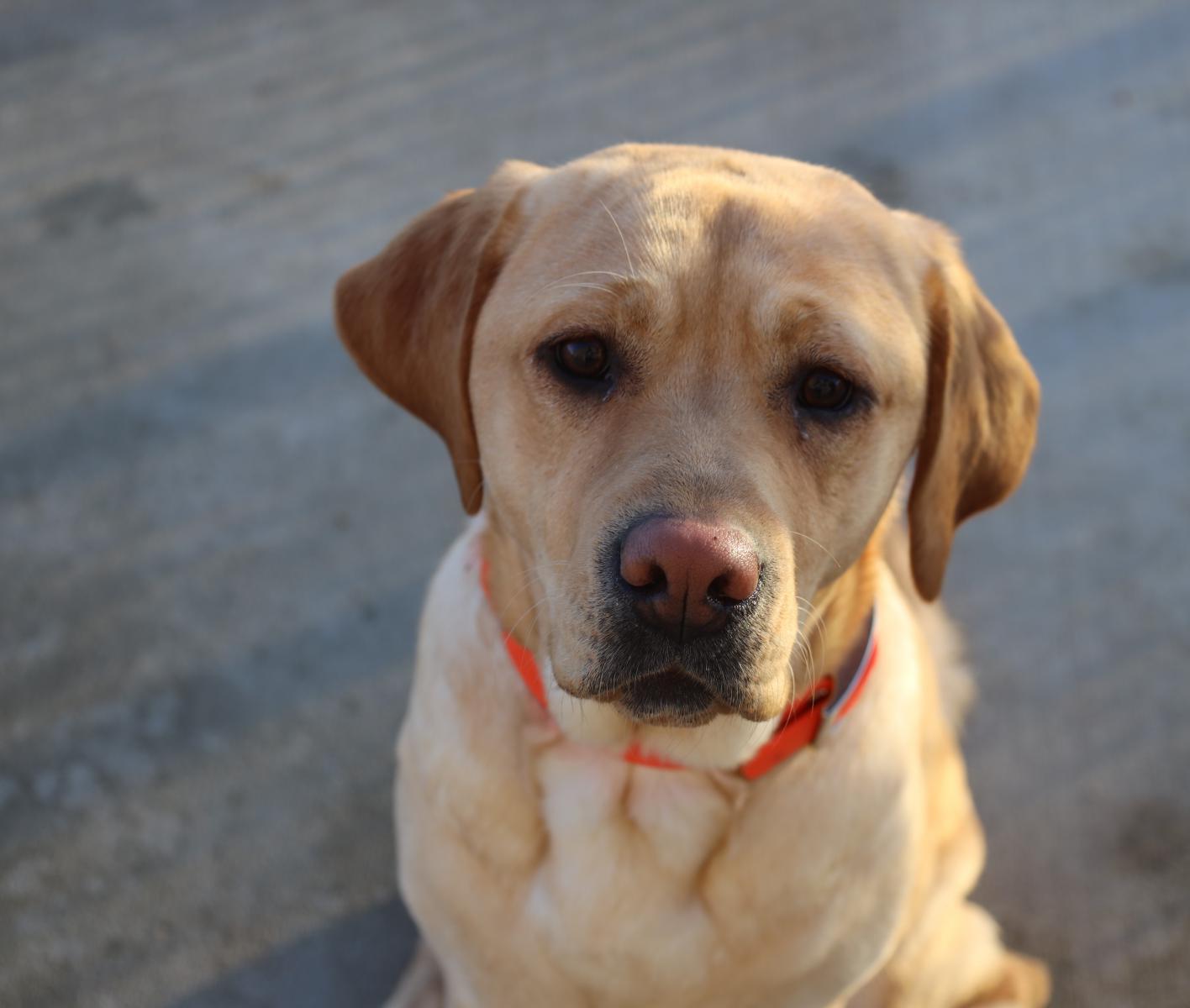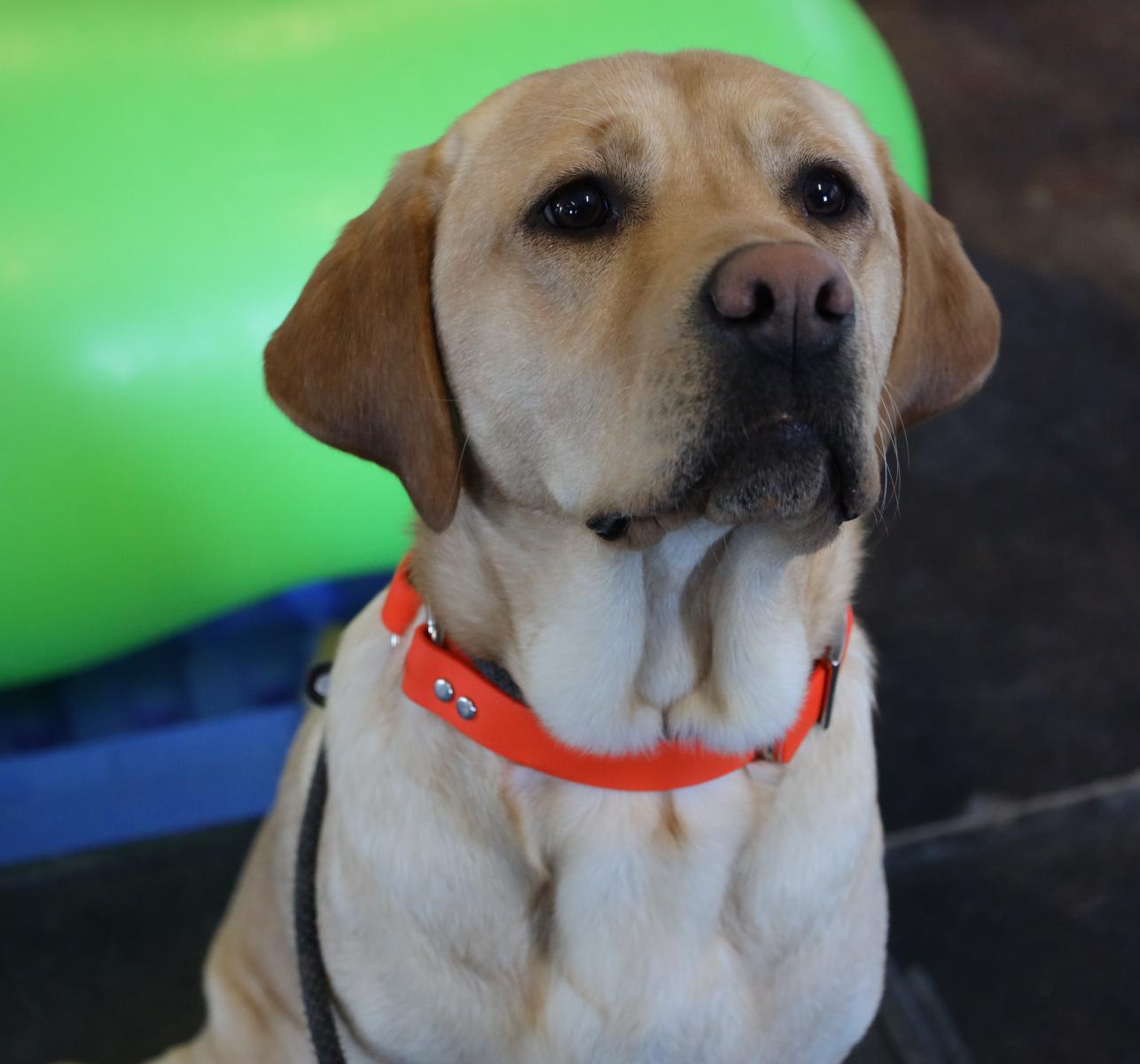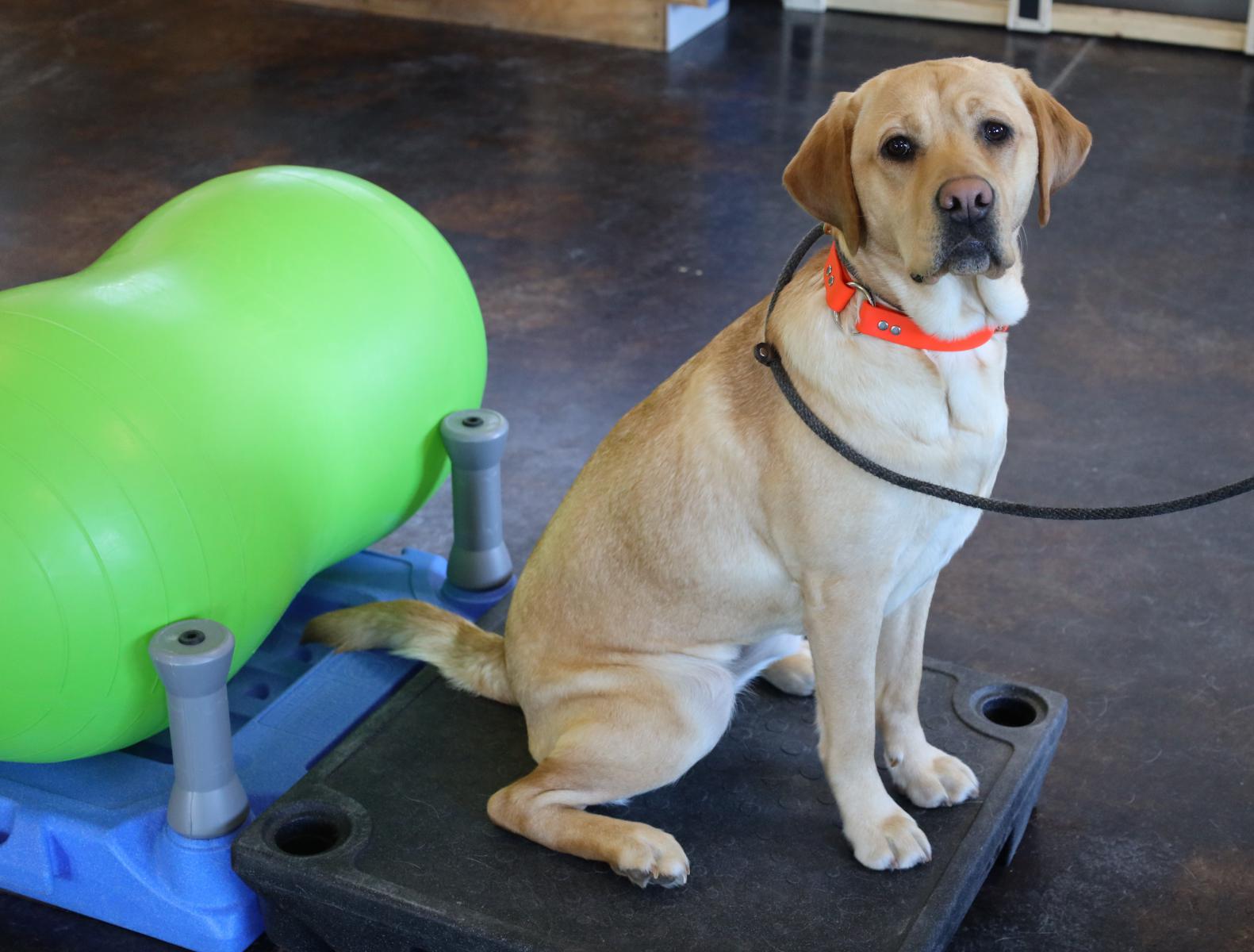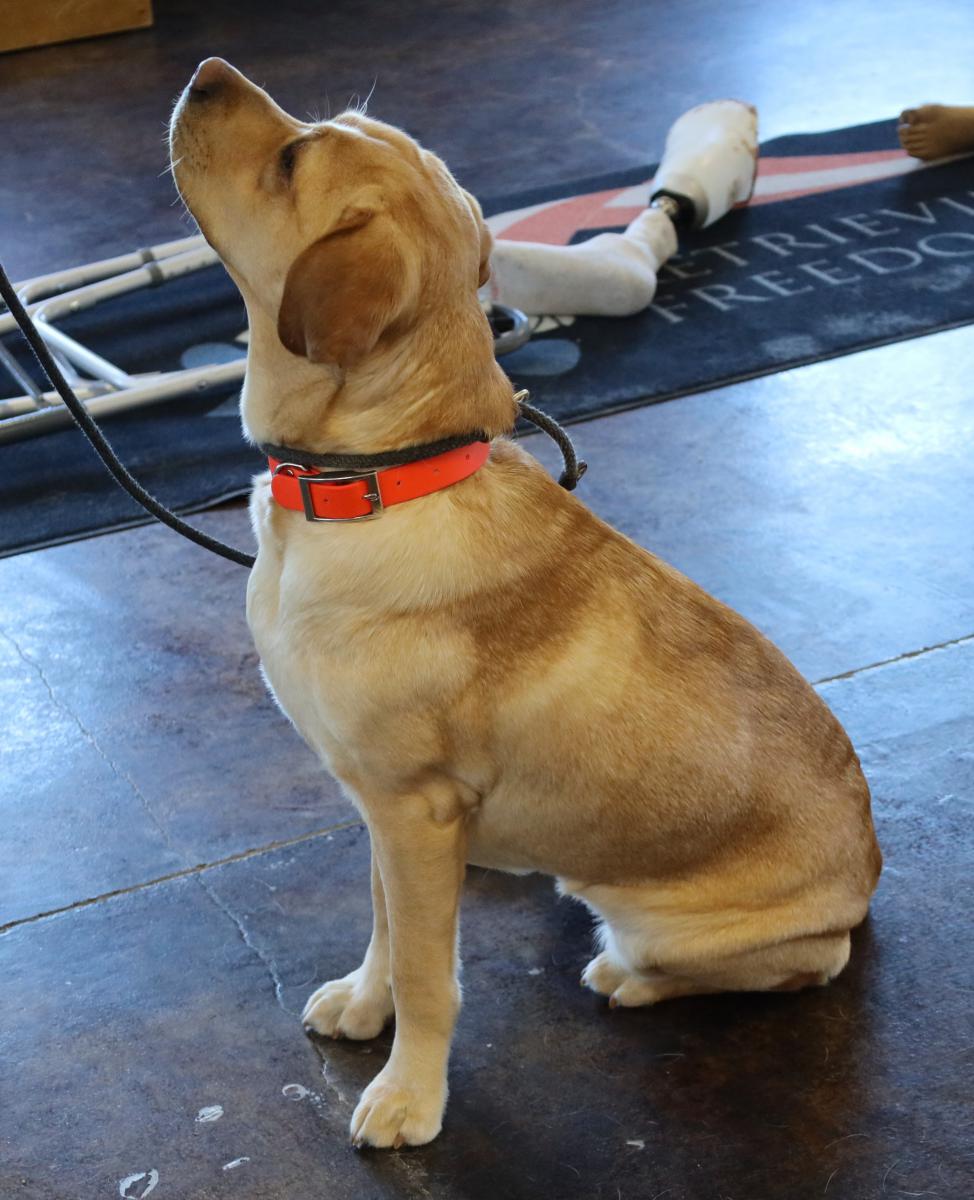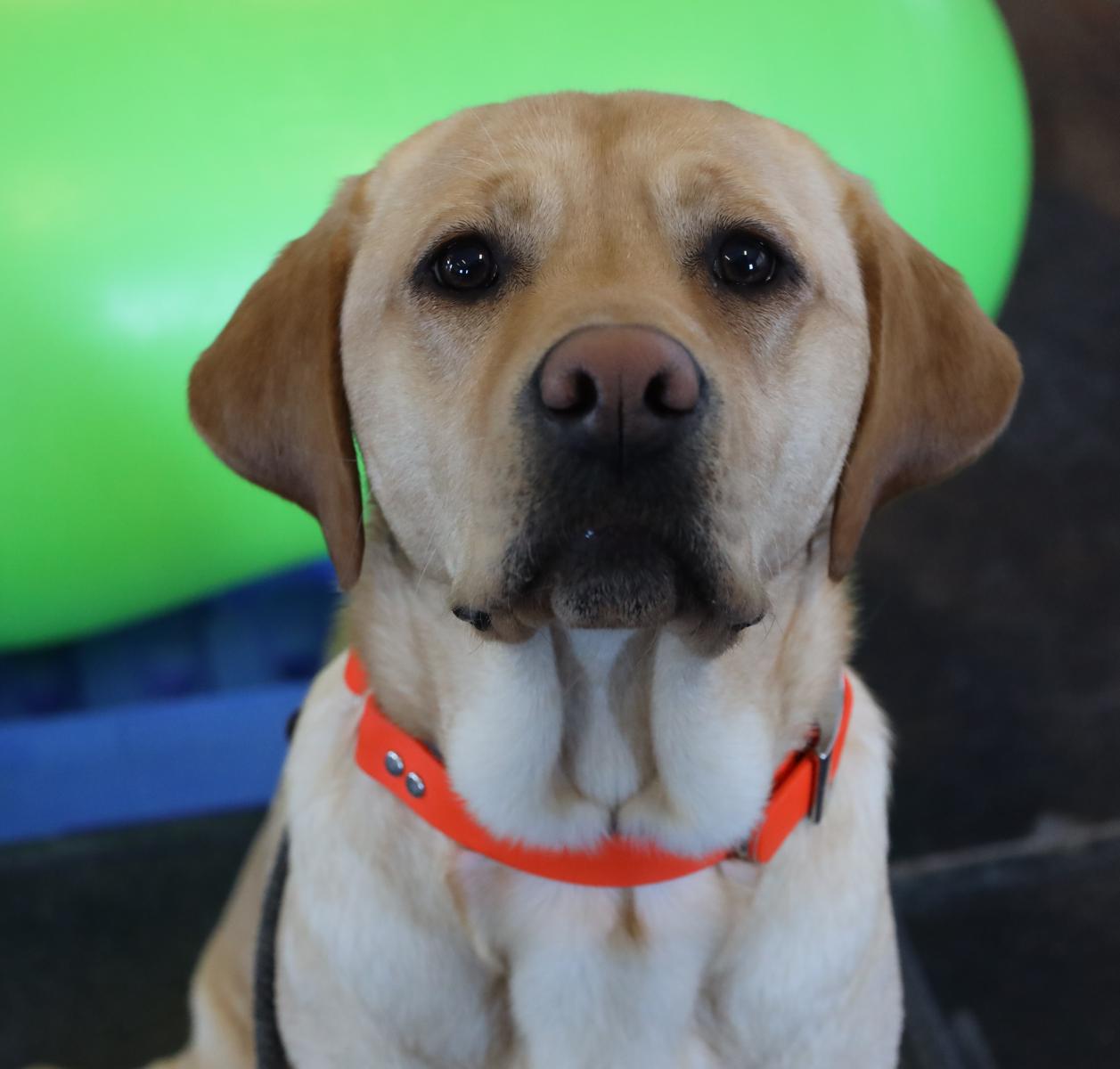 This month I had my final day in Mrs. C.'s classroom. It was tough to say "see ya later" to her and our students. I'm so thankful for their open hearts; they gave me a warm welcome me into their lives and taught me so much over the past 5 months! Now it's time I head to Iowa State University to work with a student handler.
February 2021 - 18 months old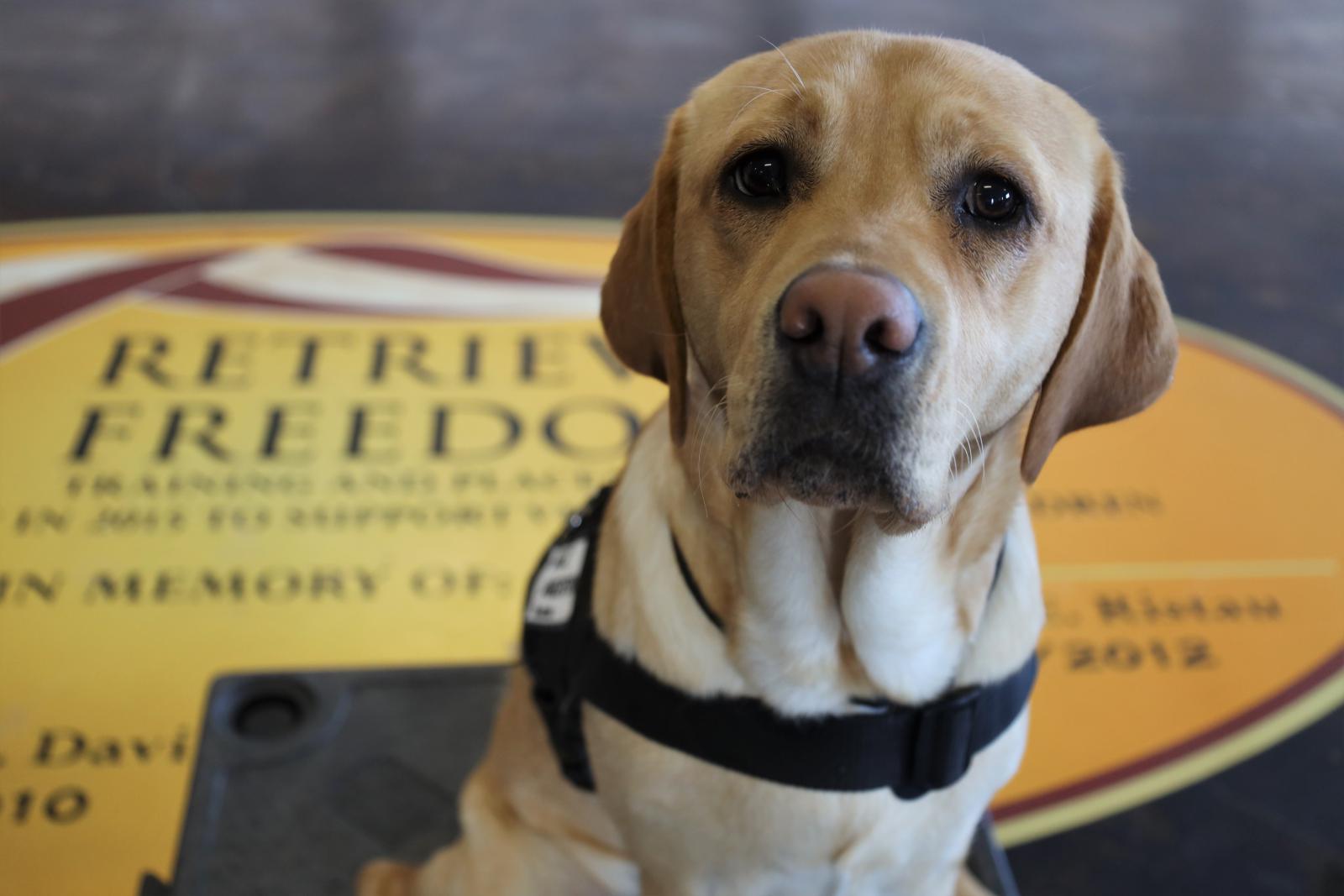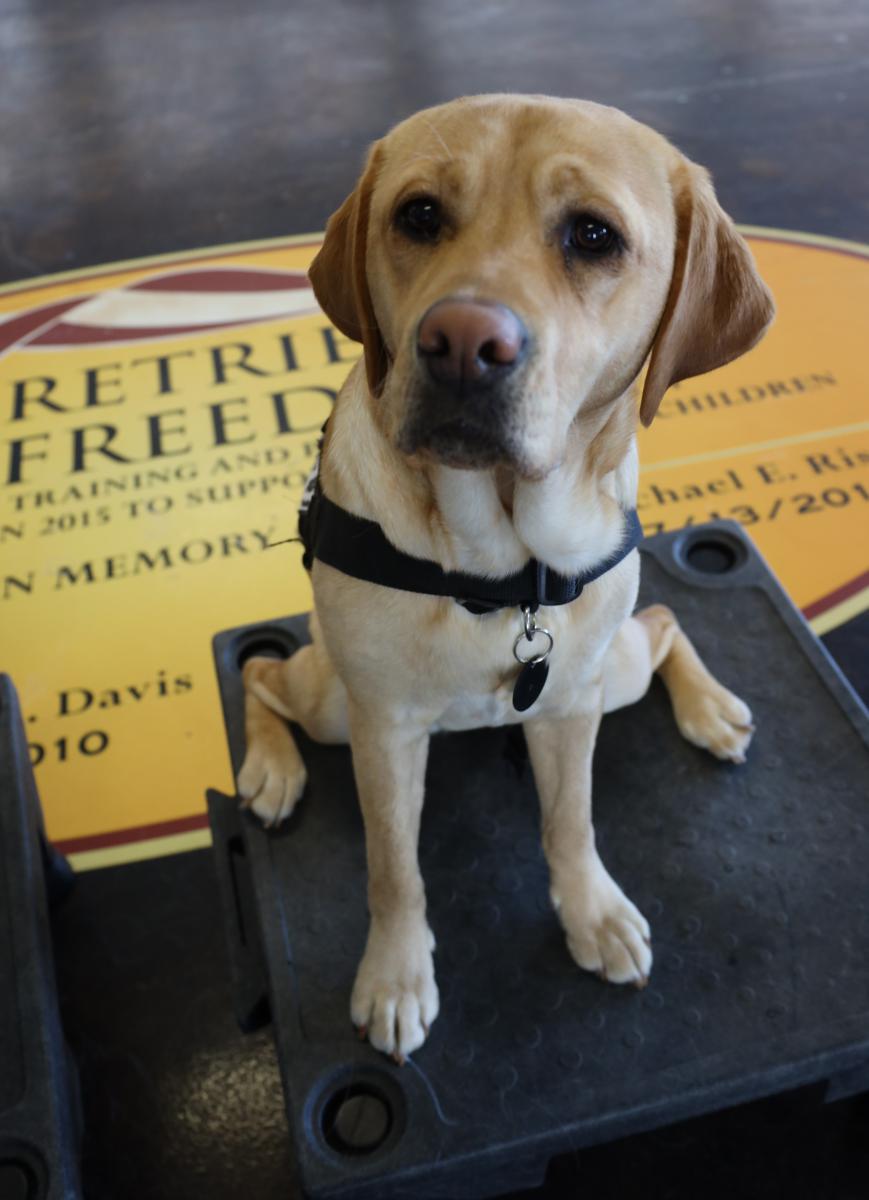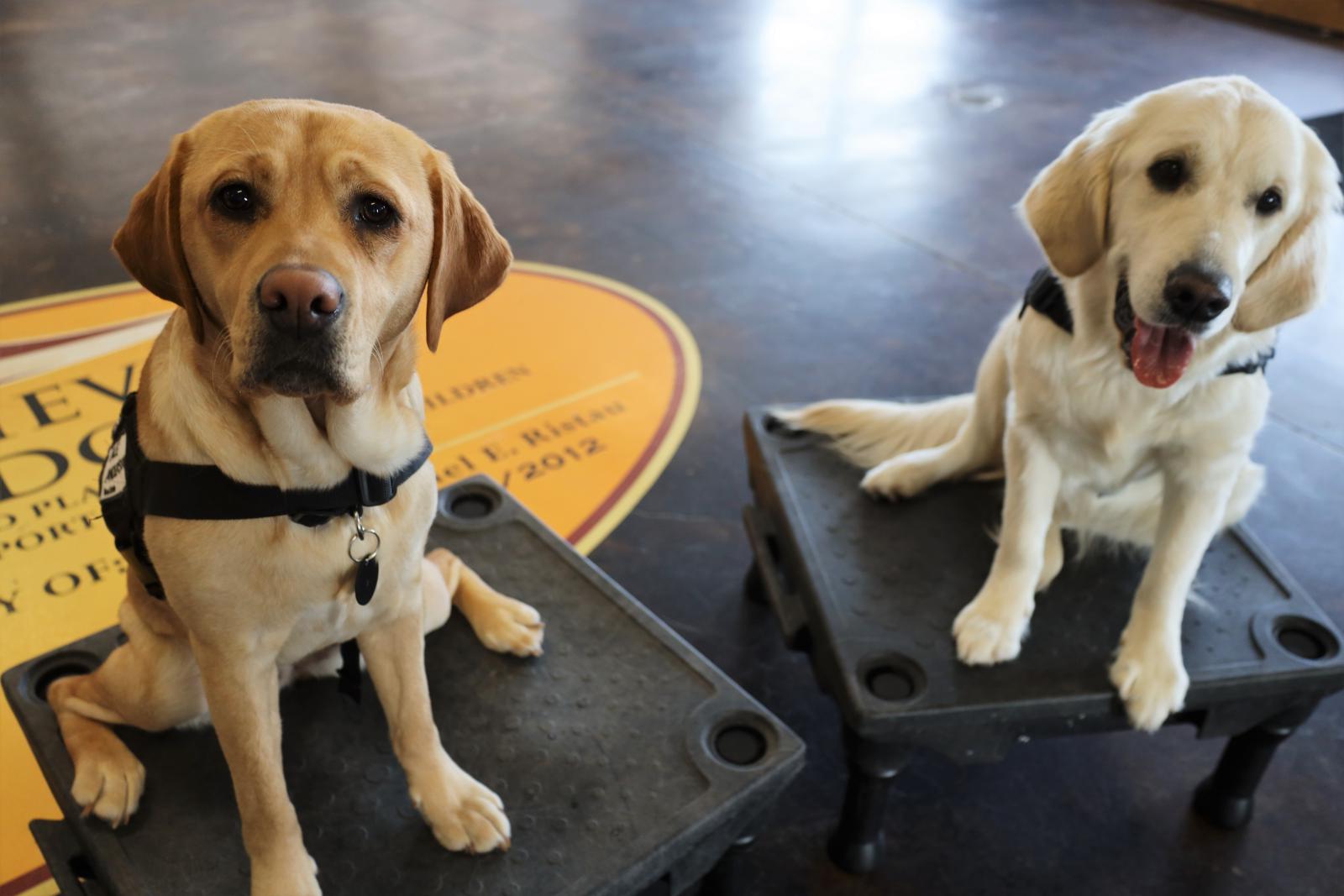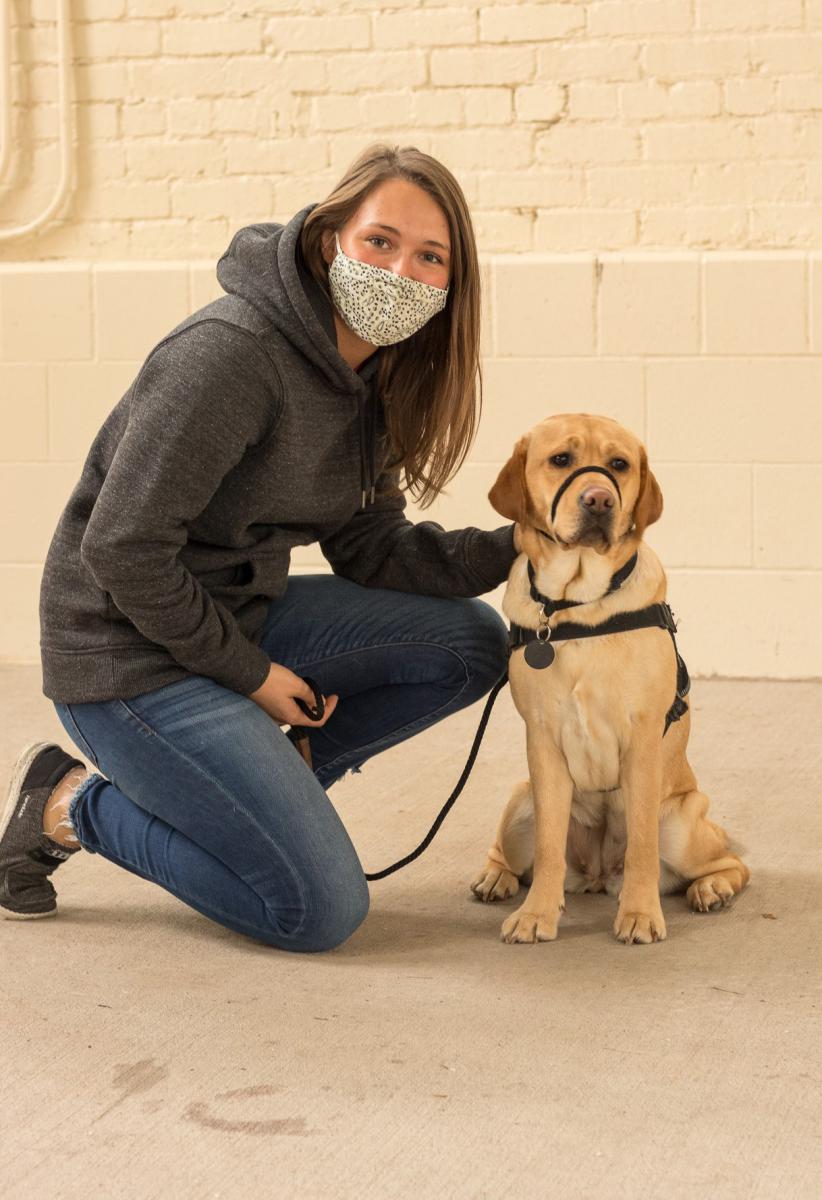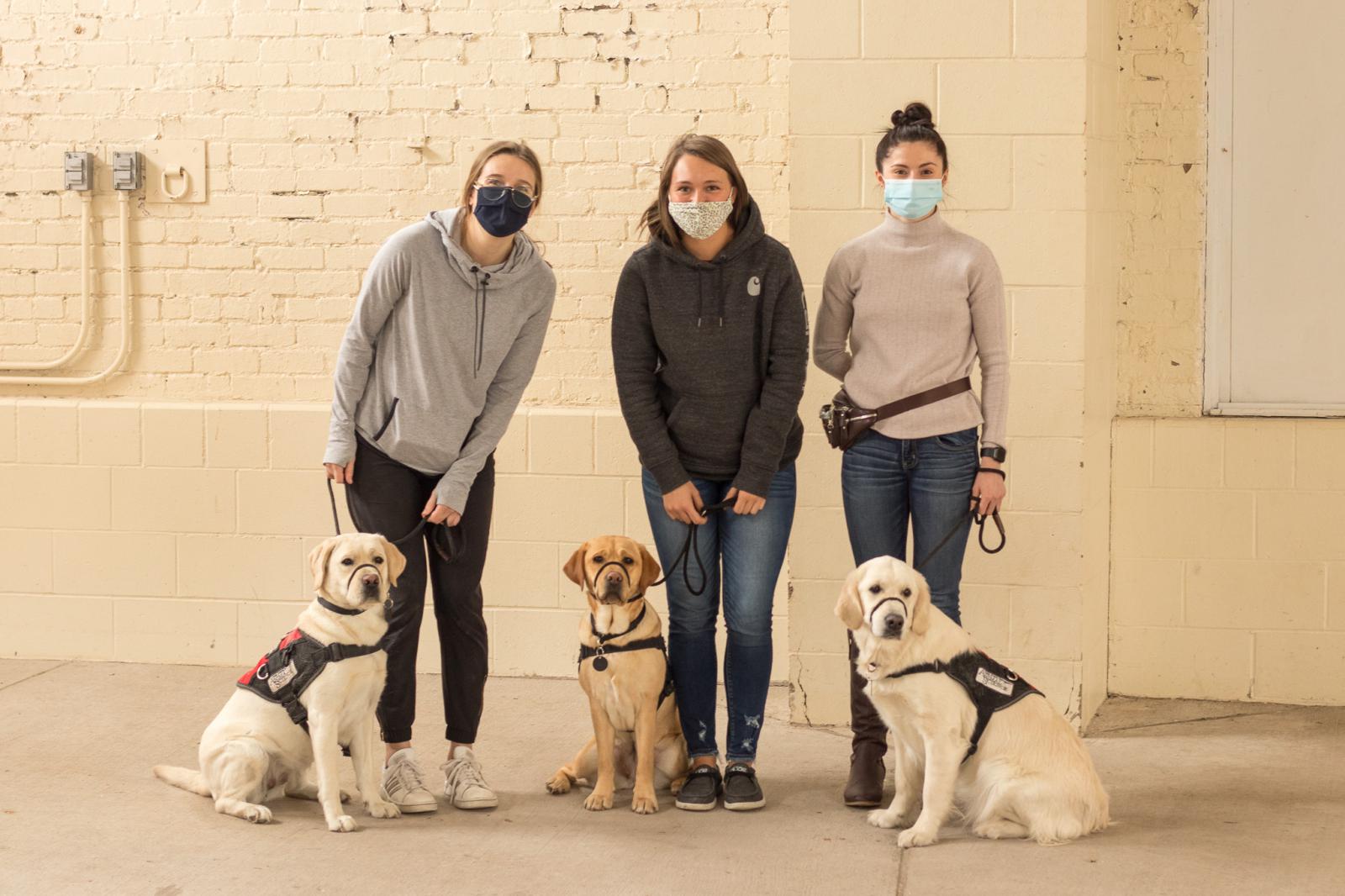 I made a big transition this month - I had to say a tough "see ya later" to my incredible foster Sara. I can't thank her enough for all the effort and love she's put into my training since I was a puppy. I'll miss her so much and can't wait to see her again someday! For now, I'll be spending the next few months with a student handler named Michaela at Iowa State University in the Animal Science program. I'm excited to see what we can accomplish together and how we can advance my training with new experiences!
March 2021 - 19 months old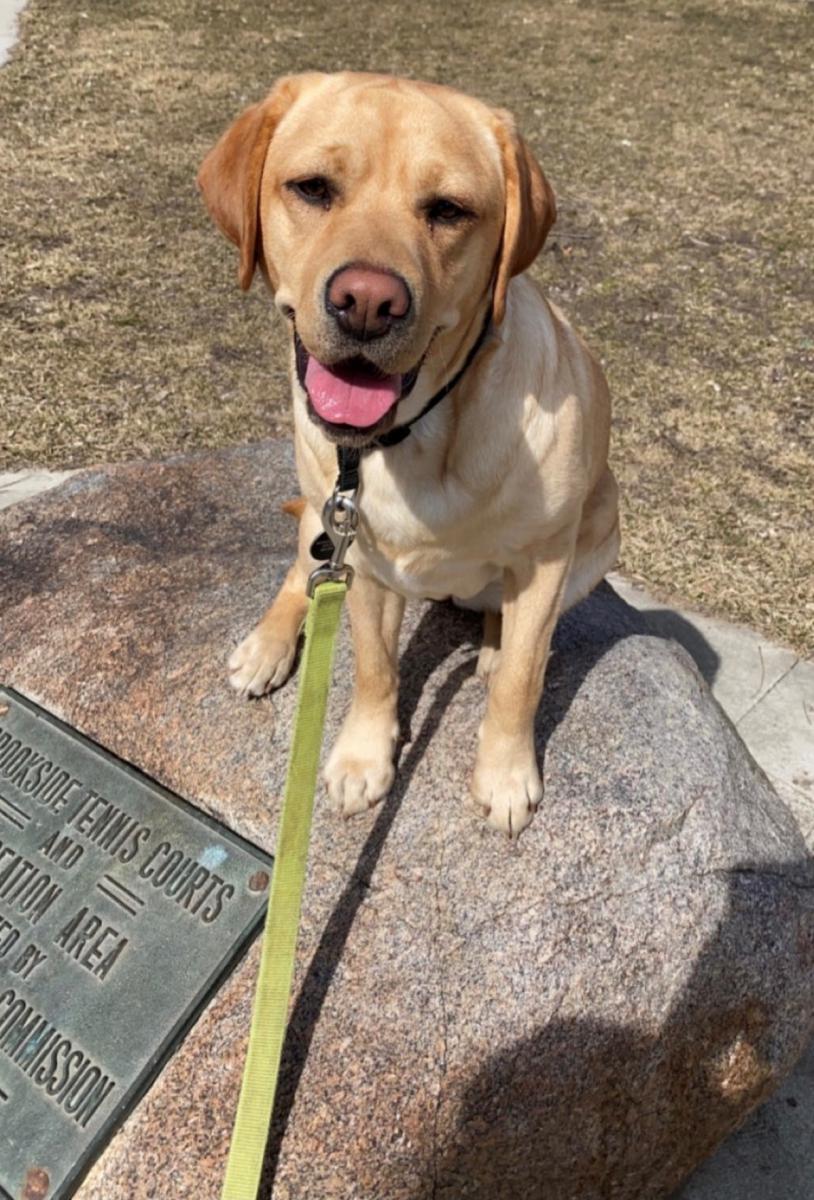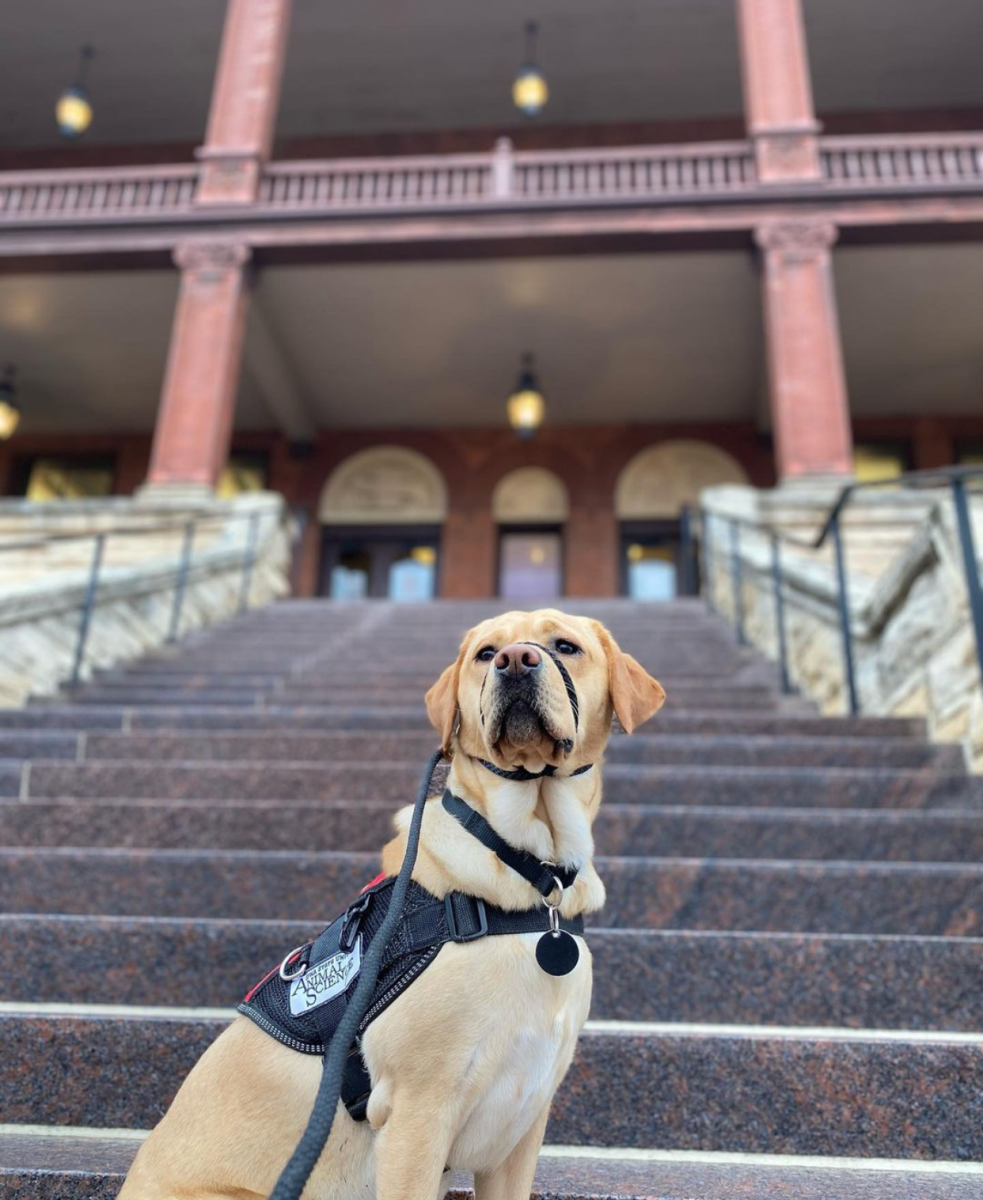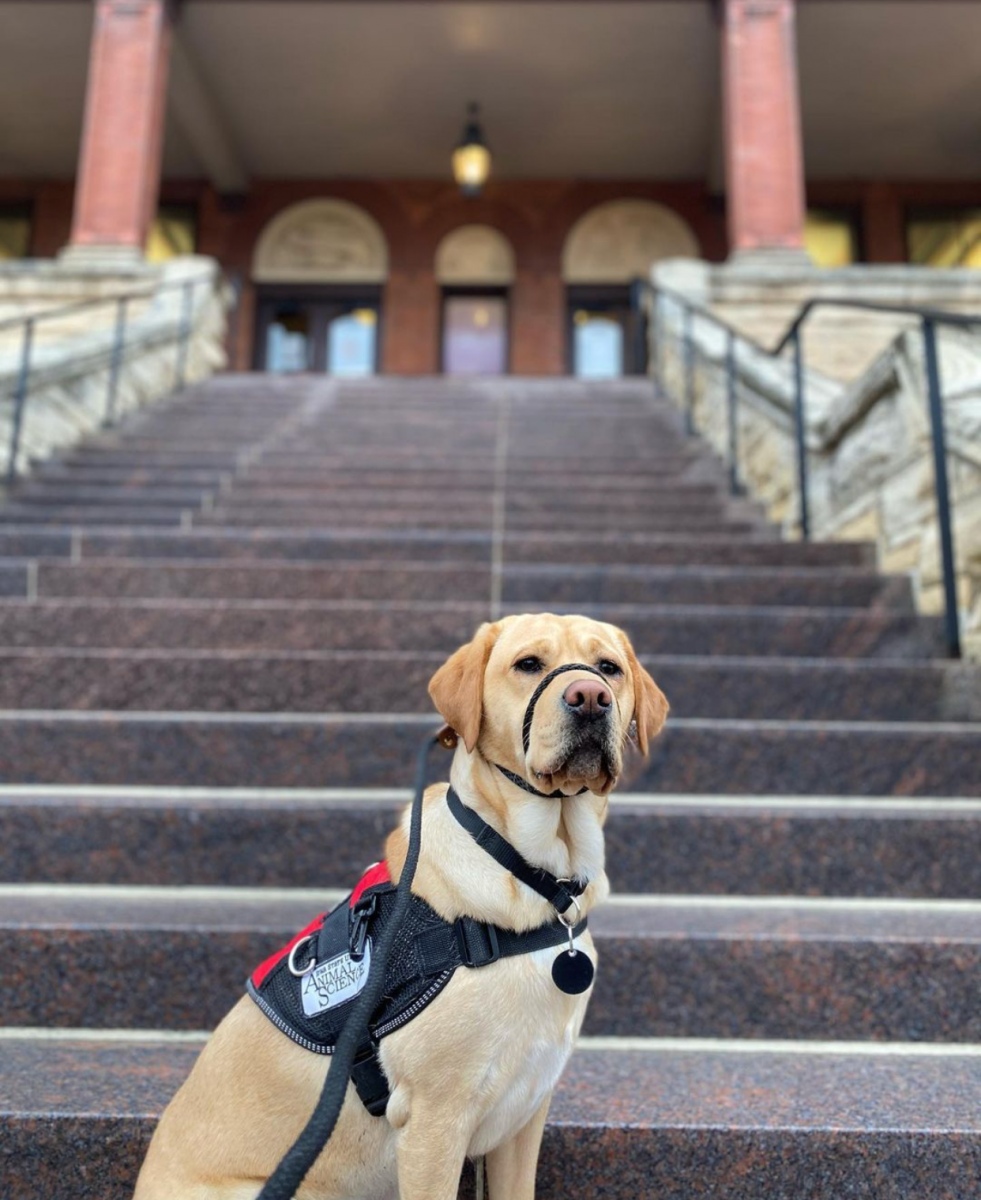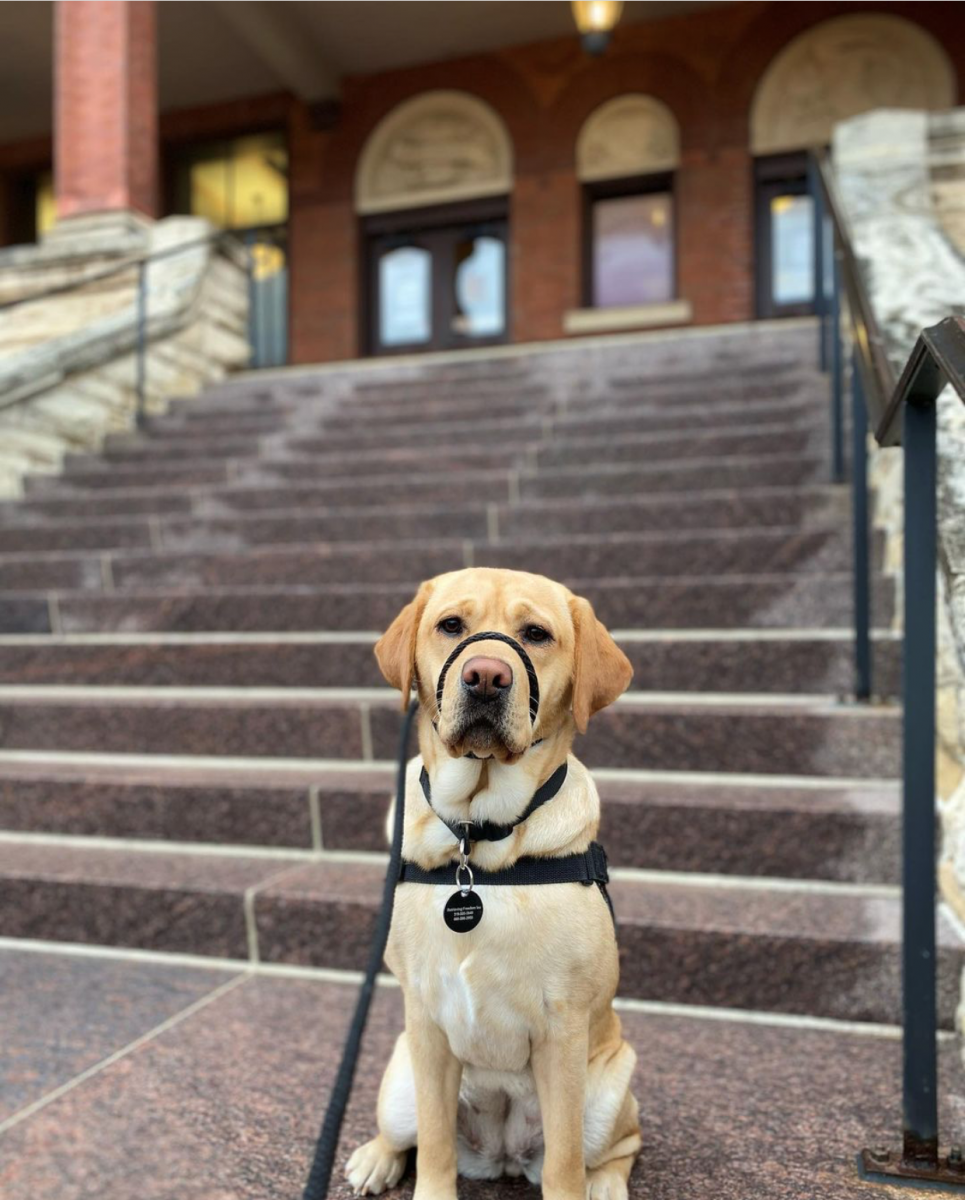 Michaela and I have been enjoying the sun by going for longer walks and taking advantage of photo opportunities on campus!
April 2021 - 20 months old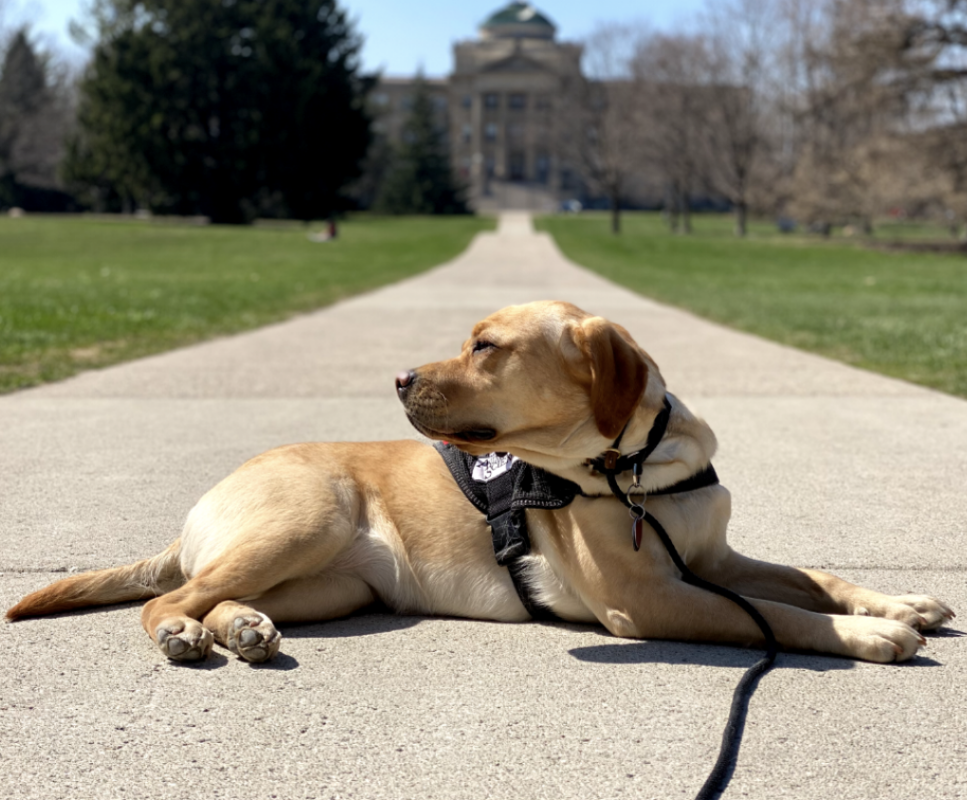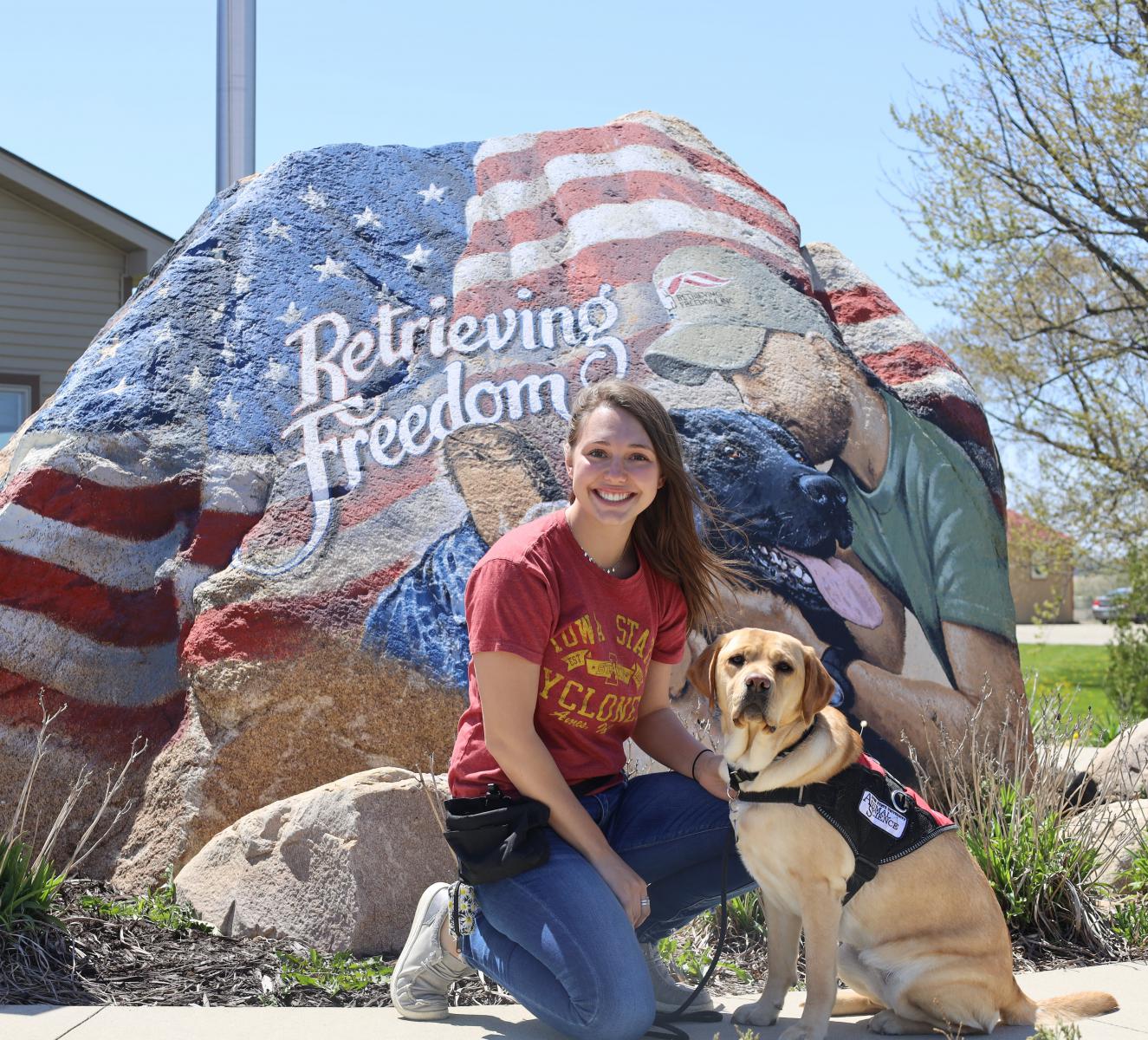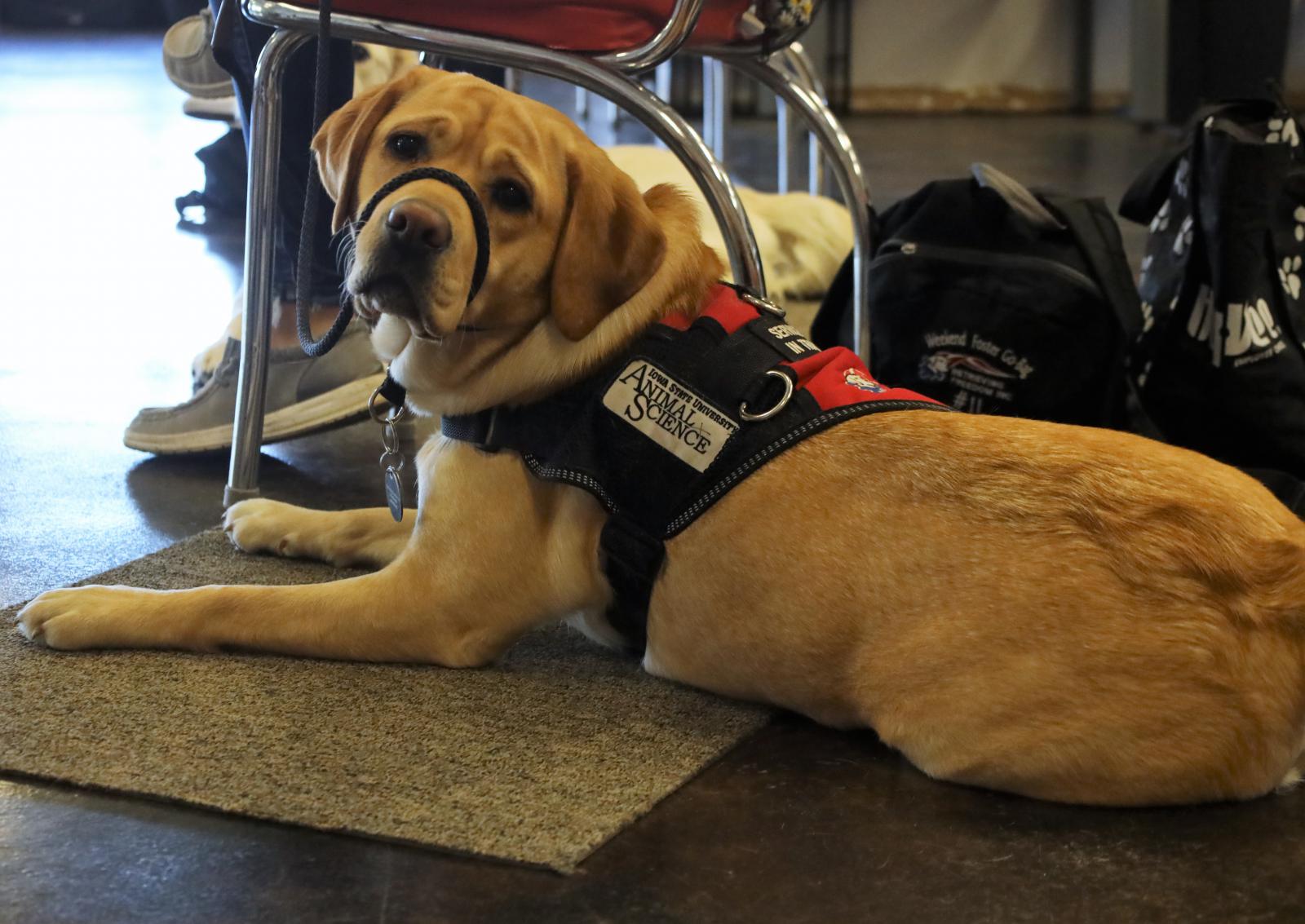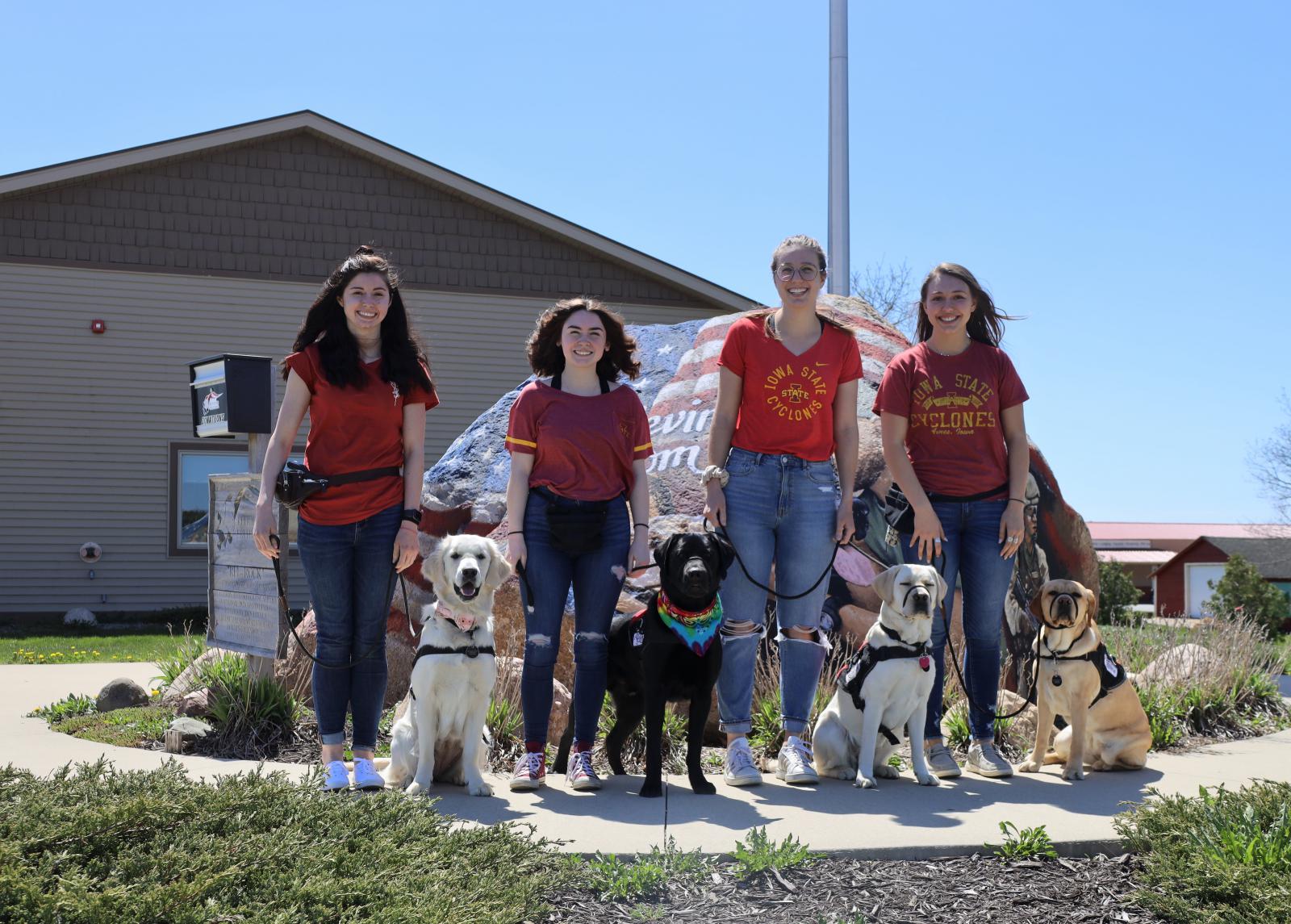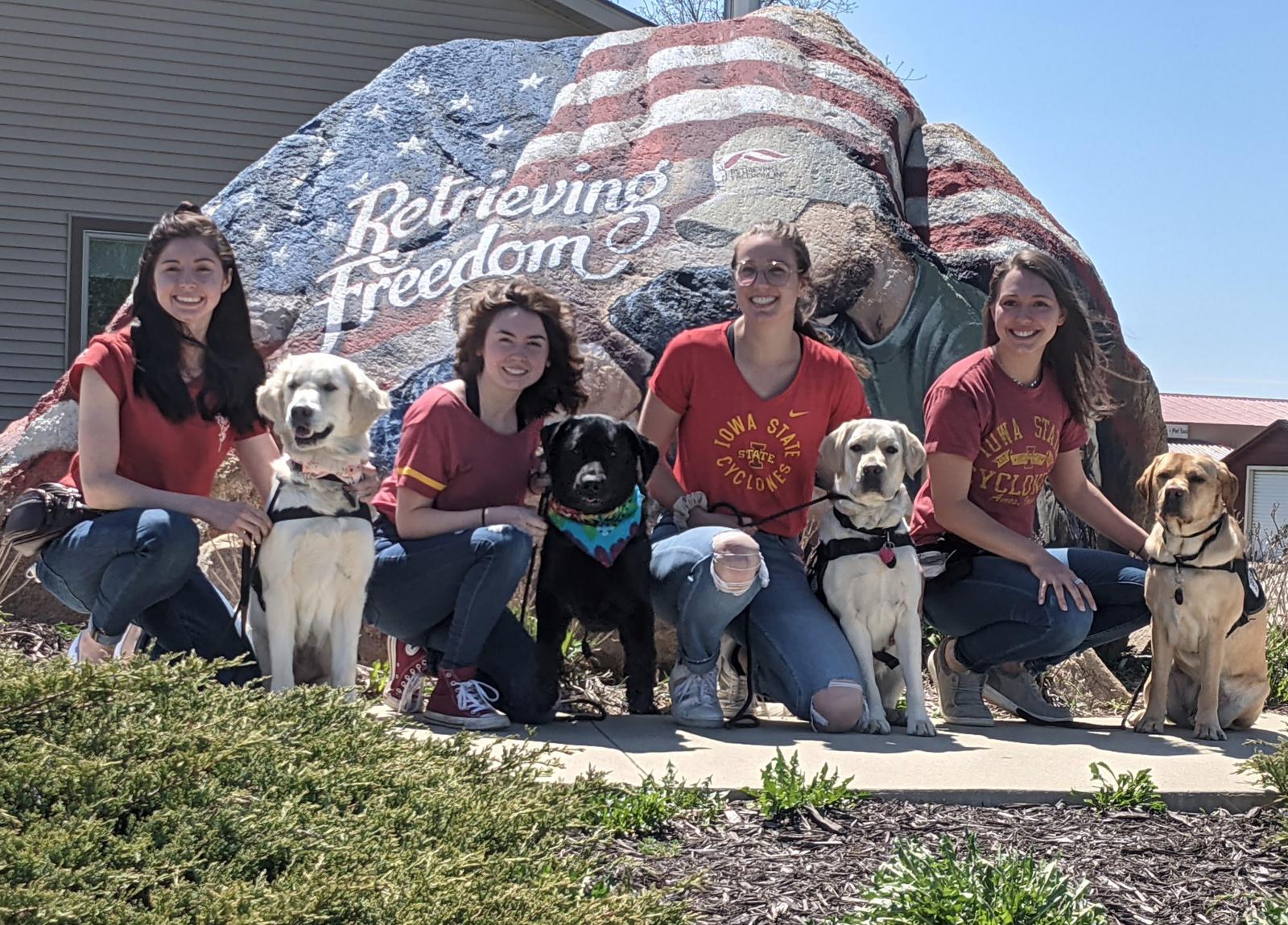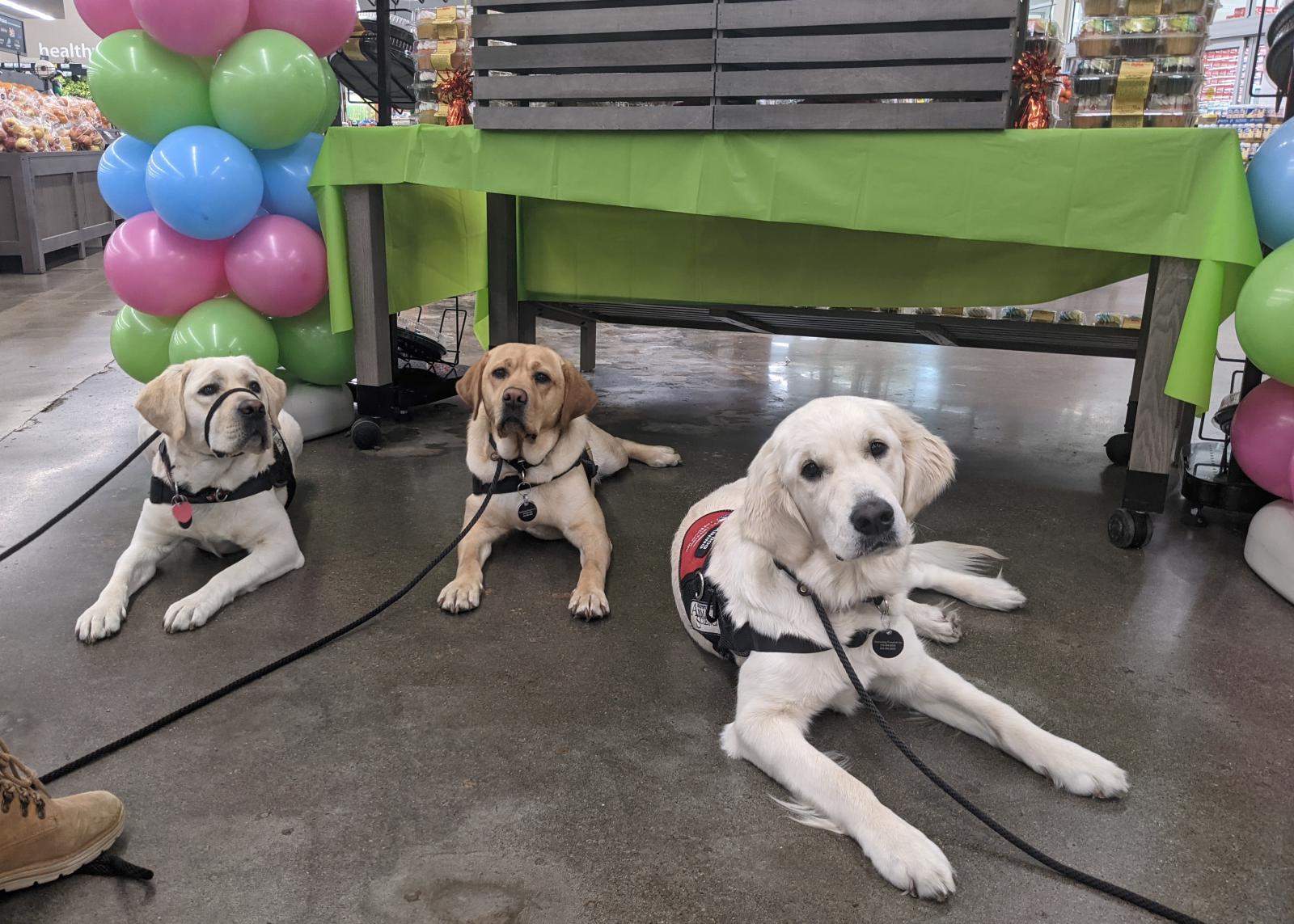 I've enjoyed my time on campus with Michaela, but sadly that time has come to an end. I'm so thankful for all she's taught me and provided to me over the last few months! I wish her luck on with her upcoming graduation and hope to see her again someday.
May 2021 - 21 months old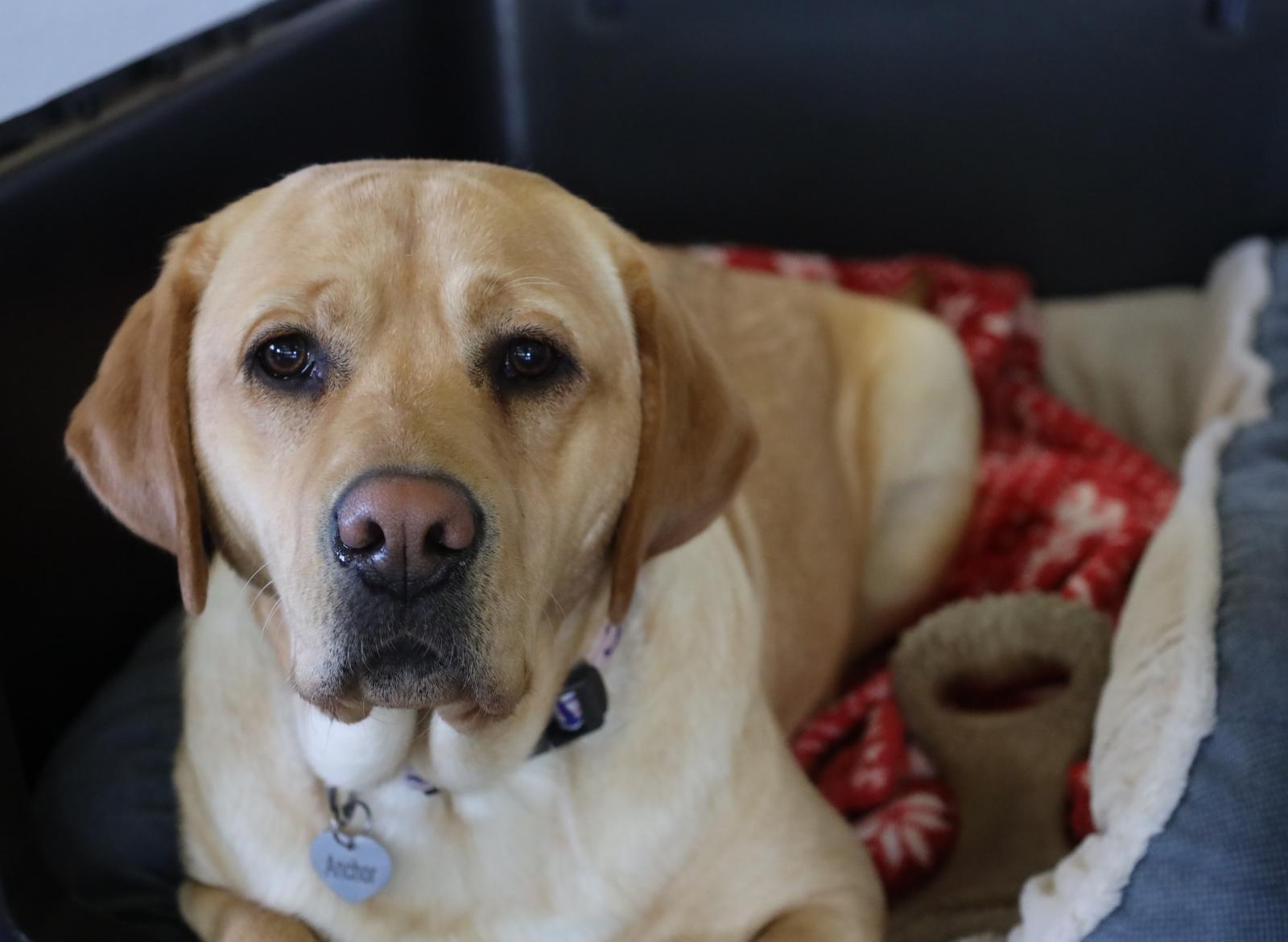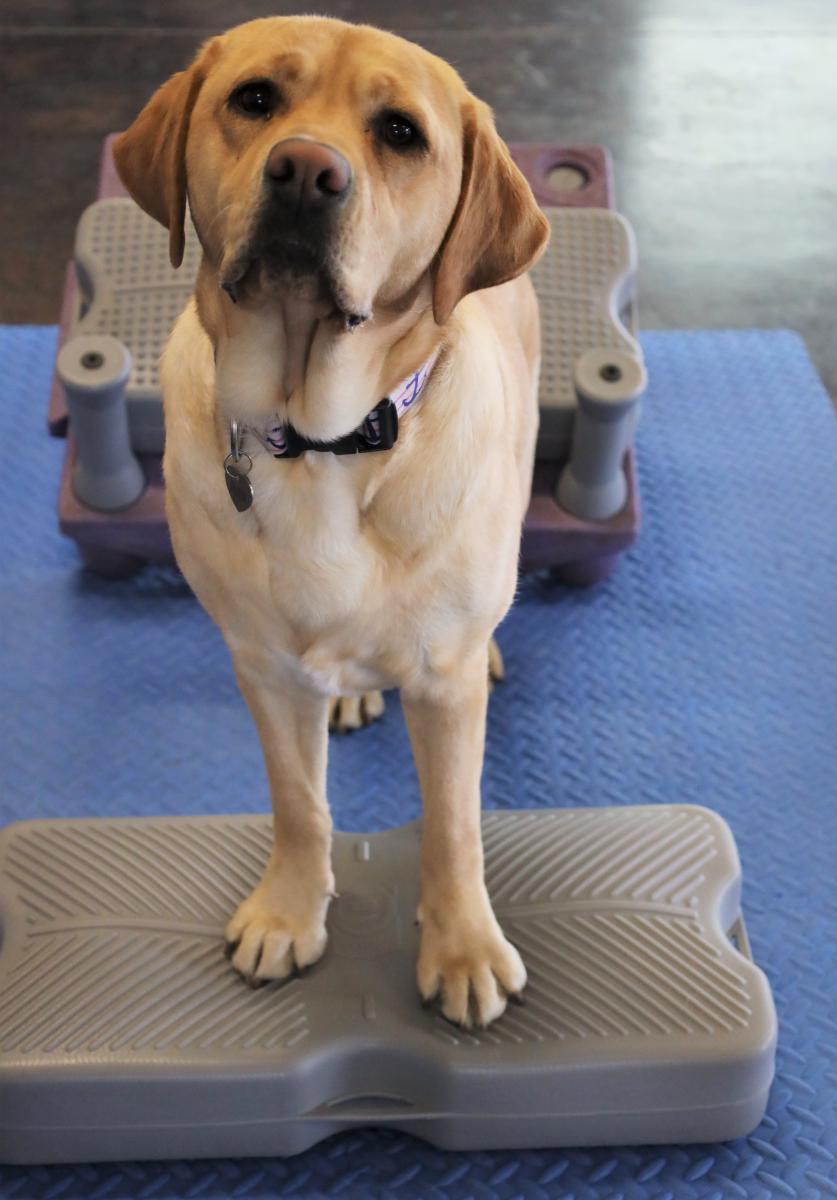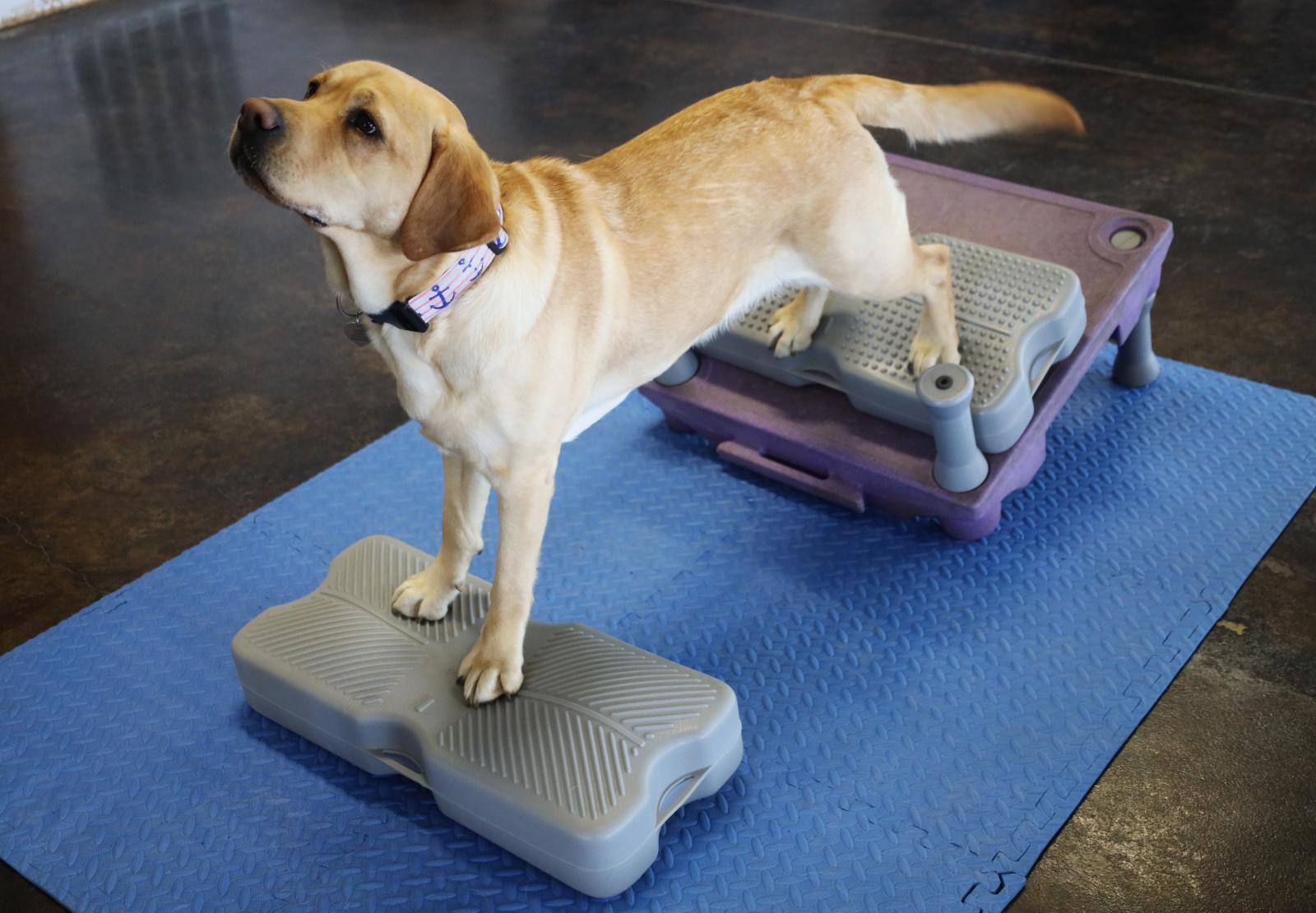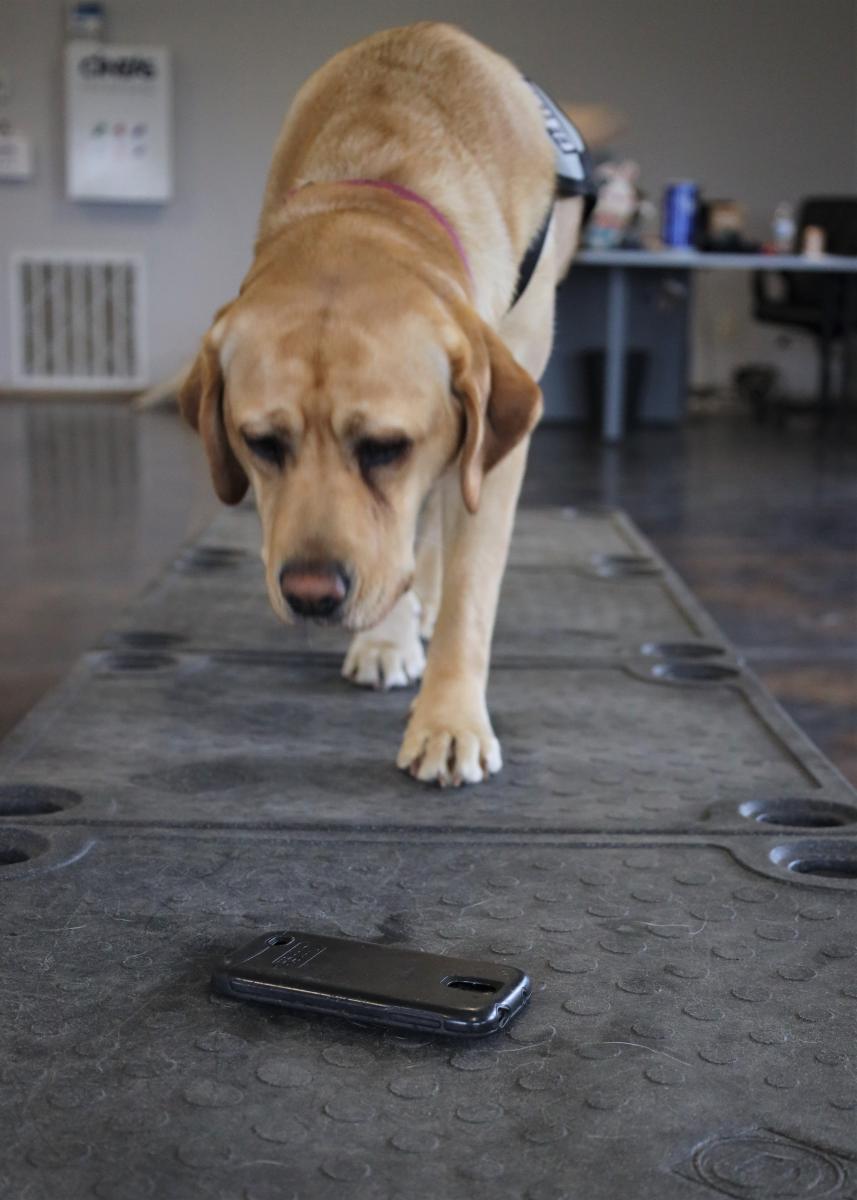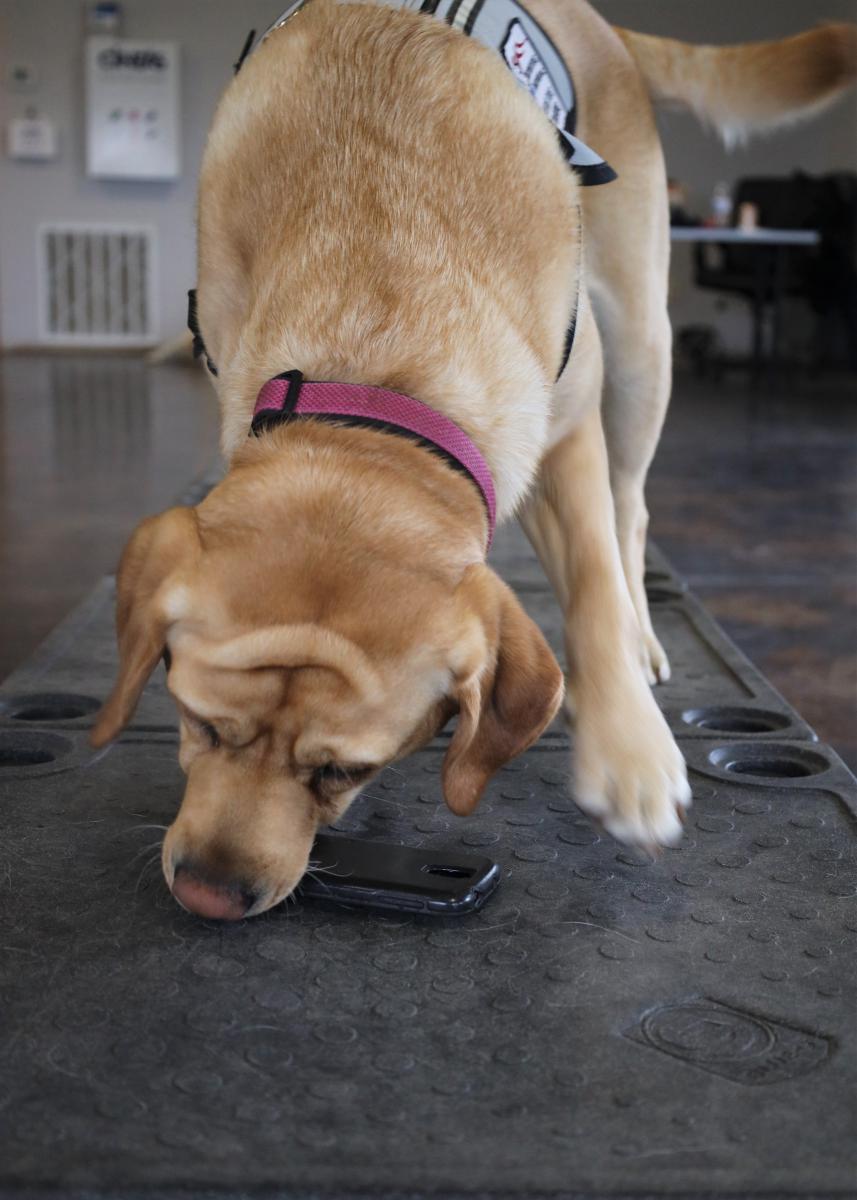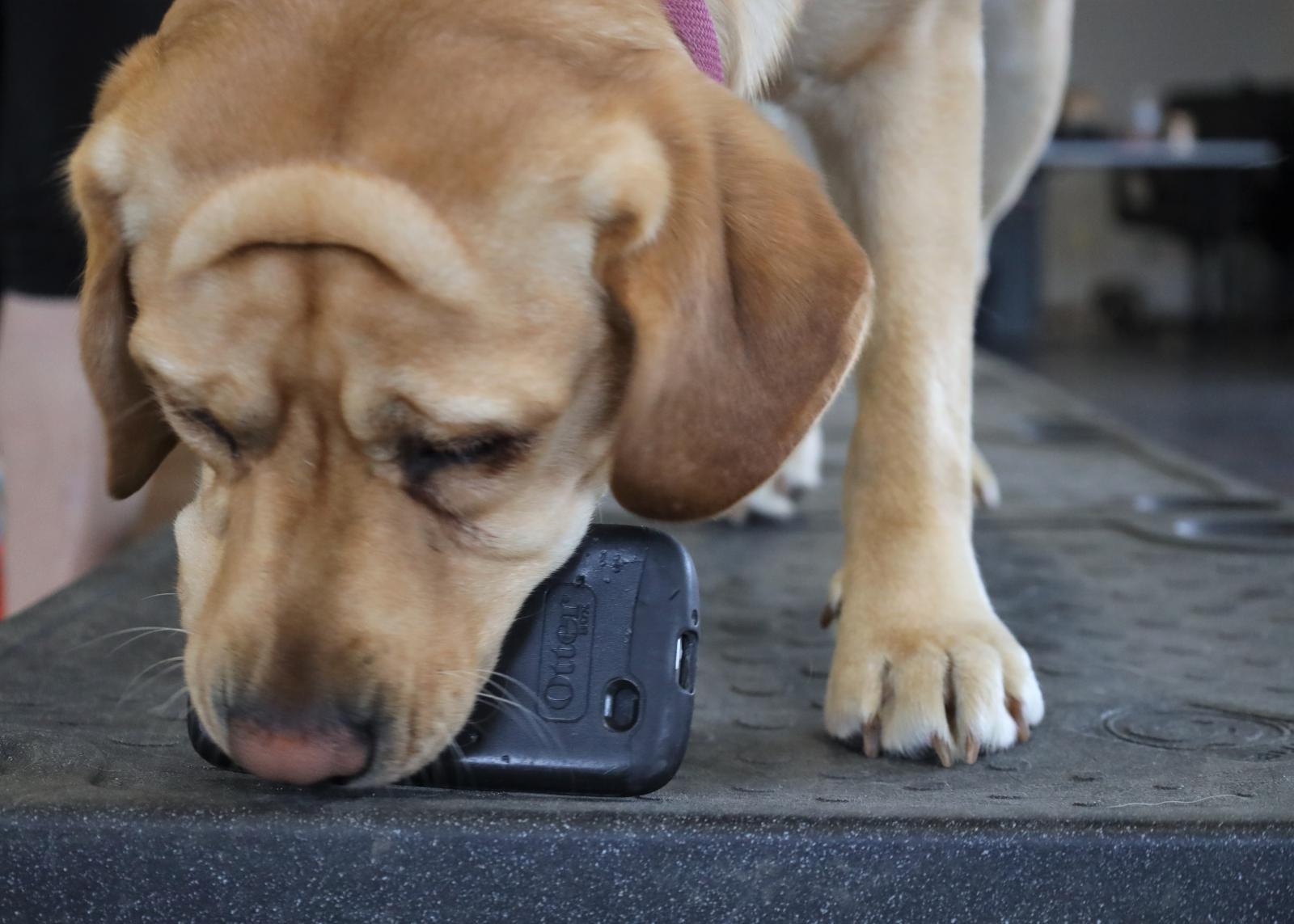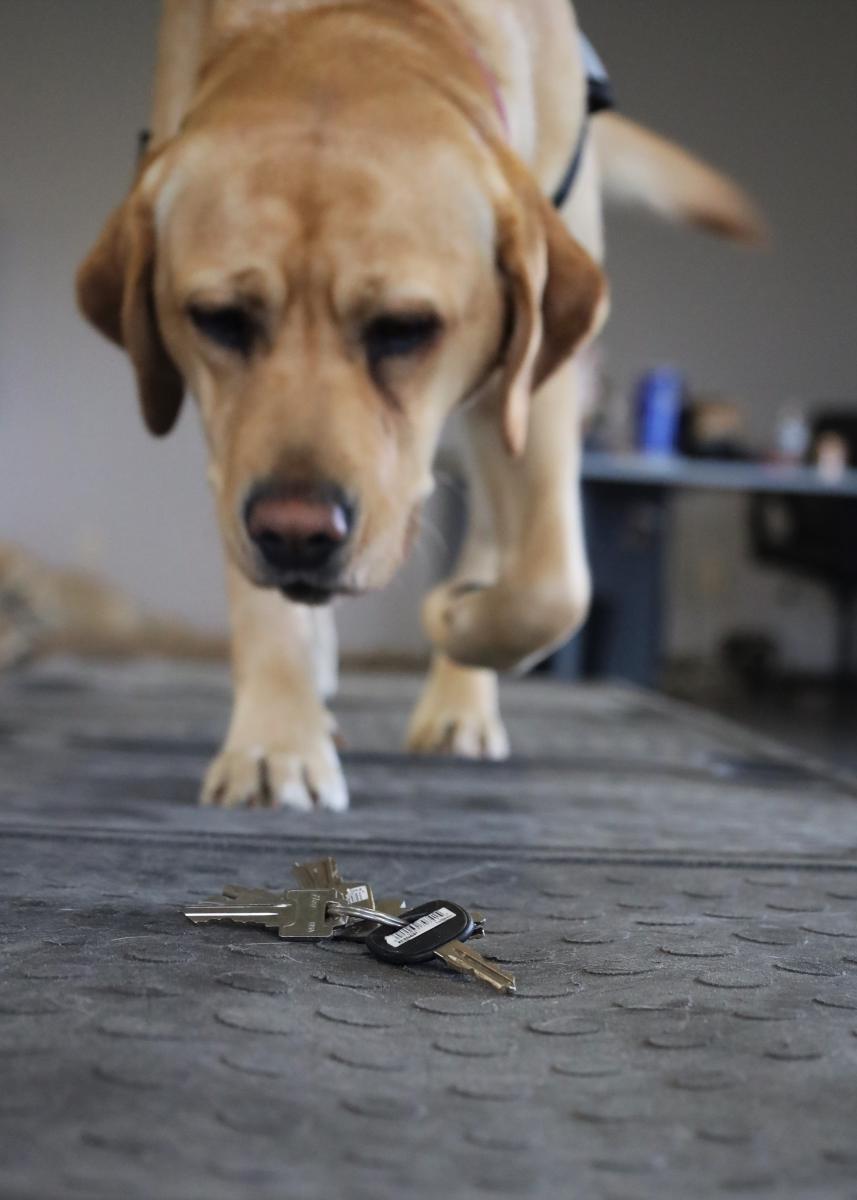 I have been training consistently with the professional training staff to perfect a couple of commands for various clients. I love working directly with the clients! I'm working on bracing, retrieving various objects (such as a phone and keys, pictured here), and walking next to a moving wheelchair or scooter. My weekend fosters say I hold wonderful eye contact while training out in public.
Stage 3 Introduction
Over the last year and a half I have been working diligently to get to this part of training... Stage 3! During this stage I will begin to meet potential recipients, learn final training tasks, finish up my role in the impact programs, and complete the 100 required one-on-one hours with my future recipient. This stage is a 4 to 6 month process, and I understand there is still a chance that I might not complete the program due to health or performance. I'm looking forward to sharing with you about my first visits with potential recipients, trips into public, and other highlights throughout my final stage of training.
June 2021 - 22 months old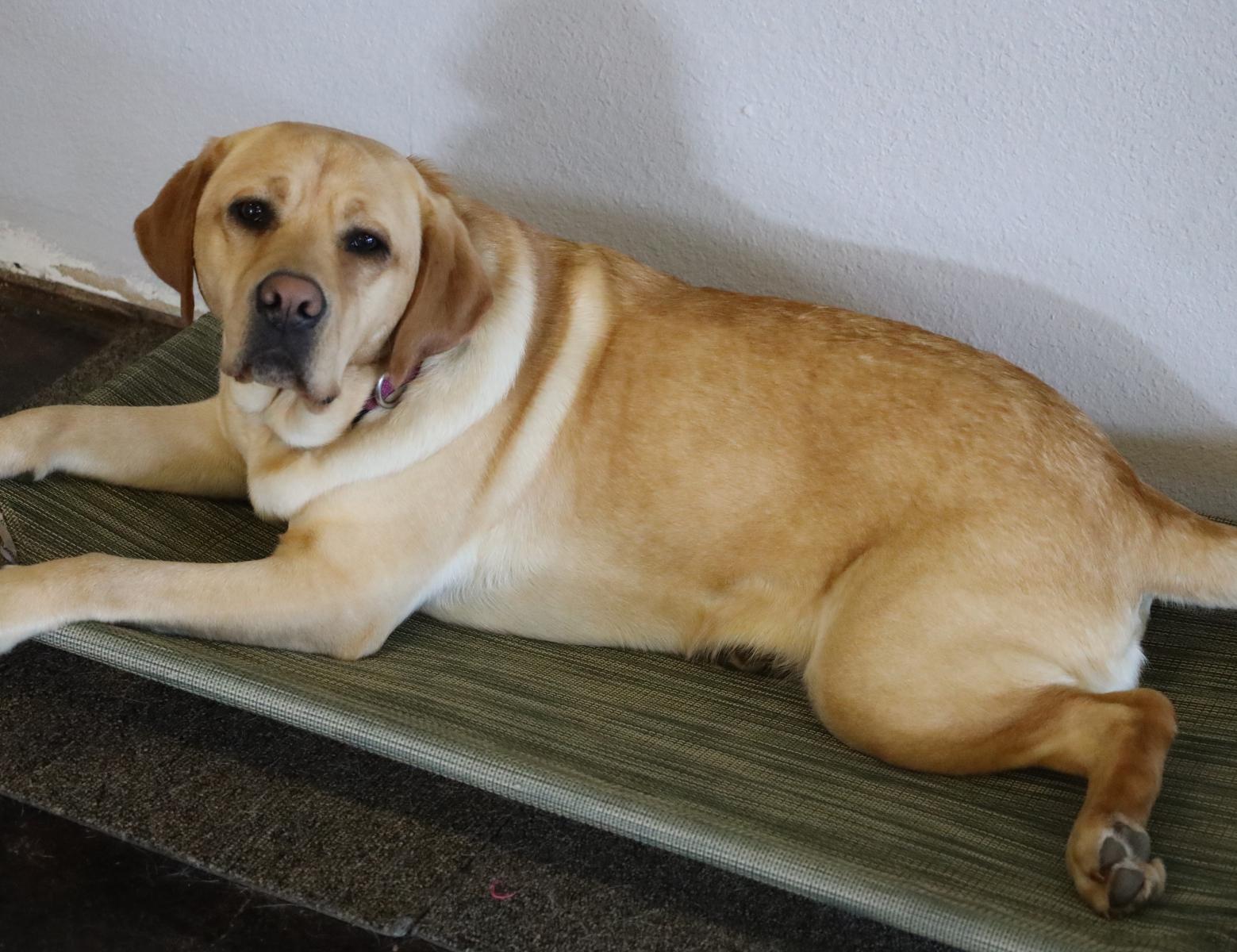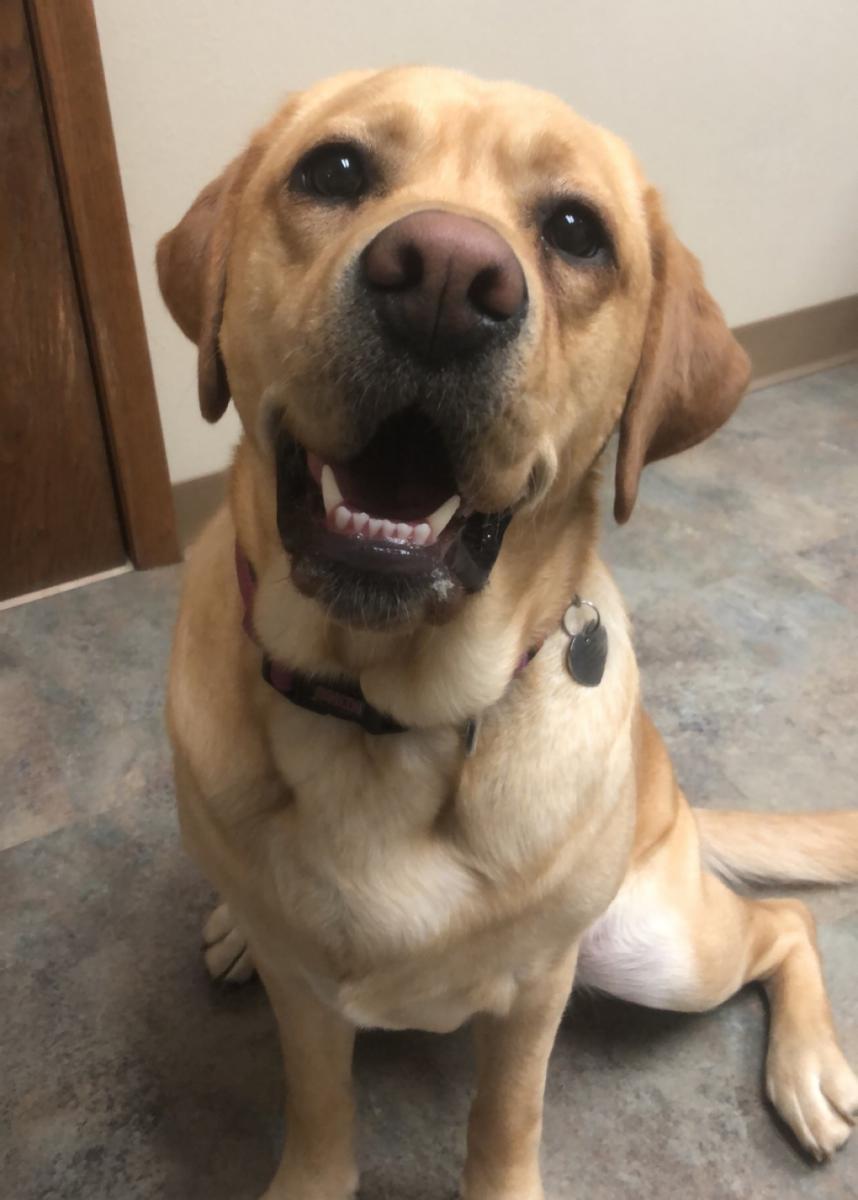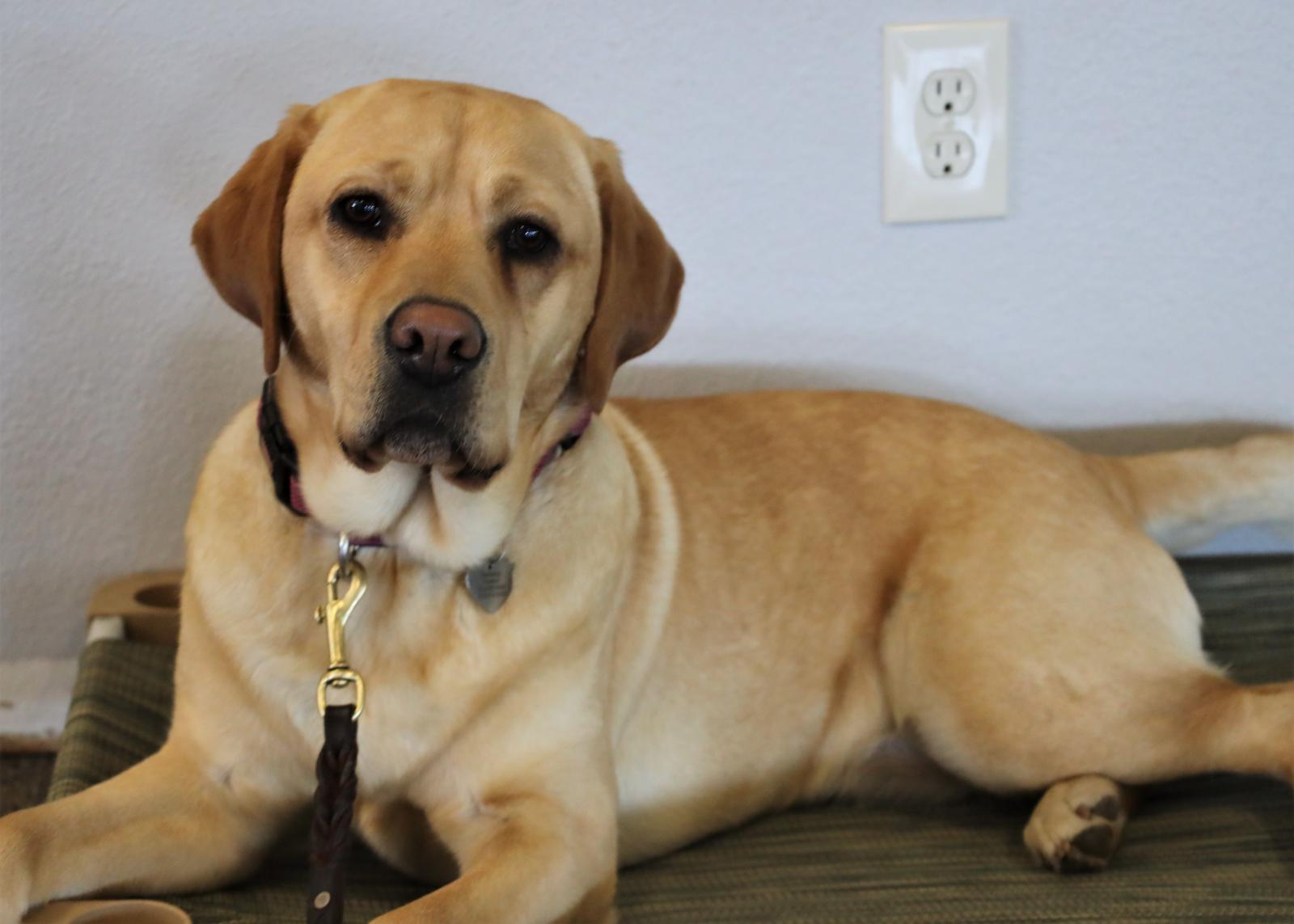 I have passed all necessary testing to officially become a stage III service dog in training! This means I can begin working consistently with a potential client match, both in training and at home. I'm so excited for this big step in my training! Many thanks to all the volunteers and the professional training staff for your continued dedication to my training!